Some articles may include Amazon affiliate links. All proceeds go to helping us pay for original stories and to support writers of speculative fiction. Read more here.
This week's top writing advice from around the web for Aug. 29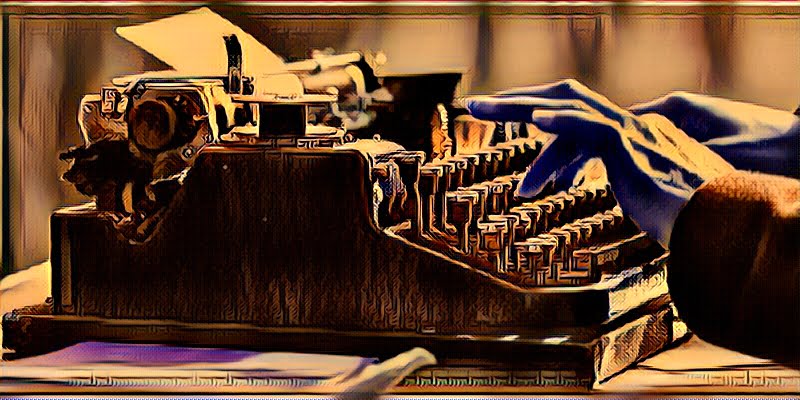 I subscribe to dozens of writing advice sites and new advice articles come into my news reader at a steady pace. You can see some of my favorites at my Writing Advice Sites resource page.
Here are the best writing advice posts from this previous week. Occasionally I include an RSS feed. To subscribe to an RSS feed, add the feed URL to your RSS reader app. The most popular is Feedly, which is the one that I use. It has a website and mobile apps, and it keeps track of which articles you've read, synched across all your devices.
You can see all the previous writing advice of the week posts here and subscribe to the RSS feed for this writing advice series here (direct Feedly signup link).
This week, I've decided to divide the list into three categories.
The first, for the beginning writer, is about getting the writing process down. Finding time to write, discovering your own writing rituals, learning how to overcome your inner critics, fighting writer's block, and how to finish what you start. Experienced writers sometimes hit these speedbumps as well, but they can kill a career for a new writer before it even starts.
Second, for the writer who's already started getting the hang of the mechanics of getting the words down on paper, is improving the quality of the writing. Of course, you can't improve writing if you don't have any to improve, so the previous step is critical. But once you're getting words down, you can start asking yourself if they're the right words, or maybe you can find better words. And you can even start thinking about sentences, paragraphs, scenes, chapters, plots, character arcs — all that stuff that goes into writing readable work. And even experienced writers probably have areas where they can improve, or new things to learn.
Finally, for the writer who's finished stories or books that are ready for the public, there's the question of finding your publishing platform, producing the actual book, finding copyeditors and cover artists, marketing, and advertising. For beginning writers these are mostly theoretical questions, but for experienced writers, they are critical for success. And the answers keep changing as the industry changes, so staying on top of things is critical.
So here we go.
Productivity, mood management, and battling the demons inside
Mystery author Kristen Lamb offers some advice for overcoming writer's block. She suggests that one problem might be that you haven't identified the main point of the story. What does the main character want to accomplish? What are the stakes? What's the ticking clock? Lamb is the author of the social media guide book, Rise of the Machines: Human Authors in a Digital World as well as We Are Not Alone: The Writer's Guide to Social Media and Are You There, Blog? It's Me, Writer. If you want more advice like this, follow her on Twitter at @KristenLambTX, on Facebook at @authorkristenlamb, or subscribe to her blog's RSS feed (direct Feedly link).
And in another take on battling writer's block, YA author Brenda Wilson suggests a few reasons why writers might get stuck, and offers advice for how to figure out which one it is. For more advice like this, follow Wilson on Instagram at @writingispun. This article was a guest post for Kiingo, a storytelling school dedicated to teaching the fundamental principles of successful storytelling with online courses and how-to articles. Follow them on their RSS feed (direct Feedly signup link), on Twitter here, on Facebook here, or support them on Patreon.
An in-depth post on how to find time to write by prioritizing, goal-setting, and finding accountability partners. For more advice from writing coach Michelle Renee Miller check out her website. This article is a guest post for The Write Practice, an advice site from a group of writers. They also have a writing critique community and a newsletter. Follow The Write Practice on Twitter, on Facebook, or subscribe to their RSS feed (direct Feedly signup link).
Tech journalist N. Ingraham has been using The Freewrite, a stripped-down device with a keyboard and an e-ink screen and a battery that lasts for weeks. In this very long review article, he talks about how the device helped him focus and get more creative writing done, though at $600, it's not for everyone.
Writers Digest content editor Michael Woodson warns against a common mistake beginning writers make — taking a single person's advice too close to heart. If you want more stuff like this, follow Writer's Digest via their RSS feed (direct Feedly signup link), on Twitter at @WritersDigest and on Facebook at @writersdigest.
The art and craft of writing
Thriller writer James Scott Bell offers a tip for organizing your writing that doesn't require a tightly-structure outline — by figuring out three main signposts. Those are the opening hook, the climactic battle, and a big thematic moment. Then he suggests following that with some killer scenes, using index cards, or Scrivener. Bell is the author of more than twenty books about writing, and you can follow him on Twitter at @jamesscottbell. This article is a guest post for The Kill Zone, the home of eleven top suspense writers and publishing professionals. They cover the publishing business, marketing how-tos, and the craft of writing. Follow them on RSS here (direct Feedly signup link). Follow them on Twitter @killzoneauthors.
This is another guest post for The Kill Zone, from PJ Parrish, the New York Times and USA Today bestseller author of the Louis Kincaid thrillers. Her books have won the Shamus, Anthony, International Thriller Awards and been nominated for the Edgar. Visit her at PJParrish.com or follow her on Facebook at PJ Parrish. In this post, Parrish lays out the pros and cons for organizing your book around a plot, and around a character.
If you want to know what Dan Harmon, the guy behind "Community" and "Rick and Morty," thinks about story structure, Go Into The Story editor Scott Myers explains how Harmon's story "embryos" relate to the Hero's Journey story structure. For more advice like this, follow Scott Myers on Twitter at @GoIntoTheStory and on Facebook at Go Into The Story. Go Into The Story is the official blog of the screenwriting community The Black List and was just ranked as one of the year's best screenwriting websites by Writer's Digest.
When editing, it's easy to accidentally shift into reader mode, missing mistakes along the way. Kris Spisak offers a new way of thinking when tackling the editorial process. Spisak is the author of Get a Grip on Your Grammar: 250 Writing and Editing Reminders for the Curious or Confused and The Novel Editing Workbook, Also, check out her Words You Should Know podcast. She also serves on the advisory board of James River Writers. Learn more or sign up for her monthly writing tips newsletter at Kris-Spisak.com. And you can follow Writer's Digest via its RSS feed (direct Feedly signup link), Twitter feed, or on its Facebook page.
How much injury can someone realistically take when they're in a fight and still keep fighting? How to Fight Write offers advice on how to create realistic fight scenes and characters from a third-degree Black Belt. If you like the site, you can support them on Patreon.
Without tension, readers get bored fast. In this post,  Oren Ashkenazi look at Project Hail Mary, A Master of Djinn, and The Green Knight. This is a post from Mythcreants, my all-time favorite writing advice site for fantasy and science fiction. Mythcreants contributor Ashkenazi also edits spec fiction manuscripts and the services are in high demand — they currently have a four-month waiting list. Reading this site, and listening to the Mythcreants podcast, is like getting a master's in writing science fiction and fantasy. Get their RSS feed here (direct Feedly signup link) or follow them on Twitter @Mythcreants and on Facebook at @mythcreants.
Becca Puglisi is one of the founders of the Writers Helping Writers website and the author of the Emotion Thesaurus: A Writer's Guide to Character Expression, which has sold over half a million copies. In this article, she talks about the various ways that the grandparent-grandchild relationship can play out in fiction. If you like this post, you can check out the rest of the Relationship Thesaurus series here. This post reads like it could be an entry in one of her series of thesaurus writing guides, but I don't see it there or on her Amazon author page. Maybe the book is coming and the blog posts are a preview? I'm keeping my eye out. Meanwhile, if you want more advice like this, subscribe to the Writers Helping Writers RSS feed (direct Feedly signup link), follow them on Facebook at @DescriptiveThesaurusCollection or on Twitter at @WriterThesaurus.
In another post for Writers Helping Writers, guest writer Lisa Hall-Wilson, who is a writing teacher and award-winning writer and author, talks about how to be strategic in choosing the kind of trauma your characters suffer.
Another post in Writers Helping Writers, by guest writer C. S. Lakin. She is a writing coach, workshop instructor, award-winning author of over 30 books, and blogger at Live Write Thrive. Her Writer's Toolbox series of books teach the craft of fiction, and her online video courses at Writing for Life Workshops have helped more than a thousand writers. She also works as a book copyeditor and does more than 200 critiques a year for writers, agents, and publishers in six continents. I've been reading her advice for a few years now and she is awesome. If you want more advice from her, follow her on Twitter at @LiveWriteThrive and on Facebook at @C.S.Lakin.Author.
C. S. Lakin has been busy this week. In this post for her own blog, Live Write Thrive, she gives in-depth advice for adding sensory details to your writing.
In this guest post for Janice Hardy's Fiction University, writer and editor Ann Harth outlines an eight-layer method for creating realistic characters. If you want more advice like this, subscribe to the Fiction University RSS feed here (direct Feedly signup link), or follow it on Twitter or on Facebook. Meanwhile, you can follow Ann Harth herself on Facebook at @AnnHarth and on Twitter at @annharth.
There are a lot of rules out there about story structure, about when particular scenes or moments are supposed to come in a book, and what's supposed to happen at those points. How closely do you have to follow these rules? How do you break them? In this exhaustive post, freelance editor September Hawkes lays it all out for you, in great detail and with examples. If you want more advice like this, follow her on her RSS Feed (direct Feedly signup link), follow her on Twitter @SeptCFawkes and on Facebook at September C. Fawkes.
The premise is a short description of what a story is about. In this article, K. M. Weiland explains why the premise is important. Weiland is one of my favorite writing advice people, and the award-winning author of acclaimed writing guides such as Structuring Your Novel and Creating Character Arcs. If you want more advice like this, subscribe to her blog, Helping Writers Become Authors, via its RSS feed. You can also follow her on Twitter @KMWeiland and on Facebook @kmweiland.author.
The business side of writing
Anne Allen started her career at Bantam by slogging through the slush pile — and writing blurbs. Since then, she's written hundreds, maybe thousands, of book blurbs, and she's got some advice on how to do it if you need to write your own. One of her many, many tips is to look to the capsule movie descriptions on Netflix, HBO and Hulu for inspiration. Allen writes mysteries and how-to books about writing. For more advice like this, follow her on Twitter at @annerallen , on Facebook at @annerallenauthor, or subscribe to her blog's RSS feed (direct Feedly link).
If you've taken Steven Barnes' advice and are now writing between one and four short stories a month, here are a few places to submit them, from fantasy writer Erica Verrillo. For more advice like this, follow Publishing … and Other Forms of Insanity via their RSS feed (direct Feedly link).
Here are the top job and market websites as identified in the 23rd Annual 101 Best Websites from the May/June 2021 issue of Writer's Digest. If you want more stuff like this, follow Writer's Digest via their RSS feed (direct Feedly signup link), on Twitter at @WritersDigest and on Facebook at @writersdigest. Also check out their Writer's Digest Best Creativity Websites 2021 and 9 Best General Resources Websites for Writers 2021 and Writer's Digest's Best Genre/Niche Websites 2021 and Writer's Digest's 10 Best Publishing News and Resource Websites 2021. They've been putting out a lot of these guides lately.
Publishing and marketing expert Derek Haines explains how to use payment service Payhip to easily sell ebooks right from your website, without having to give up a big chunk of your revenues to Amazon and other retailers — or pay a lot of money to set up an e-commerce system on your site. This can be a good option for writers who get a lot of traffic to their websites. For more advice like this, follow Just Publishing Advice on Facebook at @justpublishing, on Twitter at @justpublishing and via their RSS feed (direct Feedly link).
A "dinkus" is that little line of three asterisks used to indicate scene transitions in a novel. Book editor Cate Bann hates them. After reading her article, I now hate them too and will now foreswear from ever using them again. This was a guest post for Self-Publishing Review, which you can follow on their RSS feed (direct Feedly link), on Twitter at @selfpubreview and on Facebook at @selfpublishingreview.
In this guest post for diyMFA, Savanna Cordova, a writer and content creator at Reedsy,  talks about the pros and cons of publishing exclusively on Amazon and participating in the Kindle Unlimited program. For more advice like this, follow diyMFA on Twitter at @DIYMFA and on Facebook at @DIYMFA or subscribe to their RSS feed (direct Feedly signup link). DiyMFA offers classes, advice articles and other training materials for writers.
If you're looking for a way to produce print copies of your books, do you go with print-on-demand, consignment printing, or print partnerships? This is a good primer on what the options are, how the work, and their value for self-published authors. This guide is by the team behind Self Publishing Advice, the advice center of the Alliance of Independent Authors. If you want more advice like this, subscribe to their RSS feed (direct Feedly signup link).
I've been putting off doing anything with Instagram. It just seems like yet another social media platform, and too focused on photographs to be much use to a writer — or so I thought. Turns out, there's this thing called Bookstagram. This guest post for Kiingo by Lucia Ataya spells it all out. Ataya is the author of a dystopian thriller and the founder of The Indie Writers Collective, an initiative dedicated to promoting indie authors and their work.
Am I missing any useful writing advice sites? Let me know in the comments or email me at [email protected].