Reading Time:
8
minutes
Some articles may include Amazon affiliate links. All proceeds go to helping us pay for original stories and to support writers of speculative fiction. Read more here.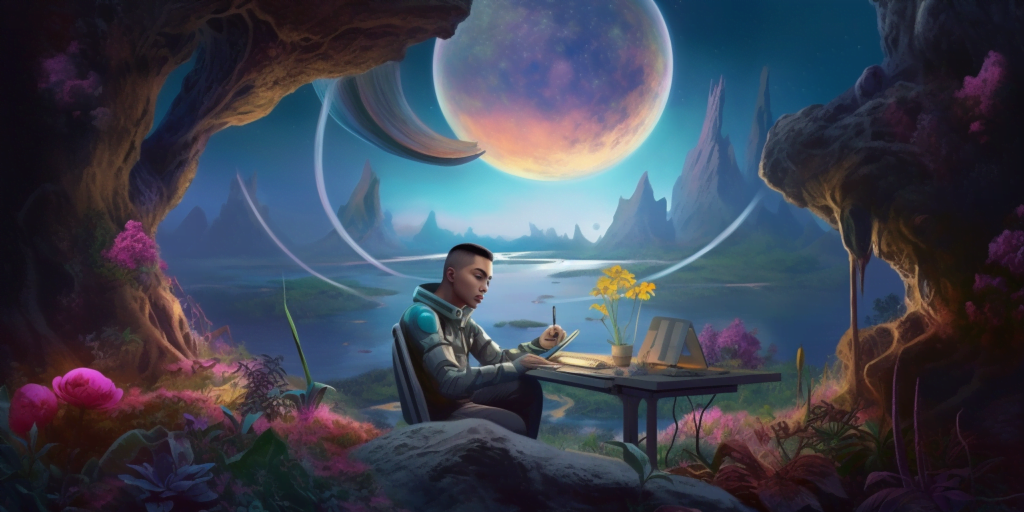 I subscribe to more than 150 writing advice sites and gather the best posts for you every single Sunday. You can see all the previous writing advice of the week posts here and subscribe to the RSS feed for this writing advice series here (direct Feedly signup link).
Productivity, mood management, and battling the demons inside
A thoughtful article by one of my favorite sci-fi authors and how she got through the pandemic and how it affected her writing. New York Times and USA Today bestselling author Kristine Kathryn Rusch writes bestselling science fiction and fantasy, award-winning mysteries, acclaimed mainstream fiction, controversial nonfiction, and the occasional romance. At KrisWrites.com, Rusch offers her thoughts about the publishing industry and other topics.
Turns out, watching funny cat videos isn't a waste of time if you do it to set a positive mood for your creative work. Anne Janzer is an award-winning author, armchair cognitive science geek, nonfiction author coach, marketing practitioner, and blogger. Follow her on Facebook at @AnneHJanzer or on Twitter at @AnneJanzer. At AnneJanzer.com, Janzer offers writing and publishing advice. For more like this, subscribe to the site's RSS feed (directly Feedly link here).
Other motivational advice this week:
The art and craft of writing
Letting the manuscript sit for a while before you go back to it can help you find plot holes, writing tics, and other problems. Sue Coletta is an award-winning crime writer. Sue also appeared on the Emmy award-winning true crime series, Storm of Suspicion and will be teaching an advanced education course on serial killers for Foothills Regional. For more about her, check out her website at SueColetta.com and follow her on Facebook at @SueColetta1 and on Twitter at @SueColetta1. The Kill Zone is the home of eleven top suspense writers and publishing professionals. They cover the publishing business, marketing how-tos, and the craft of writing. Follow them on RSS here (direct Feedly signup link). Follow them on Twitter @killzoneauthors.
If your facial descriptions are bland or repetitive, here are some tips to find another way to show the emotion you're trying to get across or use a more original description to capture the face you're picturing in your mind. Dave King is the co-author of Self-Editing for Fiction Writer. An independent editor since 1987, he is also a former contributing editor at Writer's Digest. For more writing tips, visit DaveKingEdits.com. Writer Unboxed is a fantastic writing advice site, with lots of helpful articles from some of the biggest names in the field. Follow them on RSS (direct Feedly signup link) and on Twitter.
This episode is all about personality types, and how your personality type can help you zero in on themes for your writing, empower you, and help you create characters. Sacha Black is a fantasy author and writing coach, with several writing advice books including 13 Steps to Evil: How to Craft Superbad Villains. Follow her on her website, Sacha Black, on Facebook at @Sacha Black or on Twitter at @sacha_black. Sacha Black is a site that offers writing advice, courses, and podcasts. Follow the site via their RSS feed (direct Feedly link here).
The element is setting. You can use it to reveal significant details from a character's past by, say, triggering an emotion. It can also help reveal relationships between characters or illuminate an event happening in the story's world. Iris Marsh is an editor and a YA fantasy author. The Write Practice is an advice site from a group of writers. They also have a writing critique community and a newsletter. Follow The Write Practice on Twitter, on Facebook, or subscribe to their RSS feed (direct Feedly signup link).
Without a turning point, a conflict gives no satisfaction – it just fizzles out. But are all turning points good? Absolutely not. Oren Ashkenazi is the speculative fiction manuscript editor and Chris Winkle is the founder and editor-in-chief at Mythcreants. Mythcreants is my all-time favorite writing advice site. Get their RSS feed here (direct Feedly signup link) or follow them on Twitter @Mythcreants and on Facebook at @mythcreants.
Other writing advice this week:
The business side of writing
How one author deals with the changing landscape of social media, by going back to basics — website and newsletter. Alan Baxter is a British-Australian, multi-award-winning author of horror, supernatural thrillers and dark fantasy liberally mixed with crime, mystery and noir. At Alan Baxter – Warrior Scribe, Alan offers writing advice and free short stories.
Guest Maren Cooper talks about how she went from working in healthcare to having a writing career and building her writing community at book clubs and conferences.
Rachel Wharton is the author engagement coordinator at Kobo Writing Life. Joni Di Placido is the author engagement specialist at Kobo Writing Life. Kobo Writing Life is the writing advice site from the people behind the Kobo reader. For more like this, subscribe to their RSS feed (directly Feedly link here).
Kindle Storyteller finalist Clare Lydon describes the changing landscape of LGBTQ+ romance novels. Mark Dawson is a USA Today bestselling author who teaches courses about book production and marketing. Check out his website at MarkJDawson.com. James Blatch writes military thrillers. For more, check out his website, JamesBlatch.com. On the Self Publishing Formula show, Mark Dawson and James Blatch talk about building a career as a self-published author.
Other business advice this week:
---
Am I missing any writing advice sites? Email me at [email protected] or leave a note in the comments below.