Reading Time:
11
minutes
Some articles may include Amazon affiliate links. All proceeds go to helping us pay for original stories and to support writers of speculative fiction. Read more here.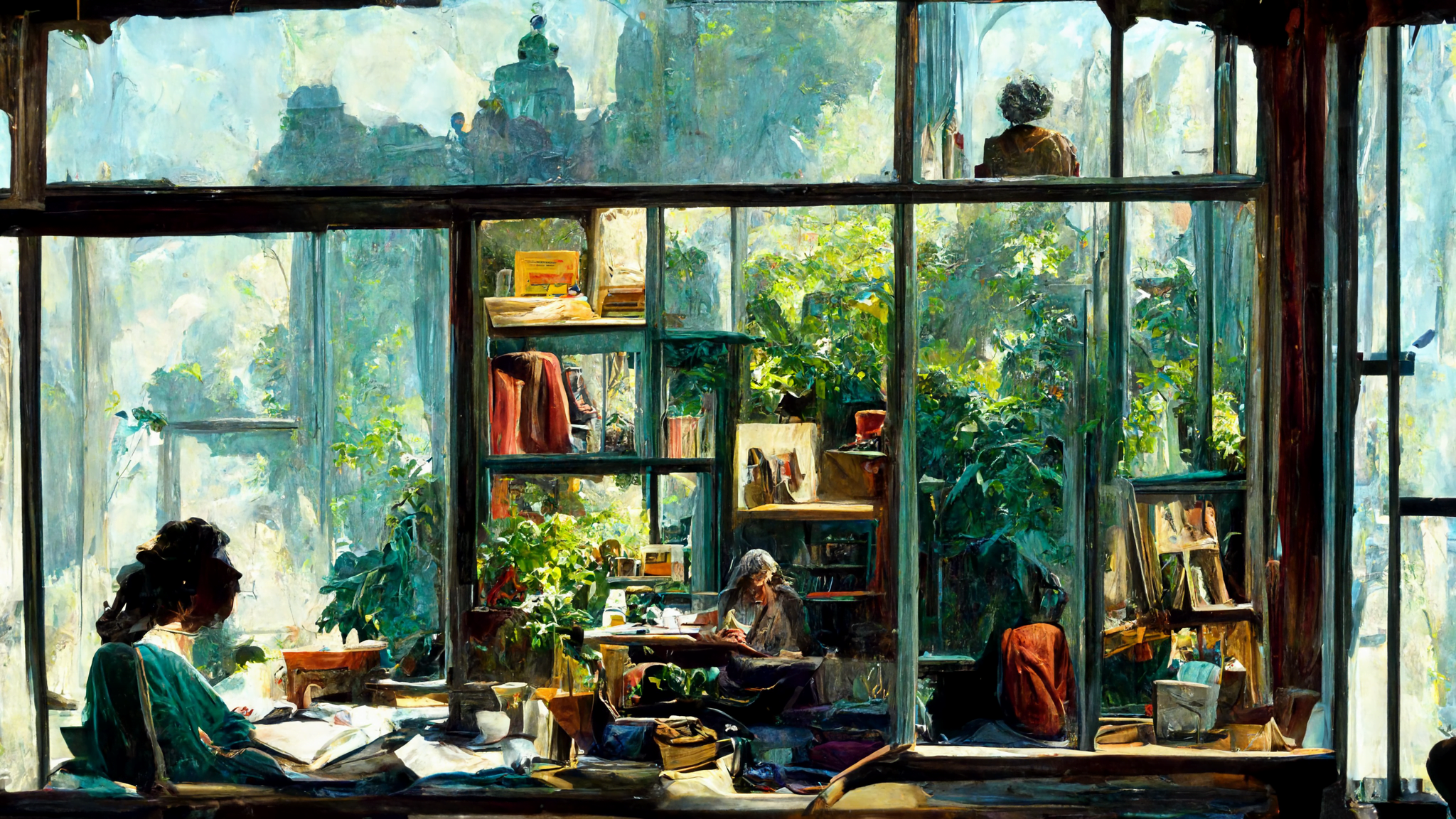 Read my Midjourney review here.I subscribe to dozens of writing advice sites and new advice articles come into my news reader at a steady pace. You can see some of my favorites at my Writing Advice Sites resource page.
Here are the best writing advice posts from this previous week. Occasionally I include an RSS feed. To subscribe to an RSS feed, add the feed URL to your RSS reader app. The most popular is Feedly, which is the one that I use. It has a website and mobile apps, and it keeps track of which articles you've read, synched across all your devices.
You can see all the previous writing advice of the week posts here and subscribe to the RSS feed for this writing advice series here (direct Feedly signup link).
This week, I've decided to divide the list into three categories.
The first, for the beginning writer, is about getting the writing process down. Finding time to write, discovering your own writing rituals, learning how to overcome your inner critics, fighting writer's block, and how to finish what you start. Experienced writers sometimes hit these speedbumps as well, but they can kill a career for a new writer before it even starts.
Second, for the writer who's already started getting the hang of the mechanics of getting the words down on paper, is improving the quality of the writing. Of course, you can't improve writing if you don't have any to improve, so the previous step is critical. But once you're getting words down, you can start asking yourself if they're the right words, or maybe you can find better words. And you can even start thinking about sentences, paragraphs, scenes, chapters, plots, character arcs — all that stuff that goes into writing readable work. And even experienced writers probably have areas where they can improve, or new things to learn.
Finally, for the writer who's finished stories or books that are ready for the public, there's the question of finding your publishing platform, producing the actual book, finding copyeditors and cover artists, marketing, and advertising. For beginning writers these are mostly theoretical questions, but for experienced writers, they are critical for success. And the answers keep changing as the industry changes, so staying on top of things is critical.
So here we go.
Productivity, mood management, and battling the demons inside
Writing is a lot like exercising. The more you do it, the easier it gets, and the better you get at it.  Anyone who exercises regularly knows that the discomfort never fully goes away, but you learn to work through it and ignore it. Eventually you get a "second wind" of energy. For writers, this second wind is called "flow state." H. Duke is a fantasy and horror writer. You can see H. Duke's books on Amazon here and follow her on Facebook at @hdukeauthor and on Twitter at @HDukeAuthor. The Writersaurus offers productivity, writing, and publishing advice. Their RSS feed is here (direct Feedly signup link). Check out their list of recommended writing books here and follow the site on Facebook at @thewritersaurus.
Poignant advice from some of the funniest people in publishing. Bob Eckstein is a New York Times​ bestselling author, award-winning illustrator, and New Yorker cartoonist. He teaches writing and drawing at NYU. Follow Writer's Digest via their RSS feed (direct Feedly signup link), on Twitter at @WritersDigest and on Facebook at @writersdigest.
Other motivational advice this week:
The art and craft of writing
The positioning of a story's important turning points is one of the keys for creating a story that feels right to audiences. As often as not, when something seems off about a story, the problem can be narrowed down to wonky structural timing. K. M. Weiland is one of my favorite writing advice people, and the award-winning author of acclaimed writing guides such as Structuring Your Novel and Creating Character Arcs. If you want more advice like this, subscribe to her blog, Helping Writers Become Authors, via its RSS feed (direct Feedly signup link). You can also follow her on Twitter @KMWeiland and on Facebook @kmweiland.author. Helping Writers Become Authors is one of our favorite writing advice sites. Follow it via its RSS feed (direct Feedly signup link), on Twitter, and on Facebook.
First person POV is NOT automatically deep POV. Learn the differences with examples. Lisa Hall-Wilson is a writing teacher and award-winning writer and author. She also has two courses on writing in deep point of view that you might want to check out: Writing in Emotional Layers and Deep Point Of View Foundations can help you learn the effects the tools used in deep POV aim to create, so you can use those tools to best serve your story and your voice. Follow her on Twitter at @LisaHallWilson or on Facebook at @lisahallwilson. Her website is LisaHallWilson.com. Oh her, website, LisaHallWilson.com, Lisa Hall Wilson offers writing advice, books about writing, and writing courses.
Here are some tips for editing out words that don't pull their weight: Vague Swamp Weasel. That's because weasels are vague, and if we're not careful, our writing can get pulled into the vague swamp. Linda S. Clare has been writing professionally since 1993 and has taught fiction, memoir and essay writing for Lane Community College for more than a dozen years. In addition to her published books, award-winning short stories, articles and essays, she works as an expert writing advisor for George Fox University and is a frequent presenter at writer's conferences. For more advice like this, check out her website, LindaSClare.com on Twitter at @Lindasclare. LindaSClare.com offers advice about writing and story structure, as well as coaching services.
The challenge for the writer is to craft twists that are both unexpected and believable. Ah, there's the rub. How can your twists be believable if they're unexpected? C. S. Lakin is a writing coach, workshop instructor, award-winning author of over 30 books, and blogger at Live Write Thrive. Her Writer's Toolbox series of books teach the craft of fiction, and her online video courses at Writing for Life Workshops have helped more than a thousand writers. She also works as a book copyeditor and does more than 200 critiques a year for writers, agents, and publishers in six continents. I've been reading her advice for a few years now and she is awesome. If you want more advice from her, follow her on Twitter at @LiveWriteThrive and on Facebook at @C.S.Lakin.Author. Live Write Thrive is a writing advice site by novelist, editor and writing coach C. S. Lakin, author of eight-book The Writer's Toolbox Series. Follow her on Twitter @LiveWriteThrive. Also check out her other site, The Self Publisher.
This a long, detailed, yet clear guide to writing an entire novel. A nice article to bookmark if you're just starting out. Joe Bunting is a book coach, an author and the leader of The Write Practice community. Follow him on Instagram at @jhbunting. The Write Practice is an advice site from a group of writers. They also have a writing critique community and a newsletter. Follow The Write Practice on Twitter, on Facebook, or subscribe to their RSS feed (direct Feedly signup link).
Some tips for how to write in segments to keep your novel moving at a brisk pace. Hank Phillippi Ryan is the USA Today bestselling author of 13 psychological thrillers, winning the genre's most prestigious awards. Follow her on Facebook at @Hank Phillippi Ryan or on Twitter at @HankPRyan. Career Authors is one of Writer's Digest top 101 websites for writers and helps authors write better, get published, and sell more books. For more advice like this subscribe to their RSS feed (direct Feedly signup link), on Twitter at @CareerAuthors and on Facebook at @CareerAuthors.
Other writing advice this week:
The business side of writing
Here are some important do's and don'ts to help you choose your Amazon keywords because the better your keywords, the better your chance of discovery. Steven Spatz is a writer, marketer, and the president of BookBaby. BookBaby bills itself as the nation's leading self-publishing services company. For more advice like this, subscribe to their RSS feed (directly Feedly link here), or follow them on Facebook at @BookBaby or on Twitter at @BookBaby.
A reader magnet is a crucial opt-in for potential readers, subscribers, and anyone else who fits your target audience. Sarah Rexford is a marketing content creator and writer. Rexford helps authors build their platform through branding and copywriting. She also writes fiction and nonfiction and offers writers behind-the-scenes tips on the publishing industry through her blog ItsSarahRexford.com. for more advice like this, follow her on Twitter at @sarahjrexford. Self Publishing School offers online courses about self publishing, as well as a podcast, blog, and other resources. For more advice like this subscribe to their RSS feed (direct Feedly signup link), on Twitter at @Self_Pub_School and on Facebook at @Self Publishing School.
Here are a few tips to help you navigate the independent authorship journey even when the economy has taken a downturn. Andrew Deen has been a consultant for startups in almost every industry from retail to medical devices and everything in between. He implements lean methodology and currently writing a book about scaling up business. The Independent Publishing Magazine covers many aspects of self-publishing, hybrid publishing, traditional publishing, book marketing, publishing technology and industry news in general for both authors and industry professionals.
Other business advice this week:
Podcasts
Selling your books direct to readers and listeners can bring you more money, faster, and allow you to control your customer's experience and data. Morgana Best explains why selling direct is so important for an author business, and some of her tips for implementing a Shopify store. Joanna Penn has been sharing writing and publishing advice since 2008 at The Creative Penn and is the author of Successful Self-Publishing and many other writing and publishing advice books. She also has one of my favorite writing advice podcasts, and you can subscribe to it on Apple Podcasts, Google Podcasts, Spotify, or Stitcher. The Creative Penn offers articles, videos, books, tools, and courses for independent authors.
In this episode, the hosts explain how giving away the ending in the first ten pages can make the story better. Melanie Hill and Valerie Francis are literary editors and writers. The Story Nerd podcast demystifies story theory so writers spend less time studying and more time writing.
Obi-Wan Kenobi by Oren Ashkenazi, Chris Winkle, and Wes Matlock
This show manages to achieve the impressive feat of being good despite also being a midquel, but how? The Mythcreants team discusses what they liked about the show, what didn't work as well, and why they shouldn't make another season. Oren Ashkenazi is the a speculative fiction manuscript editor, Chris Winkle is the founder and editor-in-chief, and Wes Matlock is a content editor at Mythcreants. Mythcreants is my all-time favorite writing advice site. Get their RSS feed here (direct Feedly signup link) or follow them on Twitter @Mythcreants and on Facebook at @mythcreants.
Other podcasts from this past week:
Videos
What are the general traits that can help you complete a crazy big project like a novel? Yuvi Zalkow is a novelist. His short stories and essays have been published in Catapult, Narrative Magazine, Carve Magazine, Rosebud, The Los Angeles Review, and others. Writer Unboxed is a fantastic writing advice site, with lots of helpful articles from some of the biggest names in the field. Follow them on RSS (direct Feedly signup link) and on Twitter.
Who are different kinds of editors that do different jobs for improving your book. Julie Broad heads up a team of self-publishing experts at Book Launchers. Book Launchers is mostly aimed at non-fiction book authors, but with useful advice for fiction authors as well. You can also follow them on Facebook at @booklaunchers and on Twitter at @booklaunchers. And, of course, subscribe to their YouTube channel.
A compilation of some of the best bits from previous interview, with guests' top tips on plotting. Kristina Adams is a bestselling author and writing instructor. Find out more at her website, KristinaAdamsAuthor.com. The Writer's Mindset is a YouTube channel from the team behind The Writer's Cookbook, a site that offers writing workshops and courses as well as writing and marketing services. For more advice like this, follow them on Twitter at @writingcookbook and on Facebook at @writingcookbook .
Other videos from this past week:
---
Am I missing any writing advice sites? Email me at [email protected] or leave a note in the comments below.