Reading Time:
8
minutes
Some articles may include Amazon affiliate links. All proceeds go to helping us pay for original stories and to support writers of speculative fiction. Read more here.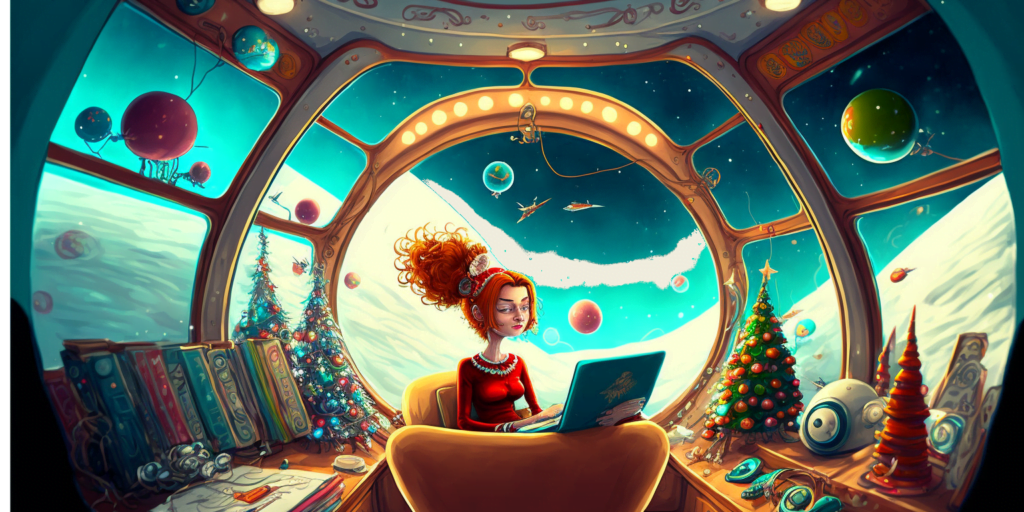 Happy holidays, everyone! Here's a little Christmas gift for everyone — a list of the best writing advice of the week. Okay, I made this list every week. Is there anything special about today's list? No, no there is not. But it's a good list.
I subscribe to more than 150 writing advice sites and gather the best posts for you every single Sunday. You can see all the previous writing advice of the week posts here and subscribe to the RSS feed for this writing advice series here (direct Feedly signup link).
Productivity, mood management, and battling the demons inside
Want to write this holiday season? If you want to write this holiday season, you're not alone. Lots of writers dream of time off to write their screenplays or novels — and the festive period can offer writers time to get writing done. However, not everyone will be able – or even want – to… Read More »5 Reminders If You Want To Write This Holiday Season. This first appeared on Bang2write. Lucy Hay is a script editor, author and blogger who helps writers at her site, Bang2write.com. Follow Bang2write.com on Twitter at @Bang2write and on Facebook at @Bang2writers.
Whether you're an aspiring author, a mid-lister, or a bestseller, this is a good time to reflect on ways we can give back and pay it forward in the coming year in the writing community to help lift up our fellow authors. Brian Andrews is a best-selling thriller author. Check out his website, BrianAndrewsAauthor.com or follow him on Twitter at @lexicalforge. Career Authors is one of Writer's Digest top 101 websites for writers and helps authors write better, get published, and sell more books. For more advice like this subscribe to their RSS feed (direct Feedly signup link), on Twitter at @CareerAuthors and on Facebook at @CareerAuthors.
Writing is always going to be harder after a holiday. But taking a break isn't a mistake! Here's how to get back into writing after a break. Daphne Gray-Grant is a writing coach, author of Your Happy First Draft, and host of The Write Question show on YouTube. Publication Coach offers books, courses, videos, and one-on-one coaching for authors. If you want more advice like this, subscribe to their RSS feed (direct Feedly signup link) or follow them on Twitter at @pubcoach or subscribe to their YouTube channel.
To create next year's writing strategy, begin by answering this simple question—Why do you write? An engineer-turned-mystery-writer, Lisa E. Betz infuses her novels with authentic characters who thrive on solving tricky problems. Her debut novel, Death and a Crocodile, won several awards. For more from her, check out LisaEBetz.com, follow her on Twitter at @LisaEBetz or on Facebook at @LisaEBetzWriter. Almost an Author offers writing and publishing advice. For more like this, follow them on Twitter at @A3writers, on Facebook at @A3writers and subscribe to their RSS feed here (direct Feedly signup link).
One of the hardest things to learn as a human being is how to take constructive criticism with grace. The temptation to defend or debate is always just below the surface. This post is a guide to help writers rethink the process of hearing and receiving feedback, so that they can use that feedback for success rather than defeat. Zena Dell Lowe has worked professionally in the entertainment industry for over 20 years as a writer, producer, director, actress, and story consultant. The Write Conversation frequently makes the top lists of writing advice blogs. Follow them via their RSS feed (direct Feedly link here).
Other motivational advice this week:
The art and craft of writing
If you're writing about disabled characters, this article has some good advice — and links to lots and lots of useful resources. Fay Onyx is the producer and host of Writing Alchemy, a podcast that centers on intersectional characters. Onyx also collects and creates accessibility resources. Mythcreants is my all-time favorite writing advice site. Get their RSS feed here (direct Feedly signup link) or follow them on Twitter @Mythcreants and on Facebook at @mythcreants.
Can book writing software replace an editor? Nope. But it can help you improve your grammar and readability. Sue Weems is a writer, teacher, and traveler. For more writing tips, follow her on Twitter at @suelarkinsweems. The Write Practice is an advice site from a group of writers. They also have a writing critique community and a newsletter. Follow The Write Practice on Twitter, on Facebook, or subscribe to their RSS feed (direct Feedly signup link).
This is a round-up of the biggest issues writers have been struggling with this year. The importance of interiority — showing the inner life of your characters — was particularly high on the list. That section is definitely worth checking out and thinking about. Savannah Gilbo is a developmental editor and book coach. At Savanna Gilbo, she offers writing and pubishing advice.
Podcast: AI by Matt Bird And James Kennedy
How the AI debate has exploded… but this podcast was actually recorded a couple of weeks earlier, so it's already slightly dated! Matt Bird is the author of The Secrets of Story: Innovative Tools for Perfecting Your Fiction and Captivating Readers. Sci-fi author James Kennedy teaches writing and filmmaking and you can follow him on Twitter at @iamjameskennedy. The Secrets of Story blog offers in-depth, detailed advice about writing and structuring novels and screenplays.
Podcast: Futuristic Societies by Oren Ashkenazi, Chris Winkle, And Wes Matlock
Exploring these futuristic cultures and locations is one of scifi's main attractions, so it's important to think about how society would evolve with the passing of time. Oren Ashkenazi is the speculative fiction manuscript editor, Chris Winkle is the founder and editor-in-chief, and Wes Matlock is a content editor at Mythcreants. Mythcreants is my all-time favorite writing advice site. Get their RSS feed here (direct Feedly signup link) or follow them on Twitter @Mythcreants and on Facebook at @mythcreants.
Podcast: The WXR 2022 Q&A by Brandon Sanderson, Mary Robinette Kowal, Howard Tayler, and Dan Wells
Brandon Sanderson, Dan Wells, Mary Robinette Kowal and Howard Tayler took questions before a live audience aboard ship at WXR 2022. Topics include: How do you make your world feel big without infodumping? How do you balance a sense of progress with an unreliable narrator? And a lot more. You all know who Brandon Sanderson is. Mary Robinette Kowal is the Nebula and Hugo Award-winning author of the Lady Astronaut series and other books, and the former president of the Science Fiction and Fantasy Writers of America. Howard V. Tayler is the creator of the webcomic Schlock Mercenary. Sci-fi author Dan Wells is best known for the Partials Series and the John Cleaver series, and has been nominated for the Hugo and Campbell awards. Writing Excuses is a podcast about the art and business of writing. Support them on Patreon.
Other writing advice this week:
The business side of writing
Fantastic overview of the publishing industry today and what options authors now have. Joanna Penn has been sharing writing and publishing advice since 2008 at The Creative Penn and is the author of Successful Self-Publishing and many other writing and publishing advice books. She also has one of my favorite writing advice podcasts, and you can subscribe to it on Apple Podcasts, Google Podcasts, Spotify, or Stitcher. The Creative Penn offers articles, videos, books, tools, and courses for independent authors.
The way readers interact with books is changing, but overall the future is bright for writers. The key is to be prepared. Lisa Norman writes as Deleyna Marr and is the owner of Deleyna's Dynamic Designs, a web development company focused on helping writers, and Heart Ally Books, an indie publishing firm. She teaches for Lawson Writer's Academy. Writers in the Storm is another great site for writing advice, with a group of regular contributors and guest writers who post frequently. It is very well worth following on RSS (direct Feedly signup link here).
How to use Patreon as an author, producing content quickly and consistently, growing your subscription platform, engaging and fostering your community, and tips for creating cliffhangers. If the podcast doesn't load for you from their page, you can also get it on YouTube. Sacha Black is a fantasy author and writing coach, with several writing advice books including 13 Steps to Evil: How to Craft Superbad Villains (Better Writers Series) May 9, 2017. Follow her on her website, Sacha Black, on Facebook at @Sacha Black or on Twitter at @sacha_black. Sacha Black is a site that offers writing advice, courses, and podcasts. Follow the site via their RSS feed (direct Feedly link here).
Read this article if you're a writer who's made a big bet on being exclusive to Amazon — you might need to start making backup plans if Amazon substantially changes its policies or services. New York Times and USA Today bestselling author Kristine Kathryn Rusch writes bestselling science fiction and fantasy, award-winning mysteries, acclaimed mainstream fiction, controversial nonfiction, and the occasional romance. At KrisWrites.com, Rusch offers her thoughts about the publishing industry and other topics.
Other business advice this week:
---
Am I missing any writing advice sites? Email me at [email protected] or leave a note in the comments below.