Reading Time:
7
minutes
Some articles may include Amazon affiliate links. All proceeds go to helping us pay for original stories and to support writers of speculative fiction. Read more here.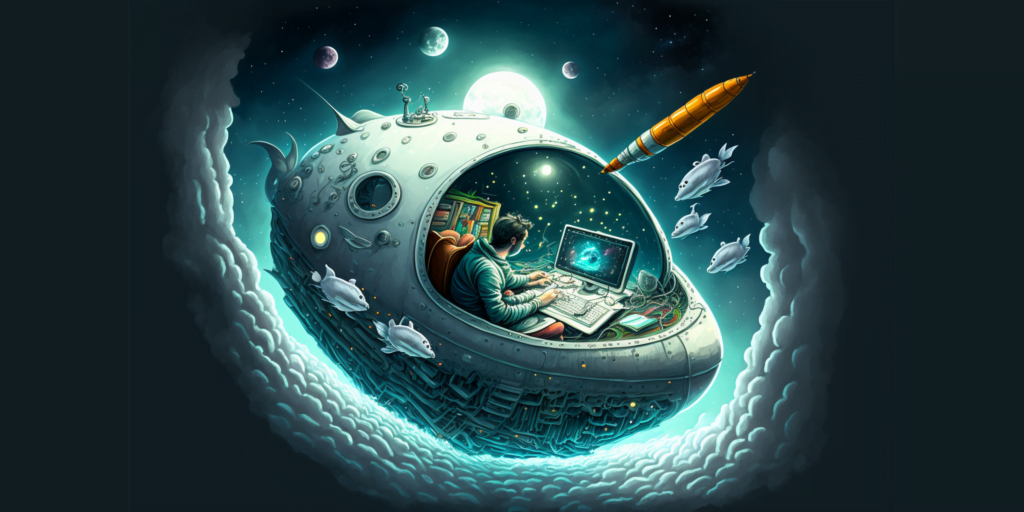 I subscribe to more than 150 writing advice sites and gather the best posts for you every single Sunday. You can see all the previous writing advice of the week posts here and subscribe to the RSS feed for this writing advice series here (direct Feedly signup link).
Productivity, mood management, and battling the demons inside
The seventh day of the Writer's Digest Get Started Right Writing Challenge gives writers the ability to choose their own project. See all the other days here. Robert Lee Brewer is senior editor of Writer's Digest. Follow him on Twitter @robertleebrewer. Follow Writer's Digest via their RSS feed (direct Feedly signup link), on Twitter at @WritersDigest and on Facebook at @writersdigest.
How to figure out your core motivation — your core fear and your core desire — that drives you in life. And in writing. Aligning your actual motivation and your writing will fill your emotional needs. You can get a quick free enneagram test from Truity — the full report costs $30 — and Claire Taylor herself offers a free five-day author alignment course. And here's a nice article from another expert about how to use the results of the enneagram test to help you find your core desires and fears. Becca Syme is a Gallup-certified strengths coach, author coach, and nonfiction author who's coached more than 5,700 authors. The QuitCast for Writers is a video podcast where Becca Syme discusses what to keep, what to quit, and what to question, if you are trying to make a go of the author career.
How to set quarterly writing goals — and how Jenna Moreci does it, and what her current quarterly goals are. Jenna Moreci is a best-selling fantasy author and the host of a YouTube show about writing that has hundreds of thousands of subscribers. Writing with Jenna Moreci is a YouTube channel that offers seven years' worth of writing advice, with new videos posted weekly.
Other motivational advice this week:
The art and craft of writing
Very detailed advice on how to add chaos into your novel to make it less predictable and more interesting for readers. Book agent Donald Maass is the author of one of my favorite writing advice books, Writing the Breakout Novel. The guy speaks from experience — a lot of experience — about what makes books sell. Writer Unboxed is a fantastic writing advice site, with lots of helpful articles from some of the biggest names in the field. Follow them on RSS (direct Feedly signup link) and on Twitter.
This choice represents how a character is forced between opposing forces, internal or external, and the only way to move forward is by making a difficult decision. Guests Kerrie Flanagan and Chuck Harrelson dispel their secrets on how they co-write sci-fi and fantasy books while co-running a publishing business. Mark Dawson is a USA Today bestselling author who teaches courses about book production and marketing. Check out his website at MarkJDawson.com. James Blatch writes military thrillers. For more, check out his website, JamesBlatch.com. On the Self Publishing Formula show, Mark Dawson and James Blatch talk about building a career as a self-published author.
A literary or story crisis, also called a dilemma, is a the crucial moment when a character is confronted with a significant choice that will change the trajectory of their life. This choice represents how a character is forced between opposing forces, internal or external, and the only way to move forward is by making a difficult decision. Joe Bunting is a book coach, an author and the leader of The Write Practice community. Follow him on Instagram at @jhbunting. The Write Practice is an advice site from a group of writers. They also have a writing critique community and a newsletter. Follow The Write Practice on Twitter, on Facebook, or subscribe to their RSS feed (direct Feedly signup link).
Podcast: Conveying Time by Oren Ashkenazi, Chris Winkle, And Wes Matlock
This week, the Mythcreants team is talking time jumps, time stamps, and all manner of time shenanigans. With luck, you'll learn how to properly explain when things happen. Oren Ashkenazi is the speculative fiction manuscript editor, Chris Winkle is the founder and editor-in-chief, and Wes Matlock is a content editor at Mythcreants. Mythcreants is my all-time favorite writing advice site. Get their RSS feed here (direct Feedly signup link) or follow them on Twitter @Mythcreants and on Facebook at @mythcreants.
Other writing advice this week:
The business side of writing
Every year, these guys survey publishing industry experts and analyze their own data to make predictions on what the new year has in store for authors and the wide world of publishing. Here are their top ten publishing trends to watch in 2023, starting with the rise of AI for writing, art, and audiobooks. Clayton Noblit is a marketing manager at Written Word Media, a book marketing company. Follow Written Word Media via their RSS feed (direct Feedly signup link), on Facebook at @writtenwordmedia and on Twitter at @WrittenWordM.
Setting up a blog is free and quick with platforms like WordPress.com, gets your name into search engines, allows you to interact with your fans, lets you control your brand, and helps you establish yourself as a professional. Plus, forcing yourself to come up with a topic every week and writing to deadline helps you build your writing muscles. Anne Allen started her career at Bantam and knows her way around the publishing industry. Allen also writes mysteries and how-to books about writing. For more advice like this, follow her on Twitter at @annerallen or on Facebook at @annerallenauthor. Anne R. Allen's Blog… with Ruth Harris offers advice from a couple of publishing industry veterans. For more advice like this, subscribe to their RSS feed (direct Feedly link).
Other business advice this week:
---
Am I missing any writing advice sites? Email me at [email protected] or leave a note in the comments below.