Reading Time:
12
minutes
Some articles may include Amazon affiliate links. All proceeds go to helping us pay for original stories and to support writers of speculative fiction. Read more here.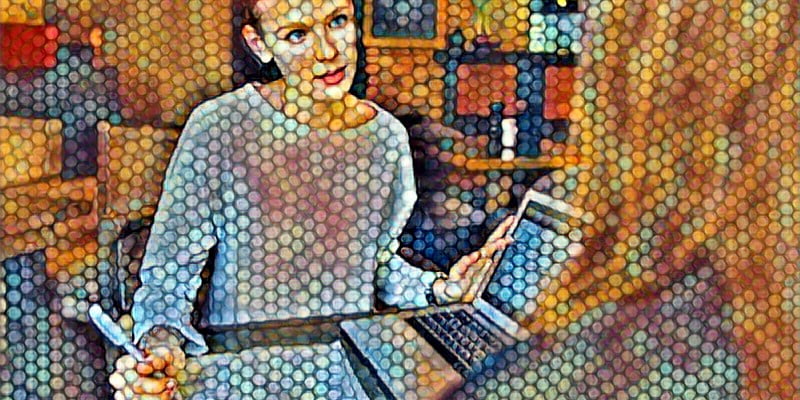 I subscribe to dozens of writing advice sites and new advice articles come into my news reader at a steady pace. You can see some of my favorites at my Writing Advice Sites resource page.
Here are the best writing advice posts from this previous week. Occasionally I include an RSS feed. To subscribe to an RSS feed, add the feed URL to your RSS reader app. The most popular is Feedly, which is the one that I use. It has a website and mobile apps, and it keeps track of which articles you've read, synched across all your devices.
You can see all the previous writing advice of the week posts here and subscribe to the RSS feed for this writing advice series here (direct Feedly signup link).
This week, I've decided to divide the list into three categories.
The first, for the beginning writer, is about getting the writing process down. Finding time to write, discovering your own writing rituals, learning how to overcome your inner critics, fighting writer's block, and how to finish what you start. Experienced writers sometimes hit these speedbumps as well, but they can kill a career for a new writer before it even starts.
Second, for the writer who's already started getting the hang of the mechanics of getting the words down on paper, is improving the quality of the writing. Of course, you can't improve writing if you don't have any to improve, so the previous step is critical. But once you're getting words down, you can start asking yourself if they're the right words, or maybe you can find better words. And you can even start thinking about sentences, paragraphs, scenes, chapters, plots, character arcs — all that stuff that goes into writing readable work. And even experienced writers probably have areas where they can improve, or new things to learn.
Finally, for the writer who's finished stories or books that are ready for the public, there's the question of finding your publishing platform, producing the actual book, finding copyeditors and cover artists, marketing, and advertising. For beginning writers these are mostly theoretical questions, but for experienced writers, they are critical for success. And the answers keep changing as the industry changes, so staying on top of things is critical.
So here we go.
Productivity, mood management, and battling the demons inside
Too many choices will exhaust and overwhelm us and inevitably lead to decision fatigue. Ruth Harris is a million-copy New York Times bestselling author, Romantic Times award winner, former Big 5 editor, publisher, and news junkie. Anne R. Allen's Blog… with Ruth Harris offers advice from a couple of publishing industry veterans. For more advice like this, subscribe to their RSS feed (direct Feedly link).
When you commit to following your curiosity wherever it leads, you inevitably discover processes and ideas that solve problems, inspire your writing, and fill you with delight. LA Bourgeois is a creativity coach. For more advice like this, check out her website, LABourgeois.biz. DiyMFA offers classes, advice articles and other training materials for writers. For more advice like this, follow them on Twitter at @DIYMFA and on Facebook at @DIYMFA or subscribe to their RSS feed (direct Feedly signup link).
Sometimes, writer's block isn't due to something being wrong with the writer, but something has gone wrong with the writing itself. This posts offers a few tools to help figure out what that something is. Kelsey Allagood is a fantasy writer and political analyst. For more advice like this, follow Allagood on Twitter at @KelseyAllagood. Her website is KelseyAllagood.com. Writer Unboxed is a fantastic writing advice site, with lots of helpful articles from some of the biggest names in the field. Follow them on RSS (direct Feedly signup link) and on Twitter.
Other motivational advice this week:
The art and craft of writing
If you have two or more characters who are equally important to the story and receive equal POV time, how should you balance them when structuring your novel? K. M. Weiland is one of my favorite writing advice people, and the award-winning author of acclaimed writing guides such as Structuring Your Novel and Creating Character Arcs. If you want more advice like this, subscribe to her blog, Helping Writers Become Authors, via its RSS feed (direct Feedly signup link). You can also follow her on Twitter @KMWeiland and on Facebook @kmweiland.author. Helping Writers Become Authors is one of our favorite writing advice sites. Follow it via its RSS feed (direct Feedly signup link), on Twitter, and on Facebook.
How do you write significant backstory into your prologue, and do it well? Harmony Kent is an award-winning writer who also offers editing, proofreading, manuscript appraisal, and beta reading services. To learn more, visit HarmonyKent.co.uk. For more advice like this, follow the Story Empire Blog on Facebook at @StoryEmpire5 or on Twitter at @StoryEmpire or get their RSS feed here (direct Feedly signup link).
What's between scenes is like mortar—necessary for your story's structure, but not significant. So summary text and spacer text can work just fine here. Sharon Oard Warner is the author of two novels, a short story collection, an edited anthology of stories on AIDS, and the craft book Writing the Novella. She also founded and directed the Taos Summer Writers' Conference, one of the largest such gatherings in the country and is Professor Emerita of English Language & Literature at the University of New Mexico. For more advice from Jane Friedman writing advice site, subscribe to their RSS feed (direct Feedly signup link here).
The use of the narrator voice, the assumption of a reader leaning in to listen and watch, adds narrative distance that deep POV aims to remove. Lisa Hall-Wilson is a writing teacher and award-winning writer and author. She also has two courses on writing in deep point of view that you might want to check out: Writing in Emotional Layers and Deep Point Of View Foundations can help you learn the effects the tools used in deep POV aim to create, so you can use those tools to best serve your story and your voice. Follow her on Twitter at @LisaHallWilson or on Facebook at @lisahallwilson. Her website is LisaHallWilson.com. Writers in the Storm is another great site for writing advice, with a group of regular contributors and guest writers who post frequently. It is very well worth following on RSS (direct Feedly signup link here).
In storytelling, the primary principles of plot include goal, antagonist, conflict, and consequences. You can't have a great plot without those elements first. The secondary principles of plot build directly off the primary, and they include progress, setbacks, costs, and turning points. As you likely guessed, the tertiary principles build off the prior two sets, and they include plans, gaps, and crises. September Hawkes is a freelance editor. Follow her on Twitter @SeptCFawkes and on Facebook at September C. Fawkes. At SeptemberCFawkes.com, Fawkes offers writing advice. Follow the site on its RSS Feed (direct Feedly signup link).
A real first scene will combine information in such a way as to do several jobs at once. It will create a setting, develop a conflict, and introduce characters at the same time. It will simultaneously set a tone for the novel and drive the story forward toward its inciting incident. David Farland is the 11-time New York Times bestselling sci-fi author with over 100 million books sales. And he's a writing instructor who's mentored dozens of dozens of New York Times bestselling authors, including Brandon Sanderson and Stephenie Meyer. Follow him on Twitter at @davidfarland, on Facebook at @DavidFarlandAuthor or subscribe to his YouTube channel. MyStoryDoctor offers writing advice, editing, coaching, online courses, and live workshops. Subscribe to them via their RSS feed (direct Feedly signup link here).
Great works of literature don't happen by magic. They are created by revision. Revision is a lot of work, but it doesn't have to be a chaotic process. Susan Koehler is the author of two middle grade novels as well as several teacher resources and nonfiction books for children. Visit her website at SusanKoehlerWrites.com to learn more. The Florida Writers Association is a great resource for writers, with a very active advice blog. Follow the Florida Writers Association via their RSS feed (direct Feedly link here), on Facebook at Florida Writers Association and on Twitter at @FloridaWriters1.
One of the most difficult things to do well in writing is to integrate exposition in a way that maintains the forward thrust of your story. Halting the narrative to provide background about a character or event is sure to lose your momentum. Stavros Halvatzis is a writer and writing teacher. For more advice like this, check out StavrosHalvatzis.com or follow him via his RSS feed (direct Feedly link here).
Instead of focusing solely on the emotion that would logically follow a plot event, allow your character to experience some of the deeper layers of emotion surrounding that event. Joslyn Chase is a thriller writer — you can see all her books on Amazon here and follow her on Facebook here. The Write Practice is an advice site from a group of writers. They also have a writing critique community and a newsletter. Follow The Write Practice on Twitter, on Facebook, or subscribe to their RSS feed (direct Feedly signup link).
Other writing advice this week:
The business side of writing
Publishing professionals are looking for authors who can reach their target market. If you don't have this reach or it is small, begin building it every day. W. Terry Whalin, a writer and acquisitions editor lives in Colorado. A former magazine editor and former literary agent, Whalin is an acquisitions editor at Morgan James Publishing. He has written more than 60 nonfiction books including Jumpstart Your Publishing Dreams, 10 Publishing Myths, and Book Proposals That $ell, 21 Secrets To Speed Your Success. Almost an Author offers writing and publishing advice. For more this this, follow them on Twitter at @A3writers, on Facebook at @A3writers and subscribe to their RSS feed here (direct Feedly signup link).
The cost factor of standard audiobook production is daunting, especially if you have a big backlist that needs audio renditions. While a well-made audiobook with a standard human reading can cost thousands of dollars, the digitally produced edition can come in at several hundred bucks. Porter Anderson is Editor-in-Chief of Publishing Perspectives and co-founded The Hot Sheet, a newsletter for trade and indie authors. For more, visit PorterAndersonMedia.com. Writer Unboxed is a fantastic writing advice site, with lots of helpful articles from some of the biggest names in the field. Follow them on RSS (direct Feedly signup link) and on Twitter.
How hybrids justify their service prices and why hybrid publishing can work for you. Elizabeth Javor is the director of sales and marketing for Outskirts Press, a group of publishing consultants who focus on educating authors on the self-publishing process to help them publish the book of their dreams. Self Publishing Advisor offers tips and advice for self-published authors.
If you love writing science fiction and fantasy, submitting your work to a contest can be a fantastic option. Hannah Yang has compiled a list of legitimate, high-quality science fiction writing contests that you can submit your writing to in 2022 and 2023. Hannah Yang is a speculative fiction writer who loves all things strange and surreal. Follow her work on HannahYang.com or on Twitter at @hannahxyang. ProWritingAid is an AI-powered editing tool. The site also offers writing advice.
Other business advice this week:
Podcasts
On this episode, Sacha talks to Ryan Cahill all about how to write epic fantasy. Sacha Black is a fantasy author and writing coach, with several writing advice books including 13 Steps to Evil: How to Craft Superbad Villains (Better Writers Series) May 9, 2017. Follow her on her website, Sacha Black, on Facebook at @Sacha Black or on Twitter at @sacha_black. Sacha Black is a site that offers writing advice, courses, and podcasts. Follow the site via their RSS feed (direct Feedly link here).
How to market your series slowly, deliberately, and effectively, how to see how far you've grown as an author, and what spot reviewer services aren't legit. Bryan Cohen is an experienced copywriter, bestselling author, and the founder of Best Page Forward and Amazon Ad School. You can find out more about Bryan at BryanCohen.com. H. Claire Taylor is a humor author and fiction strategist, as well as the owner of FFS Media. The Sell More Books Show is a weekly podcast focusing on helping new and experienced authors stay up-to-date with the latest self-publishing and indie news, tools and book selling and marketing strategies.
Annoying Characters by Oren Ashkenazi, Chris Winkle, and Wes Matlock
This week the Mythcreants team talks about the different ways a character can turn annoying, how to avoid it, and why fartbending is always a bad idea. Oren Ashkenazi is the speculative fiction manuscript editor, Chris Winkle is the founder and editor-in-chief, and Wes Matlock is a content editor at Mythcreants. Mythcreants is my all-time favorite writing advice site. Get their RSS feed here (direct Feedly signup link) or follow them on Twitter @Mythcreants and on Facebook at @mythcreants.
Other podcasts from this past week:
Videos
Literary agents Jessica Faust and James McGowan offer tips on how to finally put your novel to rest. Jessica Faust is the owner and president at the BookEnds literary agency. Follow her on Twitter at @BookEndsJessica or on Instagram at @jfaust_bookends or email her directly at [email protected]. James McGowan is a literary agent at the agency. BookEnds is a literary agency that represents more than 300 authors and illustrations, both fiction and non-fiction, including several New York Times and USA today bestsellers. They are currently open to submissions. If you want more advice like this, subscribe to their RSS feed (direct Feedly signup link) or follow them on Twitter at @bookendslit or on Facebook at @BookEndsLiterary.
For those of you who haven't heard of hybrid publishing, companies have sprung up that will help guide you through the self-publishing process. They'll help you find copy editors, cover designers and printers. But — and this is a big but — they will charge you handsomely for this service. Most of the hybrid publishers I know charge well in excess of $5,000 for this service — and that's on top of the other fees such as printing or copy editing. Daphne Gray-Grant is a writing coach, author of Your Happy First Draft, and host of The Write Question show on YouTube. Publication Coach offers books, courses, videos, and one-on-one coaching for authors. If you want more advice like this, subscribe to their RSS feed (direct Feedly signup link) or follow them on Twitter at @pubcoach or subscribe to their YouTube channel.
Barbara Hartzler has sold over 40,000 young adult paranormal books in two years, and offers tips on cover selection, finding the right target audience, and relaunching the right way. Chandler Bolt is an investor, advisor, the CEO of Self-Publishing School andSelfPublishing.com, and the author of six bestselling books including his most recent book titled Published. Self Publishing School offers online courses about self publishing, as well as a podcast, blog, and other resources. For more advice like this subscribe to their RSS feed (direct Feedly signup link), on Twitter at @Self_Pub_School and on Facebook at @Self Publishing School.
Other videos from this past week:
---
Am I missing any writing advice sites? Email me at [email protected] or leave a note in the comments below.