Reading Time:
9
minutes
Some articles may include Amazon affiliate links. All proceeds go to helping us pay for original stories and to support writers of speculative fiction. Read more here.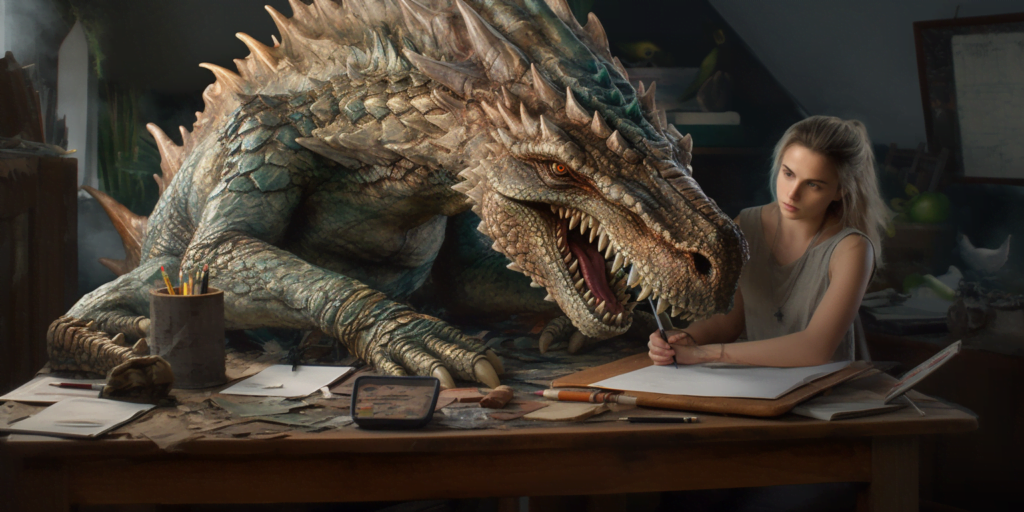 I subscribe to more than 150 writing advice sites and gather the best posts for you every single Sunday. You can see all the previous writing advice of the week posts here and subscribe to the RSS feed for this writing advice series here (direct Feedly signup link).
Productivity, mood management, and battling the demons inside
How to create a "habit loop" and use it as a tool to make our own writing a habit. Rochelle Melander is a productivity expert and writing coach. She's the author of 12 books, including Level Up: Quests to Master Mindset, Overcome Procrastination and Increase Productivity. For more advice like this subscribe to Write Now Coach via their RSS feed (direct Feedly signup link), on Twitter at @WriteNowCoach and on Facebook at @WriteNowCoach.
Sometimes, to unblock creativity, you need to find ways to nurture yourself and let yourself be like a child. Kelsey Allagood is a fantasy writer and political analyst. For more advice like this, follow Allagood on Twitter at @KelseyAllagood. Her website is KelseyAllagood.com. Writer Unboxed is a fantastic writing advice site, with lots of helpful articles from some of the biggest names in the field. Follow them on RSS (direct Feedly signup link) and on Twitter.
That negative, self-sabotaging voice you hear in your head is not you. Those thoughts are not yours. They are Resistance. Everyone hears that same voice. Steven Pressfield is the author of The Legend of Bagger Vance and other novels as well as The War of Art and other non-fiction books about creative success. Check out his Amazon author page here. StevenPressfield.com offers weekly articles as well as a free mini-course about the business of writing.
Think you're too old to start writing? Older, unpublished writers are now at a premium – with radical, edgy women aged into their 80s particularly sought-after, says this post. Debbie Burke is an award-winning thriller writer and journalist. For more, check out her website, DebbieBurkeWriter.com or follow her on Twitter at @burke_writer. The Kill Zone is the home of eleven top suspense writers and publishing professionals. They cover the publishing business, marketing how-tos, and the craft of writing. Follow them on RSS here (direct Feedly signup link). Follow them on Twitter @killzoneauthors.
Other motivational advice this week:
The art and craft of writing
Another thoughtful podcast about AI. Today, Joanna Penn talks with Draft2Digital COO Dan Wood and prolific sci-fi author and 20BooksTo50K founder Michael Anderle. Joanna Penn has been sharing writing and publishing advice since 2008 at The Creative Penn and is the author of Successful Self-Publishing and many other writing and publishing advice books. She also has one of my favorite writing advice podcasts, and you can subscribe to it on Apple Podcasts, Google Podcasts, Spotify, or Stitcher. The Creative Penn offers articles, videos, books, tools, and courses for independent authors.
Authors writing didactic fiction will often fail to empathize with their villains and see the appealing traits that give them power. They fail to make it a fair fight. If you're going to write manifesto fiction, it's got to be compellingly messy. We shouldn't know who's going to win, and both the protagonists and the villains need to represent a full spectrum of humanity. Former literary agent Nathan Bransford is the author of How to Write a Novel and the Jacob Wonderbar series. Follow him on Twitter @NathanBransford and on Facebook at @NathanBransfordBooks. At NathanBransford.com, Bransford offers writing and publishing advice as well as book coaching, editing, and marketing services.
Guest Travis John Klune is an American author of fantasy and romantic fiction featuring gay and LGBTQ+ characters. His fantasy novel The House in the Cerulean Sea is a New York Times best seller and winner of the 2021 Alex and Mythopoeic Awards. In this episode, he discusses character creation and personification and incorporating mythology into stories. Sacha Black is a fantasy author and writing coach, with several writing advice books including 13 Steps to Evil: How to Craft Superbad Villains. Follow her on her website, Sacha Black, on Facebook at @Sacha Black or on Twitter at @sacha_black. Sacha Black is a site that offers writing advice, courses, and podcasts. Follow the site via their RSS feed (direct Feedly link here).
Are you writing a novel with more than one protagonist and/or plotline? Are you using flashbacks or writing a series? If so, this is an episode you simply must check out. Valerie Francis and Melanie Hill are literary editors and writers. The Story Nerd podcast demystifies story theory so writers spend less time studying and more time writing.
The ingredients of universe-building are morality, science, politics, art, and religion. The interplay of these creates a moral and political universe. Each ingredient packs its own punch, and getting the ratios right means you won't have an overcooked souffle of a universe. Morgan Hazelwood writes from her lair in Northern Virginia. She's a blogger, vlogger, and podcaster of writing tips and writerly musings, plus an actively querying fantasy author. For more advice like this, follow her on Twitter at @MorganHzlwood, on Facebook at Morgan Hazelwood, and on YouTube at Morgan Hazelwood. At Morgan Hazelwood, she offers writing advice and resources.
Magical realism has a long history of bending genres, exploring metaphors, and inspiring writers. Editor Michael Woodson breaks down what magical realism is and offers a four-step process to start writing your own magical realism today. Michael Woodson is a content editor at Writers Digest. If you want more stuff like this, follow Writer's Digest via their RSS feed (direct Feedly signup link), on Twitter at @WritersDigest and on Facebook at @writersdigest. Follow Writer's Digest via their RSS feed (direct Feedly signup link), on Twitter at @WritersDigest and on Facebook at @writersdigest.
Podcast: Describing Violence by Oren Ashkenazi, Chris Winkle, and Wes Matlock
What's the best way to describe violence? How much violence should you describe in the first place? Is there ever a good time to use metaphors in fight scenes? Oren Ashkenazi is the speculative fiction manuscript editor, Chris Winkle is the founder and editor-in-chief, and Wes Matlock is a content editor at Mythcreants. Mythcreants is my all-time favorite writing advice site. Get their RSS feed here (direct Feedly signup link) or follow them on Twitter @Mythcreants and on Facebook at @mythcreants.
Film does have an edge in creating memorable villains, but novels can do it too with the proper preparation. Oren Ashkenazi is a speculative fiction manuscript editor at Mythcreants. Mythcreants is my all-time favorite writing advice site. Get their RSS feed here (direct Feedly signup link) or follow them on Twitter @Mythcreants and on Facebook at @mythcreants.
Other writing advice this week:
The business side of writing
Guest urban fantasy author Martha Carr explains how to kill it with crowdsourcing and world-building collaborations. Mark Dawson is a USA Today bestselling author who teaches courses about book production and marketing. Check out his website at MarkJDawson.com. James Blatch writes military thrillers. For more, check out his website, JamesBlatch.com. On the Self Publishing Formula show, Mark Dawson and James Blatch talk about building a career as a self-published author.
How indie authors are doing compared to traditionally published authors, what the trends are, and where we go from here. Novelist Kevin Tumlinson is also the director of marketing at Draft2Digital. Draft2Digital is one of the leading publishing platforms that helps authors publish their books to multiple platforms. It also has a very nice and easy ebook creation and formatting tool.
Other business advice this week:
---
Am I missing any writing advice sites? Email me at [email protected] or leave a note in the comments below.