Reading Time:
14
minutes
Some articles may include Amazon affiliate links. All proceeds go to helping us pay for original stories and to support writers of speculative fiction. Read more here.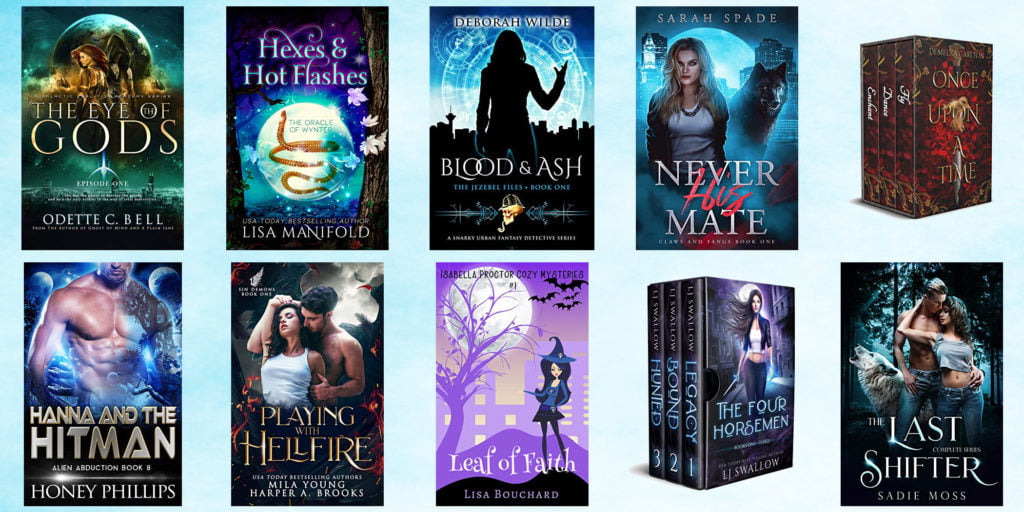 Did you know that Amazon has a list of the top-selling and free sci-fi and fantasy books?
The list changes constantly — authors set their books to free temporarily to promote their work, and, of course, books move up and down in the rankings. But are any of the books actually worth reading? Well, I read the first few chapters of each to find out, so you don't have to.
This week's list is completely different from those of the previous weeks. So if you're a fan of free books, it looks like there are going to be new things to read all the time.
I've noticed that if you try to open the list on a mobile device, it will take you to the listings that cost money, instead. I've found that by switching to the 'desktop site' in the mobile browser, the free list comes up.
Oh, and if there's a book that catches your eye, grab it quickly, since the books are often free for only a short time. And, Amazon allows you to lend your e-books, for free, to your friends. Even free e-books. Here are the instructions.
Most of these books are the first book in the series, and in each case, I've checked to see whether the rest of the books are free as well, or whether they're in Kindle Unlimited. Learn more about Kindle Unlimited here.
The list is accurate as of the time of writing but may have changed since the story was posted.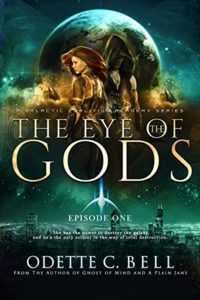 This is the first of five books in The Eye of the Gods galactic empire science fiction series. The other books are $2.99 each and are not in Kindle Unlimited.
This book is a sci-fi story about two people who both really want a painting, or so it seems from the first two chapters.
After the prologue, which I enjoyed because it starts off with some exciting action involving a spaceship almost blowing up in outer space, the first couple of chapters slow way down.
I actually really liked the book. The writing is engaging, and the story is interesting enough that I wanted to keep reading. And if you're into the tech side of things, you do get spaceships and robots in the story right from the get-go.
Vivian Bond procures items for rich clients, who in return do favors for her. She does this to keep her deceased father's floundering business alive, a business that creates medical robotic devices to keep people alive. Vivian herself has an AI powered pacemaker that keeps her heart beating.
In chapter one Vivian buys a painting for a client.
But she's just bought the wrong painting, because a coalition officer really wants it and he'll do anything to stop her from having it. Jake Trace is that officer, and not only does he decide to arrest Vivian, he uses some fancy tech to turn off the apparently illegally installed pacemaker that keeps her heart from stopping.
Get the ebook free from Amazon here.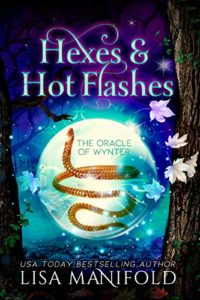 This is the first of six books in the The Oracle of Wynter later in life paranormal romance series. The other books are $2.49 to $4.99. The sixth book, Witchery and Weight Gain, is currently available for pre-order and will be coming out later this month. All of the books are in Kindle Unlimited.
Wynter Chastain is in her mid-forties and all alone. Her kids are at college and her beloved husband died six months ago in a helicopter crash. She's heartbroken.
And it's taken ages to get the life insurance payment. She and her husband had sacrificed to make sure that their business — and the kids' college tuitions — would be taken care of if anything happened to him.
Now, the agent finally shows up at her house because there's an issue with the policy. Her husband had changed it shortly before he died. She now has to share the payment. Not with the kids — but with his other family. A woman she's never heard of is getting 80 percent of the payment.
One she gets done with several days of crying, and the part where she has to tell the kids what happened, she pulls herself together and heads out. She's going to go out, listen to some music, hang out with some people, have some drinks.
She winds up going with a strange man to his hotel room.
She goes to the bathroom for a few minutes and when she comes out, the hotel room is trashed and she doesn't see Ash, so she calls the police.
Also, she puts on a bracelet she finds, but it disappears. So weird. And then she starts to hear voices.
I was wondering when the magic stuff was going to start.
Turns out, she's now the Oracle. The bracelet has turned into a tattoo around her arm, and it's talking to her. And the very next day, someone shows up asking for her help — but she doesn't know what she's supposed to do.
I like this story, and I like Wynter. I can see why the book has more than a thousand positive reviews, and why the author is a New York Times bestseller. I'll probably keep reading.
Get the ebook box set free from Amazon here.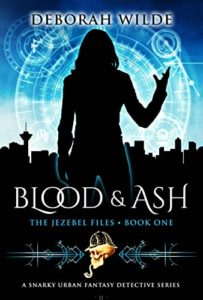 This is the first of four books in The Jezebel Files humorous urban fantasy series. The other books are $4.99 to $6.99 and are not in Kindle Unlimited.
Even though it says it in the name, it's clear from the first line that this book is full of attitude. A private investigator without any magic of her own has been hired to track a young girl. Her employer, the girl's mother, has simply described her behavior as being fishy. It quickly becomes apparent that the girl does in fact have magic, and as such she technically falls outside of the jurisdiction of our hired private investigator. The only problem here is that she is an unregistered magic user, and as such is living in a state of fear. Her mother knew she could potentially have magic from the beginning; however, the private investigator has simply confirmed it.
The plot and pacing of this book is well done. It does a good job of launching right into action, and the first person point of view is very effective at getting across a gritty feel. As Urban fantasies go, it was refreshing to see the main character as someone who does not actually have any sort of special powers or abilities, but it's still aware of, and involved in, the world that lives next to our mundane one. The one critique I have for the tone might be that if you aren't into a whole lot of sass, it might quickly get overbearing. My tolerance for these sorts of characters is relatively high, however this one goes beyond even what you'll find in Gideon the Ninth.
If you like fast-paced gritty stories with noir vibe, found powers, and political house intrigue, then I think this book is for you. I don't often say it, but this is one I might continue to read on my own. And I'm not even usually a huge urban fantasy fan!
Get the ebook free from Amazon here.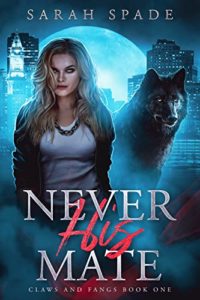 This is the first of five books in the Claws and Fangs urban fantasy vampire romance series. The other books are $1.99 to $4.99 each. The fifth book, Taste of His Skin is currently available for pre-order, and will be coming out this August. The entire series is in Kindle Unlimited.
Gem is a very very rare female Alpha. She keeps her status secret because it's a powerful thing. There has only been one other in the history of this world. The previous female alpha was a legendary goddess who was able to control other shifters. If she has sex with any shifter, then they will also become an alpha. Whoever she accepts as her mate also becomes a god. As a female Alpha, Gem has the instinct to choose her own mate, which is a power only the male shifters have.
At a young age, Gem found her mate — the gorgeous Ryker. Soon after, he chose another woman to be his mate. A decade later, Ryker is an alpha and betrothed to Gem. He still is in love with the other woman.
The way Gem confronts him is fascinating. She hides behind a facade of cuteness, curls, and pink nail polish. But in this scene, she's furious and lets out some of her alpha vibes in front of him and his council.
It doesn't end well.
Years later, Ryker hounds her down wanting her back.
I like Gem's agency and legendary power. I will probably be back to read the rest of this. I'd like to see more of Gem's power and I hope that Ryker finds a way to redeem himself.
First, a disclaimer. I'm not the target reader for romance novels. I dislike any book with alpha wolves in it — that's a myth that's been long discredited. Wolves don't have alphas and betas. They have parents and children. Well, puppies. And the parents boss their kids around.
And I dislike any book with fated mates in it.
I'm not saying that these are bad tropes. There are plenty of other tropes that are infinitely more ridiculous that I absolutely love. But these particular ones — not for me.
But that's not to say I'm not going to give the book a chance.
Gemma Swann has come to Accalia to marry Ryker Wolfson, the alpha of the local pack, and her fated mate. Except he turns her down. He's more interested in someone else.
But she makes a mistake. When she's having it out with him, her control slips. Both Ryker and the other wolves see that she's no ordinary omega wolf, but an alpha herself. A female alpha. A one-of-a-kind.
Now all the wolves will be after her. So she's going to go where they can't follow — to Muncie, a city controlled by vampires.
She finds a vampire ally who vouches for her, gets a job as a bartender, and settles in. The vampire gives her a magical necklace made of one of his fangs that keeps anyone from being able to smell that she's a shifter. And this vampire? He's old but hot, and interested in her.
Will she get together with the vamp? Resolve things with the Ryker? I'd like to say that I really don't care, but I kind of do. Gemma is a compelling character, and the book is compellingly readable.
Get the ebook free from Amazon here.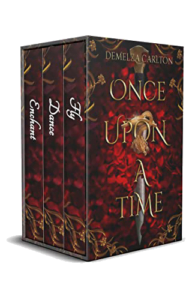 This is a collected set of the first three books in the 25-book Romance a Medieval Fairytale series: Enchant: Beauty and the Beast Retold,  Dance: Cinderella Retold, and Fly: Goose Girl Retold. The other collections are $3.99 each and are not in Kindle Unlimited.
In Dance: Cinderella Retold the classic fairy tale is retold in in a setting clearly inspired by eastern culture.
Mai is dutiful to her father, who is the greatest general in the empire. He teaches her martial arts. After his wife dies, the emperor summons him to the palace and sends him home with another wife, Jing. Jing is judgy and cruel to Mai, and she mutilates her daughters' feet to make them marriageable. For years, Jing gives birth to only stillborn children.
Then Mai's father receives an order from the emperor to join in a military campaign. The messenger assumes that Mai is a boy and suggests that she might join it. Nice foreshadowing. And then Jing gives birth to a son.
I won't be back for this. I can understand why people like it though. It's fast-paced and the prose reminds me of old fairy tales.
Get the ebook box set free from Amazon here.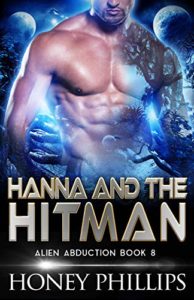 This is the eighth of fourteen books in the Alien Abduction first contact science fiction romance series. The other books are $2.99 to $3.99 each and are in Kindle Unlimited.
Aidan is a priest of the Kaisarian Empire which rules several planets. He is on a mission to assassinate someone on the planet of Hothrest when he picks up Hannah. He finds Hannah in a cage with a bunch of other little aliens. She's naked, scared, and little. The other caged aliens warn her that life in this empire is tough unless you are a warrior.
Aiden takes pity and decides to free her.
She doesn't know what to do with freedom. He tells her to go get a job. She says that she was a florist back on earth, but there wouldn't be a demand for her skills on Hothrest. So he lets her come along with him.
I like this world. I like the details. There are a lot of bizarre aliens and planets, but it all seems to make sense in its own way. I think that I will be back.
Get the ebook free from Amazon here.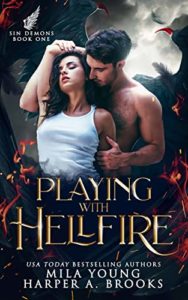 This is the first book of seven in the Sin Demons occult magic romance series. The other books are $2.99 to $5.99 each. The entire series is in Kindle Unlimited.
Aria is breaking into the town's most popular antique store. The owner is a creepy old dude who hit on and fired her best friend. Oh, and he also got a new magical artifact in — one that's supposed to be worth six figures. Aria wants to steal it and sell it on the magic underground market.
Aria has the ability to detect magic. The nastier the magic, the easier it is for her to sense it. And this Orb of Chaos is just calling to her.
The heist is full of action. I'm having fun reading this.
Once Aria gets the orb, she's going to use it to start a new life. She's about to turn 18, and when she does, she's going to leave her foster home and find a place of her own to live, just like her foster siblings did.
Except that before she can do that, her foster father sells her to pay his debts. Sells her to demons.
I'm not a fan of young adult stories, but I'm loving this book. I like Aria very much. She's tough, she's proactive, and when things don't go her way, she fights back.
But then one of the demons that now owns her turns out to be very handsome. And he's Cain, son of Lucifer. And then we switch to his point of view. Oh, no! They're going to get together! Apparently, there's something about Aria that's very mysterious and captivates him.
And then she meets one of the other demons, who's also hot, and a sex demon, and there's a third demon… anyway, I just went back and read the book's description and it's a reverse harem romance. She's going to end up with all three of them, despite the fact that they bought her and want to eat her soul.
I'm torn. On the one hand, yuck. On the other hand… I like Aria, and the book is very hot and steamy.
Get the ebook free from Amazon here.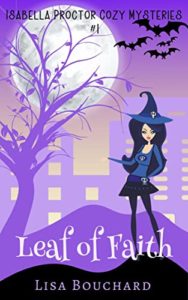 This is the first of nine books in the Isabella Proctor Cozy Mysteries teen and young adult supernatural mystery series. The other books are $4.99 each. The sixth, seventh, eighth, and ninth books of the series are currently available for pre-order and will be coming out in April, May, July, and September. The entire series is in Kindle Unlimited.
I'm a sucker for magical cozy mysteries set in small towns with plucky heroines, and this book fits the bill perfectly. The fact that the rest of the series is in Kindle Unlimited is just the cherry on the cozy cake.
Isabella Proctor is a young witch with an unpaid internship with a local apothecary and a paying job at a bakery and coffee shop. She lives in a small apartment with her best friend, and goes home regularly for family dinner with her mother, grandmother, and aunts.
And then, one day when she gets to the apothecary she finds her boss's dead body. She's been murdered.
Obviously, Isabella's family wants her to move home. Their small New Hampshire town is clearly too dangerous for Isabella to live alone. But this was the first murder in years, and the last one was a domestic violence case where the murderer is still in jail. It's a safe down. Isabella doesn't really need to move home, does she? All she really needs is to strengthen the magical wards around her apartment, right?
And Isabella doesn't really have to investigate the murder. But this wouldn't be a cozy mystery if she just left it up to the cops, so she doesn't, and ropes in her cousins to help.
I love the family dynamics here and the cozy small-town feel. It's a perfect book to curl up with over the weekend to get a mental break from all the bad news out there.
Get the ebook free from Amazon here.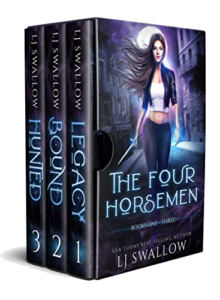 This is a box set of the first three books in The Four Horsemen Occult suspense series. The other books are $2.99 to $3.99 each and the entire nine-book series is in Kindle Unlimited.
A woman named Verity who can tell no lies is pursued by four men who claim to be the four horsemen of the apocalypse. Unfortunately for her, it's true. And she's the fifth?
This boxed set contains three novels in The Four Horsemen series, and has quite a bit of slow-build romantic steamy scenes later on, and an increasingly common set up known as the reverse harem.
While I don't always require an immediate jump into fast-paced action, the first chapter of this book was incredibly boring. Luckily, it was also short, but it was mostly a woman talking to herself and a few friends about her incredibly boring job. I'm all about introducing characters in their natural environments and then later on changing things to reveal special secrets, but this felt a little overdone to me. Additionally, the fast and relatively short scenes in each chapter gave me a little more of a kaleidoscope effect to the story as opposed to smooth transitions. Full disclosure: I am definitely not the target audience for this type of story, so if you're into the romance and urban fantasy vibe, then this might be for you.
The writing and prose is well done and the book is a professional piece of work. The idea of a woman being pursued by the four horsemen of the Apocalypse sounded neat to me, however this feels a lot more like a generic romance love quadrangle that happens to be set with supernatural characters. I would much prefer there be some other element to the supernatural piece, some sort of speculative element that drives the plot, in addition to love and relationships. Simply because of this, I don't think I'll be continuing this series anytime soon, but, like I said, if you enjoy romance novels with a little bit of speculative element, this is a lot of book for the price!
Get the ebook box set free from Amazon here.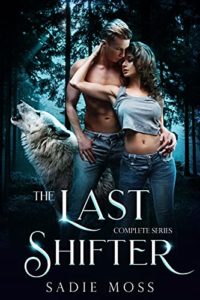 This is the a box set of all four books in The Last Shifter series, which are all normally $4.99 each, though they are in Kindle Unlimited.
Alexis, 21, is living a quiet, boring life as a patient in the Strand Corporation medical treatment complex, after a decade in quarantine. It's not all bad, though. Her mom visits every week, and there're other patients and medical staff. Plus, there's a hot new orderly.
Alexis is suffering from a rare autoimmune disease, one that's interesting enough so that the Strand Corporation, a biomedical research firm, is covering the cost of the treatment. She has to follow a regiment of medicines, exercise, and limited contact with outside pathogens. If she does, she feels fine most days, and can kind of live a normal life. So to speak. Then she has another seizure, almost dies, and is back in the ICU for a week.
She's recovering, getting physical therapy, but wonders if she'll ever be cured, or will have to be a patient for the rest of her life, whatever she's got left of it.
But given the title of the book, I'm guessing that she's actually a werewolf and all this medical intervention is there to keep her in her human form.
And I might be right. The facility is attacked by a group of men who are there looking to rescue someone. Not her, but they take her with them when they flee, anyway. One of the men is her hot orderly. Oh, and something weird happens during all the fighting. Her mother is there, and Alexis runs to her, and her mother tries to shoot her. Oh, that can't bode well.
The men kidnap her and she thinks that she's about to die. I don't blame her. If these kidnappers don't kill her, or if she doesn't die from a stray bullet, her autoimmune disease will do her in quickly without her meds and immediate medical intervention.
The men tell her that the Strand Corporation is experimenting on people, trying to create shifters, and she's just one of those experiments. And they decide to head to the state of Washington, the rumored location of another pack of escaped shifters, in hope of getting the help they need to find the woman they were looking for.
I'm actually getting into this book. The story is interesting, the writing is extremely readable, the characters compelling, and it pulls you right in.
Get the ebook box set free from Amazon here.
---
See all the Free Friday posts here. Do you have other free books for us to check out? Comment below or email me at [email protected].
Have you read any of these books? Are you planning to? Let us know in the comments!
And watch Maria and Amira talk about all these books in the video below: