Reading Time:
12
minutes
Some articles may include Amazon affiliate links. All proceeds go to helping us pay for original stories and to support writers of speculative fiction. Read more here.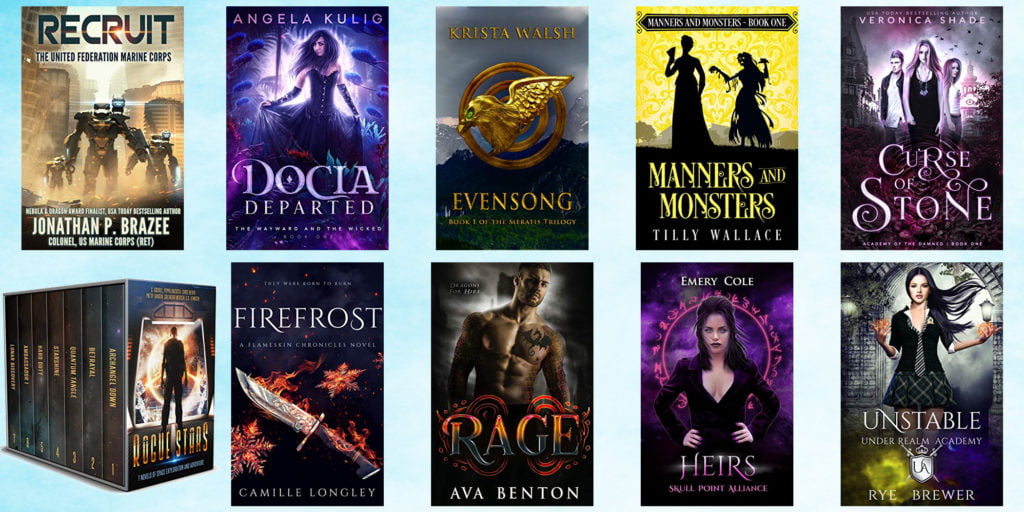 Did you know that Amazon has a list of the top-selling and free sci-fi and fantasy books?
The list changes constantly — authors set their books to free temporarily to promote their work, and, of course, books move up and down in the rankings. But are any of the books actually worth reading? I read the first few chapters of each to find out, so you don't have to.
This week's list is completely different from those of the previous weeks. So if you're a fan of free books, it looks like there are going to be new things to read all the time.
I've also noticed that if you try to open the list on a mobile device, it will take you to the listings that cost money, instead. I've found that by switching to the "desktop site" in the mobile browser, the free list comes up. Oh, and if there's a book that catches your eye, grab it quickly, since the books are often free for only a short time. And I also learned something new last week — Amazon allows you to lend your e-books, for free, to your friends. Even free e-books. Here are the instructions.
1. Recruit by Jonathan P. Brazee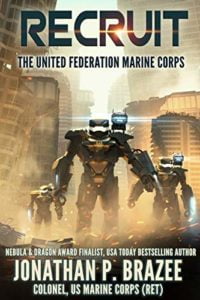 This is the first book in the eight-book military sci-fi series The United Federation Marine Corps. The others cost $3.99 to $4.99 each, but are all in Kindle Unlimited., which costs $10 a month and lets you read as many books as you want at no cost — kind of like a Netflix for books.
Ryck Lysander's family are farmers on the frontier planet Prophesy but things don't go well and he winds up joining the United Federation Marine Corps.
The author himself is a retired Marine infantry colonel as well as a two-time Nebula Award Finalist and a USA Today Bestselling writer.
It reminds me a bit of David Drake's Hammer's Slammers or the Lt. Leary series, or David Weber's Honor Harrington series. By the way, I see that the first book in the Honor Harrington series, On Basilisk Station, is currently free. If you like military sci-fi, and cool, strong and clever female leads, definitely check it out. I've read it multiple times, but I just grabbed a copy so that I'd have it in my library forever. Or, at least, until Amazon does something weird.
Recruit is a coming of age story about Ryck going through military training then the being sent out to fight rebels and pirates. Throughout the series, Ryck moves up through the ranks and the battles get bigger. Yes, there are going to be aliens.
Especially at the start, the main character isn't as well-developed as I'd like, but the action is written very well, and the futuristic military technology is well explained and compelling. The author knows what he's talking about.
This is one of my favorite speculative fiction sub-genres, so I'll be finishing this book, and probably reading the whole series. If I do, I'll come back and update this post with my impressions.
Get the Kindle e-book free from Amazon here.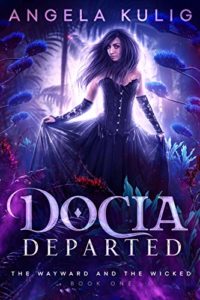 This is the first book in the Wayward and the Wicked trilogy, but the other two books aren't out yet.
I had a hard time getting into this book, so, given that there are other books I can be reading, I'm not going to finish it.
It starts out with Docia a prisoner somewhere, we can't tell where. Then she — wakes up? — and is on a street. Meeting her ex? Then she's back in the cage again. It's like Groundhog Day, but not funny.
According to the book's description, she's in something called the otherworld, where she's tormented by nightmares. A fallen angel called Fox is going to help her escape.
The writing is definitely very evocative and emotionally powerful. I'm not really looking for emotionally powerful in my escapist reading. When I see those words, I usually go running in the opposite direction. But if that's your thing, and you can get past the confusing first few chapters, then this could be the book for you. And hey, it's free.
3. Evensong by Krista Walsh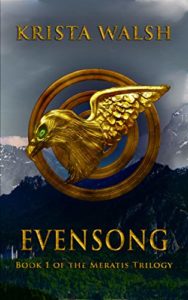 This is the first book in the Meratis Trilogy, The other two cost $0.99 and $2.99 and are not in Kindle Unlimited.
Fantasy author Jeff Powell is writing the fourth and final book in a series and his agent and publisher are both on his case to hurry up. He's also socially awkward and has a crush on the barista in the coffee shop across the street but can't get up the nerve to ask her out. The next morning, Jeff wakes up someplace new — he's in his own book. The characters are upset about the way things are going and have done some magic to bring him to their world so they can give him a stern talking-to.
But then they can't figure out how to send him back.
This is a very fun premise and I light and breezy read. I'm enjoying the book so far and plan to come back and finish it. Plus, I already accidentally bought the second book in the series.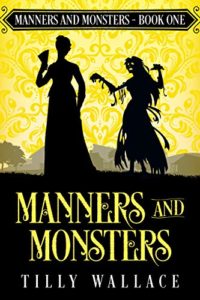 This is the first book in the six-book Manners and Monsters series. The other books are all $4.99 each and are not in Kindle Unlimited. Also, the last two books haven't been released yet. The fifth is due out later this month and the last one in August.
I love the writing style with its dry humor. A little bit of Jane Austen, here, something like the Pride and Prejudice and Zombies series by Seth Grahame-Smith, which was recently made into a movie (which you can watch on Amazon Prime Video).
Manners and Monsters is set in 1800s London. Hannah Miles is neither rich nor beautiful, and her hobby of researching unnatural creators and their diseases makes her a bit of a social pariah. Plus, she can't sing and didn't inherit any of her mother's magical skills.
She lives with her mad scientist father and her mother, who's dead, but still hanging around. Her best friend Lizzie — who is about to get married — still has hopes of finding Hannah a suitable match.
Upper-class women are turning into zombies, and the whole business of finding brains for them to eat is putting a strain on polite society. At Lizzie's engagement party, one such zombie eats a footman's brains. Several of the zombies — the Afflicted — are present at the party, and one of the other guests is rude — so rude! — as to accuse them of the murder. But of course, no lady would have committed such a crime. And since the dead man is just a servant, it was probably just a domestic dispute or a gambling debt.
But the investigator, Wycliffe, thinks that it was one of the Afflicted who committed the crime. He is only allowed to interview the women who attended the party if Hanna accompanies him, so as to maintain decorum. He's going to try to get rid of her as quickly as he can.
I suspect the two of them will hate each other at first, then fall in love, but I'm going to finish the book to find out for sure — even if the other books in the series do cost money.
Definitely a keeper.
Update: Finished the book. Loved it! And I've picked up the rest of the books in the series.
Get the Kindle e-book free from Amazon here.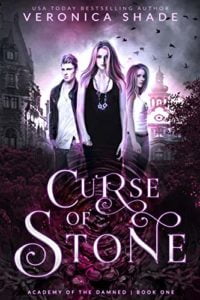 This is the first book in the Academy of the Damned series. The other books are $3.99 each, but are all in Kindle Unlimited.
Madison would rather ignore her magical abilities but is forced to use them to save her best friend from a deadly storm — and accidentally kills her boyfriend. Clearly, she needs a little of training, and decides to enroll at La Voisin School for Young Witches.
Madison lives in Tornado Alley, so storms happen a lot. She's a high school cheerleader, dating a star football player. But mostly, she's living at home in order to take care of her mother, who's a junkie. But after her boyfriend dies, she changes her mind and decides to go away to the school for witches.
Madison is a compelling main character and the book is easy to read and pulls you in. If I'd picked this up at the library or bookstore, I would definitely finish it. As it is, though, I've got many other books on my to-do list, and coming-of-age paranormal books aren't my preferred subgenre.
If it is your favorite genre though, then this would be a good pick to pick up — especially if you're a Kindle Unlimited subscriber.
Get the Kindle e-book free from Amazon here.
6. Rogue Stars by C. Gockel and others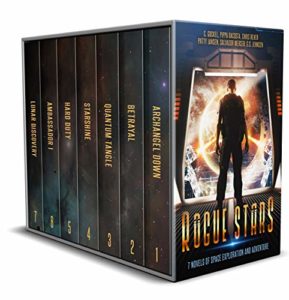 This is a series of hard sci-fi books with alien invasions, artificial intelligence, galactic intrigue, and "heroes that will defy orders to do what is right." Each book is by a different author. There's Archangel Down by C. Gockel, Betrayal by Pippa DaCosta, Quantum Tangle by Chris Reher, Starshine by G. S. Jennsen, Hard Duty by Mark E. Cooper, Ambassador 1: Seeing Red by Patty Jansen, and Lunar Discovery by Salvador Mercer.
Archangel Down is the first book in the nine-book Archangel Project series. The other books are $2.99 to $3.99 each, and are not in Kindle Unlimited. But they all have great reviews, and could be worth checking out. Noa is a pilot in the Galactic Republic Fleet but has been captured and put in a concentration camp while on leave on her home planet. She has to escape and tell authorities about the place so that it can be shut down. It's a great beginning, and a compelling main character. I'm planning to keep reading.
Betrayal is the first of the six-book The 1000 Revolution series. The other books are $2.99 to $3.99 each, and are not in Kindle Unlimited. Caleb Shepperd is a smuggler who finds a priceless synthetic stowaway on his shift. The synth is named 1001, she's not supposed to exist, and she's programmed to kill people. Her existence cause a lot of people a lot of problems. It's a strong beginning, and the story is told in the first-person point of view, switching between Cabel's viewpoint and that of 1001, leading me to think that there's going to be a romance between the two.
Quantum Tangle is the first book in the trilogy The Targon Tales – Sethran. The other two books are $3.95 each and are not in Kindle Unlimited. This series is set in the same universe as the five-book Targon Tales series, which are also all $3.95 each and not in Kindle Unlimited. While in subspace, pilot Sethran Kada is possessed by an alien entity who helps her on her mission to save another alien who's been abducted by criminals. There's action and mystery here, and a bit of romance.
Starshine is the first book of the 16-book Amaranthe series. The prices of the other books in the series range from $0.99 to $5.99. None are in Kindle Unlimited. Humanity has expanded into the stars, inhabiting more than a hundred worlds across a third of the galaxy. Alex Solovy's parents are military leaders but she's gone off on her own to explore the stars, where she meets up with a spy, Caleb Marano, and gets tangled up in a galactic power struggle.
Hard Duty is the first book of the five-book Merkiaari Wars series. The other books are $4.99 each and are not in Kindle Unlimited.  Survey ship Captain Jeff Colgan discovers a new alien race. The last alien encounter resulted in an invasion that killed 16 billion humans. This encounter also starts off badly.
Ambassador 1: Seeing Red is the first book of the 11-book Ambassador series. The other books in the series are $4.99 to $5.99 each, and are not in Kindle Unlimited. Diplomat Cory Wilson is sent from Earth to an alien city to solve a murder and prevent an interstellar war. The reviews of the book are really good. I'm put off by the price of the rest of the series, but I'm considering giving this book a shot.
Lunar Discovery is the first book in the Discovery trilogy. The two other books are $3.99 and $4.99, and are not in Kindle Unlimited. The book is set in the present day. A Chinese rover finds alien technology on the far side of the moon and now a space race is on to get back to the moon before Russia or China do.
Pick up the box set if you're looking to get a taste of several different hard sci-fi series, and aren't put off by the fact that none of the other books are in Kindle Unlimited.
Get the Kindle box set free from Amazon here.
7. Firefrost by Camille Longley
This is an enemies-to-lovers fantasy romance set in the same universe as the Flameskin Chronicles series. The other Flameskin books are $0.99 to $5.99 each, but they're all in Kindle Unlimited.
Sol is 18 and working as a mountain guide to feed her family. Lady Isabella is the same age, and similar in looks, but is a delicate flower compared to Sol. There's a war on with an enemy possessed by fire demons — and Kelan is one of the soldiers in the enemy army.
Sol's job is to scout the way to get Lady Isabelle and her guards and other attendees through a mountain pass. Kelan's job to is stop them and kill Lady Isabella. I'm guessing that the two of them will meet and fall in love, despite being on opposing sides in the war. And despite the whole possessed-by-a-fire demon thing that Kelan has going on.
The action moves along well, the characters are compelling, the stakes are high, and the premise is interesting. I'm probably not going to finish the book, though, because it's a bit too much of a romance for my taste.
Get the Kindle e-book free from Amazon here.
8. Rage by Ava Benton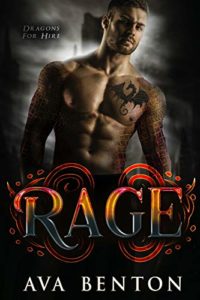 This is the first book in the Dragons for Hire paranormal romance trilogy. The other two books are $2.99 each and are not in Kindle Unlimited.
"What's a mercenary dragon to do when he meets a woman who makes his body surge with an energy he's never felt before?" Yup, that's the first line of the book's description. Okay. Deep breath. I can get past that. Moving on…
Drake is a dragon for hire, sent to rescue Tara, a senator's kidnapped daughter. That doesn't sound too bad.
The book starts out with Tara Jeffries trying to escape from the cell where she's being kept captive, being fed a steady diet of protein bars. She's an artist, embarrassing her family with her drawings of naked fairies and werewolves caught mid-shift. I like Tara. She's cool and spunky, and tries to pick the lock with the wire from her underwire bra.
Then we switch from her point of view to Drake's, as he's flying in to rescue her.
Okay, so, not my kind of book. But I could not stop reading.
Update: I finished the book and enjoyed it thoroughly. So much for thinking that I know what my type of book is!
Get the Kindle e-book free from Amazon here.
9. Heirs by Emery Cole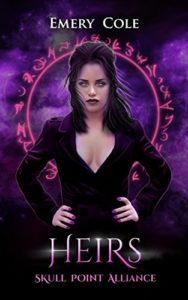 This is the first book in the Skull Point Alliance trilogy, an urban fantasy.
Vivianne Devereaux is a witch on the run from a nasty ex who also happens to be a warlock. And she's kind of inherited an island. Quick Alvarez is the head of security for that island, and as the adopted son of the last island owner, expected to be the one to inherit it. But only people with magic are allowed to inherit this island, and Quick, a werewolf, has no magic skills. Okay, that's pretty contrived. But maybe the book itself is better than the premise.
So Vivianne's parents have been killed, and the same people, whoever they are, are trying to kill her to. Plus, she barely has any money — not even enough for a bus ticket out of New York City to escape her ex. Yeah, her ex caught up with her somehow, and broke down the door to her apartment, and she had to hide from him and then escape in an old-woman disguise.
So she's at the Greyhound bus station, but can't afford any of the tickets. Except that a mysterious person sells her a ticket at a deep, deep discount — but the ticket is to New Orleans, the city where everyone is trying to kill her. And she buys the ticket and goes.
And for some reason instead of getting off at some random half-way point she goes all the way back to New Orleans.
I had to stop reading here.
Get the Kindle e-book free from Amazon here.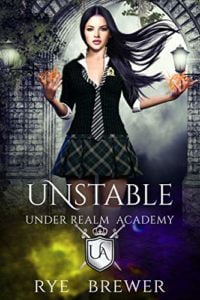 This is the first book in the five-book Under Realm Academy series. The other books are $2.99 or $3.99 each but all are in Kindle Unlimited.
Moira Bloodworth, a witch, is a senior at the Under Realm Academy and has a crush on the hottest demon in school—Calder Darkmore.
As the book starts, Moira takes a train to the academy, so I'm getting some Harry Potter vibes here. Except that the academy is in the U.S., and one of her classes is AP Potions. Okay, that's a cute touch. And she's late to class because she was careless about reading announcements. Then, during class, she almost faints and gets sent to the nurse, but then feels completely fine again, just humiliated about messing up in class.
Then someone teases her about it in the cafeteria and she's embarrassed all over again. I'm not enjoying reading this. It's taking me back to the less pleasant aspects of high school, and not in a fun Harry Potter-style way.
But that's just me.