Reading Time:
13
minutes
Some articles may include Amazon affiliate links. All proceeds go to helping us pay for original stories and to support writers of speculative fiction. Read more here.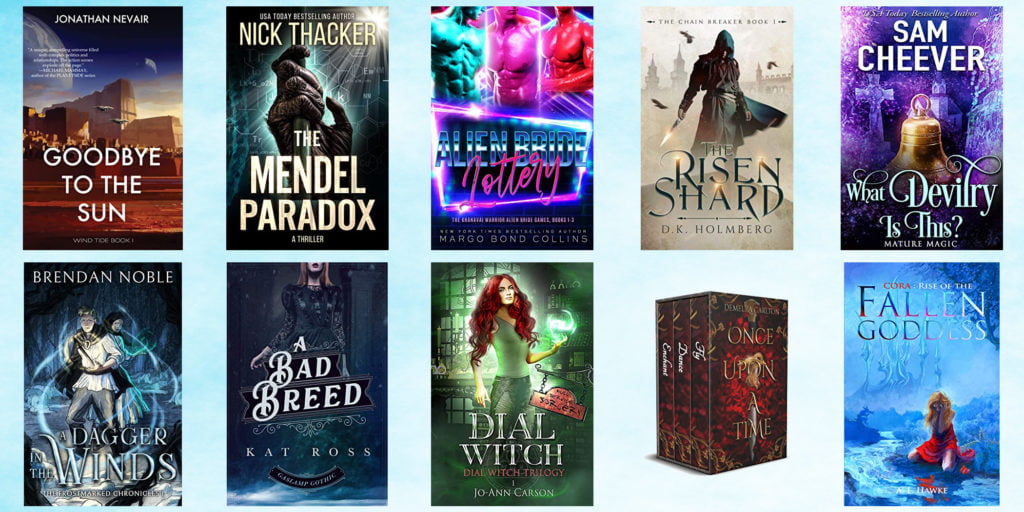 Did you know that Amazon has a list of the top-selling and free sci-fi and fantasy books?
The list changes constantly — authors set their books to free temporarily to promote their work, and, of course, books move up and down in the rankings. But are any of the books actually worth reading? Well, I read the first few chapters of each to find out, so you don't have to.
This week's list is completely different from those of the previous weeks. So if you're a fan of free books, it looks like there are going to be new things to read all the time.
There are a lot of books to go through, so this week I'm being helped out by Amira Loutfi, our reviews editor.
I've noticed that if you try to open the list on a mobile device, it will take you to the listings that cost money, instead. I've found that by switching to the "desktop site" in the mobile browser, the free list comes up.
Oh, and if there's a book that catches your eye, grab it quickly, since the books are often free for only a short time. And, Amazon allows you to lend your e-books, for free, to your friends. Even free e-books. Here are the instructions.
Most of these books are the first book in the series, and in each case I've checked to see whether the rest of the books are free as well, or whether they're in Kindle Unlimited. Learn more about Kindle Unlimited here.
The list is accurate as of the time of writing, but may have changed since the story was posted.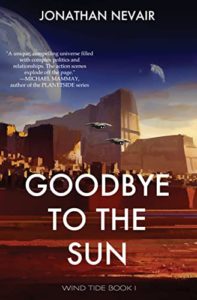 This is the first of three books in Wind Tide space fleet science fiction series. The other books are $2.99 each and are not in Kindle Unlimited.
"Goodbye to the Sun" is a space opera that takes place on a distant sandy world in the year 3049. If you liked Frank Herbert's "Dune," this book could be for you.
I read the first couple of chapters, and I'd definitely finish the book. There's political intrigue combined with plenty of action involving futuristic ships, lasers, and explosions, so the book isn't too dry, even though you do have to learn the names of new planets, societies, and languages.
Kol 2 is a remote desert-like planet, and ambassador Keen Draden has just landed there on a diplomatic visit with the Targitians.
But the Motes, rogue nomads who live on the planet and see the Targitians as oppressors, have decided to abduct him and use him as a bargaining chip in their fight against the Targitians. This is just the beginning, and the situation escalates very quickly once the ambassador's been abducted.
Get the ebook free from Amazon here.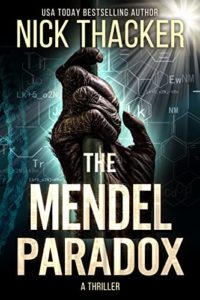 This is the ninth of twelve books in the Harvey Bennett Thrillers action series. The other books are $6.99 each and the entire series is in Kindle Unlimited. Nick Thacker has been on this list before. In September, his book The Paradise Key, the fifth book in this same series, was also on the top ten list.
I decided not to read this book, but to read the first in the series instead, The Enigma Strain, since it's in Kindle Unlimited.
The book starts out in the 1700s, in Canada's Northwest Territory. An expeditionary group has been traveling for three months through mountains and valleys. Their leader, Nikolai Alexei, is making a map of North America for the Russian Tsar, and they're charting the area as they go.
While the rest of the group sets up camp, Nikolai and the group's doctor explore a cave filled with bones and cave paintings — and baskets full of silver coins.
The next morning, all his men are dead, flesh eaten away and their bodies covered with boils. And Nikolas himself is also infected.
Then, in the present day, Ben is hunting in Yellowstone National Park. A bear has been terrorizing tourists. Ben tracks the bear down and takes it down with a tranquilizer so it can be moved to a more remote area. As he and his partner are relocating the bear, there's an explosion and an earthquake, and his partner falls into a deep fissure.
Turns out that a hundred people were killed in the explosion, and federal officials show up to figure out what happened.
The book starts slowly, but with a steadily increasing sense of tension that's pulling me in. I like it very much.
Get the ebook free from Amazon here.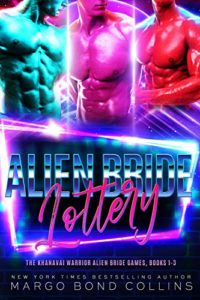 This is a collection of the first three books plus a Christmas novella of the Khanavai Bride Games science fiction romance series. The other books are $3.99 each. The eighth and ninth books of the series are currently available for pre-order and will be coming out August 19th, 2022 and November 18th, 2022. The entire series is in Kindle Unlimited.
If you like sci-fi alien romance stories, this book is for you. I read the first couple of chapters and I enjoyed it, despite my expectations based on the title. The premise is unique, the pacing is good, and it has green aliens, so what's not to like?
The story takes place on a version of Earth where every female human between 21 and 35 is entered into an alien bride lottery to potentially marry a Khanavai male. A woman can even get extra entries to avoid legal fees, like paying parking fines.
The Khanavai are green-hued aliens who protect the Earth from the Alvedron Horde in exchange for Earth women being provided as wives to their warriors.
Natalie Ferguson just turned 21, and her name's been drawn in the alien lottery. Escape is impossible because every human has a Khanavai ID chip implanted behind the ear to keep track of their whereabouts.
Natalie's beamed off the planet and is about to join in the Khanavai Bride Games, where it will be decided if she is to be mated with one of the Khanavai males or if she'll be sent back to earth to live out a normal life.
Get the ebook free from Amazon here.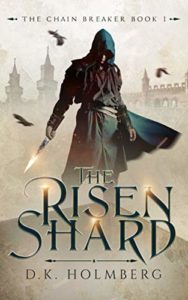 This is the first of eight books in The Chain Breaker sword and sorcery fantasy series. The other books are available for $4.99, though the second book is also free today and the third book is on sale for $.99. The eighth book in the series is available for pre-order and will be coming out next month. The entire series is in Kindle Unlimited.
The book starts out with plenty of action. Gavin is a mercenary, and he's trying to break into a very well-guarded house to get to someone. He has help — his friend Wrenlow is communicating with him via a magical earpiece, giving him directions. Still, he has to fight his way in, battling unexpectedly skilled fighters.
It's a difficult job. In fact, most of his jobs lately have been difficult, thanks to his new, mysterious employer. Maybe it was time for him to move on to another city. Or find out exactly who it is he's been working for and do something about the way the employer had been threatening him and his friends.
I like the writing style. It's fast-based, heavy on the action. And there are a tantalizing hints about Gavin's past. Plus, I enjoy spending time with a main character who's decisive and competent.
I'm looking forwarding to learning more about the politics of the world and the magic system.
Get the ebook free from Amazon here.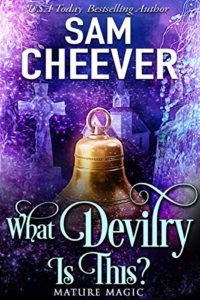 This is the first of four books in the Mature Magic paranormal urban fantasy series. The other books are $3.50 each and are not in Kindle Unlimited.
Aggy Lenore is 45, divorced, and about to turn her favorite hobby into a business. She's going to open a candle shop in Rome, Indiana and call it "When in Rome." And, of course, she has a cute pet. Specifically, a dachshund named Monty. And she's bought an old church to use both as her home and for the business. Its kitchen had already been updated to private use before she bought it, but there's still a lot of work left to be done on the rest of it. And outside, too – the church came with a small cemetery.
Then, at midnight, the church bell starts ringing. She goes up to the belfry but there's nobody out there. She decides to fix the bell in the morning. Then she sees a creepy man down below, standing among the broken stones in the old cemetery. Then lightning hits.
When she wakes up in the morning, Aggy has a thin network of pink lines covering her entire body. Then the lines just as mysteriously disappear. Things keep getting weirder. A naked man wander into her kitchen and tells her that he's the greenskeeper. Aggy tells him to wear some pants, and sends him off to clean up the cemetery.
Then her best friend Beverly stop by and tells Aggy that she's glowing — she has Lichtenberg lines — and asks her if she's been hit by lightning.
Other weird things start happening.
I'm not sure whether I'll stick with this book. On the one hand, it's cute and cozy and I like all the characters. On the other hand, it's very slow-paced. However, I have had a hectic week. Something slow and cozy might be nice.
Get the ebook free from Amazon here.

This is the first of three books in The Frostmarked Chronicles young adult fantasy series. The sequel is available for $4.99 and the third book in the series is currently available for pre-order and will be coming out in October. The series is not in Kindle Unlimited.
This tale is about young lovers coming of age. The perspective switches back and forth between them in alternating chapters.
There are several tropes common to epic fantasy in this story — it takes place in a village that reminds me a lot of the Two Rivers from the Eye of the World, the protagonist is a low-status bastard, and both he and his girlfriend come into their magic earlier than usual. There is a coming-of-age ceremony in the village that the young people are excited about because it initiates their courtship season. The protagonist is particularly excited about finding love. He's got his eye on two girls — the most popular one in town and an old childhood friend whose father kept her away from him for the past several years. However, just before the festival, a mysterious spirit lures the protagonist into the woods and tries to talk to him.
The magic system is powered by gods, and the young mages must be accepted by one of them.
I probably won't be back. I feel that it moves too slowly. But I can see how other people enjoy getting sucked into the world and want to stay there. I personally prefer a faster pace.
Get the ebook free from Amazon here.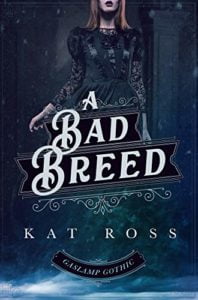 This is a gothic mystery fantasy, part of the Gaslamp Gothic Victorian Paranormal Mystery series, which doesn't seem to have its own series page. The other books are $3.99 to $4.99 each and are not in Kindle Unlimited. The author has been on this list before. We reviewed her book A Feast of Phantoms, the first of three books in Lingua Magika steampunk fantasy series, back in November.
The book is set in the late 1800s and the costumes and other details of the setting are spot on. Vivienne Cumberland works for the London division of the Society of Psychical Research, and she's just received word that her ward, Anne, has been missing for more than three weeks in a small village in central Europe. Anne had been investigating a series of strange deaths in the mountains.
The story is very compelling and atmospheric and I'm enjoying it very much… and I see from the chapter titles that it's actually the third book in the series.
I'm going to stop reading now and grab the first book, The Daemoniac, which is also free today. Once you finish that one, read The Thirteenth Gate, then A Bad Breed, then The Necromancer's Bride, then Dead Ringer. then Balthazar's Bane, then The Scarlet Thread, and finally the eighth book is The Beast of Loch Ness. I got the full list on Kat Ross's website.
I'm looking forward to reading this series.
Update: I finished reading The Daemoniac, and enjoyed it very much. It features amateur detective Harry Pell, a young woman living in New York City in the 1800s who investigates paranormal crimes.
Get the ebook free from Amazon here.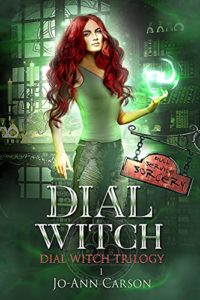 This is the first of three books in the Dial Witch humorous fantasy series. The other two books are $3.99 each.
While this book is the first book in the Dial Witch trilogy, it's actually the continuation of another trilogy, Perfect Brew, which is set in the same world. The first book of that trilogy is also free today, so you might want to go and read that first. I picked up a copy just in case I decide I like Jo-Ann Carson's writing style and want to go and start the books from the beginning.
Jane Black is a small-town sorceress who opens a shop to sell spells, potions and tarot readings to people in her small town, but customers aren't exactly beating down the path to her door. Her goal is to make magic useful to regular people, so they won't fear witches as much, and the supernatural people will no longer have to hide their talents. Seems like a lot for a single shop to do. Maybe she should have reached out to other witches first, and other mortals, and so she wouldn't be doing it on her own? Just a thought.
Jane also has a snarky, talking cat.
Eventually, the first customer comes in. She wants to hire Jane to use magic to kill her husband because he's lazy, comes home late, and his socks smell. Jane offers to fix the husband, instead.
I don't think Jane has really thought hard enough about her business plan.
Then we switch to three mages drinking in a nightclub in the third realm. One of them, Talon, is reluctant to be there but his friend Maggot insisted. Turns out, Maggot is out for more than just a good time. He knows a pirate who wants to hire Talon to find someone for him — the youngest daughter of Gredor the Wizard. And the pirate is willing to give Talon his ship if he's able to find her. That daughter's name? Jane Black.
I like Talon. He's kind to animals.
This is a very cute story, light-hearted. I think it might be a good weekend read. The only concern I have is that the other books in the series cost money. I'm not personally opposed to paying for books, but given two similar series, I'll pick the one in Kindle Unlimited. I read a lot of books, and I'd starve to death otherwise.
Get the ebook free from Amazon here.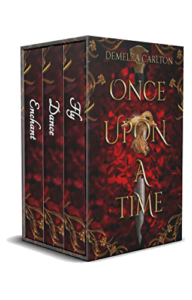 This is a collected set of the first three books in the 25-book Romance a Medieval Fairytale series: Enchant: Beauty and the Beast Retold,  Dance: Cinderella Retold, and Fly: Goose Girl Retold. The other books are $2.99 each and are not in Kindle Unlimited.
Demelza Carlton is a regular on this list. We also reviewed other books in that same series. In July, we reviewed Embellish: Brave Little Tailor Retold, another book in the same series. Hunt: Red Riding Hood Retold, we reviewed in April, and, also that month, we reviewed Blow: Three Little Pigs Retold, then, in May, we reviewed Melt: Snow Queen Retold and, in September, Dance: Cinderella Retold.
But wait, that's not all! In December, we reviewed Ocean's Justice, the first book in the six-book Siren of War fantasy series.
In Dance: Cinderella Retold the classic fairy tale is retold in in a setting clearly inspired by eastern culture.
Mai is dutiful to her father, who is the greatest general in the empire. He teaches her martial arts. After his wife dies, the emperor summons him to the palace and sends him home with another wife, Jing. Jing is judgy and cruel to Mai, and she mutilates her daughters' feet to make them marriageable. For years, Jing gives birth to only stillborn children.
Then Mai's father receives an order from the emperor to join in a military campaign. The messenger assumes that Mai is a boy and suggests that she might join it. Nice foreshadowing. And then Jing gives birth to a son.
I won't be back for this. I can understand why people like it though. It's fast-paced and the prose reminds me of old fairy tales.
Get the ebook box set free from Amazon here.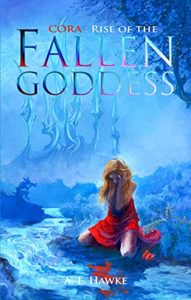 This is the first of three books in the new age goddesses myth and legend Azure Series. The other books are $0.99 to $2.99 each and are not in Kindle Unlimited.
The book starts with Nephrea riding a winged unicorn above the seashore, then heading out to an island out in the middle of the sea. Out on the island, she feeds her unicorn, catches a rabbit for her supper, and spends the night outside under the stars. Nephrea is the new queen of Azure, as she explains to a spoiled, nasty girl she meets the next day on the island. And Nephrea is also a nymph, with blue hands and pointy ears.
She's on the island to find Demeter. Nephrea thinks that the girl is Persephone, Demeter's daughter. The girl says her name is Cora. And she takes Nephrea's unicorn away from her and threatens to cut her throat or kill her with her gaze. But Nephrea convinces the girl to take her to her mother, instead.
I'm confused about whether the girl's name is Cora or Persephone. And is her mother Demeter — or Sara? Why so many names? Cora — or Persephone — takes Nephrea to Demeter — or Sara. Nephrea asks for help getting her mother back. Nephrea's mother recently died as a result of a war, and her people are in despair. Demeter is willing to let Nephrea see her mother, but not bring her back to life. But she's also willing to offer Nephrea's people hundreds of years of peace. In return, she wants Nephrea to take Cora back with her to keep her hidden from Hades. There's a prophecy that he'll abduct Cora and take her down into the Underworld with him.
I'm confused by all the prophecies. There's a lot of backstory here. A lot of gods with relationships to keep straight.
This isn't my kind of book, and I'm not finding the characters or the story compelling, so I won't be back.
Get the ebook free from Amazon here.
---
See all the Free Friday posts here. Do you have other free books for us to check out? Comment below or email me at [email protected].
Have you read any of these books? Are you planning to? Let us know in the comments!
Or watch Maria discuss all these books in the video below: