Reading Time:
15
minutes
Some articles may include Amazon affiliate links. All proceeds go to helping us pay for original stories and to support writers of speculative fiction. Read more here.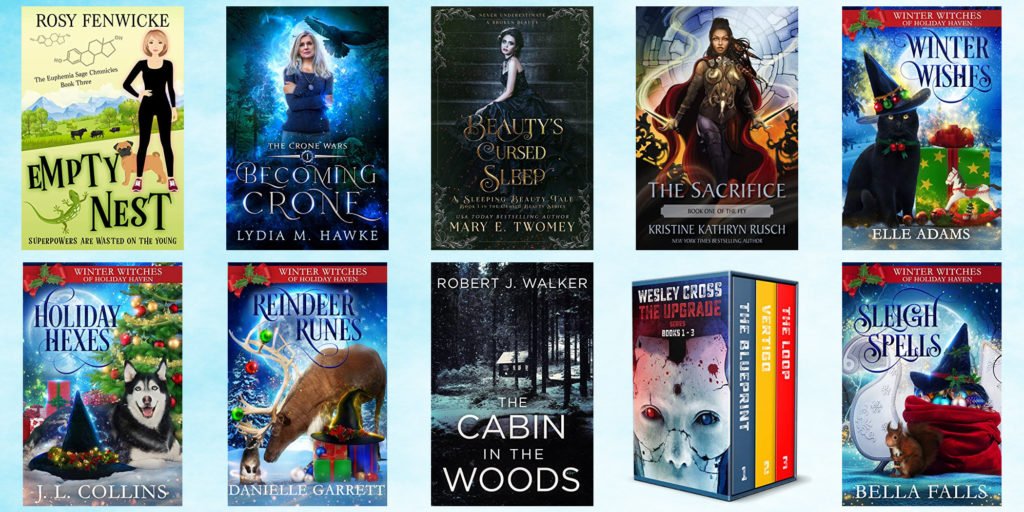 Did you know that Amazon has a list of the top-selling and free sci-fi and fantasy books? The list changes constantly — authors set their books to free temporarily to promote their work, and, of course, books move up and down in the rankings. Read on to find your fun free read for this weekend! And grab the books quickly because they don't always stay free for long.
This week's list is completely different from those of the previous weeks. So if you're a fan of free books, there are going to be new things to read all the time. If you want to get this list in your inbox every Friday afternoon, subscribe to the MetaStellar weekly newsletter.
There are a lot of books to go through, so this week I'm being helped out by a couple of other members of our MetaStellar community. If you'd like to join me in doing these reviews — and taping our regular Friday videos — email me at [email protected].
10. Empty Nest by Rosy Fenwicke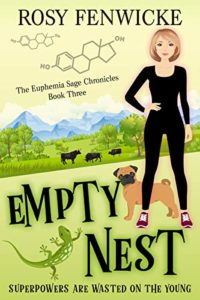 This is the third of four books in the Euphemia Sage Chronicles cozy mystery series. The other books are $1.50 to $3.99 each but they're all in Kindle Unlimited.
The book opens with a prologue and follows Joe Kinkaide as he treks out to his private cabin in the woods, dreading his upcoming meeting with Euphemia Sage. Kinkaide has handled Euphemia and her partner's financials for years, but this year he is nervous – there are discrepancies in the books that he will have to convincingly cover up until he can get everything fixed. As he comes upon his cabin, he is immediately put on alert as the door is swinging wide open. He enters cautiously, but sees no one. Suddenly, he hears footsteps come up behind him, but it is too late – a cloth is pressed over his nose and he passes out.
In the next chapter we meet Euphemia, who is restless and awake at 3 a.m., thinking about various people in her life. We also learn that she has superpowers that have manifested in her middle age, but we don't know exactly what these powers are yet.
Suddenly, Euphemia notices a car coming down the road that stops right at the entrance drive to the house and shuts its lights off. She can hear two sets of footsteps, but no voices. After a few moments, she hears the footsteps get back in the car, and it drives away, still with its lights off. Euphemia locks the doors and goes back to bed, trying to force herself to go back to sleep.
Okay. This is completely my personal taste, but as an editor I struggle with prologues. They sometimes mask a slow first chapter, which is exactly what I feel in this opening. We go from a man being mysteriously attacked to a character mostly thinking about backstory. However, considering the genre – cozy mystery – this is exactly the setup you would expect as a reader. We have the proverbial body on the floor and now can get into learning more about our heroine and detective, Euphemia. All to say, although I'm definitely not the target reader for this book, it is already hitting the beats for a fun, cozy, comfortable mystery for those that love the genre.
Get the Kindle ebook free from Amazon here.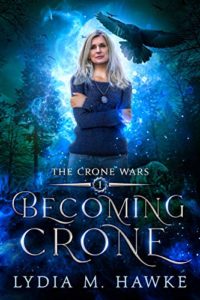 This is the first of four books in The Crone Wars paranormal romance series. The other books are $4.99 each and they are not in Kindle Unlimited. The fourth book isn't out yet but is scheduled to be released next August and is currently available for pre-order.
Our heroine is Clare Emerson, a newly minted sexagenarian and she is having a birthday party at her home, when her friend Edie pays her a visit and is there to help her prepare for the party. Oh, and there is a parliament of crows circling her home.
If I am to take anything from the title, the main crone group appears to be Clare, and her friends Jeanne and Edie. Clare's husband Jeff has left her and she is ambivalent about his return but at least she has her cat, Merlin, to keep her company.
Then her daughter-in-law, Natalie visits her.
For me the book is a little slow. There are a lot of people to keep track of. I just could not get into it, personally, I would give it a miss but the writing style is appealing — I would give it a mark of six out of ten.
Oh, and what ever happened to those crows?
Get the Kindle ebook free from Amazon here.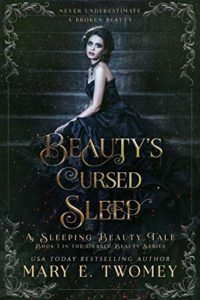 This is the first of three books in the Cursed Beauty romantic fairy tale retelling series. The other books are $4.99 each and are not in Kindle Unlimited.
This isn't the first time Twomey is on this list. This past October, we reviewed the Undraland Books, a boxed set of first three books of the nine-book Undraland paranormal romance series. Earlier this year, in February, we reviewed The Vampire's City, the first of six books in The Last Deadblood paranormal romance series, and, last October, we reviewed the Faite Books box set, the first three of 14 books in Faite Falling romantic fantasy series. And it's not even the first time this particular book has been on our Free Friday list — we previously reviewed it this past April.
Rory is the daughter of a high-ranking official within the magical community. One day, she will take his place. There is a lot of bureaucracy in this world — and Rory works in an office with her uncle. Every month she is needled by a jerk over the phone about whether or not she has attained magic. And the answer is always no. The jerk is some other high-ranking magical official. His son is in love with Rory.
In four months, Rory will be 25 years old. And that's when her curse will take hold — she will prick her finger and fall into a deep sleep. She has been working 70+ hour weeks trying to do good for others until then. Everyone knows about the curse and how Rory's life is about to end despite her never having attained magic.
She decides to break into her friend's cabin in the woods. He knew she was going to it, but she never came to get the key. For this reason, she has to break in. And it's fun for her until the alarms go off. She calls her friend, who is a prince. And he tells her the security code. Too late. A random guy jumps into the cabin and pins her to the wall. He's about to call the police when he realizes who she is. She's royalty. And the papers reported she's the fiancé of the prince. The random guy turns out to be a sweetie. Then, her friend over the phone warns her that he is a "lethal" which I assume is a person with deadly magic.
Oh yeah, and the proposal was a prank. The only way to break the curse is a true love's kiss. However, Rory has never been in love. She's got only a few months before pricking her finger, though! I'd say she ought to get busy.
I won't be back to this story. It's good, though. I just feel that the plot devices are a bit weak. The motivation behind breaking and entering the house is weak, and I'm not impressed by the random guy who is actually dangerous. I recommend it if you like romantic urban fantasy with a somber tone.
Get the ebook free from Amazon here.
7. The Sacrifice by Kristine Kathryn Rusch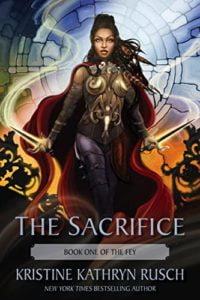 This is the first of nine books in The Fey epic fantasy series. The other books are $3.99 to $5.99 each and they're not in Kindle Unlimited. USA Today-bestselling author Kristine Kathryn Rusch has been on this list before. This past July, we reviewed Diving into the Wreck, the first of sixteen books in The Diving Series, a space opera.
Kristine Kathryn Rusch is one of my favorite writers. I particularly like her hard sci-fi books — I haven't read any of her fantasy books yet, but was looking forward to this one.
The story is set in a more-or-less traditional epic fantasy setting. Jewel lives in Nye's biggest city. She one of the Fey who now controls the country. In fact, her grandfather, the Black King, is the ruler of Nye, and the non-Fey people who live there are now part of the Fey Empire and subject to Fey rules. They submit, though they're unhappy about it.
Jewel also has visions of the future. She's wounded, but is healed. She's being held with love by a man who's neither Fey nor Nyeian.
Now her father wants to go on another campaign, to conquer the Blue Isle. And he wants to bring Jewel with him, instead of one of her brothers. And this time, she's coming as a leader, to help plan. Not just as a soldier, or as a caretaker for children.
It's a strong beginning, and I like Jewel. The setting feels vivid and real. However, the tone is a little serious, and the books aren't in Kindle Unlimited.
Will I stick with the book? Maybe. I won't be reading it right away, though. I'm going to read the cozy Christmas magical mysteries, first, since they're a bit lighter in tone and are also all in Kindle Unlimited.
Get the Kindle ebook free from Amazon here.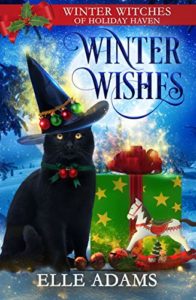 This is the fourth of 15 books in the Winter Witches of Holiday Haven cozy magical mystery series. The other books are $3.99 each but they're all in Kindle Unlimited. These books are a group project, with each book written by one of five different authors.
Carolyn Highcrest runs the Holiday Haven Inn, located in the small town of Holiday Haven, near the North Pole. It's the same setting as the rest the books in this series that are on today's top ten list, but a different set of characters, so you can read them in any order.
The inn is celebrating its five year anniversary. She and her best friend Mercy moved from England to Holiday Haven five years ago. Both she and Mercy have magical abilities.
Carolyn and Mercy have a lot of events scheduled, including a performance by a local theater troupe. Plus, they've found a magical wishing box for attendees to use.
Then Carolyn's parents show up, with no notice, and their daughter — and Carolyn's sister — Bella and take the last free room at the inn. They've never visited before. Carolyn's always been the one to visit them, instead. They have no common sense, and are always end up in trouble.
She decides to take them on a tour of the town, hoping to tire them out before they do anything to mess up the anniversary celebration. Then she figures out a solution — she'll use the wishing box to wish for the event to go smoothly. That way, she'll also get a chance to test out the wishing box, too. But the wishing box is gone — someone has stolen it while she was out with her parents. Maybe it was Bella. Or maybe it was Janice, a rival innkeeper.
It's a very cute and cozy beginning to what promises to be a very cute and cozy mystery. I'm looking forward to finishing it this weekend.
Get the Kindle ebook free from Amazon here.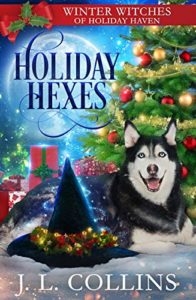 This is the third of 15 books in the Winter Witches of Holiday Haven cozy magical mystery series. The other books are $3.99 each but they're all in Kindle Unlimited. These books are a group project, with each book written by one of five different authors.
Star Clearwater is a toy designer who lives in Austin and thinks that Christmas is cursed. She is the founder of her own toy company. Even though Christmas is a busy time for her firm, she's got a grudge against the holiday — she lost her mother to it. So to speak — her mother has gone off to the North Pole to bake cookies and drink hot cocoa. Star does have a guilty pleasure, though. She loves Hallmark Christmas movies.
Oh, and Star has magic powers. But she's avoided using them so far, making a success of her company without having to resort to casting any spells.
She's at home, drinking wine and watching television, when a husky magically appears in the fireplace and walks out, unharmed, right through the flames. Then she's magically teleported to her mom's house — at the North Pole.
Seems that her mother has resorted to kidnapping because Star hasn't been home in so long. But there's more to the story — Mrs. Claus herself could use some help. The North Pole's best witch is worried about kids wishing for electronics for Christmas, instead of old-fashioned presents. While Star is visiting her mom at the office, where a giant database is used to keep track of all the Christmas wishes, there's a computer crash. There's been a hex, and it's taken down not just the main database, but also the backup archives.
Then one of the elves accuses Star of behind behind the hex. The timing of the computer crash is just too suspicious.
Star leaves the offices and comes across a bakery, where a fairy offers Star a pastry, on the house. Star knows better than to accept food or drink from a fairy, but this one didn't seem mischievous, just sweet. She takes a bite and everything goes hazy.
As with the other books in the series, we get a lot of world building here. The scale of the wish-gathering operation is just massive, and there's a lot of bureaucracy involved, and the characters that populate the story are a lot of fun.
I plan to come back to this book as well, and am looking forward to a very cozy weekend.
Get the Kindle ebook free from Amazon here.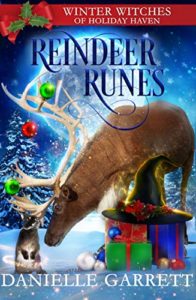 This is the second of 15 books in the Winter Witches of Holiday Haven cozy magical mystery series. The other books are $3.99 each but they're all in Kindle Unlimited. These books are a group project, with each book written by one of five different authors. Danielle Garrett has been on this list before. This past October, we reviewed Witchy Whiskers, the first of six books in the Nine Lives Magic cozy paranormal mystery series.
This is the second book in the series, but it follows a different set of characters than those in the first book, which is also free today — scroll down to pick that one up.
Here the protagonist is Lumi, who lives on her family's North Star Reindeer Sanctuary. It's the holiday season, so there are plenty of tourists coming to the sanctuary to visit the reindeer.
Then an old friend stops by. Sven, who used to work as a farmhand at the sanctuary before leaving for a career in the big city. The local big city being the North Pole. There weren't too many jobs in the nearest town, Holiday Haven, so most people in the area work at the North Pole.
Sven's been working at a startup trying to land a contract with Santa, but the deal fell through, the company run out of funding, and now he's back in his home town to figure out what to do next.
He asks Lumi to the Yule Ball, and she lets him down gently, if a little awkwardly. She's not really in the mood to date. She's happy living alone in her cabin with er familiar, a talking arctic hare named Sugarplum.
Oh, and she can cast spells and when she goes to town, she rides on one of her flying reindeer.
It's a week before Christmas, and disaster strikes — both Rudolph and Jack Frost go missing. Lumi has to leave the sanctuary in order to find them.
I love all the characters here — Lumi's matchmaking mother, the frost pixies who help out with the farm chores — and the detailed setting. I would love to see this and the other books in this series in a movie, or even in animated form. And I definitely plan to finish this book, and read the other books in the series.
Get the Kindle ebook free from Amazon here.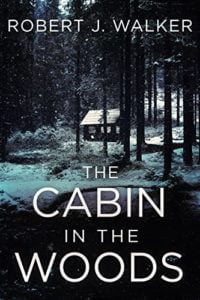 This is a standalone book of EMP survival. Robert J. Walker has been on this list before. This past April, we reviewed The Hidden Prepper, another standalone book of EMP survival. And in May of 2021, we reviewed Off The Grid, also about EMP survival.
This book should appeal to fans of post-apocalyptic fiction. It's an EMP survival story. That's where an electromagnetic pulse wipes out power to all electrical devices — including vehicles, computers, cellphones, flashlights, and radios — leaving everyone to fend for themselves in a world that has changed in a flash.
I read the first four chapters, and I enjoyed this book, so I'd keep reading to the end. The characters seem like real relatable people, and the story is pretty action packed from the start, which I enjoy in a post-apocalyptic survival story.
In the first chapter, we meet George Cannon, a former marine who's been working as a correctional officer for the past 25 years. He breaks up a fight between two prisoners — one of them psychotically trying to stab the other with a knife — and George is only scuffed up a little due to his years of experience and martial arts training.
We also meet fellow correctional officer Lewis Hopkins, who's George's best friend from back when they were marines and who also works at the prison. The two are chatting at work when all power goes out, and the prisoners start hooting and hollering, a sign of trouble to come.
The next chapter introduces us to some new characters — Patricia, who's a veterinary student and Tristan, a geology student. They're out in the middle of the desert for a weekend camping trip and miles from civilization because Tristan is doing some field research.
They're about to drive a borrowed truck — which Tristan says belongs to his dad Lewis — back to civilization to return it in the morning. I'm assuming it's the same Lewis from the first, but I'm not totally sure. But the truck goes dead, as well as both their cellphones and computers, and they realize they might be in some serious trouble.
Then the third chapter deals with George and Lewis trying to get out of the prison, which is in pure chaos and full of prisoners run amuck. This chapter is tense, because the guards know that getting out alive is not guaranteed.
In the fourth chapter, we're back to Patricia and Tristan trying to figure their next steps for getting out of the desert alive with whatever survival gear and minimal food and water they have on hand.
The fact that the book keeps jumping between two different sets of characters definitely worked to keep me hooked. After the prison lost power in chapter one, I wanted to know how the guards would escape, but I had to wait until chapter three to find out. By the time I finished chapter two, I felt invested in Patricia and Tristan's story, but I had to wait until chapter four to find out what they do.
As far as EMP books go, I'd say this is a fun read, and I'd recommend it to anyone who enjoys this type of survival fiction story.
Get the Kindle ebook free from Amazon here.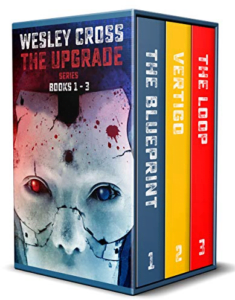 This is a box set of the first three books of the six-book The Upgrade sci-fi thriller series. The other three books are $5.99 each but they're all in Kindle Unlimited.
Jason Hunt and his wife, Rachel, live in coastal Florida. Jason is an accountant, and his wife is a scientist who works in the field of technologically advanced prosthetics.
Rachel signs a contract with a company that requires her and Jason to move to New York City.
During the trip, they're followed by men in nice suits. The men are there when Rachel and Jason are eating at a restaurant. They're there during the flight to New York. They watch the couple at their airport after they land.
Then, in the cab ride from the airport, they're shot at.
It's an an attempted hit job orchestrated by a mega corporation. The cab driver is suspiciously unfazed by the event. And the police make no efforts to intervene, having largely yielded to corporate power.
The action moves quickly and the subject of body augmentation is something fans of the Deus Ex video games will find very familiar.
I am curious to see where this story goes, so this is on my to-read list.
Get the Kindle ebook free from Amazon here.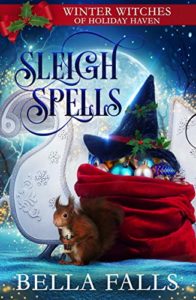 This is the first of 15 books in the Winter Witches of Holiday Haven cozy magical mystery series. The other books are $3.99 each but they're all in Kindle Unlimited. These books are a group project, with each book written by one of five different authors.
Aurora Hart is a witch who got caught stealing and is now serving her probation in a small town at the North Pole, the town of Holiday Haven. It's filled with magical creatures of all kinds. For example, her housemate is talking squirrel, also in trouble for stealing things.
All Aurora wants to do is keep her head down, serve our her time, and get out of Holiday Haven as fast as she can. The whole town is going crazy with Christmas celebrations and Aurora had a troubled childhood and isn't a big fan of the holiday.
Unfortunately, she doesn't have good control of her magic and it keeps going off at the wrong time. She's already been fired from three jobs, and her probation officer is running out of places to put her.
But she's got a new job, at a bakery. And she's made a friend, and found a secret bar that's completely devoid of holiday cheer — just her speed.
It looks like she might survive after all when Santa's sleigh is stolen and Aurora is the obvious suspect.
I love the cozy feel of this story, and the Christmas theme is perfectly timed for December. I'm enjoying this book very much — it reminds me a bit of Zootopia in the richness of its setting and the well-written characters.
Get the Kindle ebook free from Amazon here.
---
See all the Free Friday posts here. Do you have other free books for us to check out? Comment below or email me at [email protected].
Have you read any of these books? Are you planning to? Let us know in the comments!
And watch Maria and Terrence discuss all ten books in the video below: