Reading Time:
15
minutes
Some articles may include Amazon affiliate links. All proceeds go to helping us pay for original stories and to support writers of speculative fiction. Read more here.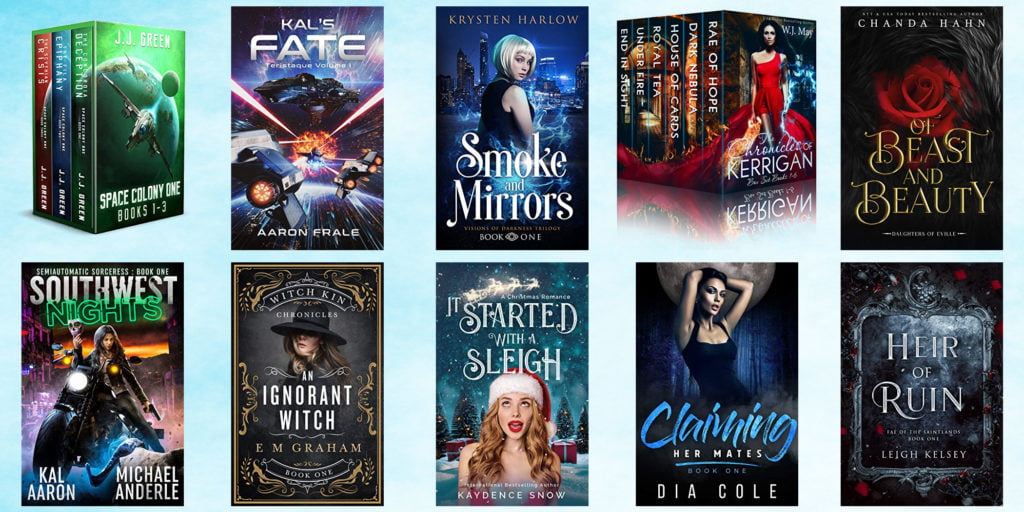 Did you know that Amazon has a list of the top-selling and free sci-fi and fantasy books?
The list changes constantly — authors set their books to free temporarily to promote their work, and, of course, books move up and down in the rankings. But are any of the books actually worth reading? Well, I read the first few chapters of each to find out, so you don't have to.
This week's list is completely different from those of the previous weeks. So if you're a fan of free books, it looks like there are going to be new things to read all the time.
I've noticed that if you try to open the list on a mobile device, it will take you to the listings that cost money, instead. I've found that by switching to the 'desktop site' in the mobile browser, the free list comes up.
Oh, and if there's a book that catches your eye, grab it quickly, since the books are often free for only a short time. And, Amazon allows you to lend your e-books, for free, to your friends. Even free e-books. Here are the instructions.
Most of these books are the first book in the series, and in each case, I've checked to see whether the rest of the books are free as well, or whether they're in Kindle Unlimited. Learn more about Kindle Unlimited here.
The list is accurate as of the time of writing but may have changed since the story was posted.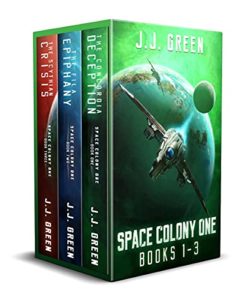 This is the first three of seven books in the Space Colony One space opera series. The other books are $3.96 to $5.99 and are not in Kindle Unlimited.
I love hard sci-fi. That's my sweet spot when it comes to speculative fiction and what got me hooked on it when I was a kid. So I'm definitely the target audience for this book, and the cover just screams "read me!" to me.
Cariad had been cryogenically frozen for a one-hundred-and-eighty-four-year trip to a new planet. She's a gestation specialist — she grows fetuses in artificial wombs. Some two thousand of the colonists have been awake for the trip, part of the ship crew — there had been several generations of them.
It's a very cool premise.
Their first night on the planet, Cariad and her friend Ethan helped defend the colonists from an attack by the local wildlife, though we don't get to see that battle. Instead, the story begins a little later, with a political speech announcing the name that the colonists chose for the new planet. There's an explosion, and Cariad is almost killed.
The other twist is that there's another ship of humans on the planet — they left earth centuries after Cariad's ship did, and came to warn the colonists about a plot to sabotage the colony.
So right off, I've got a question — why not just radio them and let them know? Even if the newer ships travel at faster-than-light speeds — while radio waves are limited to the speed of light — they could have sent a cheap drone. Also, the newcomers refuse to say anything about what's been happening on Earth since the original colonists left. Again — why haven't they keeping up with the news by radio?
Another thing that bothers me is that the colonists are allocated plots of land to farm. From the description, it sounds like they plan to do old-fashioned-style family farming. It seems a little ridiculous to waste the majority of humans on a colony ship on farming jobs. Maybe a couple of small boutique family farms would be nice, but the rest should be automated. Even today, most of us aren't farmers, and wouldn't want to be. Except for those small boutique farms raising heritage sheep and organic free-range tomatoes, farming is not a fun job. And it's a critical job, and one that's largely automated even today. I've never understood why so many sci-fi authors send humans to space with old-fashioned farming tools. Sending humans is super expensive, because of all life support and space we need. Sending equipment is cheap by comparison. And, when we finally get there, humans need food and space and lots of other things to survive. Machinery doesn't. Save the humans for higher-value work. In fact, machinery can be sent up ahead to prepare the planet for human arrival. We're already planning to do that on Mars.
I could get beyond this issue. It's a pretty common trope in colonization stories. But I'm not particularly engaged by the story so far, nor do I care about the main character. If I had nothing else to read, I could see myself sticking with this book in hopes it gets better, but I have a lot of other books on my reading list right now.
Get the ebook box set free from Amazon here.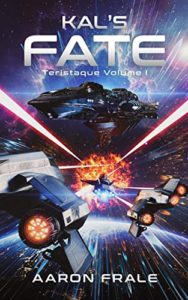 This is the first of two books in the Teristaque space opera series. The other book is $0.99 and is in Kindle Unlimited.
Kal lives in a forest on an alien planet, with her forest brothers and sisters. She's gathering wood and rocks so she can build a cabin by herself.
She's been going to the forest by herself for three weeks, to show her tribe that she wasn't as weak as they thought, when she meets a human. The human, who speaks with her through a translator, tells her that his name is Oliver, but that she can call him Sarge. That's what they called him back in his service days.
She shares her jerky with him, and he helps her build her cabin. He teaches her the concept of trade and what's out there in the universe and she teaches him how to survive in the forest. Once the cabin is finished, he moves into it.
Turns out, Sarge is a fugitive from an alien race called the Teristaque. He gives her a gift — a little device — and tells her to hide it in her village. She does, and the Teristaque show up. The device was a tracker. They kill nearly everyone in the village, including Kal's mother, until one of the other villagers takes them to Kal's cabin and tells them about the human who's been staying there. That villager is killed as well. Kal runs ahead to warn the human, for some reason, but he's long gone.
So the aliens take her prisoner.
I don't like the Teristaque. Not because they're evil, but because they're over-the-top stereotypically evil. I don't like Sarge because he was a jerk who lied to her and set her up. And I don't like Kal because she's an idiot and a pushover. So I don't think I'm going to be reading further. But, if you do happen to be in a mood for evil aliens, nice aliens, and a who-knows-whats-up-with-him human, this book is very readable.
Get the ebook free from Amazon here.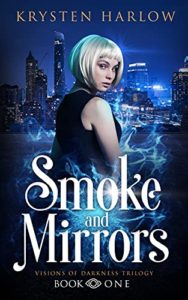 This is the first of seven books in the Visions of Darkness Trilogy urban fantasy series. The second book is also free today and the third book is $2.99 and is in Kindle Unlimited.
From the book's cover, this is an urban fantasy, which I like. With a female protagonist, which I also like. And the other books in the series are in Kindle Unlimited. I like that, too.
The book is in first person, present tense, which I associate with young adult novels. The present tense also feels weird and unnatural to me, so that's going to be an obstacle.
It starts out with Freya talking to a therapist. She's reluctant to be there, and doesn't like taking the therapist's advice. I'm guessing she's young and stupid, because therapists are just the best. And the therapist is asking her about a dream she had, but Freya doesn't want to talk about it. What's wrong with her? Nobody else is going to want to hear about her dumb dream.
And then she lies to her therapist. Bad move. You don't get much from therapy — or from any professional, medical or otherwise — if you lie to them.
Freya's a columnist for an alternative newspaper in New York City. She files stories on a thumb drive. She's staff — well, an intern — so she should be filing them electronically, either by email or directly into a content management system. How old is this book? Hmm. It was published this past summer. So she's still in school. She writes human-interest fluff pieces and gets coffee and sandwiches. She takes taxis instead of walking a few blocks. Her mother's rich and famous, and pays for Freya's New York City apartment, her editor is the one who set her up with a therapist and gave her time off to go see the shrink… She's also very disorganized. She runs late to everything, doesn't remember to turn her phone on, and I don't like her already. Getting a job in journalism is bad enough without having to compete with people like Freya. She acts like her mother's fame and fortune is a burden, jealous when she finds out that another kid might also be getting an internship at her paper and doesn't act like a good journalist.
When I was starting out as a journalist, I worked temp jobs to be able to afford rent, I wouldn't think of taking a taxi anywhere, I didn't have health insurance, much less a therapist, and I certainly wasn't resentful if someone even worse off than I was got a gig.
Am I taking out my own issues on this poor fictional character? Maybe. Am I going to keep reading the book? No, even though the book's description promises that we'll be seeing prehistoric demons and a supernatural bounty hunter later on.
Get the ebook free from Amazon here.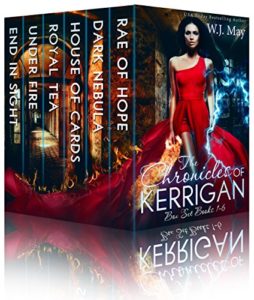 This is the first six of twelve books in The Chronicles of Kerrigan young adult paranormal romance series. The other books are $2.99 each and are not in Kindle Unlimited.
USA Today best-selling author W. J. May is a regular on this list. In April, we reviewed a box set of the first three books in the ten-book The Kerrigan Kids series. That box set is still free. Then, in June, we reviewed Omega Queen, a box set of the first three books book in the ten-book Omega Queen Series. That box set is also still free. And, in November, we reviewed Mending Magic, a box set of the first three books in the six-book Mending Magic Series. That box set is also still free.
Another young adult urban fantasy. Set in a boarding school, too. Normally, Amira reads these but today it's on me. I'm too old to have much patience for young adults.
Rae, a teenager, is on a bus that's taking her from the airport to Guilder boarding school in Britain, when she sees a house burning in the distance. She has a panic attack but deals with it the way she learned to in therapy, with deep breathing. Well, at least she pays attention in therapy.
When she was six, she was playing outside when her house burned down and both her parents died. That was in Scotland. She moved to New York to live with her uncle after that happened. Now her uncle is sending her to this boarding school, and hasn't told her why or even tell her anything about it. Turns out, it's a school for people with magical abilities — and Rae is the only one there who doesn't know this.
Also, there's construction happening at the school and a large piece of paneling falls out of a window and Rae just stands there gaping, instead of getting out of the way, until someone pushes her aside. A cute boy, of course.
I'm annoyed with her uncle for keeping something this big a secret. And annoyed with Rae for being an idiot. Like I said, I'm too old and grumpy for these books.
But other people love them. And you're getting six books free here. So, if this is your thing, you're getting a great deal here.
Get the ebook box set free from Amazon here.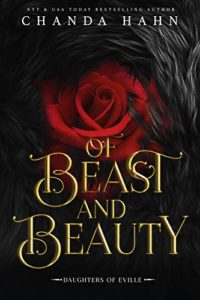 This is the first of seven books in the Daughters of Eville romantic fantasy series. The other books are $4.99 to $5.99 each and are not in Kindle Unlimited. The seventh book is not out yet, and is scheduled to be released in June of 2022.
This is a book in the "retelling of a classic fairy tale" genre from a New York Times and USA Today best-selling author. This is a popular genre — I'm seeing it pop up regularly on these lists.
But I've got to say, it's not my thing. So, just warning you.
Rosalie is one of Lady Eville's adopted daughters. Her mother was scorned by her true love and is seeking revenge on the seven kingdoms. She raised each of her seven adopted daughters to be weapons, tools for that revenge. Rosalie's job? To enter into a loveless and hate-filled marriage with the narcissistic crown prince of Baist.
She's never even seen Prince Xander before meeting him at the altar — he was supposed to marry someone else, someone much richer and fancier and prettier, and he's pissed. Immediately after the ceremony, he ditches her and she doesn't even get to enjoy the party afterwards. Why she doesn't just go, I don't understand. She does have magic powers, after all. Instead, she sneaks around and steals food. While she's skulking around in the shadows, she meets a handsome gentleman, and they flirt. Of course, she doesn't realize he's the prince she just married. She was wearing a veil at the ceremony, and never even looked at him. And he doesn't realize that she's the witch who he thinks is going to murder him in his sleep that night. He thinks the witch is some old hag, not the young and pretty Rosalie.
It's a strong premise. And it sounds like this would be a fun romantic read for someone. But that someone isn't me. I'd probably watch this if it was a Hallmark movie, though.
Get the ebook free from Amazon here.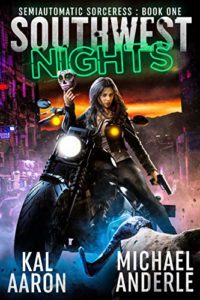 This is the first of five books in the Semiautomatic Sorceress urban fantasy series. The other books are $4.99 each and are all in Kindle Unlimited. The fifth book isn't out yet and is scheduled to be released in January of 2022.
Lyssa is a motorcycle-riding, gun-toting sorceress, a cross between Willow and Buffy the Vampire Slayer. Magic-users have gone public five years before, and the magical organization she's part of loans her to local law enforcement to help deal with special threats, like a drug kingpin who's managed to get his hands on some magical weapons.
She's snarky and has a cool costume. I'm a big fan of urban fantasy books with kick-ass heroines full of snappy comebacks. I'm also a big fan of books in Kindle Unlimited. I have a subscription, so I don't have to pay extra for them.
These books are going to be a fun read for me during my time off this holiday season.
Get the ebook free from Amazon here.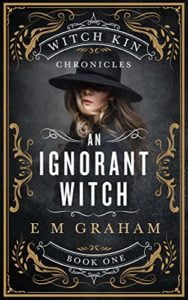 This is the first book in the five-book Witch Kin Chronicles series. The other books are $4.99 each, are not in Kindle Unlimited, and the fifth book isn't out yet — it's scheduled to be released in September of 2022. We reviewed this book in June, when it was also on the top-ten free sci-fi and fantasy books list.
Here's the opening line: "My reputation as a ghost whisperer started with Alice and her family."
Maybe I'm just a sucker, but I love a powerful opening.  But I don't believe the protagonist's explanation for why she had no friends. I think she's friendless because she doesn't try hard enough to meet people.
You might enjoy it if you like supernatural action, though. In the first chapter, our protagonist decides to help a friend with a haunting and gets attacked by a doll possessed by a malicious spirit.
I skipped ahead to chapter 6, and I see that the sleuthing and exploring of the haunted family's past continues. It's cute and intriguing.
It's likely to get better if I keep reading, but I'm actually kind of itching to get back to Neglected Merge.
Sorry,  An Ignorant Witch. Good luck and goodbye.
Get the Kindle e-book free from Amazon here.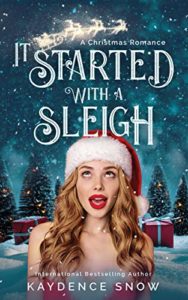 This is a standalone romantic fantasy with a Christmas theme from the author of The Evelyn Maynard Trilogy, a young adult paranormal romance series.
The book is described as a "dirty Hallmark movie." Did I mention that I liked Hallmark movies?
Sadie's car breaks down on Christmas Eve, just when she's supposed to be driving to her family for dinner. Sadie works at a big department store and, despite that, loves Christmas. She's got a pile of presents in the back seat. There's no way she's going to be able to find a mechanic.
She has to tell her mother that she can't make it, and all her other relatives immediately start calling her. But I guess none of them are willing to drive and get her. She's going to have to spend Christmas Eve alone.
Then she hears a loud crash next to her apartment building, in the back parking lot. Something had crashed into the dumpsters, and a cute guy in a green velvet coat is out cold on the ground. Before she can check his pulse, he wakes up and his two green-clad buddies walk up. The thing that crashed into the dumpsters? It was a sleigh.
Sadie figures that the three guys are dressed up for a Christmas party.
Turns out, of course, they're elves. There had been an accident, their sleigh's damaged, they need someone with Christmas spirit to get the sleigh running again. She thinks they're crazy. They, of course, are able to tell her about every present she's ever wished for.
So, she takes them to a Christmas concert that's close enough for them to walk to. And the three of them flirt with her, and make hot chocolate appear for her by magic. They tell her that Santa doesn't deliver all the presents by himself — he's got teams of thousands of elves helping him.
One of the elves puts on a little impromptu magic show for the kids at the concert. The three of them weren't born elves — that's why they're so tall. They were recruited to fill out Santa's team because none of them had anyone to spend Christmas with.
Then she gets a friend to give them a ride into the city so they can buy some electronic part they need for their sleigh. On the way to the mall, they stop by her friend's office Christmas party. Meanwhile, she's making out with all three of them the whole time, and all three elves are into it, and Sadie's friend tells her to go for it. It'll be fun.
And you know what? The story is kind of hot. I'm not saying I'll finish the book. But I'm not saying that I'll delete it from my Kindle bookshelf, either.
Get the ebook free from Amazon here.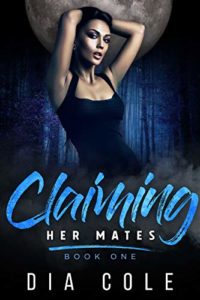 This is the first of three books in the Claiming Her Mates reverse harem paranormal romance series. The other books are $3.99 each and are both in Kindle Unlimited.
Vana, a lonely but hard-headed stripper, finds herself being rescued by a crew of hot paranormal men as a vaccine turns people into cannibals. The crew of hot men have been sent after her by her powerful ex, Nathan, who claims her for himself. Nathan's henchmen know Vana is off-limits as a romantic partner, but they are all deeply attracted to her — she also struggles with her desire for all three of them as they transport her to Nathan.
The paranormal crew has also shown interest in creating a vaccine that really does work.
In the opening scene, Vana is performing a dance at the strip club. It's kinda gross to me, but I'm sure a lot of readers would think it's sexy. Her attitude is gritty and tough. The guy she's entertaining is covered in black veins and looks really sick. She stops the dance. She thinks that he must have the "canine virus", but he says he just got his vaccine. Ding ding ding. The vaccine is the problem! This is not the right time for a book like this. A news report shows her and her coworkers that the new vaccine is turning people into violent cannibals.
This is kind of a good story, though. I hate to admit I'm enjoying it. In chapter three there is another burst of action — the paranormal crew has to deal with a violent cannibal while they wait for Vana to get dressed at the club.
There are several moments that illustrate Vana is lonely. Her mother died on Christmas Eve, and her friends are backing out of her Christmas Eve dinner. She misses the little girl she used to babysit.
It's a great book if you like dark paranormal reverse harem romances. The vaccine zombies are great too, in my opinion.
I won't be coming back, though.
Get the ebook free from Amazon here.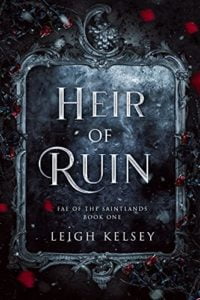 This is the first of four books in the Fae of The Saintlands fated mates fantasy romance series. The other books are $3.99 each and are all in Kindle Unlimited. The third book, Kiss of Iron, is also free today. The fourth book isn't out yet but is scheduled to be released in July of 2022.
I predict the protagonist will have a bland personality.
Maia's aunt Ismene is the queen of the Vassal empire and has been using her magical abilities to crush all opposition to her reign. That seems fine, except that Queen Ismene is cruel and hateful. Maia finally takes a stand against her when commanded to kill a prince. She flees her aunt and winds up in the company of the sapphire knight Azrail and his gang, a crew known for upending the crown's plans.
The first scene is excellent. Azrail, a mildly powerful fae who burns for revenge against the crown, is attending the execution of an eight-year-old girl in the city square. He and his friends had been up all night preparing to disrupt it and rescue the kid. I don't want to spoil the scene, since I enjoyed it so much.
There is a type of magic in this world called saintslight, which is powered by saints. Azrail can use earth magic, which sounds a lot like bending in Avatar the Last Air Bender. Another of his friends can shoot gold — or something that looks like gold — like a whip out of her hands. The ruling family of the Vassal empire has wings they hide with magic. And Maia has the ability to crawl inside others' minds and drive them crazy.
The fighting sounds exciting, but I don't think I'm particularly interested in any of the characters just yet. And the tone is a bit serious.
I recommend this book for anyone who likes high fantasy, magic systems used in fighting, and romance. I haven't gotten to the romantic part yet, but the authors promises that there will be a slow-burn romance and that it will be fantastic.
I'm not coming back, though.
Get the ebook free from Amazon here.
---
See all the Free Friday posts here. Do you have other free books for us to check out? Comment below or email me at [email protected].
Have you read any of these books? Are you planning to? Let us know in the comments!
And watch Maria and Amira discuss the books in the video below: