Reading Time:
14
minutes
Some articles may include Amazon affiliate links. All proceeds go to helping us pay for original stories and to support writers of speculative fiction. Read more here.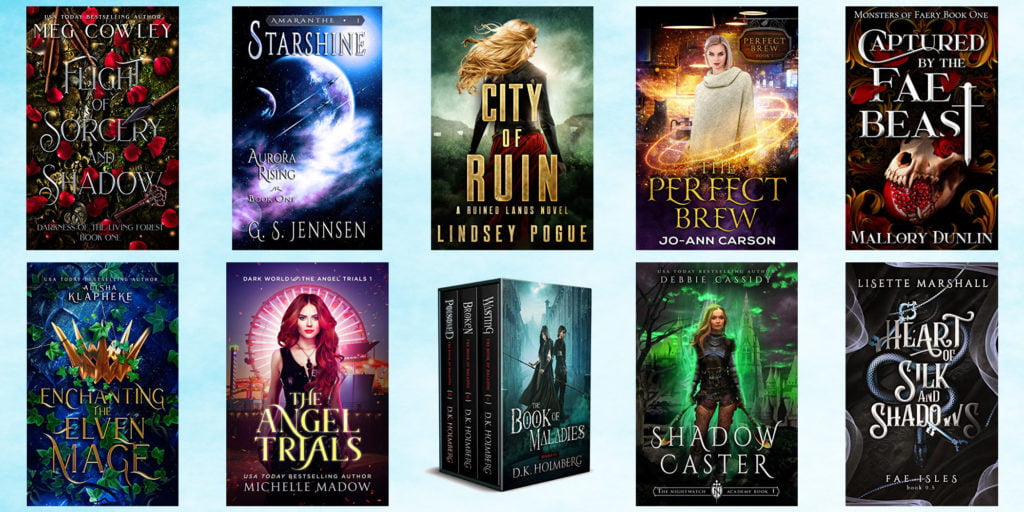 Did you know that Amazon has a list of the top-selling and free sci-fi and fantasy books? The list changes constantly — authors set their books to free temporarily to promote their work, and, of course, books move up and down in the rankings. Read on to find your fun free read for this weekend! And grab the books quickly because they don't always stay free for long.
This week's list is completely different from those of the previous weeks. So if you're a fan of free books, there are going to be new things to read all the time. If you want to get this list in your inbox every Friday afternoon, subscribe to the MetaStellar weekly newsletter.
There are a lot of books to go through, so this week I'm being helped out by a couple of other members of our MetaStellar community. If you'd like to join me in doing these reviews — and taping our regular Friday videos — email me at [email protected].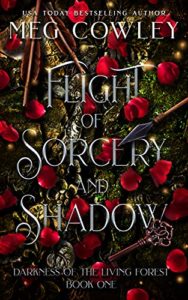 This is the first of three books in the Tales of Tir-na-Alathea: Darkness of the Living Forest high fantasy series. The other books are $4.99 each, but the entire series is in Kindle Unlimited. We previously reviewed this book in September 2021.
A magical dark shadow takes over an elf, and makes him murder his entire garrison before killing him as well. Lief, another elf, finds an area of death and desolation while in patrol in a forest, and a break in the magic barrier that separates her world for another, and tries to seal the hole.
Aedon, a thief, has been imprisoned by elves for 25 years, stripped of his magic, with only mice and a talking door for company. Then, one day, his regular meals stop coming — and the blocks on his magic are gone. When he breaks out of his cell, everything is different. The other elves are gone. But then he sees one, than others — their throats sliced open. They are reanimated corpses. He flees into the forest to escape them.
Meanwhile, Lief is tracking whatever it is that came through the break in the magic barrier and killed everything in its path. And she runs into Aedon. She recognizes him as an escaped prisoner and wants to take him back, but he tells her that everyone has been killed. She still insists on going into the town, so he comes with her to protect her. He extends his magical wards to include her, but the zombie elves find them.
Elsewhere, junior librarian Venya is putting away books. The books are talkative and annoying and keep trying to escape. She works at the royal archives, and wants to be first librarian. Today, she's given a temporary assignment to work with a more dangerous class of books, grimoires with teeth and venom.
Meanwhile, the zombie elves catch up to Lief and Aedon and grab Lief. This is Aedon's chance to escape, but he helps her instead, and the two of them fight off the zombies. Lief is badly wounded. They flee through the forest and hide in a cave, where Aedon notices that Lief's wound looks like it's magically infected — and the infection is spreading.
The characters are okay — I'm not immediately drawn to them, but don't dislike them, either. The story and the pacing, however, are compelling, and I definitely want to know what happens next.
Get the Kindle ebook free from Amazon here.
9. Starshine by G.S. Jennsen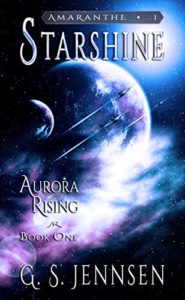 This is the first of twenty books in the Amaranthe space opera series. The other books are $0.99 to $5.99 each, and the twentieth books is currently available for pre-order and will be coming out September 6, 2023. The series is not in Kindle Unlimited.
Space opera is one of my favorite genres. Scratch that, make it the favorite genre. I'm a little worried about the cover, though. It really not genre-appropriate and the text is hard to read. Plus, the it's oddly laid out. And you can't tell what the title is. Is it Aurora Rising? Or Starshine? Or is Aurora Rising the subtitle?
I looked at the covers of the other books, and it looks like Aurora Rising is a three-book subseries that's part of the bigger Amaranthe series. So that's a little confusing. But never mind. After all, you can't always judge a book by the cover.
After a brief and ominous prologue featuring a mysterious alien and a deadly plot, the book opens on a spaceship, a scout, and its captain, Alex, a woman in her mid-30s. She's on Earth, in Vancouver, when a family friend drops by to pass along a message from her mother. Her mother being an admiral in the Earth Alliance and she's not happy that her daughter is gallivanting alone around the galaxy, raking in millions, and spending it all on her ship — instead of settling down and getting married. Her mother offers her a bureaucratic job in the Ministry of Extra-Solar Development which will have her mostly sitting at a desk, and Alex easily turns it down. She's got other plans. Specifically, she's got a hunch about the Metis Nebula. She found something interesting in her research, and she's got the money and the time to follow the thread to where it leads.
Then we switch to the point of view of Caleb, an assassin who has a sister and niece that he dotes on. He's got a new assignment from the Senecan Federation Division of Intelligence, and it's also related to the Metis Nebula. I actually like Caleb. He's an assassin, but he's good at it. I like competent people. And he thinks that the people he killed were bad guys. Plus, he's great with his niece.
And I like Alex.
I also like the world-building here. There's some politics, a lot of engineering, and they've got faster-than-light travel, which means lots of fun exploration of distant stars.
I'm enjoying the book so far. I'm a little hesitant to get too into the series, because the other books cost money. But, on the other hand, they don't cost that much money…
Get the Kindle ebook free from Amazon here.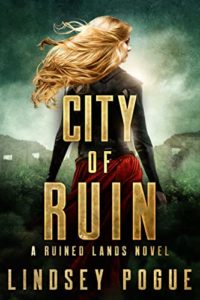 This is the first of three books in the Ruined Lands dystopian science fiction series. The second books is $4.99, and the third book is currently available for pre-order and will be coming out March 7, 2023. This isn't the first time Lindsey Pogue has been on this list. We reviewed her book The Darkest Winter in September of 2022, Dust and Shadow in July of 2022, and After the Ending in May of 2022. 
This is a near-future dystopian novel set in the year 2200. The world has suffered a catastrophic event, leading the inhabitants of London to move underground to survive. The city is now governed by the Council of Four and is later discovered by outsiders who offer knowledge to help rebuild it above ground as New London.
The protagonist of the story is Selene, a sixteen-year-old girl whose father plans to sell her to move up the social ladder. Selene's brother takes her to a poor house, believing it to be a safe haven, but tragedy strikes and her brother dies in a roof collapse.
Nine years later, Selene finds herself in a situation of indentured servitude, with a damaged leg from the roof falling. As a pretty female of childbearing age, she is valuable in this world, as women are needed to bear children and she is still worried about being sold.
The people who run this poor house aren't kind people, like Selene's brother thought. The wife is constantly making Selene work and the husband wants to rape Selene and have her as his sex slave.
Then someone named the Collector arrives and buys all the children and Selene. In Selene's words, "I don't know if I have just saved us or doomed us instead."
The book feels claustrophobic and hopeless, and paints a vivid picture of a dystopian world locked into a static social hierarchy. The writing is smooth and engaging, though there are some slower moments of introspection, which I think these help reinforce the world-building and emphasize Selene's condition. At no point did I wonder why Selene did not run away. There is a feeling of the constant pressure and containment of the individual within this society and so far I like and understand the motivation of the character and the plot.
Overall, this is a well-written dystopian novel with strong world-building and a captivating protagonist. The power dynamics and themes of indentured servitude and social hierarchies are expertly woven into the story, creating a thrilling and thought-provoking read. I will continue reading it to see how it turns out.
Get the Kindle ebook free from Amazon here.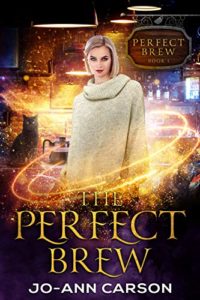 This is the first of three books in the Perfect Brew cozy magical mystery series. The other books are $3.99 each, and the series is not in Kindle Unlimited. Jo-Ann Carson has been on this list before. We reviewed her book Dial Witch back in October 2022. 
I love cozy magical mysteries. This particular cozy magical mystery is set in a coffee shop staffed with witches. Cassie is there because her grand-aunt, Ophelia, recently died of breast cancer. Cassie is in town just to take care of any remaining legal matters. Cassie is a witch, but not a very good one. She does, however, have a cat familiar.
But a witch at the coffee shop, who claims to be Ophelia's best friend, says that the woman didn't die of natural causes, but from black magic. The two of them had started the coffee shop together, and the other witch can't manage it on her own.
Then Cassie finds out that Ophelia left her share of the coffee shop to her. Cassie isn't a kitchen witch, so she decides to sell it to someone else. But it's not that easy.
Turns out, the coffee shop is sentient. And it doesn't like it when people leave.
An ancient curse was able to make its way in to the shop and now its owners are forced to stay in the area forever. When Cassie inherited the shop, she also inherited the curse.
Oh, and there's also a third owner, a silent partner, a handsome warlock, who thinks that Cassie is attractive. So it's a cozy magical romantic mystery.
I like this story, and I like the cozy feel, and I like Cassie. I'll probably stick with the book this weekend.
Get the Kindle ebook free from Amazon here.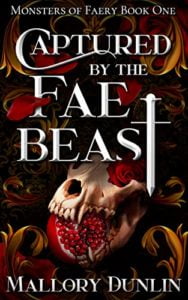 This is the first book in what looks like is going to be a series called Monsters of Faery, though no other books are out yet. The author has one other book on Amazon, a high fantasy romance.
I'm not a fan of romance in general. I prefer to read books full of violence, instead. I'm certainly not a fan of books where a woman is captured by a monster, only to fall in love with him.
And this particular book seems to be all about that.
Plus sex.
Right from the prologue, there's a hot-and-heavy — and very explicit — sex scene between the beast, also known as Crown Prince Dain Sundamar, and one of the fighters he fought in the fighting court, a female fae archer. The prince is the high commander of the fae armies, and the crown prince and heir to his mother's throne.
Then, in chapter one, we go to the point of view of a human. Leah, a mountain climber making her way up a crag in Yosemite park with her friend James. Then there's an accident and James dies, and Leah is injured and left without food, water, or shelter. She finds a lake and waits for someone to come rescue her even as infection sets in.
And someone does find her. Three people dressed like refugees from a Renaissance Faire, one with weird eyes, one of whom is Dain. Instead of leaving her to die, he decides to take her with them, back to his Fae kingdom where his healers can treat her.
I do have to say that the book is extremely readable, and I like Leah. But I don't where the story is going, and I don't like that direction, so I'm not going to stick with it.
But if you like very hot-and-heavy fantasy romances I think you'll enjoy this one very much.
Get the Kindle ebook free from Amazon here.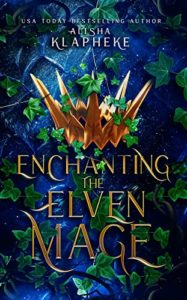 This is the first of six books in the Kingdoms of Lore fantasy romance series. The other books are $4.99 each, but the entire series is in Kindle Unlimited.
Oh, no, not another fantasy romance.
Aury's aunt is the Fae queen, and she'd rather be in the barn with the horses than celebrating the winter solstice with the rest of the fae court. The queen is sending on a journey the next day. Aury is half-human, and she gets some grief for being a half-breed.
Then she has a vision of a handsome man with an ax, and, immediately afterwards learns that she's about to be married off.
Then we switch to the point of view of Prince Filip, an elf warrior who learns that he's about to get a wife.
I don't particularly like either of these two characters, but I do have to admit that the writing style itself is engrossing. The book is easy to read, and if you like this kind of story, I think you might enjoy it very much.
Get the Kindle ebook free from Amazon here.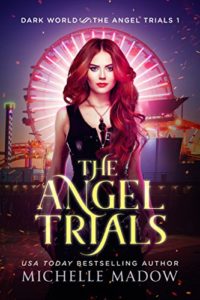 This is the first of seven books in the Dark World: The Angel Trials urban fantasy series. The other books are $0.99 to $4.99 each, but the entire series is in Kindle Unlimited.
Raven, who has just turned 21, works at her mother's new age shop at Venice Beach. She's just been grounded after taking a surprise trip to Europe with her college friends. Then she gets attacked by a demon and she has to team up with a demon-hunting werewolf named Noah.
Apparently, Raven's family has a history of magic, though Raven has some serious doubts. And Noah only teams up with Raven because he thinks she will be good bait for hunting demons. Most likely, they will fall in love, as most of these stories tend to work that way.
The element of this story that is most appealing to me is Raven, who doubts the existence of magic, becoming a believer. This aspect may appeal to fans of The X-Files, who believe that there are other things out there than what is in the visible realm.
So far, the most appealing character is Raven's mother, who exudes a free-spirited mysticism that one is likely to find in any hip artsy downtown area. One could easily visualize her as Lily Tomlin's character from Grace and Frankie.
So far, this story is pretty interesting. If I didn't have a thousand other books to read, then I would continue with it.
Get the Kindle ebook free from Amazon here.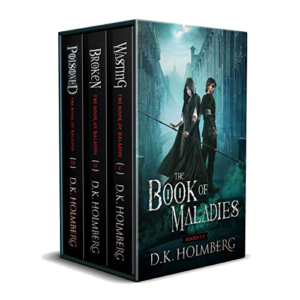 This is a boxset of the first three of seven books in the The Book of Maladies coming of age fantasy series. The other books are $2.99 to $3.99 each, but the entire series is in Kindle Unlimited. D.K. Holmberg is a regular on this list. Last month we reviewed The Dragon Rogues and The Dragon Misfits, last December we reviewed The Endless War series and his Elemental Academy series. Last November, we reviewed The Teralin Sword, a box set of the first three of six books in The Teralin Sword epic fantasy series. Last September, we reviewed his The Lost Prophecy box set. We reviewed The Cloud Warrior Saga box set back in July, and, later that same month, Path of the Flame, the first of five books in The Dragon Thief coming of age fantasy series. May of 2022, we reviewed Unbonded, the first of five books in the First of the Blades epic fantasy series. Finally, in April, 2022, we reviewed The Risen Shard, the first of eight books in The Chain Breaker epic fantasy series.
I like epic fantasy, and I've read other books by this same author and liked them, so I have high hopes for this book.
Sam is a thief, small in stature, spying from the shadows in a magic cloak that ensures that nobody can see her. She overhears a discussion between her mentor and a stranger about a valuable prize. Her mentor spots her, and tells her that the person who's going to be going after the prize is Sam. Sam doesn't want to, but she doesn't have a choice in the matter. She needs the money to take care of her little brother.
The job involves breaking into a highborn house, but she doesn't even know what she's going after. Just that it will be the most valuable object in a particular room, and that she'll know when she sees it.
In the next chapter, Sam and her brother are on a roof across a canal from the house that has the prize in it. But it looks like the house has more people in it than she was told. What other incorrect information does she have? Maybe the thing isn't even in there.
But she climbs down, pole-vaults over the canal, and climbs through an open window into the house. She makes to the room, and find it locked. The lock was more challenging than any she'd seen before. She gets inside, and it turns out to be a library. There's a table in the middle, but instead of there being some kind of fancy gem, it's just empty paper.
It's a strong start. There's plenty of excitement and tension as Sam and her brother go after their target, and I like Sam quite a bit. I might stick with this book.
Get the Kindle ebook free from Amazon here.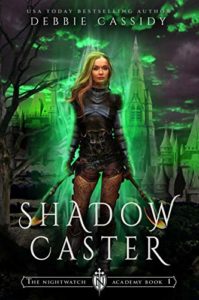 This is the first of four books in The Nightwatch Academy urban fantasy series. The other books are $4.99 each, but the entire series is in Kindle Unlimited. This isn't the first time Debbie Cassidy has been on this list. Last September were reviewed her book Dragon Trial, and last August we reviewed her book For the Blood.
If you're into supernatural urban fantasy stories, you might like this one.
Indigo Justice is a vampire, and she starts out as a pit fighter at the beginning of the book. She's rebelling against her father, Baron Justice, who's rich and powerful, and wants her to go to a special academy for supernatural students.
Indigo wins a pit fight, and a nice young man presents himself to her as a snack. But this turns out to be a ruse. Indigo passes out as the man's blood was drugged. The man dies, but it was all according to her dad's plan. When Indigo wakes up, she's cuffed and her dad is in a cell with her, where he says she can either be executed for murder, put in prison for life, or she can go to the Nightwatch Academy.
In the next chapter, Indigo's chosen to be in the academy, and we meet one of Indigo's friends, some of the other students, and are introduced to a couple of instructors at the school.
This is as far as I got in the story. I think this is a fun fast-paced read and I would probably keep reading to the end, although I tend to enjoy fantasy stories with more historical settings as a personal preference. I do like stories with a lot of action, and since this one starts out with a pit fight and murder in the first chapter, I'm sure this book won't be a slow read.
Get the Kindle ebook free from Amazon here.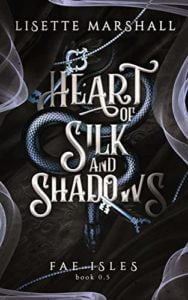 This is a prequel story to the three-book Fae Isles fantasy romance series. The other books are $2.49 to $4.99 each, but the entire series is in Kindle Unlimited. Lissette Marshall has been on this list before. We reviewed her book Velvet last December, and her book Iron last September.
Twelve-hundred-year-old Agenor is a famed warrior, high lord, and powerful mage within the Crimson Fae court. He is also hopelessly, relentlessly, bored. Although dangerous, Fae court politics have not changed in eight hundred years, minor human rebellions take no effort to quash, and a new round of wide-eyed Fae recruits meet him on the training fields each day. Agenor's monotony, however, is broken one day by an impetuous letter left in his personal closet, along with clear evidence that a coat has been stolen.
The thief is question is Allie, an enslaved human at the Fae court. Allie has her own motivations to protect her family and a complex plan to use Agenor to her own ends. However, instead of deadly snakes or traps, when she continues to steal from his wardrobe, she instead finds notes from a curious and enlivened Agenor. Despite the danger involved, Allie is drawn in to this absurd correspondence, learning small bits of information about Agenor in exchange for coded messages about herself and her own goals.
I'm hooked. To be fair, fantasy romance is my reading happy place. But I'm really enjoying the You've Got Mail-esque situation of hidden correspondence, and Allie's hidden motivations and stakes have me intrigued. Although I personally felt the first chapter leaned a little hard towards backstory, the subsequent chapters have picked up the pace and I'm eager to see how Agenor and Allie's relationship develops. The dialogue and voice of Agenor and Alli's banter is very funny, and — bonus! — there are pet snakes!
Get the Kindle ebook free from Amazon here.
---
See all the Free Friday posts here. Do you have other free books for us to check out? Comment below or email me at [email protected].
Have you read any of these books? Are you planning to? Let us know in the comments!
And watch Maria and Terrence discuss all ten books in the video below: