Reading Time:
12
minutes
Some articles may include Amazon affiliate links. All proceeds go to helping us pay for original stories and to support writers of speculative fiction. Read more here.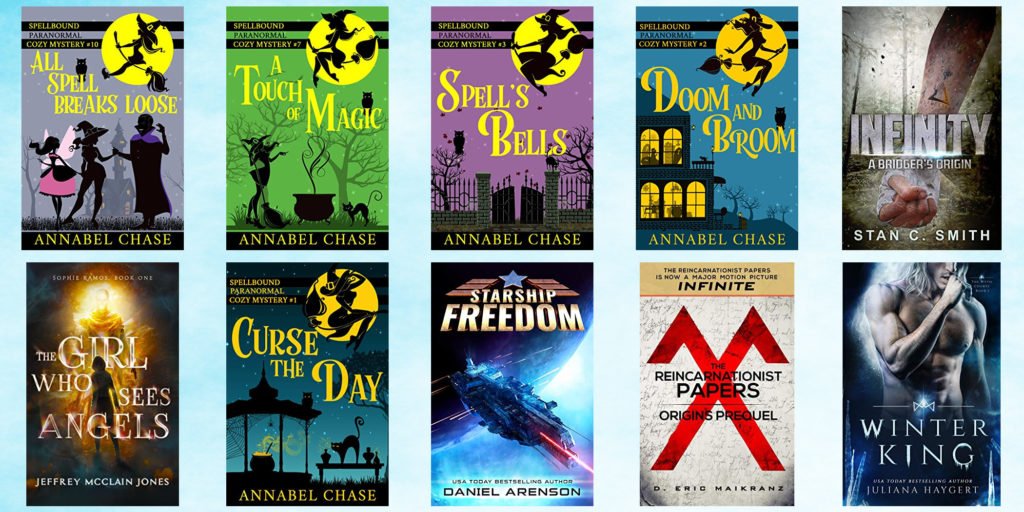 Did you know that Amazon has a list of the top-selling and free sci-fi and fantasy books? The list changes constantly — authors set their books to free temporarily to promote their work, and, of course, books move up and down in the rankings. Read on to find your fun free read for this weekend! And grab the books quickly because they don't always stay free for long.
This week's list is completely different from those of the previous weeks. So if you're a fan of free books, there are going to be new things to read all the time. If you want to get this list in your inbox every Friday afternoon, subscribe to the MetaStellar weekly newsletter.
There are a lot of books to go through, so this week I'm being helped out by a couple of other members of our MetaStellar community. If you'd like to join me in doing these reviews — and taping our regular Friday videos — email me at [email protected].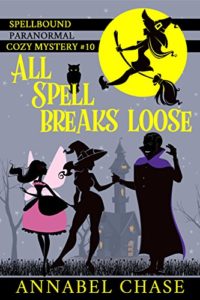 This is the last of ten books in the Spellbound Paranormal Cozy Mystery series. The entire series is free today, and normally all the books are also in Kindle Unlimited.
Five of the ten books in this series are on the top-ten list today — the rest of them are in spots 11 through 20 on the Amazon bestseller list as I write this. And all of them are free. But I'm only going to read the first one, so I can't tell you what this book is about.
Instead, if you're interested in this genre, scroll down this page until you get to the first book in the series, Curse the Day.
However, I will use this space to point out that if you happen to like this series, you should also check out the author's other series, the nine-book Spellbound Ever After Paranormal Cozy Mystery series. Because — as I write this — all those books are also free today. And they're also all on the Amazon free science fiction and fantasy bestseller list, just a little bit further down.
Get the Kindle ebook free from Amazon here.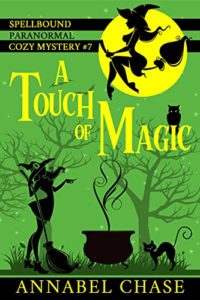 This is the seventh of ten books in the Spellbound Paranormal Cozy Mystery series. The entire series is free today, and normally all the books are also in Kindle Unlimited.
Again, I don't want to talk about later books in the series before I finished the first one. No spoilers, please! So I'll talk about the author for a little bit.
Annabel Chase is a former lawyer, and has dual citizenship in the US and the UK. In addition to her cozy mysteries, she also writes urban fantasy.
You can learn more about her on her gorgeous website — and sign up for her newsletter to keep up with all her news.
Get the Kindle ebook free from Amazon here.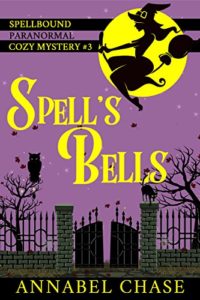 This is the third of ten books in the Spellbound Paranormal Cozy Mystery series. The entire series is free today, and normally all the books are also in Kindle Unlimited.
You can also follow Annabel Chase on Facebook at @AnnabelChaseWriter. Facebook seems like the best way to keep up with her, since she posts regularly. She also has more than 4,000 followers on Facebook, which is very impressive for an indie author. Or any type of author.
That's where I learned that all the books that are free today? — this is the last day of the free offer. So grab those books now.
Her Facebook page looks like a nice place to find out about her new releases, learn about book sales and special offers, and connect with other readers of her books. She also occasionally suggests books by other authors, and, from what I've seen, they're pretty good picks for people who like her books. I've already picked up a copy of one of the books she recommended.
Get the Kindle ebook free from Amazon here.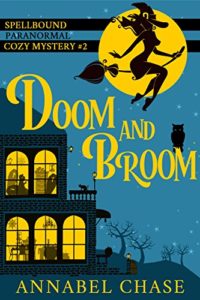 This is the second of ten books in the Spellbound Paranormal Cozy Mystery series. The entire series is free today, and normally all the books are also in Kindle Unlimited.
You know how I mentioned that Annabel Chase also writes urban fantasy? If you like her writing style, check out the Midnight Empire: The Tower series.  I've already grabbed my copy of Wild Knight, the first book in the series, which has more than 6,000 positive reviews.
That's an insane number of reviews for an indie author. For any kind of author, for that matter. In fact, most of her books have hundreds to thousands of positive reviews.
And it looks like all of them are in Kindle Unlimited, too.
Get the Kindle ebook free from Amazon here.
6. Infinity by Stan C. Smith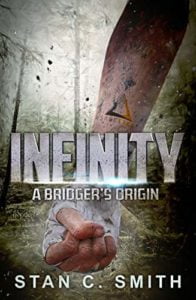 This is the prequel to the six-book Bridgers Series. about travel between alternate universe versions of the Earth. We previously reviewed this book last July. And, in April, we reviewed his book Genesis Sequence.
If you're into sci-fi stories about people travelling to alternate worlds, this book could be for you.
The story takes a little while to get going, but I think it's worth the wait, especially if you like the idea of humans travelling to brand new realities to find out what exists on a world that could be very different from our own.
Safetrek Bridging is the first company to use a new technology to bridge people to different versions of earth that diverged in evolution from the world we know.
Passerina and Scottie are two struggling professional fighters who've just been recruited and are in training to be bridgers, the people whose job it is to protect a small of team of people that's travelling to an alternate version of earth.
They find out on the first day of their training that their new job is a hard one — and can easily have deadly consequences.
I think the concept for the book is a cool one, and I'd definitely read the whole book. I read about a third of it in one sitting and I don't plan on stopping.
Get the ebook free from Amazon here.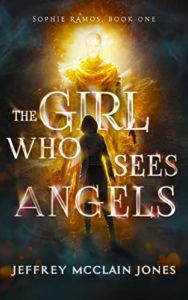 This is the first of three books in the Sophie Ramos religious fantasy series. The other books are $5.99 each, and are not in Kindle Unlimited.
Sophie Ramos is a talented app designer, working in a high-end app boutique, and she has the special gift of seeing angels.
In the first chapter, a psychic named Detta tells Sophie she has a special gift, but Sophie finds these angel visitations to be quite stressful. And, as she's leaving the psychik, she nearly runs over Anthony Washington, Detta's son. Sophie finds Anthony attractive and I have a feeling that a love story might be in the works.
In the next chapter, we get to know Anthony a bit more as he's talking to his mother about Sophie. We also learn that Detta thinks Anthony might be interested in Sophie romantically, as he's just had a breakup. In the following chapter, we dive into Detta's world and see her thoughts about Sophie. At the end of the chapter, a cough foreshadows her pulmonary fibrosis.
Over the next couple of chapters, we get to know more about Sophie's background, job, life, and mother. We also learn more about Detta's relationship with Anthony. The next major event is a dinner that Sophie has with Detta and Anthony, where they discuss Sophie's angel visitations. It's revealed that Detta is an exceptional woman, and Anthony remembers a time when she prayed for someone with a lump growing out of their neck and it disappeared.
During the after-dinner chat, Sophie sees angels and goes into full faith healer mode, commanding Detta's infirmity to leave Detta alone in the name of Jesus. Anthony is stunned at what happens
The book takes its time to develop the characters and the story is carried mostly through dialogue. Sophie is on a journey to understand her angel visitations, with the backstory slowly being revealed. It's a slow read but definitely rewards those who are willing to invest their time in it.
The book progresses steadily, allowing characters to develop through dialogue while uncovering Sophie's past. The short chapters enhance the flow and pacing of the book. Although it's a slow read, it's a satisfying experience for those into Christian fiction. It evokes memories of reading Reader's Digest and Time-Life's Power of Healing.
This genre may not appeal to everyone, but it's worth considering if it interests you. As for me, I don't think I'll continue with it as it's not sci-fi enough unless the angels and demons are like those in Arthur C. Clarke's Childhood's End.
Get the Kindle ebook free from Amazon here.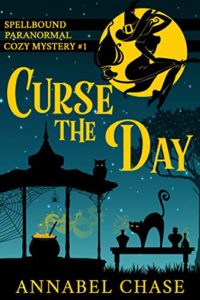 This is the first of ten books in the Spellbound Paranormal Cozy Mystery series. The entire series is free today, and normally all the books are also in Kindle Unlimited.
Finally! Book one in the series.
Our protagonist, Emma Hart, is a lawyer on her way to visit a client. She's running late because her alarm clock died, she couldn't find a matching pair of socks, and she's in the middle of nowhere without a cell signal so she can't call the client to tell her that she'd be late — or get driving directions.
When she gets to what she thinks is her destination, she finds a gorgeous man about to throw himself off a cliff. She parks her car and runs towards him, trying to keep him from killing himself. But her car's parking brake gives out and she's about to be run over when the gorgeous guy grows a pair of wings, flies over, and saves her.
Seems that she has an ability she didn't know she had, the ability to see supernatural creatures.
Her car has crashed into the lake, there's some confusion about magical boundaries that have been crossed, and the angel winds up taking Emma to a little town, called Spellbound. A town filled with magical creatures. And she can't leave. Oh, and there's been a murder.
It's a bit of a hokey beginning, and I'm guessing that Emma is going to end up dating the hot angel. But it's cute, it's charming, it's light, and boy, is it cold outside today in Massachusetts, where I live. This seems like just the book to cuddle up with on the couch this weekend.
Get the Kindle ebook free from Amazon here.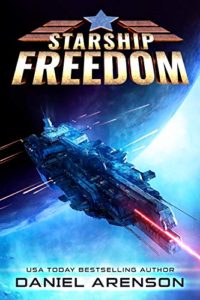 This is the first of five books in the Starship Freedom science fiction adventure series. The other books are $0.99 to $5.99 each, but are all in Kindle Unlimited. Daniel Arenson has been on this list before. We reviewed his book, Earth Alone, back in October of this year. And his Kingdoms of Sand epic fantasy box set was just on this very top ten list for three weeks in a row.
Starship Freedom is a horror-mashup that claims the lineage of Battlestar Galactica and Starship Troopers. An alien menace threatens to destroy humanity, and it's only the crew of a derelict, decommissioned warship who can save the day.
James King is the commander of the Freedom, a ship that has long since been decommissioned. It's now a living museum, complete with airshows and a gift shop. But when the aliens attack, they leave only the Freedom untouched, viewing it as little threat. King rallies his crew and prepares to take the fight to the enemy, despite overwhelming odds and a technology gap that will make his job that much more difficult.
Arenson pens all the gory glory of the Starship Troopers movie franchise while avoiding the finer points of the novel of the same name. His aliens are insectile, intelligent, and ruthless, while his heroes are larger-than-life and full of color. Unapologetically fast-paced, Starship Freedom still tosses in introspective moments that add a bit of flavor to the archetypes of his characters.
While the story is sound and the pacing decent, the overall prose tends towards the melodramatic. Arenson attempts to create a sense of terror and foreboding during the opening pages, however, the build-up is rushed, and I found myself growing bored with the many descriptions of how scared the character was. Additionally, the characters lacked the type of detail and nuance that would set them apart from caricatures, and the dialogue is stilted and awkward. This, along with the implausible layout of nations and power 200 years in the future, means that I personally won't be continuing the book.
If you're looking for a quick read that's part horror and part low-threat military sci-fi, then you might enjoy Starship Freedom, which has five more books available after this first installment.
Get the Kindle ebook free from Amazon here.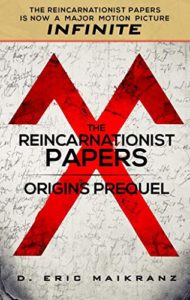 This is the prequel to the two-book The Reincarnationist Papers fantasy series. The other books are $1.99 to $9.99 each and are not in Kindle Unlimited. The second book in the series isn't out yet, but is scheduled to be released next month and is available for preorder. The series was made into a movie, Infinite, starring Mark Wahlberg. The film was released in 2021 and is available for streaming on Paramount Plus.
I would classify The Reincarnationist Papers as an occult fantasy story. You might enjoy it if you're into stories with some sort of spiritual leaning and also if you're into mysteries.
I read the first three chapters, and I think the story has an interesting premise, and a bit of a detective story take to it, which I like. I plan to finish this book.
Eric is an American journalist who's living in Rome. He's writing some articles about Rome and Italy for American publications, and he's also working as a tour guide to make some extra cash.
In the first chapter, we learn that he had stumbled upon three notebooks in an antique store, and it looked like they were written in Russian, which is a language that he studied. He bought the notebooks, but it turned out that they were actually written in Bulgarian.
So Eric goes to the Bulgarian embassy in Rome, and he enlists the help of a lady named Marina, who starts meeting up with him regularly to translate the notebooks.
Over the next couple of chapters, they learn there's something odd about the person who's written the notebooks. The man's name is Evan, and it seems that he can remember past lives that he's lived as different people in different times and countries.
That's as far as I got, but I plan to keep on reading to see where this story leads. If you read the Amazon description, it mentions some secret society of people who can remember their past lives and use that to control the world or something like that, which sounds like it could make for a fun read.
Get the Kindle ebook free from Amazon here.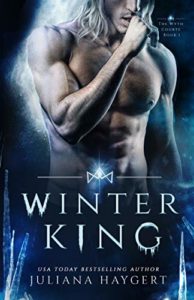 This is the first of four books in The Wyth Courts steamy fantasy romance series. The other books are $4.99 each and are not in Kindle Unlimited.
This book is part of a genre that I simply loathe: the paranormal romance. Since the dawn of Twilight, I have found a certain revulsion to tales of young ladies or gentlemen who fall for a bare chested vampire or werewolf who simultaneously loves them and wants to kill them. As far as the genre goes, however, I suppose that one could do a lot worse than this particular book.
The story focuses on the two central protagonists. King Cadewyn is a ruler of the Winter Court and werewolf with ice powers. Amber is a young woman in the real world who just got fired from her job at a restaurant, and lives in a small Georgia town with a roommate who just wants to party all the time.
Early on, the book gives a clear depiction of these characters: Cade is a noble man who cares deeply about his kingdom, and will do anything to protect it once a curse starts melting the snow of the forest. Amber is a girl who has had a rough life, being abandoned at 17, but still tries to keep her spirits up, and helps people where she is able. Unfortunately, according to a prophecy, Amber happens to be the woman that Cade needs to sacrifice in order to save his kingdom.
Obviously, the two are going to fall in love with each other. Being that Cade abducts her, after saving her and her roommate from a few drunks with his ice powers, this going to be a Beauty and the Beast dynamic, which doesn't seem like the best beginning for a long-term relationship.
This is not my kind of story personally, but for those who are interested in this subgenre, it seems like fun fantasy escapism.
Get the Kindle ebook free from Amazon here.
---
See all the Free Friday posts here. Do you have other free books for us to check out? Comment below or email me at [email protected].
Have you read any of these books? Are you planning to? Let us know in the comments!
And watch Maria, Terrence, and Romel discuss all ten books in the video below: