Reading Time:
19
minutes
Some articles may include Amazon affiliate links. All proceeds go to helping us pay for original stories and to support writers of speculative fiction. Read more here.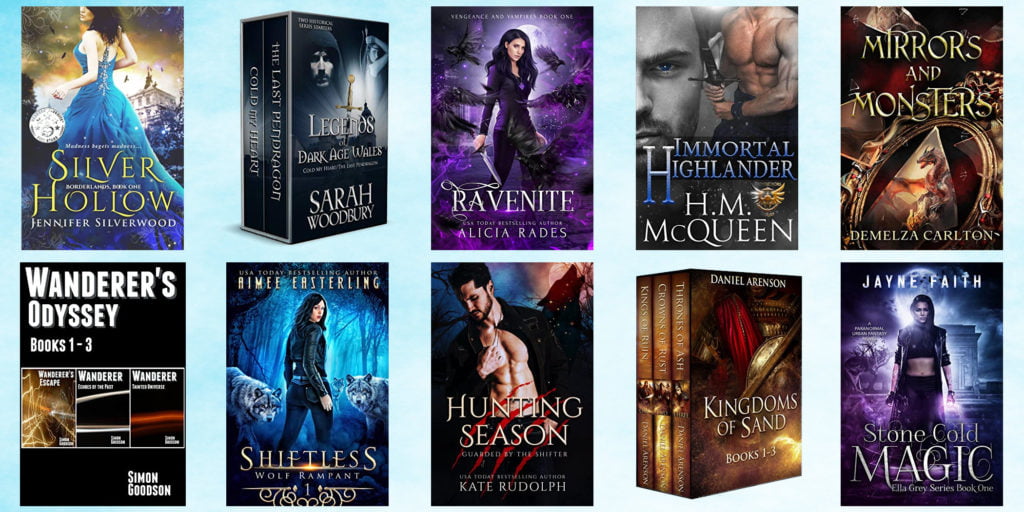 Did you know that Amazon has a list of the top-selling and free sci-fi and fantasy books? The list changes constantly — authors set their books to free temporarily to promote their work, and, of course, books move up and down in the rankings. Read on to find your fun free read for this weekend! And grab the books quickly because they don't always stay free for long.
This week's list is completely different from those of the previous weeks. So if you're a fan of free books, there are going to be new things to read all the time. If you want to get this list in your inbox every Friday afternoon, subscribe to the MetaStellar weekly newsletter.
There are a lot of books to go through, so this week I'm being helped out by a couple of other members of our MetaStellar community. If you'd like to join me in doing these reviews — and taping our regular Friday videos — email me at [email protected].
10. Silver Hollow by Jennifer Silverwood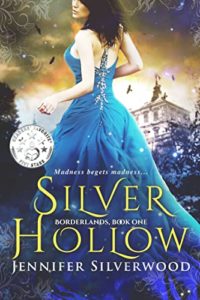 This is the first of three books in The Borderlands Saga contemporary fantasy romance series. The other books are on sale now, at $2.99 each — regularly $3.99 — and they are not in Kindle Unlimited.
Amie has just lost her parents and she is preparing for their funeral. The story starts with a prologue ten years in the past and I'm normally not a fan of prologues and I honestly don't think this one added much. Her father had a secretive past and Amie receives a letter from a previously unknown uncle back in England which she ignores. She's left only with her two best friends to help her carry on and a mysterious stranger that makes a quick appearance at the funeral.
Fast forward ten years later, where Amie thinks she hasn't done much with her life. She makes her living writing books (a feat in itself) and is an angry recluse in small town Texas. When she is attacked by an assailant who stabs her in the chest, the man from the funeral appears and saves her life.
I had a hard time relating to Amie's character, there was a lot of anger toward most of society that didn't seem justified to me. However, an attempt was just made on her life, we have a mystery man who saved her, and some likely magical uncle in England. If you're a fan of any Sarah J Maas books you might like this. I'm going to read at least another chapter or two to see if it pulls me in.
Get the Kindle ebook free from Amazon here.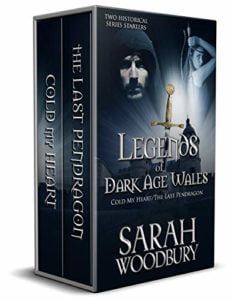 This is a box set of two books. First, you get the first book of the five-book the Lion of Wales series, Cold My Heart. Then, you get  The Last Pendragon, the first book of the eight-book The Last Pendragon series. All the other books in each series are $0.99 to $2.99 each. This author has been on our list before. We reviewed a bigger box set from these two series in May of 2022.
Set in Dark Age Wales, Cold My Heart is the retelling of the King Arthur legend from the point of view of two of his companions, Myrddin and Nell. It's the autumn of 537 AD, and the people loyal to King Arthur have retreated to north Wales, where they are surrounded and facing defeat. Myrddin and Nell each have a vision that Mordred's soldiers will ambush and kill King Arthur and they have to work together to save him.
All the familiar characters are here, including Sir Gawain. And the book starts out with a bang — with King Arthur's death. Turns out, it's just a dream — a dream that Nell has been having since she was a girl. And she doesn't just see King Arthur's death, but also that of Myrddin, who dies defending him. Now she's got about a month left to do something about it, and she doesn't know what. Oh, and Nell is living in a convent, sent there by her uncle after her father's death because her uncle wanted her father's estates for himself. Her husband and her two children had been killed ten years previously. so she's seen a bit more of the world than the other nuns.
Mordred's soldiers attack the convent, killing some of the nuns, and Nell leads the others to safety, but Mordred's men catch up to them. She is the only one who escapes the massacre, because she'd gone back to check on the convent itself when the attack comes.
It's a strong start, and Nell is a strong, capable character.
The story switches back and forth between Nell's point of view and that of Myrddin. He saves her from attackers and at first she doesn't recognize him and tries to run away, but he catches up to her and takes her with him. There's a lot at stake in the book, and the characters are compelling. Would I read the whole series? If I liked historical romances, definitely.
Get the Kindle box set free from Amazon here.
8. Ravenite by Alicia Rades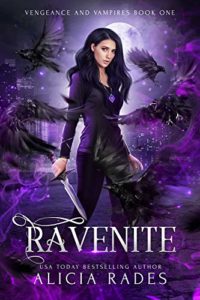 This is the first of four books in the Vengeance and Vampires urban fantasy series. The other books are $4.99 each, and the series is not in Kindle Unlimited. It's the second time this book has been on our list — we previously reviewed it this past December.
Urban fantasy is one of my favorite genres. I love stories where kick-ass female protagonists kill a lot of things. Or male protagonists. Or any gender, really. Stories with a high body count that don't take themselves too seriously. Maybe that says something about me, I don't know, but give me a cover that has a person in tight clothing holding a weapon, and I'm guaranteed to open it.
And the first sentence of this book did not disappoint: "Vampires are easier to kill after you've pecked their eyes out."
Yeah, that's what I'm talking about.
The story is told from Rachel's point of view. She's the vampire hunter, and she talks like an old film noir detective. For example, she says: "I was a sucker for vampires looking for a stake through the heart. They usually found it."
Anyway, she's out hunting vampires in dark alleys in a bad part of the city. She's looking for something called the Soulless, who have her sister, and she's going to keep killing vampires until she finds a lead.
Oh, and she's got super strength… and she's a shifter. Unfortunately, tonight's vampire manages to stab her with a dagger poisoned with vampire blood and gets away, leaving Rachel in bad shape. She's forced to accept help from a stranger. A handsome stranger. One who is himself a shifter. He carries her back to her apartment, where she does a spell that helps heal the wound. And he promises to keep her secret. Apparently, in this world, killing evil vampires is a crime, no matter how evil they are. You're supposed to wait for the police to arrest them and hold a trial.
The vampires appeared eight years previously, at the same time as magic. The Soulless were the worst of them.
Turns out that the guy who saved her has his own reasons for looking for the Soulless vampires, so he and Rachel decide to team up. I like Rachel. I can tolerate the handsome stranger guy. I mean, every action movie has to have a love interest, right?
So I'm going to keep reading. And, judging by the writing in the first couple of chapters, I might well wind up shelling out my own cold, hard cash for the rest of the books in this series.
Get the Kindle ebook free from Amazon here.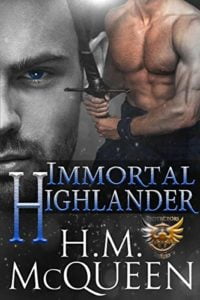 This is the first of six books in the Immortal Protectors paranormal romance series. The other books are $3.99 each and they are not in Kindle Unlimited.
So, first, the obligatory disclaimer. I'm not generally a fan of books with naked male chests on the cover. But since nobody else is around to take this book today, it's up to me.
Here goes.
Emma Blake is our protagonist and the book stars out with her in the doorway of an abandoned building in Atlanta, watching a battle in which a guy is fighting ten huge demons. The guy is a protector, handsome, and as close an angel as you can get. Apparently, in the past few years, Atlanta has become a hotbed for demons.
The guy was an immoral warrior, trained to battle these demons. These warriors normally keep a low profile from humans to avoid discovery. This particular one had long blonde hair that flew around him like a halo, golden skin glistening in the rain as he fought, muscles bulging on his arm as he effortlessly wielded his sword and carved up the demons. Oh, and he has perfectly arched eyebrows framing his ice-blue eyes and a shallow cleft softening his strong jaw. Plus sensually full lips not diminished by the snarl that remains constant as he battles the demons.
So, you know. The usual.
Turns out Emma is one of the few who can see both the demons and the warriors who fight them, due to her supernatural heritage. The heritage that makes her the warrior's mortal enemy. So you think she'd run away. But she doesn't.
Then we switch to the warrior's point of view. Oh, no, two points of view — that means that this is a romance and they're going to get together at the end. As if I hadn't already guessed from the cover.
Anyway, Cyn has been taking his time calming himself, inspecting his wound, giving the woman hiding in the doorway time to run away. When she doesn't, he walks over to her. He should wiper her memory and move on. He leans in, and can't read her mind. He thinks she's exquisite and his eyes linger on her lips, and he thinks about what it would feel like to kiss her.
Turns out, she wants to talk. Her sister's been captured by the demons, and she wants him to help free her.
Then, suddenly, he's able to hear her thoughts — and, of course, she's thinking about how hot he is. So they kiss but before it goes any further, he senses more demons, jumps on his Harley, and rides away.
It's taken Emma a week of skulking in the alleys to find him. Now she's going to have to start all over again.
Then Emma goes back to work, where she chats with a coworker about what happened. The coworker is up to speed on everything, and knows all about the demons.
Then we get a little bit more back story. Emma's sister has been going to the Inferno, a local dark fae nightclub, and hanging out with demons, despite Emma warning her about it. Now she's being held for ransom. And the ransom demand? That Emma lure Cyn, the warrior, into a trap.
Ah ha. So she was lying to Cyn when she told him she needed his help. Well, not technically lying, but still, pretty deceitful. Oh, the drama.
It sounds like a fun premise, but it's not really my kind of book. I'm turned off by all the glistening muscles. Also, I'm not particularly enthused about either of the two main characters. Other than both being hot, neither seems like a nice person that I'd want to spend time with.
But if you're a fan of glistening muscles and double-crosses and enemies-to-lovers romances, this could be just the thing.
Get the Kindle ebook free from Amazon here.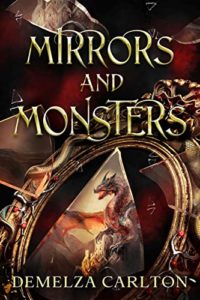 This is a standalone book of fantasy and romance. It's the second time it's been on our list — we previously reviewed it this past December. In fact, author Demelza Carlton is a regular here. This past October, we reviewed Ocean's Justice, the first book in the six-book Siren of War fantasy series. In September, we reviewed Heart of Steel, the first of five books in the Heart of Steel paranormal romance series.
We also reviewed several books in her 27-book Romance a Medieval Fairytale series. In July, we reviewed Embellish: Brave Little Tailor Retold. Hunt: Red Riding Hood Retold, we reviewed in April, and, also that month, we reviewed Blow: Three Little Pigs Retold, then, in May, we reviewed Melt: Snow Queen Retold and, in September of 2021, Dance: Cinderella Retold. A box set of the first three books in the series was also on this list this past April.
This is a somewhat unique review, as this book is a short story collection rather than a full-length novel, spanning several romance tropes across the fantasy and paranormal romance subgenres. The opening story introduces us to a Beauty and the Beast retelling, "Enchant." Zuleika is a young enchantress just coming into her power after her mother's untimely death. When the arrogant and demanding King Thorn demands a curse from her, Zuleika creates the worst curse she can imagine: a mirror that curses the beholder to show outwardly their worst and darkest traits, extending from their physical body to their kingdom. Although I only read to the portion where Zuleika delivers the curse to King Thorn and is imprisoned, I assume that she will escape and run into the ruler—the Beast—cursed by her mirror.
I then broke the rules of Free Fridays a bit. Rather than reading straight on, I jumped into the middle of the book to read "The Gargoyle and the Archaeologist," a paranormal protector romance. Maria is an archeologist who is forced to return to her hometown of Perth after her parents' unexpected deaths. While walking through their desolate manor house, used as an office, Maria runs into a huge spider's web. Her screaming calls Dunston, a gargoyle protector of the house and its inhabitants. Dunston and Maria feel an instant attraction, although she refuses to believe he is a gargoyle, chalking it up to grief and severe jetlag. Nevertheless, Dunston continues to protect and help Maria throughout the week as she sees to her parent's affairs before leaving to finish her archaeology dig. Despite a very sexy moment involving the macarena dance, Maria and Dunston never give into their instant attraction. When Maria returns after several months, she hopes to again see Dunston, but he never appears, as she never formally calls for his aid.
All six stories in this collection are lead-ins for Carlton's longer works in her "Romance a Medieval Fairytale" series. Although the Beauty and the Beast retelling didn't really catch me, I'm glad I decided to skip around and find "The Gargoyle and the Archaeologist," as I found the opening paragraph truly engaging and had a lot of fun reading a "mini-romance" in just a few pages. For any fantasy or paranormal romance fans, these are quick reads perfect for a work or lunch break, and you can pick and choose from your favorite tropes and subgenres to find a story that's a perfect fit for your romance tastes.
Get the Kindle ebook free from Amazon here.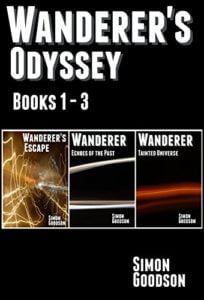 This is a box set of the first three books in the eight-book Wanderer's Odyssey series. The other books are $3.99 each and are not in Kindle Unlimited. This is the second week in a row that this set has been on our list.
Jess was born a slave and had never set foot on a planet's surface. His captors use him and other prisoners as cannon fodder. While investigating a mystery space ship for booby traps he and two fellow prisoners are mysteriously freed from their control collars and are able to use the ship to escape.
Jess is a pretty passive character at the start of the book. Things just happen around him, through no particular effort or ability of his own. I prefer my main characters to have a little bit more agency.
It looks like there's a powerful and evil empire. After escaping from their captors, Jess and his companions pick up a distress signal and save a family of smugglers from the empire's enforcers, blowing up one of the empire's ships in the process.
Meanwhile, it turns out that the ship Jess stole has extremely advanced capabilities and is powered by an AI that can do nearly anything and was just sitting around waiting for someone to tell it what to do.
It's a hokey premise. I love it.  I'm going to keep reading.
Update: I'm now on book five of the series. And, yes, I paid money for them. My thoughts: First of all, the books deserve better covers. Much, much better covers. They should have those modern flashy covers with spaceships on them, because that's what these books are like on the inside. Second, there are a few places where the main character does things out of stupidity. One of those "too dumb to live" situations. Which is fine. The protagonist is young, new to all this, and has spent his whole life as a slave, where he's just done what he was told instead of having to learn any decision-making skills. But he has often has people, or AIs, around him who know better. A quick fix for some of these "too stupid to live" problems is for him to get good advice then, due to his internal issues, refuse to follow it. But this is not a fatal flaw for the books. In fact, many best-selling properties suffer from the "too stupid to live" problem where main characters do dumb things just because it would be good for the plot. It's just one of my biggest pet peeves. So, bottom line: if you like space operas, this is very, very enjoyable — enjoyable enough to keep me reading through the series and paying for the later books.
Get the Kindle e-book box set free from Amazon here.
4. Shiftless by Aimee Easterling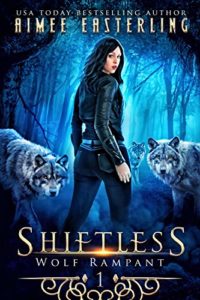 This is the first of three books in the Wolf Rampant urban fantasy series. The other books are $4.99 each, and the series is not in Kindle Unlimited. It's the second week in a row that this book has been on our list. Author Aimee Easterling has been on this list with other books, as well. We reviewed her book Fae Wolf this past December, and her books Moon Glamour back in May of 2021.
A woman decides to take the day off and visits a bookstore in the city. A werewolf, she left her home pack ten years ago to avoid being forced into a mating. At the bookstore, a male werewolf named Chase spots her and she runs, but he catches up with her in the parking lot. Although she is attracted to him, she does not want to be used as a pawn by him or any other male werewolf.
Normally, the turmoil caused by her inner wolf's alter ego makes her anxious, but this time she feels a sense of safety. Chase offers to have coffee with her, but she runs back to her apartment instead.
Later, she has to track down a lost toddler at a national park. In wolf form, she finds the child but is shot in the shoulder by a man who she ultimately kills. She returns the child to their parents and reflects on her own childhood and family.
Afterwards, she goes for a hike in the forest and meets her father. She learns that her sister is dead and that her father wants an heir. She must convince her deceased sister's nephew, Keith, to be the pack heir, or else her father will force her to return to the pack and produce an heir herself.
The first chapters of the book were difficult for me to read because it assumes that the reader is already familiar with the world, characters, and wolf-human dynamic. Some world-building information is provided later, but I had to fill in the gaps while reading. When these assumptions turned out to be incorrect later in the book, I had to go back and reevaluate, which slowed down my reading and left me feeling frustrated.
For example, the narrator remains unnamed and the "wolf" is not clearly defined early on, which makes it difficult to understand the separation between the two and how they affect each other. Is the inner wolf a psychological break, an imagined personality, or an incorporeal spirit in the body? Without prior knowledge of the genre, it is hard to understand the characters and their place in the world.
There are also some character motivations that seem implausible, especially when compared to our own world. For example, if the narrator didn't even know her sister died, it implies that they were not very close, so it is unclear why her father thinks she can convince Keith to be the pack heir.
For readers familiar with the genre, I would rate the book as average, but for new readers, it may require more focus to understand the world and characters.
Get the Kindle ebook free from Amazon here.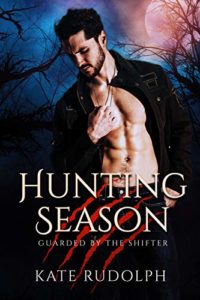 This is the first of four books in the Guarded by the Shifter paranormal romance series. The other books are $0.99 to $4.99 each and are not in Kindle Unlimited. We previously reviewed this book in December of 2021 and again last week.
I'm prejudiced against romance books, naked-male-chest-on-the-cover books, and anything that smells of Twilight.
But I'll take the plunge. For you, dear reader.
Stasia's dad's new wife is ten years younger than Stasia. Her dad wants her to come to a birthday party — for her ninth step-sibling. She'd rather not go, and is a little sorry that she moved back to New York, where the family is too close to comfort. Also, her father is obscenely wealthy. The family has a jet and a fleet of cars. Stasia herself has an inheritance, which she prefers not to touch.
While she's walking down the street, on the phone with her dad, someone tries to kidnap her. Right in broad daylight, in front of witnesses. She fights back, and the people around her help.
I like Stasia. She's competent and calm and collected, even in a crisis. This makes sense since she works in the ER.
The next chapter is from Owen's point of view. He's a werewolf and an army vet. His unit all got turned into werewolves and were kicked out of the army two years ago and started a security company. They're just getting started, so they mostly take on small bodyguarding jobs. And a job comes in — to guard the heiress.
I actually like this, too. I know I said I wouldn't, but I like both of the main characters. I can see myself coming back to this.
Get the ebook free from Amazon here.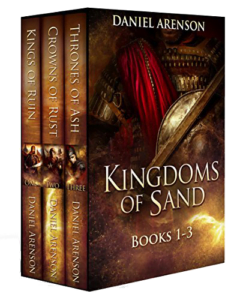 This is a collection of the first three of six books in the Kingdoms of Sand high fantasy series. Individually the books are $2.99 to $4.99 each, and the series is not in Kindle Unlimited. Daniel Arenson has been on this list before. This is the third week in a row that this box set has been on this list. And we reviewed his book Earth Alone, back in October of this year.
This is an epic fantasy billed as Game of Thrones meets Spartacus, and the author is a USA Today bestseller. That sounds pretty good, and I had high hopes for this book going in.
We start out with Maya, a young woman with magic powers and an evil older half-sister. The older sister, Ofeer, is a product of rape — their mother had been attacked by invaders. Now the invaders are back again, and they nearly destroyed the country the first time around. Maya's family are the rulers, and her older brother will eventually inherit the kingdom — if it survives. Oh, and magic powers are illegal here.
I did not like Maya. She seemed to be one of those "too stupid to live" people. Knowing that magic is forbidden, she still uses it to heal a sick dog. Out in public. Without checking if anyone is watching. A prince — one of the invaders — shows up and kills the dog for a laugh. And Ofeer and the prince laugh about it. I don't like seeing a sick dog mistreated. I don't like the way that Maya seems nice, but is lacking any common sense. And Ofeer is just evil. I didn't like anyone in this first chapter.
Then we switch to the point of view of one of Maya's siblings, Epher, the older brother who's in line to inherit the kingdom. He's worried about the enemy fleet that just showed up. And he's also bickering with his two other siblings — this is a large family! — one sister is a fighter, and she just wants to kill everyone, again with no thought of consequences. And there's also another brother, who just likes to drink and have a good time. Also with no thought of consequences. Epher is the only one of the lot who seems to have any common sense, and he's burdened by the guilt of hearing his mother's screams as she was raped when the invaders were here the last time. But he comes across as a little too pious and sanctimonious. He's a bit of a scold. I sympathize with him — I'm the oldest kid in my family, too — but he's not exactly fun to spend time with.
Then we move to the point of view of Ofeer, the evil sister, as she seduces the invading prince right in front of Maya and the prince's solders and then has sex with him. She's sick of her family and of their stupid little kingdom and wants to go live in the big evil empire with all the cool people.
Then we switch to the point of view of Marcus, the evil emperor of the invading empire. He's got ten thousands slaves marching to their doom, prisoners being crucified right and left, all the horrible excesses of Rome. And here is where we learn that the country that Maya is from is a place where people get circumcized. So I'm guessing this is an allegory for the story of Israel in Roman times.
I'm not personally opposed to this setting. I've read other speculative fiction books set either in historic Rome or in similar cultures and I liked them. But this particular series of books is a little too grim and depressing for me. There's just horrible suffering in every direction, and in my escapist reading I like to get a little break from that kind of thing. Especially since that's all we see on the news these days.
But if you like your epic fantasy on the grim side — and plenty of people do — then I do have the say that the writing style is very compelling and the book pulls you in. The story moves along at a good solid clip, and there's plenty of tension and high stakes right from the start.
Get the Kindle ebook free from Amazon here.
This is the first of four books in the Ella Grey Series of urban fantasy books. The other books are $3.99 to $4.99 each and they're not in Kindle Unlimited.
I'm a big fan of urban fantasy books with leather-clad kick-ass women on the cover. The more killing, the better. I think I've got some buried rage issues that I might be working through, but that's neither here nor there.
The book starts with Ella Grey is out on a walk and she keeps noticing weird shadows in her peripheral vision. She tries to ignore them. They are probably a side effect of the fact that she was clinically dead for 18 minutes, due to nearly drowning in icy water two weeks earlier.
She's on medical leave now, but is going back to work tomorrow. Her job? Demon Patrol officer. So she needs to be fresh and clear-headed.
Seems that 29 years ago, magic tore the world open and brought forth demons, vampires, and zombies. Ella is a witch, but her weak magic can't do anything about the weird vision effects, nor about the nightmares she's been having.
While walking, she comes across a group of teenage boys bullying a girl. They're out after curfew, and she threatens to have them locked up. The boys run away, and Ella asks the girl why she's walking around outside by herself. The girl says that she's looking for help. Something to do with her brother. The girl, takes Ella inside a near-by building and up to her apartment. Her brother was out on the balcony. The parents, gone. Ella looks out on the balcony, and the brother is there all right. He's turned himself into a gargoyle.
When Ella touches the gargoyle, she gets a vision of a vampire feeder den.
Ella calls in an expert, a private consultant, who recommends that she turn it over to Supernatural Crimes. But Ella doesn't want the authorities involved because the girl and her brother are a little bit too young to be living on their own, and might go into the system.
I like Ella, though I think she should call in the authorities. The brother's almost old enough to live on his own, anyway, and I would say that it wasn't worth risking his life just to keep the kids out of the system for a year.
I'll probably keep reading.
Get the Kindle ebook free from Amazon here.
---
See all the Free Friday posts here. Do you have other free books for us to check out? Comment below or email me at [email protected].
Have you read any of these books? Are you planning to? Let us know in the comments!
Watch Maria discuss all ten books in the video below: