Reading Time:
16
minutes
Some articles may include Amazon affiliate links. All proceeds go to helping us pay for original stories and to support writers of speculative fiction. Read more here.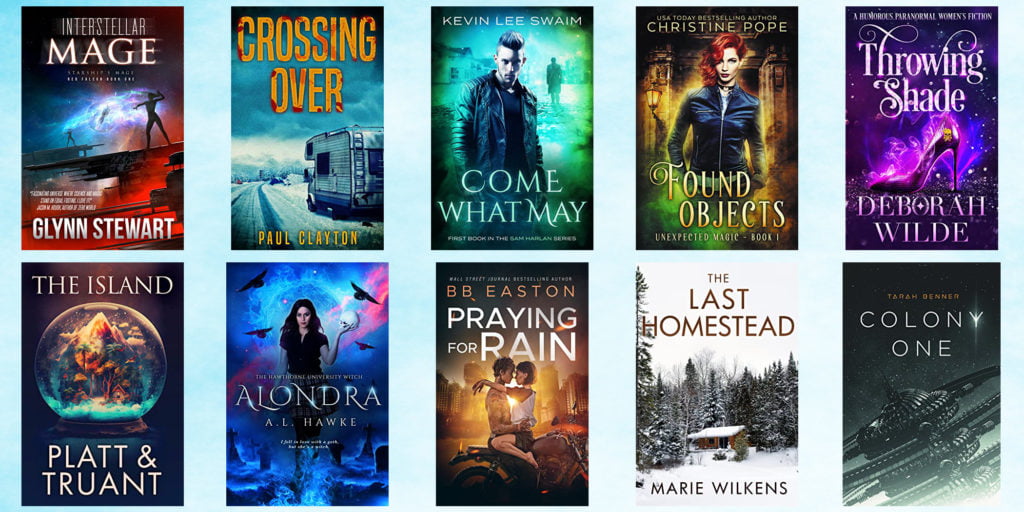 Did you know that Amazon has a list of the top-selling and free sci-fi and fantasy books? The list changes constantly — authors set their books to free temporarily to promote their work, and, of course, books move up and down in the rankings. Read on to find your fun free read for this weekend! And grab the books quickly because they don't always stay free for long.
This week's list is completely different from those of the previous weeks. So if you're a fan of free books, there are going to be new things to read all the time. If you want to get this list in your inbox every Friday afternoon, subscribe to the MetaStellar weekly newsletter.
There are a lot of books to go through, so this week I'm being helped out by a couple of other members of our MetaStellar community. If you'd like to join me in doing these reviews — and taping our regular Friday videos — email me at [email protected].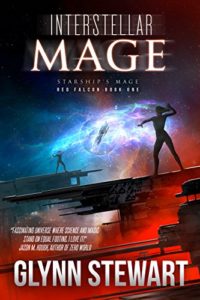 This is the first of three books in the Starship's Mage: Red Falcon space opera series. The other books are $2.99 each, and the entire series is in Kindle Unlimited.
I like space operas, I like kick-ass female protagonists, and I like magic, so I have high hopes for this book.
Maria — great name! — has, among other magical tricks, a ring that detects drug or poison. Also, she's a former Navy officer and combat mage. So when someone tries to spike her drink at a bar, she's a little annoyed. She'd been planning to sleep with the guy in order to have a free place to stay for the night.
The bartender kicks the guy out, and warns her that she's running out of suckers. He suggests that she try to find a jump-ship to serve on. Half of them would be happy to hire her, even if she had been kicked out of the Navy for screwing up.
But she dismisses the suggestion out of hand. She's planning to save up enough money, go home to Earth, and drink herself to death on a Brazilian beach. Or maybe stay on Tau Ceti and drink herself to death there, saving herself the price of a starship ticket.
Then someone shows up to offer her a job, and conveniently recaps her history for us. Turns out she took command of a destroyer while its skipper was on shore leave, rushed off to tangle with some pirates, and the ship was badly damaged. Then he makes her an offer she can't refuse. An interesting assignment, and a good cause.
The Martian Interstellar Security Service needs someone to go undercover to protect a merchant ship.
I like the premise and I like Maria.
Then we switch to the point of view of David Rice, the merchant ship's captain. He's just received a new, larger ship, and needs to hire 400 additional crew members, at least half of them with real Navy experience. Also, he needs mages. Mages are what make faster-than-light travel possible.
I like this book. It feels old-fashioned. It starts slowly, and the character descriptions have an eighties-style feel to them, in terms of how the author depicts gender and race. The dialogue feels a little stilted, as well. But those are minor quibbles, and the book is very readable. I plan to stick with it this weekend.
Update: I finished the book and loved it, and have already downloaded the second book in the series. I enjoyed the pace of the book, and the classic-style space romp. There was a little bit of interstellar politics, a few pirates, some double-crosses — basically, a good time. Don't look to this book for deep themes or complex character development. But who needs that stuff, anyway, amirite? Another thing I loved loved loved about this book is that while the point of view switched between the female and the male protagonist, it wasn't because of a love story between them. It was just your normal multiple point of view story. No romance! I was overjoyed. The other thing to know about these books is that it turns out that they're a spinoff of the 13-book Starship's Mage series — which is in Kindle Unlimited. Score!
Get the Kindle ebook free from Amazon here.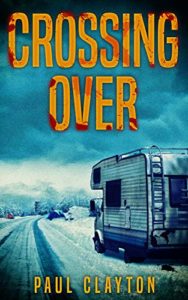 This is a standalone dystopian science fiction book. The author is new to our list, but isn't new to Amazon, with several other sci-fi books and short story collections under his name.
Mike McNerney has a wife, Marie, and a 16-year-old daughter, Elliy, who is mentally challenged. The novel takes place in a time of widespread dissent and societal breakdown in America, with issues such as a Pennsylvania Air National Guard jet being shot and a food riot in Philadelphia leading to racial conflict.
Mike is torn between wanting to keep his family safe and not wanting to abandon his home. He grapples with the decision of whether to leave the city with his family and go to the country or Canada, as some other families have done due to the violence in the cities. However, his decision is made for him when a teenager threatens his wife with a knife in order to steal their camper. Mike decides that it is too dangerous to stay in the city and decides to leave with his family in search of a safer place.
As they head north towards Canada, they encounter vigilante justice and a reduction in law and order. They also meet a young private named Gabe and are offered an opportunity to join a militia, but Mike declines and continues on their journey. Along the way, they come across the charred remains of a militia vehicle and bodies, which causes Mike to reflect on the nature of war and humanity.
The book is a fast-paced journey story that follows a man trying to protect his family in a dangerous and uncertain world. While it does not delve deeply into themes commonly found in dystopian fiction, such as freedom of speech or the individual versus society, it is still an interesting read.
I've already read nearly half the book and I liked the characters. The plot is pretty standard in terms of the genre — one family's exodus from a crumbling civilization into the unknown, hoping for better circumstances. For those readers familiar with the genre it's a quick read as there is a certain familiarity with the tropes of the genre, such as introspection, how did we get here and maybe a reflection on a larger themed issue such as man's relationship to other people, the environment or himself.
I will finish it soon. For those familiar with the genre it's a very comfortable read. It is worth reading it to the end to see how it concludes, though I have a feeling in the pit of my stomach that it will end with tragedy as many dystopian novels do.
Get the Kindle ebook free from Amazon here.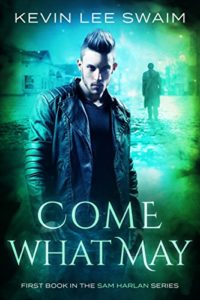 This is the first of five books in the Sam Harlan, Vampire Hunter urban fantasy series. The other books are $3.99 to $4.62 each, and the series is not in Kindle Unlimited.
I'm a big fan of urban fantasy. I love the Dresden Files and am hoping that this book will be similar.
The book begins with Sam Fisher, 27, waking up next to his perfect wife in his perfect Ohio home, feeling perfectly happy about his life and his perfect daughter. Then we get a lot of description of how wonderful his house is, and how great and sexy his wife is, plus the history of their house, and the history of how they met.
Then he leaves for work at the diner he owns. Which is also wonderful and he just loves running it and he loves the community it brings together.
The only problem is that the economy is getting tight. Prices are going up for the supplies he buys, but he doesn't want to raise prices for his customers. They're barely making it, as long as he puts in 14-hour days, and his wife works for free. Meanwhile, their regulars are dying of old age — in fact, the whole town is slowly drying.
Then two strangers entire the diner. Weirdly pale, wearing large sunglasses and smelling funny.
Then everything goes weird. There's a flash of light, a smell of rancid smoke, the strangers vanish and it's 20 minutes later even though he can't remember any time passing.
That night, when he gets home, he hears screaming and sees blood smeared on the floor. In the kitchen, there's a stranger man at the kitchen table with blood on his face. His wife, dead on the floor. His daughter, frozen still. And another stranger comes up behind him and forces him to sit down. The strangers want to know what he did to his two visitors from earlier that day. He doesn't know what they're talking about, and they threaten to kill his daughter.
Then a third man shows up, an old man with a black leather eyepatch, a leather duster, and a shotgun. There's a battle, more vampires turn up, the old man kills some of them, Sam kills another one, and the others kidnap Sam's daughter. The old man throws Sam over his shoulder and leaves with him as police sirens approach and takes him to Iowa.
Seems that the old man was trying to protect Sam and his family from the vampires, but messed up.
It's a little too grim for me. And the protagonist is a little too passive for my taste. Plus, there's no humor here. I like my urban fantasy with a little bit of snark. I don't think I'll be sticking with it. But I think fans of the TV show Supernatural might like it.
Get the Kindle ebook free from Amazon here.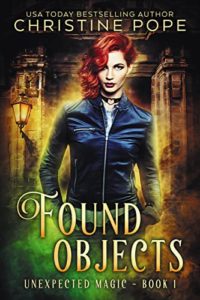 This is the first of six books in the Paranormal Penny Mysteries cozy mystery series. The other books are $0.99 to $3.99 each but they're all in Kindle Unlimited.
Starting anew after a messy divorce, Penny Briggs takes a job on a filming crew in Albuquerque. As a "prop shopper," Penny has always had a knack for finding the perfect object for a film set, or her friends and family.
On her first day on-set, a pair of prop glasses mysteriously go missing, prompting Penny to run to a nearby antique shop to purchase a replacement. A certain pair of glasses calls to her, but when she brings them back to the set, the actor complains that they make him feel dizzy and disorientated. Unnerved, Penny tries them on, and sees a pristine vision of a canyon, the sights and sounds of the set and filming completely gone.
Over lunch, she has another crew member, Joy, try them on, and she tells Penny they must be hexed. Joy gives her the contact name of her cousin, who is a male witch and runs a magic shop in town.
Despite her refusal to believe that magic might be real, Penny takes the glasses to Joy's cousin, Isaac. After examining the glasses, he identifies them as a magical object, and identifies Penny as a "lodestone" — she acts as a magnet for magical objects. Penny denies that she has any power, but reflects on her knack for finding the perfect object, and how items feel that they call out to her. Isaac comments that the glasses must have a story to tell Penny.
The first few chapters set up a cozy, slow-burn contemporary fantasy that will make a quick, fun read for many readers. My personal reading tastes learn towards a more active beginning, so I felt my attention slip a bit through the first two chapters, which balance more heavily towards backstory and Penny's history that lead her to this particular time and place in her life. Although it features an adult protagonist, the overarching theme and structure feels like a coming-of-age tale — which are always fun — in which Penny starts a new life and discovers her full magical powers.
For for those looking for a cozy, slower read, this could be the perfect weekend book.
Get the Kindle ebook free from Amazon here.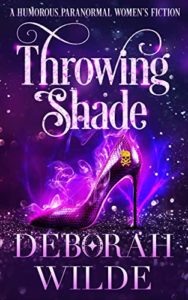 This is the first of seven books in the Magic After Midlife cozy magical mystery series. The other books are $4.99 to $6.99 each, and the series is not in Kindle Unlimited. Deborah Wilde has been on this list before, we reviewed her book Blood & Ash back in April of last year. 
I love cozy magical mysteries with middle-aged amateur sleuths. And this book fits the bill.
The protagonist, Miriam, is a librarian for a legal firm. She's a single mom and really needs the job, no matter how annoying the some of the associates can get.
Miriam is fun. I love her snark and her banter with her colleagues. The good ones, that is. Her best friend invites her for drinks after work, and I love their relationship, as well. Her best friend flakes on her, probably lost track of time while working at her art studio. She meets a handsome lawyer and flirts with him a little, then heads home.
The guy follows her home and attacks her. When he pulls her into an alley, she fights back, kicks him, and sprays him with maximum strength hair spray. The guys get angry, makes the spray can fly out of her hand without even having to touch it, then starts choking her.
Then Miriam, on the verge of passing out, open a door in her mind that she's been holding shut most of her life. Once she does so, she's able to use magic to fight back, and then to escape.
I like the beginning very much. I like Miriam and her friends, I like her teenage daughter. I'm looking forward to reading further.
Get the Kindle ebook free from Amazon here.
5. The Island by Sean Platt and Johnny B. Truant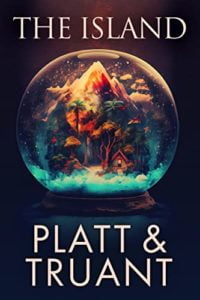 This is a standalone book of epic fantasy and horror. Usually it's $0.99, but today it's free. This book is not in Kindle Unlimited. Sean Platt and Johnny B. Truant have been on this list before. Almost exactly a year ago, we reviewed their book Pattern Black.
This book draws heavily from classical mythology. The story concerns two gods isolated on an island in the present-day, where they are constantly at war and bickering with each other. The first god, Gerd, is mostly just trying to make it through the day doing his responsibilities for both of their living situations, and dealing with the obstacles that the second, Atticus, puts in his way.
The dynamic between these two will remind fans of the Rankin-Bass Christmas specials of the Heat Miser and Snow Miser, locked in conflict for all eternity, being complete opposites, and driving each other mad.
The chapters bounce back and forth between the present day and a story from the past, involving a prince, a princess, and a wicked stranger, echoing the stranger that would arrive in the present day and bring a new wrinkle into the cyclical lives of the two gods.
It can be a little confusing to understand what is going on a first. The fact that the story advertises itself as a fantasy, and Gerd deals with the dark entities, only to be clearing out a pickup truck, is a little disorienting. Eventually, the actual nature of Gerd becomes clearer.
Any fans of classical mythology or paranormal shows like Supernatural should check this one out. I really got into this book.
Get the Kindle ebook free from Amazon here.
4. Alondra by A.L. Hawke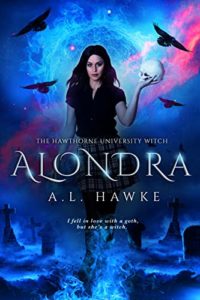 This is a prequel to the three-book Hawthorne University Witch fantasy series. The other books are $3.99 to $4.99 each, and the series is not in Kindle Unlimited. A.L. Hawke has been on this list before. We reviewed Cora: Rise of the Fallen Goddess back in April of 2022.
I'm not the target audience for these kinds of books. Harry Potter aside, I hate stories set in magic schools and anything involving teenage drama.
Liam is a freshman at Hawthorne University. He doesn't have any friends and doesn't think he belongs there. Except there's one girl he likes. Alondra, a sexy goth. He's a whiny kid full of self-pity. He's walking in the woods one night when he sees a couple of girls running through the bushes, naked, faces smeared with something. He thinks they're high. They're laughing and keep running until they disappear. Ah, college.
Then, as he gets further into the woods he comes across a bonfire, with about a dozen girls standing around it. These girls are all wearing hooded black cloaks and there's a naked girl in the center, tied to two giant wooden beams in the shape of an "X." And instead of letting them enjoy their fun, he hides in the bushes and spies on them. He notices that all the other girls are naked under their cloaks.
The girls sacrifice an animal, then one of them takes off her cloak, and it turns out it's a guy, not a girl. And the guy and the girl who's tied up start having enthusiastic sex.
Well, I guess Liam was perfectly happy spying on naked girls, but isn't in the mood to spy on a naked guy, so he decides to get out of there. While he's running away, he runs into the two naked girls from before, and they jump him and trip him. Then they rip his shirt off and drag him back to the fire. Everyone stops and looks at him, and he recognizes one of the girls – it's the goth he's got a crush on. Except she's naked. She recognizes him, too. Then she says something in Latin and he falls asleep, only to wake up in the library.
The next day, in class, Alondra passes him a note, saying that she's sorry and can explain.
I don't know. I think Liam is the who should be apologizing here for sneaking around and spying on a bunch of people having fun sexy times in the woods. Then the professor interrupts all their note passing, and it turns out that Alondra has a lot to say about the serial killer they're studying in this class. And Liam has nothing to say at all. Then there's a bunch more drama between the two of them. She wants to explain what happened, and says she will, that night, if he comes to her house. All this in a lengthy discussion during which she could have just told him what happened instead of promising again and again to tell him what happened. And he's simultaneously freaked out and attracted to her.
Oh, the angst.
Yeah, I'm not going to keep reading. These young people and their problems annoy the heck out of me.
But if you like this kind of thing, it's an interesting change of pace in that the book is told from the guy's point of view.
Get the Kindle ebook free from Amazon here.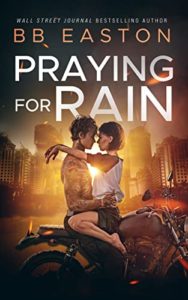 This is the first of three books in The Rain dystopian science fiction series. The other books in the series are $5.99 each, but the entire series is in Kindle Unlimited.
This book is billed as a dystopian romance — two of my least-favorite words. But nobody else volunteered to take this book, so it's up to me.
The book starts with Rain sitting in a booth of a burger restaurant. It's April 23. Then the doors burst open, the four horsemen of the apocalypse ride in, and carnage ensues. She hides under a table. Then they find her — and she wakes up, screaming. It's April 20, and she's been having the same nightmare for a year. Everyone has. Everyone on the planet. Nobody knows why.
People have been panicking. Rain's boyfriend has gone, deciding to spend his last few weeks on earth back home with his family in Tennesse. Supplies have been running low, because gangs have taken over grocery stores, the gas stations closed, and the streets are full of abandoned cars.
She goes to the burger restaurant, where a brawl breaks out and a hot guy pulls her out of there. She decides she's rather let him kidnap her than go back to her house and gets on his motorcycle.
The hot guy — Wes — is on a mission. He needs food and supplies, and uses Rain to help him get them from a local gang-run grocery store. I don't like either Rain or Wes very much, and the setting is pretty grim. Everyone is panicking, thinking they're going to die, and turning on each other. I might enjoy it more if it was a movie, I think, but as a book it just makes me anxious.
Get the Kindle ebook free from Amazon here.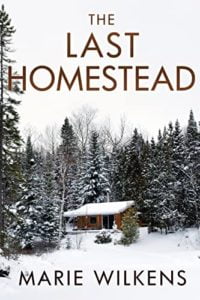 This is a standalone book of EMP survival. Usually it's $0.99, but today it's free. This book in Kindle Unlimited. Marie Wilkens has been on this list before. We reviewed her book The Hartford Homestead last November, and Final light last October. 
As far as EMP books go, this is my favorite. You get a lot of backstory on the main character, so it's easy to feel a connection to her. Also, the way the plot develops is unlike any other prison-focused EMP book I've read.
If you're into apocalyptic EMP (electromagnetic pulse) stories where all electric devices short out and people are left to deal with the aftermath — but you also like good indepth story telling — I definitely recomend this one.
The first chapter is short. It's a clip from a newspaper article warning about a coming solar storm that might affect some small areas of the Untied States. I'd call this the foreshadowing introduction to the story.
You learn in the second chapter that Sarah is a corrections officer in Florida. However, she takes six weeks off every year to go visit her parents' homestead in Maine where she helps them harvest crops and run a roadside stand. Sarah talks to her parents to let them know everything is fine and that she'll be coming up in two months' time to visit them.
The next few chapters give you more backstory on Sarah's motivations for becoming a corrections officer, and also tell the story of how one of her inmates was wrongfully convicted and is about to be released by a judge after many years of being locked up.
The electricity finally goes out at the end of chapter five, and that's when the EMP part of the story really gets going. But to my surprise, all hell doesn't break loose. The guards keep doing their jobs, and the prisoners don't go on a crazy murder spree. I don't think I've reviewed another prison-based EMP book where the inmates don't go nuts and seek revenge on the guards.
This is about as far as I read, but I like that this EMP book goes indepth into character development, and I was pleasantly surprised that the prison actually had protocols for a power outgage and didn't descend into total madness.
I plan to keep reading this one.
Get the Kindle ebook free from Amazon here.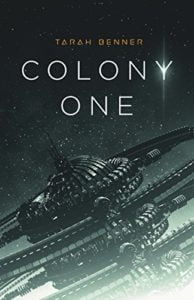 This is the first of five books in The Elderon Chronicles science fiction adventure series. The other books are $3.99 each, and the series is not in Kindle Unlimited.
This is a gritty near-future action story for fans of Jim Butcher and Michael Z. Williamson. A former soldier named Jonah Wyatt takes a gamble in the Space Force, where he is hired to lead a crack team of space commandos. Except they're really a group of computer specialists and white-hat hackers, with an investigative journalist thrown in for good measure. So his last chance at a successful military career looks more like banishment, even though they're stationed on Elderon, the first human colony.
But one of the team members gets an anonymous tip that there's something wrong with life on the colony, and just as she starts digging up dirt, Jonah finds evidence of impending sabotage. It looks like his banishment to the station is going to get interesting.
Full of information technology and noir-esque language, Tarah Benner pens a fast-paced tale of espionage and intrigue with more than a small share of action. Her characters, while each an individual, evoke a sense of the pain of reality without wallowing in self-pity, and while her dialogue is short and choppy, it meshes seamlessly with the cyberpunk vibe of her narration. The worldbuilding is strong; she manages to bring the flavor of iconic modern locations like New York into entirely believable versions of them in the future. From Russian oligarchs and cyber-attacks to reliance on digital currency, this book paints a believable and compelling picture of the way the world might be.
If you enjoy fast-paced thrillers and cyberpunk flair, then you'll enjoy diving into Colony One.
Get the Kindle ebook free from Amazon here.
---
See all the Free Friday posts here. Do you have other free books for us to check out? Comment below or email me at [email protected].
Have you read any of these books? Are you planning to? Let us know in the comments!
And watch Maria and Romel discuss all ten books in the video below: