Reading Time:
16
minutes
Some articles may include Amazon affiliate links. All proceeds go to helping us pay for original stories and to support writers of speculative fiction. Read more here.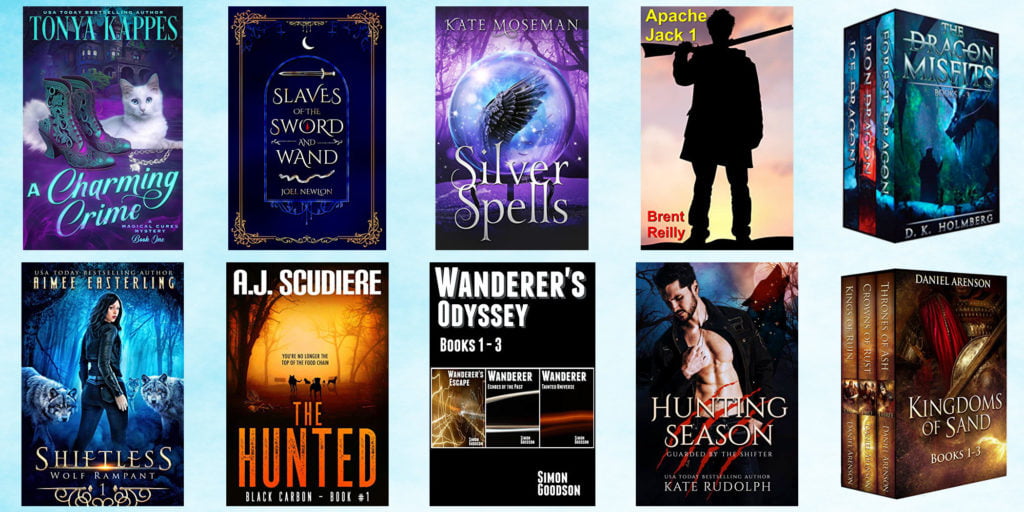 Did you know that Amazon has a list of the top-selling and free sci-fi and fantasy books? The list changes constantly — authors set their books to free temporarily to promote their work, and, of course, books move up and down in the rankings. Read on to find your fun free read for this weekend! And grab the books quickly because they don't always stay free for long.
This week's list is completely different from those of the previous weeks. So if you're a fan of free books, there are going to be new things to read all the time. If you want to get this list in your inbox every Friday afternoon, subscribe to the MetaStellar weekly newsletter.
There are a lot of books to go through, so this week I'm being helped out by a couple of other members of our MetaStellar community. If you'd like to join me in doing these reviews — and taping our regular Friday videos — email me at [email protected].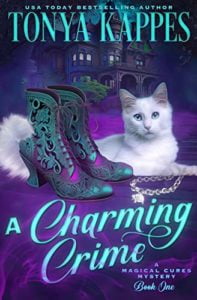 This is the first of thirteen in the Magical Cures cozy mystery series. The other books are $5.99 each, but the entire series is in Kindle Unlimited.
June Heal lives in a small town, where she makes a living making homeopathic medicines. She inherited the business from her mother, who died of a heart attack. Or did she?
June's childhood best friend, Oscar, is now a police officer in the same town, and has grown into a very hunky guy. She also has a cat with a mysterious ability to show up places its not supposed to be.
June has a habit of blowing up her work shed while mixing her medicines. I don't know much about herbal remedies, but, as far as I'm aware, none of the ingredients are supposed to be explosive.
Then Oscar tells her that he just discovered another town, that he's never heard of before, and he might take a job there. And there's a shop in that town that wants to sell her remedies. June's never heard of this town either, but drives over. Apparently, neither of them think it's strange that there's a town a short drive away from where they've lived all their lives that they don't know about. June goes into the shop that wants to sell her stuff, and there's a snow globe there — or maybe a crystal ball — and a face appears in it and tells her that she's in danger. She's also invited to come live in the town and open a shop there. And what do you know — there's a vacant shop right there in town, with her mother's name on it. Yup, June is starting to remember this place. She and her mother used to live here, before they moved away when June was very young.
Normally, I'd be all over a story like this. A woman moves to a small town, discovers that she has magical powers, that her cat is really some kind of magical familiar, and she has to solve a murder — all while romancing a handsome cop. The writing is light and breezy and it would certainly be a welcome diversion on a dreary, snowy, winter weekend. I live in western Massachusetts, and, baby, it's cold outside.
But maybe I've read too many books of this type and I'm all magical-cozied out. Still, there are a lot of books in this series, and they are all in Kindle Unlimited. I'm going to keep this one on my to-read shelf, when I'm in the mood for something light and cozy again.
Get the Kindle ebook free from Amazon here.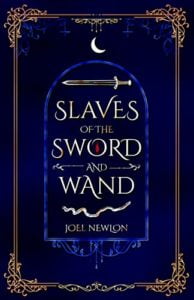 This is the first of what will be the Songs of the Sword and Wand fantasy series. Its usually $14.99 but today it's free.
If you're a fan of military fantasy stories, I'd recommend this book.
Dunstan has been an indentured soldier in the army since he was found as an orphan when he was seven years old. At the age of 37, he's technically supposed to be freed from the army as he's served for thirty years.
He goes to petition for his freedom to the local ruler, Lord Cuthwulf, who turns out to be rather treacherous. Dunstan ends up killing some soldiers, rescuing a witch, and now has to escape from lord Cuthwulf and some more soldiers that are coming to attack, and that's just chapter one.
I definitely like this book, and I plan to finish it. It's a fun plot, and it's not light on the action. And I like that Dunstan is an older, experienced military man instead of some young guy, as often seems to be the case in fantasy stories.
Get the Kindle ebook free from Amazon here.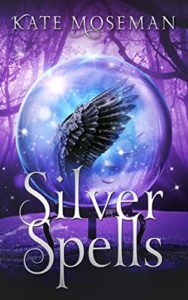 This is the first of four books in the Midlife Elementals urban fantasy series. The other books are $0.99 to $3.99 each and are all in Kindle Unlimited. This is the third time this book has been on this list. We previously reviewed it last February and last May.
When not reading books about kick-ass women killing people and space battles, I thoroughly enjoy cozy magical mysteries.
In this one, Luella is a social media manager at a sunscreen factory. Her daughter has just gone away to college. And she gets fired. No explanation, nothing. As she's packing up her stuff, a strange white dog runs into the building and runs out again. Only Luella and her two best friends see it — the other employees don't react at all.
Her boyfriend implies that it's her own fault she got fired, despite her good performance reviews, and she dumps him on the spot. Good for her.
Now she's living in an apartment she can no longer afford, with college bills that she can no longer afford to pay, so she jumps at an opportunity to live rent-free house-sitting for her mom's friend while she job-hunts.
And the weird stuff just keeps piling up. I'm seven chapters in, and there's still no sign of a mystery. Other than the obvious one about what's with all the magic happening to Luella and her two friends. But I'm enjoying it very much, I like the characters and the sunny Florida setting. We're buried in snow here where I live in Western Massachusetts, so I can use some sunshine, even if it's just in a book.
Get the ebook free from Amazon here.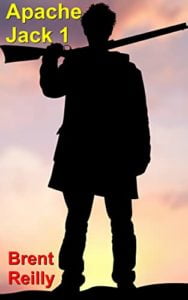 This is the first book of three Apache Jack books in the twenty one book Fun Monster Thrillers series. Usually each book is $4.99, but today the entire series is free. None of the books are in Kindle Unlimited.
I wouldn't call this book sci-fi or fantasy, but if you're a fan of historical fiction set in the American west during the frontier era, then you'll probably like this one.
The year is 1843, and Jack Miller and his family are passing through New Mexico. The Southern Pacific Railroad is paying Miller good money to survey a path for a railroad from El Paso, TX to Yuma, AZ. But these are difficult times. Texas is at war with Mexico, and local native American tribes are a threat to travelers.
Miller has his two brothers helping out. They each also brought two sons, so they have a good-sized crew.
I read the first two chapters, and I felt like it was part history lesson, part story. The beginning of chapter two has a rather lengthy section talking about the history of the Colt repeating rifle, but I did find the information interesting.
There is a tense interaction with some Mexicans, which does lead to some shooting, and interestingly ends with Jack owning a gold mine.
I like historical fiction in general, and I think Apache Jack has a fun storyline and lots of interesting historical information that the author seems happy to share with the reader, and I'd keep reading. But if you're looking for spaceships or wizards or anything like that, this one isn't for you.
Get the Kindle ebook free from Amazon here.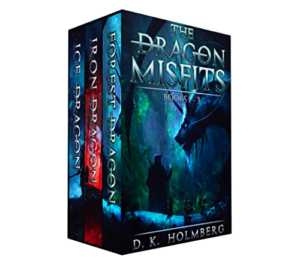 This is a box set of the first three books of The Dragon Misfits six-book coming of age fantasy series. Individually the books are $3.99 to $4.99 each, but the entire series is in Kindle Unlimited. D.K. Holmberg is a regular on this list. Last December we reviewed The Endless War series and his Elemental Academy series. Last November, we reviewed The Teralin Sword, a box set of the first three of six books in The Teralin Sword epic fantasy series. Last September, we reviewed his The Lost Prophecy box set. We reviewed The Cloud Warrior Saga box set back in July, and, later that same month, Path of the Flame, the first of five books in The Dragon Thief coming of age fantasy series. May of 2022, we reviewed Unbonded, the first of five books in the First of the Blades epic fantasy series. Finally, in April, 2022, we reviewed The Risen Shard, the first of eight books in The Chain Breaker epic fantasy series.
I love this author — I've read several of his other books.
I'm not usually a fan of coming of age books, but I do like epic fantasy, and I do like dragons.
The story start out with Jason out in the woods and snow, hunting rabbits with his bow. Back in the village, his mother and sister are waiting for him to bring back a rabbit because there's a celebration going on, and it'll be ruined if he comes back empty-handed. But it's getting late, and he eventually gives up and heads home, tired and hungry. His whole family is hungry.
Back at the village, the other young men treat him badly, because of how his father died a year earlier — burned by a dragon. But there's one girl, Tessa, from a family of dragon hunters, who treats him kindly, because Jason's father saved her life.
His mother, a healer, has been sick in bed ever since their father died, and his sister has been staying home to take care of her.
It's kind of a sad existence for the kid, and a gloomy start to the book. I might stick with it, because I like the author, but the first couple of chapters aren't puling me in.
From the start, the book gives the impression of a more serious version of Dreamworks' How To Train Your Dragon. The settings is a remote village at the base of a snow-covered mountain, which has a yearly celebration to remember the struggle of their people against the dragons, which had not been seen by the villagers for a hundred years.
The young protagonist, Jason, takes on the role of hunter for his family, his sister and mother, who is still devastated from the loss of her husband, Jason and his sister Kayla's mother, a year ago. He had been killed by a dragon, which no one seems to believe, as dragons have not been seen by any of the villagers for a long time.
Jason also has a silver eye which gives him dragon vision, which is essentially infrared vision. He shares that trait with those who were on the dragons' side during the height of the village's conflict with them. This further makes him a misfit and an outsider.
One of the very few people in the village who shows him any kindness is Tessa, who is immediately a ray of sunshine. She is alive because Jason's father protected her from the dragon that they encountered. Anyone who has read any story ever will assume she will be Jason's love interest.
Immediately, the story sets up the mystery of something to come, as Jason sees a strange shape moving in the forest while hunting one day, although he is not quite sure what it was. The annual festival is a great mechanism to communicate this world's lore, which immediately has me intrigued.
If the first two chapters are any indication, this is a recommendation for dragon fans everywhere.
Get the Kindle ebook free from Amazon here.
5. Shiftless by Aimee Easterling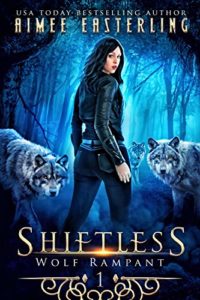 This is the first of three books in the Wolf Rampant urban fantasy series. The other books are $4.99 each, and the series is not in Kindle Unlimited. This isn't the first time Aimee Easterling has been on this list. We reviewed her book Fae Wolf this past December, and her books Moon Glamour back in May of 2021.
A woman decides to take the day off and visits a bookstore in the city. A werewolf, she left her home pack ten years ago to avoid being forced into a mating. At the bookstore, a male werewolf named Chase spots her and she runs, but he catches up with her in the parking lot. Although she is attracted to him, she does not want to be used as a pawn by him or any other male werewolf.
Normally, the turmoil caused by her inner wolf's alter ego makes her anxious, but this time she feels a sense of safety. Chase offers to have coffee with her, but she runs back to her apartment instead.
Later, she has to track down a lost toddler at a national park. In wolf form, she finds the child but is shot in the shoulder by a man who she ultimately kills. She returns the child to their parents and reflects on her own childhood and family.
Afterwards, she goes for a hike in the forest and meets her father. She learns that her sister is dead and that her father wants an heir. She must convince her deceased sister's nephew, Keith, to be the pack heir, or else her father will force her to return to the pack and produce an heir herself.
The first chapters of the book were difficult for me to read because it assumes that the reader is already familiar with the world, characters, and wolf-human dynamic. Some world-building information is provided later, but I had to fill in the gaps while reading. When these assumptions turned out to be incorrect later in the book, I had to go back and reevaluate, which slowed down my reading and left me feeling frustrated.
For example, the narrator remains unnamed and the "wolf" is not clearly defined early on, which makes it difficult to understand the separation between the two and how they affect each other. Is the inner wolf a psychological break, an imagined personality, or an incorporeal spirit in the body? Without prior knowledge of the genre, it is hard to understand the characters and their place in the world.
There are also some character motivations that seem implausible, especially when compared to our own world. For example, if the narrator didn't even know her sister died, it implies that they were not very close, so it is unclear why her father thinks she can convince Keith to be the pack heir.
For readers familiar with the genre, I would rate the book as average, but for new readers, it may require more focus to understand the world and characters.
Get the Kindle ebook free from Amazon here.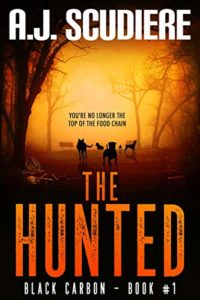 This is the first of five books in the Black Carbon sci-fi dystopian thriller series. The other books are $4.99 each and are not in Kindle Unlimited. The fifth book is scheduled to be released later on this month. We previously reviewed this book in February of 2022. Then, in August, we reviewed Resonance, the first of five books in the Relentless Suspense technothriller series. 
If you like mythical beasts, horror stories, and heart-pounding life or death excitement, The Hunted is for you.
Joule is running from a pack of hell hounds.
You get the idea that they're really good at killing people, and they don't stop once they've got your scent.
She makes it to a house, but the dogs break in…
This is some kind of creepy fantasy horror book, and I loved the first chapter. A woman's on the run from some supernatural beasts — and it seems like she's moments from being torn apart. I was on the edge of my seat, and I wanted to know what happens to Joule as she desperately tries to escape death by hellhound.
Get the ebook free from Amazon here.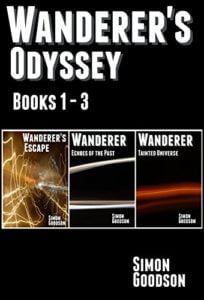 This is a box set of the first three books in the eight-book Wanderer's Odyssey series. The other books are $3.99 each and are not in Kindle Unlimited.
Jess was born a slave and had never set foot on a planet's surface. His captors use him and other prisoners as cannon fodder. While investigating a mystery space ship for booby traps he and two fellow prisoners are mysteriously freed from their control collars and are able to use the ship to escape.
Jess is a pretty passive character at the start of the book. Things just happen around him, through no particular effort or ability of his own. I prefer my main characters to have a little bit more agency.
It looks like there's a powerful and evil empire. After escaping from their captors, Jess and his companions pick up a distress signal and save a family of smugglers from the empire's enforcers, blowing up one of the empire's ships in the process.
Meanwhile, it turns out that the ship Jess stole has extremely advanced capabilities and is powered by an AI that can do nearly anything and was just sitting around waiting for someone to tell it what to do.
It's a hokey premise. I love it.  I'm going to keep reading.
Update: I'm now on book five of the series. And, yes, I paid money for them. My thoughts: First of all, the books deserve better covers. Much, much better covers. They should have those modern flashy covers with spaceships on them, because that's what these books are like on the inside. Second, there are a few places where the main character does things out of stupidity. One of those "too dumb to live" situations. Which is fine. The protagonist is young, new to all this, and has spent his whole life as a slave, where he's just done what he was told instead of having to learn any decision-making skills. But he has often has people, or AIs, around him who know better. A quick fix for some of these "too stupid to live" problems is for him to get good advice then, due to his internal issues, refuse to follow it. But this is not a fatal flaw for the books. In fact, many best-selling properties suffer from the "too stupid to live" problem where main characters do dumb things just because it would be good for the plot. It's just one of my biggest pet peeves. So, bottom line: if you like space operas, this is very, very enjoyable — enjoyable enough to keep me reading through the series and paying for the later books.
Get the Kindle e-book box set free from Amazon here.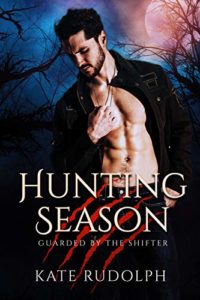 This is the first of four books in the Guarded by the Shifter paranormal romance series. The other books are $0.99 to $4.99 each and are not in Kindle Unlimited. We previously reviewed this book in December of 2021.
I'm prejudiced against romance books, naked-male-chest-on-the-cover books, and anything that smells of Twilight.
But I'll take the plunge. For you, dear reader.
Stasia's dad's new wife is ten years younger than Stasia. Her dad wants her to come to a birthday party — for her ninth step-sibling. She'd rather not go, and is a little sorry that she moved back to New York, where the family is too close to comfort. Also, her father is obscenely wealthy. The family has a jet and a fleet of cars. Stasia herself has an inheritance, which she prefers not to touch.
While she's walking down the street, on the phone with her dad, someone tries to kidnap her. Right in broad daylight, in front of witnesses. She fights back, and the people around her help.
I like Stasia. She's competent and calm and collected, even in a crisis. This makes sense since she works in the ER.
The next chapter is from Owen's point of view. He's a werewolf and an army vet. His unit all got turned into werewolves and were kicked out of the army two years ago and started a security company. They're just getting started, so they mostly take on small bodyguarding jobs. And a job comes in — to guard the heiress.
I actually like this, too. I know I said I wouldn't, but I like both of the main characters. I can see myself coming back to this.
Get the ebook free from Amazon here.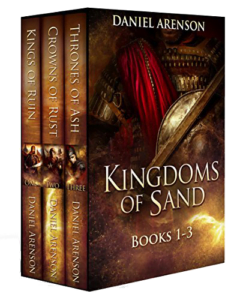 This is a collection of the first three of six books in the Kingdoms of Sand high fantasy series. Individually the books are $2.99 to $4.99 each, and the series is not in Kindle Unlimited. Daniel Arenson has been on this list before. This particular box set was also on the top ten list last week, but moved from tenth to first place. And we reviewed his book Earth Alone, back in October of this year.
This is an epic fantasy billed as Game of Thrones meets Spartacus, and the author is a USA Today bestseller. That sounds pretty good, and I had high hopes for this book going in.
We start out with Maya, a young woman with magic powers and an evil older half-sister. The older sister, Ofeer, is a product of rape — their mother had been attacked by invaders. Now the invaders are back again, and they nearly destroyed the country the first time around. Maya's family are the rulers, and her older brother will eventually inherit the kingdom — if it survives. Oh, and magic powers are illegal here.
I did not like Maya. She seemed to be one of those "too stupid to live" people. Knowing that magic is forbidden, she still uses it to heal a sick dog. Out in public. Without checking if anyone is watching. A prince — one of the invaders — shows up and kills the dog for a laugh. And Ofeer and the prince laugh about it. I don't like seeing a sick dog mistreated. I don't like the way that Maya seems nice, but is lacking any common sense. And Ofeer is just evil. I didn't like anyone in this first chapter.
Then we switch to the point of view of one of Maya's siblings, Epher, the older brother who's in line to inherit the kingdom. He's worried about the enemy fleet that just showed up. And he's also bickering with his two other siblings — this is a large family! — one sister is a fighter, and she just wants to kill everyone, again with no thought of consequences. And there's also another brother, who just likes to drink and have a good time. Also with no thought of consequences. Epher is the only one of the lot who seems to have any common sense, and he's burdened by the guilt of hearing his mother's screams as she was raped when the invaders were here the last time. But he comes across as a little too pious and sanctimonious. He's a bit of a scold. I sympathize with him — I'm the oldest kid in my family, too — but he's not exactly fun to spend time with.
Then we move to the point of view of Ofeer, the evil sister, as she seduces the invading prince right in front of Maya and the prince's solders and then has sex with him. She's sick of her family and of their stupid little kingdom and wants to go live in the big evil empire with all the cool people.
Then we switch to the point of view of Marcus, the evil emperor of the invading empire. He's got ten thousands slaves marching to their doom, prisoners being crucified right and left, all the horrible excesses of Rome. And here is where we learn that the country that Maya is from is a place where people get circumcized. So I'm guessing this is an allegory for the story of Israel in Roman times.
I'm not personally opposed to this setting. I've read other speculative fiction books set either in historic Rome or in similar cultures and I liked them. But this particular series of books is a little too grim and depressing for me. There's just horrible suffering in every direction, and in my escapist reading I like to get a little break from that kind of thing. Especially since that's all we see on the news these days.
But if you like your epic fantasy on the grim side — and plenty of people do — then I do have the say that the writing style is very compelling and the book pulls you in. The story moves along at a good solid clip, and there's plenty of tension and high stakes right from the start.
Get the Kindle ebook free from Amazon here.
---
See all the Free Friday posts here. Do you have other free books for us to check out? Comment below or email me at [email protected].
Have you read any of these books? Are you planning to? Let us know in the comments!
And watch Maria, Romel and Terrence discuss all ten books in the video below: