Reading Time:
17
minutes
Some articles may include Amazon affiliate links. All proceeds go to helping us pay for original stories and to support writers of speculative fiction. Read more here.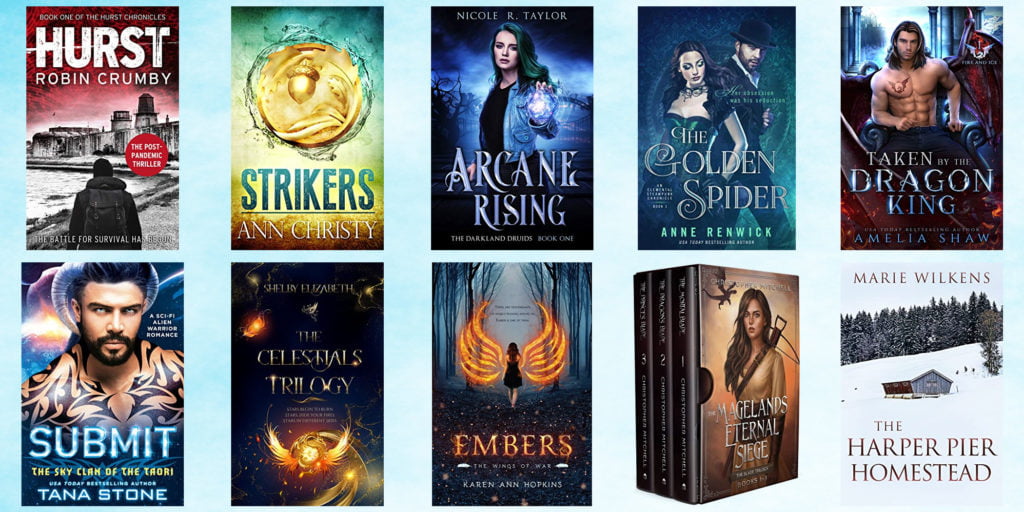 Did you know that Amazon has a list of the top-selling and free sci-fi and fantasy books? The list changes constantly — authors set their books to free temporarily to promote their work, and, of course, books move up and down in the rankings. Read on to find your fun free read for this weekend! And grab the books quickly because they don't always stay free for long.
This week's list is completely different from those of the previous weeks. So if you're a fan of free books, there are going to be new things to read all the time. If you want to get this list in your inbox every Friday afternoon, subscribe to the MetaStellar weekly newsletter.
There are a lot of books to go through, so this week I'm being helped out by a couple of other members of our MetaStellar community. If you'd like to join me in doing these reviews — and taping our regular Friday videos — email me at [email protected].
10. Hurst by Robin Crumby

This is the first of five books in The Hurst Chronicles post-apocalyptic series. The other books are $3.99 to $9.99 each, and the series is not in Kindle Unlimited.
I'm not a fan of post-apocalyptic books. It sometimes feels like we're living through the apocalypse now, so I want my escapist reading to be as far from that as possible.
The book starts out in Hurst Castle, where 74 people live in a main building — or in tents where grass and space allows. Zed gets to sleep inside, but it's crowded there, so he likes to wake up early and go for a walk to get some solitude.
The castle is located across the channel from the Isle of Wight, and Zed is on the castle walls, looking out over the horizon, when he sees someone staggering in the distance. Zed has a pair of binoculars, which are stored in a large blue plastic IKEA storage box. So we're in the near future here, and on Earth.
The man in the distance is limping, dragging his left leg. Zed smiles slightly, gets a hunting rifle, and shoots the approaching man. His first shot misses. And, as people run out to see what's going on, he shoots again. This time, it's a kill shot. Right in the man's head.
Someone asks him why he killed the guy, who was unarmed. Zed says that he was infected.
But folks are mad that he fired the gun. Now anyone in earshot is going to know that they're there. They've talked about this. They don't want to attract attention — or waste the bullets.
I don't like Zed. And I don't like the other people there very much, since they can't seem to get Zed under control. Plus, it's a zombie pandemic story. I hate pandemic stories. Like I said, it's a little too close to real life for me right now.
The survivors squabble among themselves, and scavenge for food and fuel. There are other groups of survivors out there, but they don't seem to be on good terms with any of them.
We also get some back story about the virus that killed nearly everyone, as well as back stories of a couple of the survivors, Sam and Tommy, two young men who are sent to deal with the dead body. Then some more people arrive at the castle.
It's not clear from the first few chapters what the main conflict of the story is going to be. So, despite the fact that the book begins right out with an execution, it's actually pretty slow paced.
That, plus the fact that it's not my genre, means that I don't think I'll be continuing with the book, but people who like zombie apocalypse books might enjoy it.
Get the Kindle ebook free from Amazon here.
9. Strikers by Ann Christy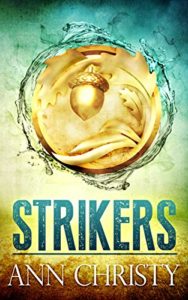 This is the first of three books in the Strikers young adult dystopian series. The other books are $3.99 each, and the entire series is in Kindle Unlimited.
This book takes place in a dystopian version of the United States, where The Republic of Texas is the last "civilized" settlement. I've only read a handful of books in this genre, so I am not the main audience for this one, but I was intrigued by the unique premise and had to check it out.
The first few chapters give us a glimpse into the rigid laws the society of Texas follows. They live under a strict military regime that follows a simple system of justice: break the law, you get a strike. Get five strikes, you get the death sentence.
Karas and her two friends, Connor and Cassi, are our protagonists who come from the more disreputable parts of Texas. Karas, who comes from a broken family, having never met her father, already has one strike tattooed across her neck. Connor comes from a long line of schemers and rule breakers and he already has two.
In the first chapter they attend a public parade of criminals who were caught beyond the walls of Texas. Most of these criminals are either Strikers, who tried to escape from the colony, or Smugglers, who tried to break in. Connor's worst fear is realized when they see his brother, who they hoped had made it to freedom as a Striker, paraded past them in chains.
They think the worst has happened until Karas hears the first prisoner call out to her. She doesn't recognize the man at first, but after seeing a tattoo on his neck that she remembers from photos, she recognizes her father. In the coming chapters, Karas and her friends are preparing to risk their necks to see her father before he is put to death.
The writing in this book is mostly good. The author does over-explain a bit in her narration, which can pull the reader out of the story, but besides that, I don't have much to complain about. If you like dystopian societies and protagonists who are not fond of rules, you will like this one.
I'm totally hooked by the premise of a dystopian Texas plagued by Strikers and Smugglers, so despite being outside my favorite genres, I'm sticking with this one.
Get the Kindle ebook free from Amazon here.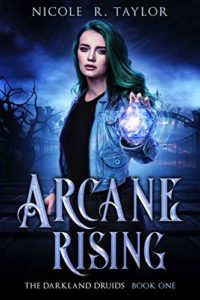 This is the first book in the four-book series The Darkland Druids. The other books are $3.99 each, and are not in Kindle Unlimited.
Five Druid families flee a war-torn Earth and wind up on an alternate Earth, where they are rebuilding in a new world.
This series is set in the same universe as the four-book series The Crescent Witch Chronicles. The author has been on this list before. In November, we reviewed Beyond The Veil, a box set of five full-length urban fantasy novels, each of which is the first in its own series. And we've also reviewed this particular book before as well, back in June of 2021.
Gordan is fighting out of control brushfires in Australia when he sees a creature, a dangerous elemental soldier, a human-looking monster. He has to stop it before it gets to the rest of his crew, and then to someone named Elspeth. Maybe I should have read the other series first? The first book in that series, Crescent Calling, is free but the others cost money.
The monster wants to know where the girl is, and Gordan uses his magic to defend himself against the monster's ability to generate heat. The monster says that Elspeth needs to go back to her people. Oh, Elspeth is his daughter. And he's willing to risk everything to keep her safe.
That's the introduction. Then we move on to Elspeth, and the story switches to the first person. Cops are her door. She knows what they're going to tell her. As a daughter of a firefighter, she's long been prepared for this kind of visit.
She's depressed after his death. She stops looking for work. She just wanders around. She doesn't know anything about her origins, or who her mother is. Just that she comes from somewhere in Scotland. So, on a whim, she decides to head there.
I like her. I like the way she interacts with people, and the pacing of the story. I like the combination of action and thoughtfulness.
Get the Kindle e-book free from Amazon here.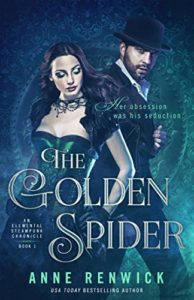 This is the first of four books in An Elemental Steampunk Chronicle series of steampunk fantasy. The other books are $5.99 each, and the series is not in Kindle Unlimited.
The Golden Spider is a dual point of view steampunk romance following Lord Thornton, a professor and inventor on the track of a mysterious killer and Amanda, a woman who snuck her way into medical school to perfect her golden spider. The spider is a tool capable of spinning nerves which Amanda has invented in hopes of curing her brother's injury leaving his legs non-functional.
Thornton becomes interested in Amanda and her invention because he suffers the same ailment. The story starts with both focused on their own goals, neither of which involve romance. I found the medical devices fascinating with tea-dispensing robots and sound amplification devices. It is well-written and fun to read and I want to find out what happens next based on the first few chapters I've read.
In the late 1800s, Sebastian Talbot is the fifth Earl of Thornton and secret spy of the Queen. One foggy London night, he is field-testing a new audio recording device alongside his partner and an informant, and absolutely nothing is working. Talbot performs a quick fix on the device in the shadows of the dock before he and his partner secretly follow their informant down the Thames. However, before they can reach him, the informant is brutally murdered and the matching audio device implanted into his ear destroyed. While searching the warehouse, Talbot and his partner discover another tortured and mutilated corpse – one more victim of a series of murders targeting the Roma community of London.
Although Amanda Ravensdale is a woman of society, her interests lie elsewhere: in completing medical school and discovering a cure for paralysis that may help her brother Ned to walk again. Over breakfast Amanda spars with her sister Olivia over her "oddness" – which, in Olivia's eyes, is doubly harmful to the family since their sister Emily has scandalously run away and married a Romani man. Afterwards, Amanda heads out to the chicken coop where she maintains a small laboratory, where she has invented a spider-like device with the potential to repair neuro-muscular systems. However, when she arrives, her subject – a mouse with a broken spine – is dead, just as all of her attempts before.
Moving into the third chapter, Talbot is forced to temporarily sub in as the professor in Amanda's medical class, and the two immediately notice each other.
Alright. A few caveats here. Although I'm an avid romance reader, I don't have a lot of experience within the steampunk romance subgenre. I also — like many romance readers — have certain tropes and archetypes that just don't work for me, one of which is a teacher-student romance. I'm also uncomfortable with the use of violence against the Roma community as an external plot driver, although I'll again add a caveat that I haven't read the entire book to see how it is handled throughout, and also am not familiar with the author and their background. All to say, these elements aren't anything against this book, but just a flag for me personally that I am not its target reader.
All of that said, for steampunk fans, this book already has several delightful steampunky gadgets already in play, kraken infest the Thames, and both Talbot and Amanda already have great personal stakes to drive their goals and actions further into the storyline. Although I'll personally stop here, steampunk or romance fans should check this one out.
Get the Kindle ebook free from Amazon here.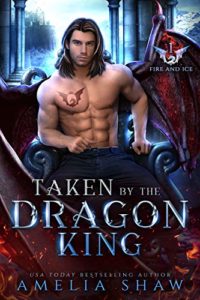 This is the first of seven books in The Dragon Kings of Fire and Ice paranormal romance series. The other books are $.99 to $3.99 each, and the series is not in Kindle Unlimited. The last book isn't out yet, but is scheduled to be released in June and is available for pre-order.
The author has been on this list before. In February of 2022, we reviewed Fate of the Wolf, the first of five books in the Pack Loyalty paranormal romance series. And this book has been on this list before, as well. We previously reviewed it last August.
It's another shifter romance! It includes the fated-mates trope which means that it's essential for the sanity or empowerment of the shifter to be united with their fated mate. The thing I like about the fated-mates trope is that the romance is built into the magic system from the start so it doesn't feel contrived.
There are six secret kingdoms hiding out in Siberia, and each is ruled by a dragon-shifter king. Each needs a fated mate. So far all of them are mated except for two. Stavrok and Damon. One morning Stavrok's elder suggests that he ought to look among humans for his mate. That makes him angry because he thinks he's too good. Next, his maid gives him an attitude. He says, "I am your king!" in each case. It is extremely unbelievable but cute.
Then, all of the other secret kings show up for dinner. As they are eating a fancy meaty dinner (dragons love meat) the first thing that anyone says is about Stavrok finding a human mate. And Stavrok is offended again, even though the suggestion makes sense. Secretly, Stavrok always felt mating is really important and he's been getting lonely. He's been struggling to find his mate his whole life. One way he'd know he found his mate is by smell. He ought to be able to smell her from miles away. He's never smelled her, though.
Eventually, of course, the perspective switches to another character named "Lucy." That's probably the woman he's gonna fall for.
I'm probably not coming back to read this, but I think you might like it if you are looking for a cute and sweet story that is fast-paced and has the fated-mates trope.
Get the Kindle ebook free from Amazon here.
5. Submit by Tana Stone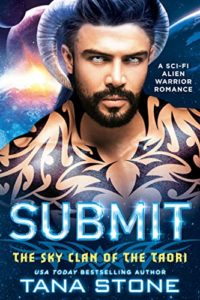 This is the first of five books in The Sky Clan of the Taori science fiction romance series. The other books are $4.99 each, and the entire series is in Kindle Unlimited. The author has been on this list before. In January of 2022, we reviewed Possessed, the first of seven books in the Raider Warlords of the Vandar sci-fi romance series.
I'm not the target audience for this book. Sexy aliens don't do it for me. I'm especially not a fan of the trope where the aliens are from a medieval-style society — even though they have spaceships.
In this particular case, the alien warriors are the Taori, who have tails, horns, and wear animal skins and carry knives.
Our protagonist, Torst, is one of these aliens. He serves in the Immortal Army of the Taori and is journeying through the galaxy in pursuit of their enemy — and also, since they're an all-male crew, in hopes of finding some loose women.
One of the crew members is suffering from an early onset of mating fever. He's under sedation, but if he doesn't find a mate soon, he'll go mad. Everyone is worried that they might be next.
The sooner they can find some women, the sooner they can cure their crew mate, and return to hunting their enemies.
Then we switch to the point of view of Lia, who's on a transport ship carrying a science lab. She's part of the security team, taking a group of scientists and their research to a safer colony.
Then they're boarded by pirates and Lia and the other women taken into slavery, while the men are killed.
Meanwhile, back on Torst's ship, they've been sucked through a wormhole and thrown 500 years into the future.
The story moves quickly, and there's plenty of action — and enough explicit language that makes me think that there's going to be some steamy sex later on. The story is definitely readable, but I won't be sticking with it. At least, not that I'd ever admit in writing.
Get the Kindle ebook free from Amazon here.
4. Celestials by Shelby Elizabeth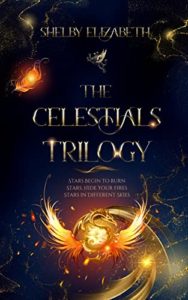 This is a complete set of all three books in the Celestials young adult urban fantasy series. The books are normally $3.99 to $4.99 each, but they're all in Kindle Unlimited.
Stars Begin to Burn is the first book, and we start out with an introduction to a modern world where Shifters and Elementalists exist among us. It's not clear how common these powers are, but they seem to be a big part of everyday life since Elementalists are allowed to use their powers in public, which is something different to what we usually see in urban fantasy books.
Our main character is 16-year old-Riley, a young Shifter who struggles to find her spirit animal and use her shifter powers. Usually, Shifters are supposed to be able to use their magic the moment they reach puberty. And most of them do, except for Riley and another Shifter known as Tristan. Because of this, Riley ends up talking to Tristan and trying to get close to him–especially after seeing literal stars in his eyes the moment they looked at each other. Something that they both know is important and supposed to mean something in their Shifter history books but they just seem to let it slide.
Honestly, not much happens between these first few chapters. We're able to see Riley's best friend Alyssa, who is an Elementalist, sparring with Riley's brother Matt and then another Shifter known as Noah. Which I guess is a great way to introduce the characters, their personalities, and their powers, and to introduce an interesting Shifter-only setting known as the Temple but that's about it. We also get to meet Riley's family and see how their family dynamic is and how they spend their time after school.
The last chapter I read ended with a cliffhanger about Riley's dad being in danger and her mother deciding to go and rescue him, but what I read so far doesn't intrigue me enough to want to continue reading this story. Plus, reading the beginning of this book made me realize that modern day young adult books really aren't my thing.
Get the Kindle ebook free from Amazon here.
3. Embers by Karen Ann Hopkins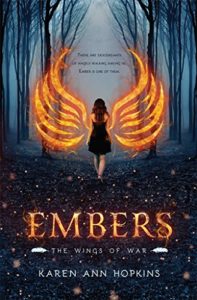 This is the first of four books in the Wings of War young adult paranormal romance series. The other books are $3.99 each, but the entire series is in Kindle Unlimited.
Ember is a teenage girl who miraculously survives a car crash her parents die in. She learns from a priest that she is the descendant of angels, and that the end times are coming. The story promises that she will end up in a romance with another teenager with supernatural origins of his own, and he turns out to be the enemy.
Anyone who is familiar with Twilight will find themselves on familiar territory with this one. It is a paranormal romance where a girl falls in love with a man who is actually a monster, like Edward. The story incorporates biblical elements, with each chapter being prefaced by quotes from the Bible or other non-canonical Scriptures. The concept of a part-angel protagonist in the middle of the end times is reminiscent of a trilogy of ABC Family original movies, called Fallen, which follow the same concept.
The book opens up pulling no punches, as a hunter in the woods is decapitated by a superhuman figure, and another is eaten alive. The description of Ember's parents burning is especially brutal.
One thing that is a groaner is the concept of the vague prophecy. The priest who tells Ember she is part angel says there are others like her, but that she will need to find them on her own. Why can't he just give a straight answer? Save her the confusion?
Embers is not a story that I will continue to read. Any fans of Twilight or Christian supernatural stories, however, will find this enjoyable.
Get the Kindle ebook free from Amazon here.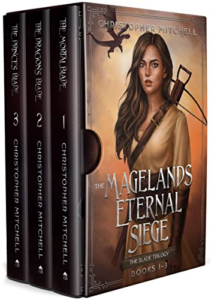 This is a boxed set of the first three books in the 16-book The Magelands Eternal Siege epic fantasy series. The other books are $4.99 to $5.99 each, but the entire series is in Kindle Unlimited. The author also has two other related series, the two-book The Magelands Origins, and the eight-book The Magelands Epic, both of which are also in Kindle Unlimited. We previously reviewed the first book in the series, The Mortal Blade , in August of 2022. , and we reviewed The Magelands Epic , a box set of the first four books in the The Magelands Epic fantasy series, in January of 2022.
I'm a big fan of epic fantasy, and an even bigger fan of huge series that are all in Kindle Unlimited. I don't like standalone books because I have a hard time remembering names, and in a long series I have time to really get to know the characters.
I also like the fact that the book has a map at the beginning. I love maps.
However, what I don't love is the giant list of characters that follow it, a nearly-as-big list of tribes, and a list of month names. Even some of the seasons have different names. That sounds like an awful lot of stuff to learn and remember. Not that I will. I never read this stuff, and just hope that I can figure out what's going on by context.
The book opens with Aila, creeping around the alleyways of a typical medieval fantasy city. She gets to the building she's looking for, which is guarded by guards with long iron-clad clubs. She concentrates and does a Jedi mind trick — now the guards think that she's someone else, someone they know. And she walks right past them into the building. Inside, she pretends to be one of those door guards. Then she kills a man, goes into the kitchen and grabs a serving tray and bottle of expensive brandy, and heads upstairs to find the gang boss. Now, when people look at her, they just see the pretty serving girl whom Aila saw in the kitchen.
The gang boss is surrounded by some of his people. When Aila serves the brandy, she adds poison to it. They make her drink it first — these guys are super paranoid, even about people they know. She drinks the poison, but uses her self-healing powers so that it doesn't hurt her. Everyone else drinks and dies. She steals a bag of cold and a lump of opium.
She's on her way out of the building when she hears a scream — the body of the man she killed has been discovered.
I'm not going to tell you what happens next, because it's pretty tense and exciting… and I realize that I've read this book before. It doesn't look like I finished it. I must have been distracted by something else. But now that I've picked it up again, I'll probably stick with it this weekend. Meanwhile, Carla Nordlund has also reviewed this book, and liked it. And Amira Loutfi reviewed the first book in one of the related series, and liked it as well. So if you're a fan of epic fantasy with plenty of action, definitely check it out.
Aila sneaks into a gang compound in the City, magically impersonating a few guards and the cook's daughter, to work her way up to the top level of the house, which holds the gang boss and top cronies. We find out that Aila is…something…but definitely not human. Aila begins to pour poisoned brandy, and is forced to first drink some herself, which she does. As Aila begins to intentionally self-heal herself, gang boss Olvin and his henchpeople die quick and frothing deaths. Aila steals a hefty amount of gold and some opium, and slips out.
She has a little trouble leaving the compound, but successfully escapes, impersonating an "Evader" boy to return to the city's slums, the Circuit. She changes appearance to her "normal" face—a woman she has carefully aged over 20 years, and drinks herself into an oblivion. A while later, she again self-heals to sober up, and meets her informant, Bekha, who knows her as "Stormfire." Bekha and Aila have some confusion over the amount of gold that Aila recovered—Bekha believes it indicates something more sinister is going on between the gangs—and Aila promises to investigate. They part, and Aila, against her earlier judgment, decides to use the opium on her way home.
Aila is an intriguing character, and this has all the hallmarks of an urban high fantasy a la The Lies of Locke Lamora. I'm curious to see why Aila, who I can only imagine is some kind of immortal at this point, is so dedicated to helping regular old humans. The fact that we already know some of her potential weaknesses—drugs—is also very interesting, and I wonder how her personal character will grow alongside the physical action. I'll definitely keep reading.
Get the Kindle ebook free from Amazon here.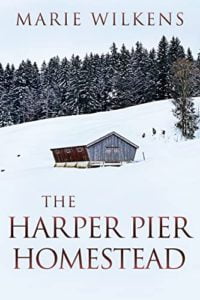 This is a standalone book of EMP survival, but the author has many similar books up on Amazon if you like the genre. She's even been on this list before — we reviewed Outrun the Night last month, The Last Homestead in January, The Hartford Homestead last November and Final Light in October. All are also small town EMP survival books.
This is an EMP story, where an electromagnetic pulse knocks out all electronic devices and leaves people scurrying to survive in the aftermath. So if you're into apocalyptic survival stories, this could be for you.
A lot of EMP books get to the action within the first chapter or two, but this one takes a little longer. In chapter one, we meet Jasmine Richards. She's a college student who's going to become a veterinarian. Meanwhile, she's taking classes and working as a bartender to support her dying mother – who needs a kidney transplant – and her kid sister Olivia who's still in high school.
In the first three chapters, we mostly learn about Jasmine's routine and meet her family and ex-boyfriend, so it's all about getting to know the main characters. The EMP action doesn't even really start until the end of chapter four, and I only read a little past that.
This one is the slowest out of all the EMP books I've reviewed. The story seems light on action and I wouldn't keep reading it, mostly because I found it a little boring. It might turn into an exciting survival story later on, but I know there are plenty of other options out there that hook you in much faster.
Get the Kindle ebook free from Amazon here.
---
See all the Free Friday posts here. Do you have other free books for us to check out? Comment below or email me at [email protected].
Have you read any of these books? Are you planning to? Let us know in the comments!
And watch Maria, Terrence, and Tim discuss all ten books in the video below: