Reading Time:
11
minutes
Some articles may include Amazon affiliate links. All proceeds go to helping us pay for original stories and to support writers of speculative fiction. Read more here.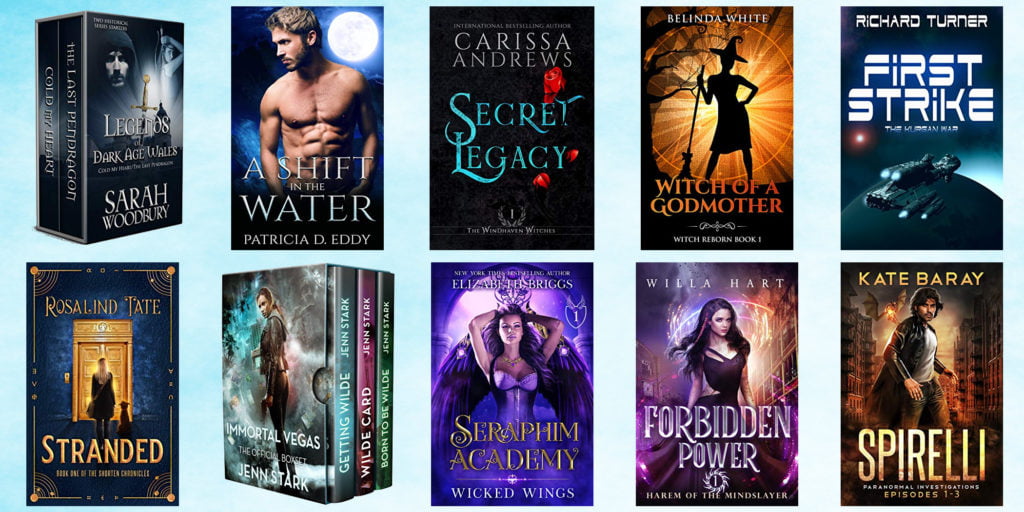 Did you know that Amazon has a list of the top-selling and free sci-fi and fantasy books?
The list changes constantly — authors set their books to free temporarily to promote their work, and, of course, books move up and down in the rankings. But are any of the books actually worth reading? I read the first few chapters of each to find out, so you don't have to.
This week's list is completely different from those of the previous weeks. So if you're a fan of free books, it looks like there are going to be new things to read all the time.
I've also noticed that if you try to open the list on a mobile device, it will take you to the listings that cost money, instead. I've found that by switching to the "desktop site" in the mobile browser, the free list comes up. Oh, and if there's a book that catches your eye, grab it quickly, since the books are often free for only a short time. And I also learned something new last week — Amazon allows you to lend your ebooks, for free, to your friends. Even free ebooks. Here are the instructions.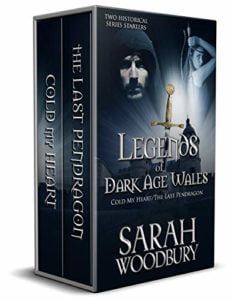 This is a box set of six different books. First, you get the first three of the five books of the Lion of Wales series, including Cold My Heart, The Oaken Door, and Of Men and Dragons. Then, you get the first three of the eight books of The Last Pendragon series, including The Last Pendragon, The Pendragon's Blade and Song of the Pendragon.
All the other books in each series are $2.99 each.
Set in Dark Age Wales, Cold My Heart is the retelling of the King Arthur legend from the point of view of two of his companions, Myrddin and Nell. It's the autumn of 537 AD, and the people loyal to King Arthur have retreated to north Wales, where they are surrounded and facing defeat. Myrddin and Nell each have a vision that Mordred's soldiers will ambush and kill King Arthur and they have to work together to save him.
All the familiar characters are here, including Sir Gawain. And the book starts out with a bang — with King Arthur's death. Turns out, it's just a dream — a dream that Nell has been having since she was a girl. And she doesn't just see King Arthur's death, but also that of Myrddin, who dies defending him. Now she's got about a month left to do something about it, and she doesn't know what. Oh, and Nell is living in a convent, sent there by her uncle after her father's death because her uncle wanted her father's estates for himself. Her husband and her two children had been killed ten years previously. so she's seen a bit more of the world than the other nuns.
Mordred's soldiers attack the convent, killing some of the nuns, and Nell leads the others to safety, but Mordred's men catch up to them. She is the only one who escapes the massacre, because she'd gone back to check on the convent itself when the attack comes.
It's a strong start, and Nell is a strong, capable character.
The story switches back and forth between Nell's point of view and that of Myrddin. He saves her from attackers and at first she doesn't recognize him and tries to run away, but he catches up to her and takes her with him. There's a lot at stake in the book, and the characters are compelling. Would I read the whole series? If I liked historical romances, definitely.
Get the Kindle box set free from Amazon here.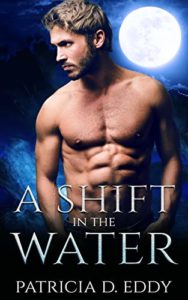 This is an urban fantasy book with werewolves, the first in the four-book Elemental Shifter series. The other books in the series are $2.99 each — or free with Kindle Unlimited. Cade is the head of the pack and the owner of a woodworking shop. A fire elemental had killed Cade's father, and his father's entire pack, then Cade's pack, then took Cade prisoner as revenge for something Cade's father did — he killed the fire elemental's mother.
Meanwhile, the fire elemental's younger sister, Mara, a nurse, didn't even know that she had magical powers because she was young when their mother died and was adopted by a non-magical family. She's now dying, and nobody knows why. Her body is attacking its own red blood cells, forcing her to get constant blood transfusions. But the transfusions are losing their effectiveness.
So Cade is trapped in a cage, being fed only just enough to stretch out his death as long as possible. And Mara only has a few months left to live, possibly being eaten alive by her own unused magic.
I like this book. I'm caught up in the action, I'm looking forwarding to seeing how the main characters escape their fates. I'm not normally a fan of paranormal romance — I prefer books with more action than romance — but I got caught up in this one.
The fact that the rest of the books are in Kindle Unlimited was also motivation to keep reading.
Update: This was not my type of book. Everything from the cover to the writing style to the plot — not my kind of thing at all. But I couldn't put it down. Read the whole book and am now looking forward to reading the other books.
Get the Kindle ebook free from Amazon here.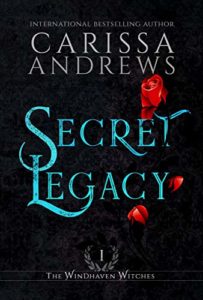 Autumn's friends all have magical powers but she doesn't have any powers of her own. So she doesn't even bother to apply to the Windhaven Academy, which is for magic users. Instead, she is planning to attend the state university to study forensic science as soon as she saves up enough money to pay for it,
But she gets an acceptance letter from Windhaven anyway — and an anonymous donor has even paid the tuition.
This is a coming of age novel and I've liked others in the genre, but I couldn't get into this one.
I read about a tenth of the book before I stopped; what I did read was engaging and readable enough, just not enough to get me hooked.
However, if it gets you hooked, then you might want to know that it is the first book in the four-book Windhaven Witches series. The other books in the series are $0.99, $2.99 and $3.99, but are all in Kindle Unlimited, so members can read them for free.
Get the Kindle ebook free from Amazon here.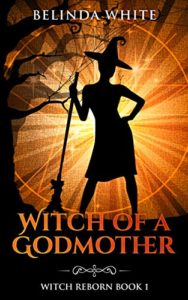 Opal Ravenswind, witch extraordinaire, owner of a magic shop, and secretly dating the local sheriff. Someone broke into the shop and damaged a desk that she'd just bought at an estate sale, but took nothing.
Meanwhile, her housemate's new baby is the reincarnation of Opal's dead mother.
I love the cozy mystery genre, and love it even more when there's magic involved. The characters are friendly, the setting is charming, and I'm looking forward to spending more time here.
This is the first book of the five-book Witch Reborn series. The other books range from $0.99 to $3.99 but are all in Kindle Unlimited. The series is set in the same world as the author's previous Accidental Familiar series, which is also in Kindle Unlimited.
I can already tell that this is going to be my kind of series, so I've gone ahead and downloaded the first book in the other series, All Too Familiar.
Sunday morning update: I've read the entire All Too Familiar. series. Yes, I read fast. The reason I prefer books in Kindle Unlimited is that if I had to pay full price for each book I read, I'd be millions of dollars in debt in no time. I'm now in the middle of the Witch Reborn series. Next, I'm going to read the follow-up Team Destiny series. These books are classic cozy mysteries. PG-rated, not too gory, light on the suspense, with characters who are pleasant to spend time with and cute magic.
Update a week later: I've read all the other series by this author, and added her to my watch list.
Get the Witch of a Godmother Kindle ebook free from Amazon here.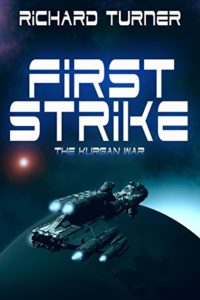 Yay, a hard sci-fi book. And the first of a ten-book series to boot, The Kurgan War, But none of the other books are free — most of the rest of the books in the series priced at $4.99 — and they're not in Kindle Unlimited, either. So keep in mind that if you get into this book, the whole series is going to cost you a little more than $40.
Still interested?
Second Lieutenant Michael Sheridan, the only son of an admiral, has just graduated from the Marine Ground Warfare Battle School when war breaks out. The Kurgan Empire has attacked the human colonies in the Disputed Zone, and the new graduates are being shipped off to the front lines. Sheridan doesn't get the prestigious assignment he had expected.
Fortunately, staff sergeant Alan Cole is there to set him straight and guide him as he takes his first command, of a platoon of newly minted marines on a ship racing towards combat. They discover that the Kurgans have attacked a supply convoy far outside the Disputed Zone, attempting to cut off human reinforcements and foul their logistics.
Sheridan and his marines find one survivor of the attack, then jump to a system that is currently being invaded and barely escape before they are themselves blown up. The ship he's on goes on to defend Derra-5, which the aliens are expected to attack next, but things go very wrong.
The action is fast-paced, the stakes are high, and the writing is engaging. If the rest of the books were in Kindle Unlimited, I'd finish the book and probably read the rest of the series. As it is, though, I have a lot of other books already in my reading queue.
Get the Kindle ebook free from Amazon here.
6. Stranded by Rosalind Tate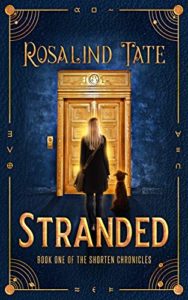 Described as "Bridget Jones meets Downton Abbey," this is a time-travel book in which university student Sophie and her labradoodle Charlotte, together with fellow student Hugh, step into the wrong elevator and wind up somewhere else altogether.
This is the first book in a series, but the only one that's been published so far.
It has a little of a Narnia feel, with Charlotte leading Sophie and Hugh through the strange land where they wound up, to a manor where they meet a woman named Anne who came through the same elevator many years prior — and she tells them that there's no way back.
At first, Hugo and Sophie refused to believe what happened to them is real. They think its a dream, or a drug trip. Maybe they're in a coma. Or have had a sudden aneurysm and are in the process of dying, and it's all a final hallucination.
The book starts off slowly, the characters didn't appeal to me, and, since the rest of the series isn't out yet, I'm not going to be finishing it. But if you like a slower-paced story, it's an interesting premise and the writing pulls you in.
Get the Kindle ebook free from Amazon here.
This is a boxed set of the first three books in the ten-book Immortal Vegas series, plus a bonus introductory novella, One Wilde Night. The rest of the books are $3.99 each and are not in Kindle Unlimited, but I'm getting sucked in.
The novella starts out with Tarot-reading artifact hunter Sara Wilde on an assignment that takes her naked into the middle of an orgy in Rio de Janeiro. Her target is a magical jade amulet that she's getting pad $50,000 to retrieve from a human-sacrifice sex-cult.
Just as she's about to get to her goal, she's caught up in a sex spell but is saved by a mysterious person with a psychic connection to her.
And I'm caught up. I like the way that Sara takes down annoying men, the clever way she gets her hands on the amulet, her situational awareness, and all the sexual tension in the air.
This box set is a keeper.
Get the Kindle box set free from Amazon here.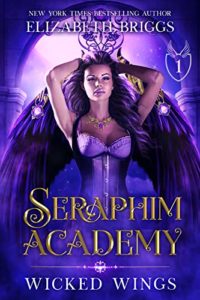 Olivia is a succubus who can make anyone desire her. A half-demon. But what she herself wants is to go to the Seraphim Academy for Angelic Studies, and to do that she has to somehow fake being half-angel, half-human.
She's clever, and she does, and I like that about her. Her goal is to solve the mystery of her brother's disappearance. But if anyone finds out her true identity, she won't just be kicked out of the academy — she'll be killed.
This is a fun book, and an engaging beginning, and a strong heroine.
It's also the first book in the Seraphim Academy series. The others are $4.99 each, but — yay! — in Kindle Unlimited,
I know what I'm reading this weekend.
Get the Kindle ebook free from Amazon here.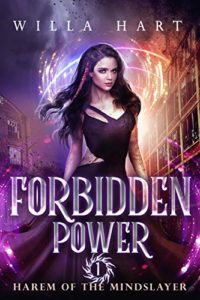 Meela is an orphan in a dystopian fantasy future, born with mind-control powers that could mean her death if they are discovered. It's a romance, and there are three male leads — it's a "reverse harem" story, meaning that the female character gets to have multiple male lovers at once.
Meela's best friend, Jix, has a drone built with old technology that accidentally falls onto royal land. When the two of them try to retrieve it, they're caught, and Meela tries to use her powers to help them escape. Instead, they're discovered by royal princes, one of whom is interested in the drone, and the other, Raraz, is interested in her. Taraz figures out that she has the magic power, but lets them go anyway.
I enjoyed the writing, but I'm not a big fan of this genre so probably won't be finishing it. But if you like it, this is the first of the five-book series Harem of the Mindslayer. The rest are $3.99 each, but are all in Kindle Unlimited.
Get the Kindle ebook free from Amazon here.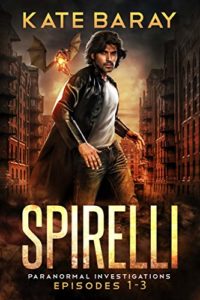 As a front for his work as a paranormal investigator, Jack runs a junk shop.
This book feels a little bit like the Dresden Files, which I'm a big fan of. It's episodes one through three of a six-episode series. Each episode is a novella the size of about a third of a full-length novel. Spirelli Paranormal Investigations: Episodes 4-6 is $3.99, and is not in Kindle Unlimited.
Each episode is its own case. In the first episode, Jack is hired to find the client's wife, a witch who disappeared the day before. The client doesn't want to bring in the police, and the case probably involves the magic community.
It's also the first case on which Jack brings his new assistant, Marin, a dragon in human shape. Marin is the daughter of one of his friends, and is willing to work for minimum wage as a driver and muscle.  Plus, she knows her way around the magic community.
I love the premise, and am a big fan of the a paranormal private eye genre, so I definitely plan on finishing this book.
Get the Kindle ebook free from Amazon here.
See all the Free Friday posts here.
Do you have other free books for me to check out? Email me at [email protected].