Reading Time:
16
minutes
Some articles may include Amazon affiliate links. All proceeds go to helping us pay for original stories and to support writers of speculative fiction. Read more here.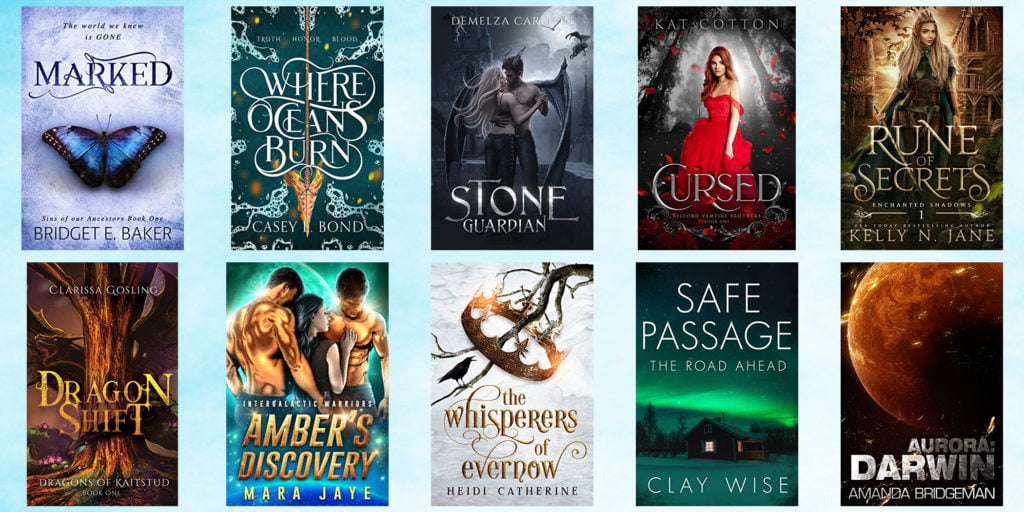 Did you know that Amazon has a list of the top-selling and free sci-fi and fantasy books? The list changes constantly — authors set their books to free temporarily to promote their work, and, of course, books move up and down in the rankings. Read on to find your fun free read for this weekend! And grab the books quickly because they don't always stay free for long.
This week's list is completely different from those of the previous weeks. So if you're a fan of free books, there are going to be new things to read all the time. If you want to get this list in your inbox every Friday afternoon, subscribe to the MetaStellar weekly newsletter.
There are a lot of books to go through, so this week I'm being helped out by a couple of other members of our MetaStellar community. If you'd like to join me in doing these reviews — and taping our regular Friday videos — email me at [email protected].
10. Marked by Bridget E. Baker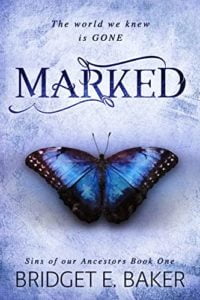 This is the first of six books in Sins of Our Ancestors post-apocalyptic young adult series. The other books are $.99 to $4.99 each, and the series is not in Kindle Unlimited.
I am not the target audience of this book. I did enjoy Hunger Games but, in general, I like neither young adults nor dystopias. So Marked has its work cut out for it if it wants to win be over.
Spoiler alert: It did not.
Ruby is almost 17 and has been in love with Wesley for three years and hasn't said a word, even though she sees him several times a week. The book starts with a group of teenagers around a campfire. Ruby and her best friend, Gemette, bicker about the seat that Gemette saved for Ruby, and about how skinny Ruby is. Wesley shows up late. He's the mayor's son and acts as if he were already a politician himself. He gives a speech summarizing what's happened to the world. The speech starts with "as you already know" — so why is he telling it?
Anyway, the kids eat some canned food and play spin the bottle. She lucks out — when Wesley spins it, it points at her. But when they go off to kiss, he doesn't make a move. He doesn't want whatever infection has taken over the world to put either one of them at risk. So she kissed him instead.
And, when they pull apart, she noticed a rash on his forehead. It's a sign that he's been marked, and will die within the next three years. And, now, so will she.
Wow. Well, that's a strong beginning.
Is it enough to keep me going? No. Too much angsty teenage drama for me. But if you're into this kind of thing, I do have to say that the writing is incredibly compelling.
Get the Kindle ebook free from Amazon here.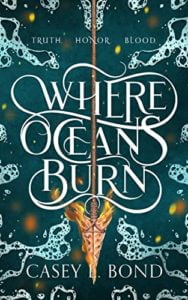 This is the first of two books in The Where Oceans Burn Duology fantasy romance series. The other book is $4.99 each, and is in Kindle Unlimited.
This is a fantasy story focusing on two enemy tribes, one of which lives in the skies, and the other in the ocean.
The protagonist, Elira, is a young woman dealing with the loss of her best friend. She intends to hunt down the young man from the ocean, a shark by the name of Crest, whom she believes to be responsible for her friend's death.
Elisa also has a secret that she has kept hidden for years, and is in danger of being revealed at an annual ceremony.
The prose is beautifully written. It perfectly captures the spirit of the oceans, with its beauty and graceful movements. Even if it is difficult to understand the story at times, the prose has a lyrical quality that makes it a pleasure to read.
I could imagine myself continuing to read this, and it is a decent pick for any fans of mythology and Romeo and Juliet dynamics.
I'm not a fan of fantasy romance. I prefer my fantasy epic and bloodthirsty. So I'm not the target audience for this book. But then I notice that the book opens on maps of the world, which give me hope that it will be more epic than romantic.
Elira's best friend died a month ago, and now she's flying over the spot in the ocean where she found her body. They can both do magic, and have wings and can fly, and wear leathers and carry swords. Her friend went to the ocean by herself, lured there by someone, but Elira blames herself for not being there for her.
The problem — besides the fact that her best friend is dead — is that the friend used to help Elira lie to the Oracle. Apparently, there's some kind of blood test that goes with a visit to the Oracle, and she's been using her friend's blood instead of her own.
Now she has to ask another friend to give her some blood, giving him a hold over her. And she lies to her friend about why she's lying to the Oracle. It's all a little complicated and confusing.
The writing style is very poetic and lyrical, which isn't my thing, and the the book starts slowly. I don't think I'll be sticking with it.
Get the Kindle ebook free from Amazon here.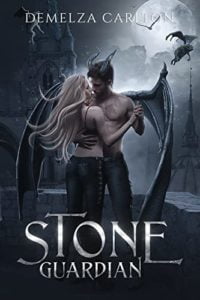 This is the second of five books in the Heart of Steel paranormal romance series. The other books are $4.99 each and are not in Kindle Unlimited. We previously reviewed the first book in the series, Heart of Steel, in September of 2022. In fact, Demelza Carlton is a frequent flyer on this list. In July of last year, we reviewed Broken Chains, the first of three books in the Heart of Stone paranormal romance series. Also that July, we reviewed Embellish: Brave Little Tailor Retold, one of the books in the 26-book Romance a Medieval Fairytale series. We also reviewed many other books in that same series, as they hit a free price promotion. Hunt: Red Riding Hood Retold we reviewed in April, and, also that month, we reviewed Blow: Three Little Pigs Retold. Then, in May, we reviewed Melt: Snow Queen Retold and, in September, Dance: Cinderella Retold. A box set of the first three books in the series was also on this list this past April. But wait, that's not all! In December, we reviewed Ocean's Justice, the first book in the six-book Siren of War fantasy series.
Since this is a sequel, and we don't want to give away any spoilers, here's a review of the first book in the series, instead.
In the first two chapters of Heart of Steel, the reader meets Carline, a witch who has promised her overprotective brother she won't use her powers of witchcraft ever again. But Carline doesn't feel there is harm in using witchcraft to protect her safety and the mill.
When her brother leaves her alone at the mill and four intruders appear, triggering her wards, Carline shoots and kills the trespassers. She then begins a ritual to turn the men into immortal warriors who will protect her home. Carline feels justified since the wards she set up are not triggered by anyone with innocent intentions.
Carline's brother Will returns home before she can complete the ritual and scolds her for using her magic. It is revealed that witches are not welcome in the colonies or in Britain and are burned. He also tells her that at least two of the men she killed are family. They were cousins who looked familiar Carline but she did not fully recognize.
Swearing to give their cousins a decent burial, Will drags the bodies into his boat and heads off to bury them and finish his business in York.
This is an interesting story but I'm not sure I even like the protagonist, Carline. She doesn't seem to have any remorse about killing her cousins and isn't a bit squeamish about cutting their hearts out. I will continue to read it this weekend because the story is intriguing enough that I'd like to find out what comes next.
Get the Kindle ebook free from Amazon here.
7. Cursed by Kat Cotton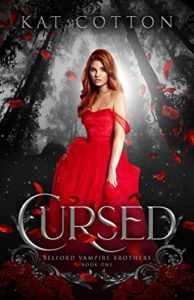 This is the first of two books in the Belford Vampire Brothers young adult paranormal romance series. The other book is $3.99 and is not in Kindle Unlimited.
This young adult vampire romance tells the story of seventeen-year-old Rose–also known as Rebel–who lives in a boring small town and is dying to have her first kiss. She starts the story by making her way to her friend's farm house in the outskirts of the city, and it's not until she comes across a sexy motorbike guy with emerald eyes on a stop light that her life changes forever. She feels an immediate connection to him, and when the point of view switches on the next chapter we realize that she's not the only one that felt the connection.
Our second main character is Flynn Belfort, one of the Belfort brothers we don't really get to know much about. What we do know is that they're both vampires and that Flynn is cursed to die soon…unless he finds his soulmate and manages to lift his curse. He has a strong feeling that he will marry Rose one day but after what happened to who appears to be his last beloved he's not so sure on what to do next.
Not much happens in the first few chapters of this book, yet what I read was enough to realize I won't enjoy the rest of this story. The first thing that bothered me was Rose's point of view, which starts as a very bored teenager who wants to have her first kiss and then, after she sees Flynn on his motorbike, immediately switches to a more serious version that doesn't want her first kiss to be with Yoshi, one of the guys they invited over to a small party at her friend's house. Also, an almost 100-year-old vampire with a 17-year-old girl that hasn't even had her first kiss? He himself said that she was a child at one point, but I'm afraid that won't be stopping him so no thanks, I'll pass on this one.
Get the Kindle ebook free from Amazon here.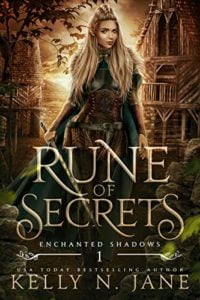 This is the first of two books in the Enchanted Shadows fantasy romance series. The other book doesn't seem to be available on Amazon yet.
This book takes place in a high fantasy world full of royal families, elves, and fae. While I love high fantasy stories, this one seems to revolve heavily around romance, which usually does not interest me. I'm not the target audience for this one, but if you love romance and fantasy, you probably are.
The first few chapters start with the royal princess and heir to the throne, Rowena, who is participating in a tournament to honor her father. Rowena is formidable with a blade, but is disappointed when she is bested before the championship duel. We meet a few of her friends and acquaintances, her loyal friend, Hann, and her troublesome foster-cousin Daenon — both of whom she's attracted to.
The first few chapters follow the tournament at a seemingly slow pace until her father is betrayed and her family is murdered. Rowena is utterly lost without them and feels nothing except a burning desire to avenge them. This is where I stopped reading, but later in the book, Rowena is set to come to grips with her fate and face her destiny. We're also promised another hauntingly handsome man.
The fated romance trope is just not for me but I know there are people out there who love it. The writing in this book is solid but I do have a few problems with it. A lot of the dialogue in the first few chapters is corny, starting right away with cringey banter between Rowena and her opponent in the tournament duel. There is also a lot of over-explaining in the narration which is just a personal pet-peeve, I prefer more subtlety. But besides all my complaints, the writing is mostly good.
I'm not sticking with this one but if you like your fantasy with a hefty amount of romance, I bet you'll like this book.
Get the Kindle ebook free from Amazon here.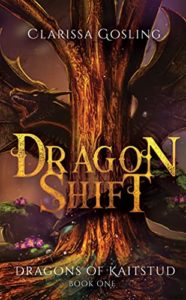 This is the first of three books in the Dragons of Kaitstud young adult epic fantasy series. The other books are $4.99 each, and the series is not in Kindle Unlimited.
This book is set in a world where four shifter clans rule the continent: the bear clan, the wolf clan, the cat clan, and the foxes. Our main character is sixteen-year-old Birgith, who lives in the bear clan with her father. To everyone in the clan, she is nothing but an adopted child who her father found left behind on his doorstep one day. But in reality, she is the result of his forbidden romance with one of the last dragon shifters in the Continent. After the dragon shifters were hunted down and eradicated, Birgith has kept her heritage a secret.
But everything could change during the annual Testing ceremony.
Every year, every sixteen year old must prove themselves worthy to their clans by shifting into their animal forms. Considering how Birgith could shift into a dragon and cause an uproar, she is nervous and scared of what could happen. After all, her uncle Otto is the leader of the bear clan, but if she were to turn into a dragon, he would easily turn on her and hunt her down like a monster. Yet when Birgith doesn't manage to manifest any type of animal form during the ceremony she is considered nothing but a human and is forced to leave the clan. As a human, she would become a server for other shifters but if she's able to shift and prove herself worthy to her uncle she could find her way back to the clan. But with the possibility of shifting into a dragon instead of a bear and unleashing a hunt, things aren't as easy as they sound.
The pacing in this book is fast but the story is interesting enough to keep you engaged from the very first page. I didn't love the fact that it feels like Birgith knows everything already or is too considerate — for her age — about all of the possible outcomes after her failed testing ceremony but that didn't ruin the reading experience for me.
I really enjoyed the writing and I would actually like to continue reading and see if Birgith actually manages to prove herself to her clan and to see if we can learn more about dragon shifters and what actually happened to them.
Get the Kindle ebook free from Amazon here.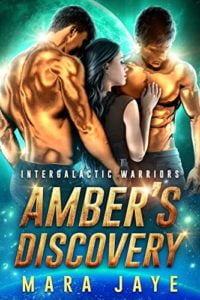 This is the first of six books in the Intergalactic Warriors science fiction romance series. The other books are $3.99 each, and the entire series is in Kindle Unlimited. The sixth book isn't out yet. It's scheduled to be released this coming June and is available for preorder.
I am not a fan of sexy alien romances. I like my aliens to be part of an intergalactic invasion fleet, with plenty of space battles and lots of explosions. Or, sometimes, I want thoughtful stories about aliens that are completely different from life as we know it. Either way, no interspecies shenanigans, please.
Plus, judging by the cover, this is one of those stories where the woman winds up with multiple men. That sounds like a logistical nightmare to me.
Anyway, Amber is worried about paying her bills. She runs a bed and breakfast and, apparently, isn't very good at it. It doesn't help that it's near a town named Dead Dog Creek. Not exactly a tourist-friendly name.
As she's trying to decide which bills must be paid first, her cell phone rings. It's her boss, and he wants her to get her gun and come to the store. He needs help defending it. Then he hangs up. She tries to all him back, but the line it goes to voicemail. So she calls a fellow co-worker, who tells her to turn on the news. There's been an alien invasion. The co-worker has no plans to go to Randy's store to help him defend it. She's got kids to worry about.
On TV, the alien spaceships are going around sucking up people and everyone is panicking.
Like an idiot, she goes outside to look at the sky. If aliens are sucking people up, then personally, I'd stay indoors. But that's just me. Then an alien ship flies over, jumps some stuff near her house, and disappears again.
Instead of waiting for a hazmat crew to come get the alien goop, she goes over to look at it. Then three aliens come out of the pile of slime, argue amongst themselves, and go inside her house, where they sit down to watch TV. They can understand what she says, but she doesn't understand their language — they're wearing translation devices.
So she sets them up with rooms, shows them the bathroom and the shower, and makes them a meal. All while she's wondering how they're supposed to pay for their stay.
Oh, and she also promises to hide them from human authorities.
Then, in the next chapter, we switch to the point of view of Bain. He's some kind of interstellar cop, on earth to keep the planet safe. He's annoyed that the other aliens have shown up, and are causing havoc. Oh, and, unlike Amber's three aliens, Bain can pass for human.
I'm guessing that he and Amber are going to get together at some point.
Okay, I have to say that it's a fun read. Very light-hearted and over-the-top.
I don't think I'll be sticking with it, but, you know, it wouldn't be the worst.
Get the Kindle ebook free from Amazon here.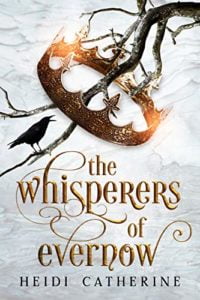 This is the first of five books in The Kingdoms of Evernow epic fantasy series. The other books are $.99 each to $4.99 each but the entire series is in Kindle Unlimited.
Jeremiah lives in a land ruled by a vicious king who gets his every wish granted by an army of whisperers, those who can speak wishes into reality. Unfortunately, Jeremiah is chosen to be one to save his family from starvation.
The book starts in the stark reality of his home, where his father's health is failing and his mother is pregnant, and Jeremiah feels a strong sense of duty to provide for them. The last thing he wants is to serve the king that lets his people suffer, but knowing they will be provided for gives him some comfort. The only other solace he receives is the attention of a young princess, one who is forbidden to speak to, or even look at.
Although Jeremiah is easily likable and has wants and desires of his own with an interesting magic system involved, I'm finding it not unique enough to hold my interest. He's just so darn altruistic, I want him to be a little selfish, a little flawed, it makes things a little more predictable than I like. But if you're a fan of epic fantasy with an underdog versus a manipulative king, you might like this.
Get the Kindle ebook free from Amazon here.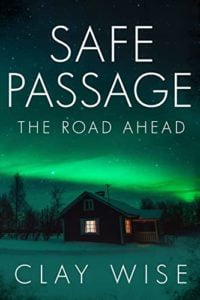 This is the fourth and latest book in the Safe Passage series. We previously reviewed the first book in January of last year and the second book, Safe Passage: Off the Grid, last May. All the books are in Kindle Unlimited. The author has several other similar books on Amazon, two of which have also made the top ten list this year: White Out, which we reviewed in November of 2021, Seeking Shelter, which we reviewed in September of 2021, and The Homestead, which we reviewed back in July of 2021.
I'm not a fan of EMP survival books, so I'm not the target audience for this, but given how frequently the author's books are on top of the charts, it looks like many people love this authors — and EMP survival books in general.
An EMP — electromagnetic pulse — is at atmospheric effect that kills electronics but leaves living things untouched. It can be caused by a solar flare, a bomb, or an EMP generator. In real life, this has long been a known vulnerability and many systems have already been hardened and shielded against EMP. Also, deliberately creating an EMP effect that covers anything larger than a very small area is very difficult. But it's a common trope in fiction. I guess there's something about the idea of all electronics dying and society collapsing that feels compelling to people.
This book starts out with Lori and her teenage daughter, looking for food and books, trying to avoid running into looters in a city that's been all but destroyed. Both carry guns. Then there's a flashback to her normal life, two years prior, with her daughter and her husband, Jesse. The news channels are talking about a big solar flare that's coming. Lori teaches English literature at a high school.
Then we're back in the present day again. Lori and her daughter are basically commandos by now, with no qualms about killing people if they need to in order to survive.
The book is very readable and suspenseful. Lori reminds me of Sarah Connor in the Terminator series. But EMP survival books are just not my preference for leisure reading — I get enough dystopian future just from watching the daily news. I want my escapist reading to be a bit more on the unreal side.
Get the Kindle ebook free from Amazon here.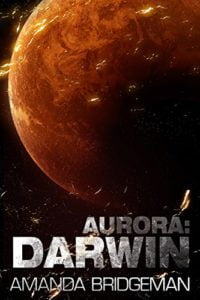 This is the first of seven books in the Aurora space opera series. The other books are $4.99 to $5.99 each, and the series is not in Kindle Unlimited.
The book takes place at a time when humans have colonized both the Moon and Mars, and takes its time to introduce and flesh out the characters. Except for the prologue, there isn't much action in the first four chapters that I read, and the story focuses more on the setting and characters.
In the prologue, a criminal named Lars is on a ship that's doing some kind of shady cargo transport mission between the Moon and Mars. But something's gone horribly wrong. The crew was attacked, and now Lars is being attacked by some kind of monster that easily throws him against a wall and murders him viciously.
We meet Captain Saul Harris in chapter one. He's been on shore leave on Earth, but he's being recalled to deal with something that's come up. It turns out there's a classified scientific research station near Mars that's gone radio silent, and the crew of his ship, the Aurora, have been assigned to go check it out. Harris's higher-ups tell him the mission is leaving in the evening, and his all male crew is being supplemented with three females. Harris isn't too happy about the random addition of the three women, and he also thinks there's something a little fishy about the mission, but he can't get more info from his commanding officers.
We also meet Corporal Carrie Welles in chapter one, but don't learn too much about her. In chapter two we find out that Welles, along with Sergeant Sarah Packham and Corporal Sabrina Colt, are the three ladies that are going on Aurora's mission to the research station. They meet Captain Saul Harris, who tells them it's just a one off mission for them.
Chapter three and four describe the crew of the Aurora and the ship as they get ready for their mission. That's all I had time to read. I found the beginning of this book slow, but I might consider reading on. I think the action will really pick up once the mission actually gets going and the crew gets to the research station. If the prologue gives us any clues, I bet there'll be some monsters on the station that the Aurora's crew has to deal with.
Get the Kindle ebook free from Amazon here.
---
See all the Free Friday posts here. Do you have other free books for us to check out? Comment below or email me at [email protected].
Have you read any of these books? Are you planning to? Let us know in the comments!
And watch Maria discuss all ten books in the video below: