Reading Time:
13
minutes
Some articles may include Amazon affiliate links. All proceeds go to helping us pay for original stories and to support writers of speculative fiction. Read more here.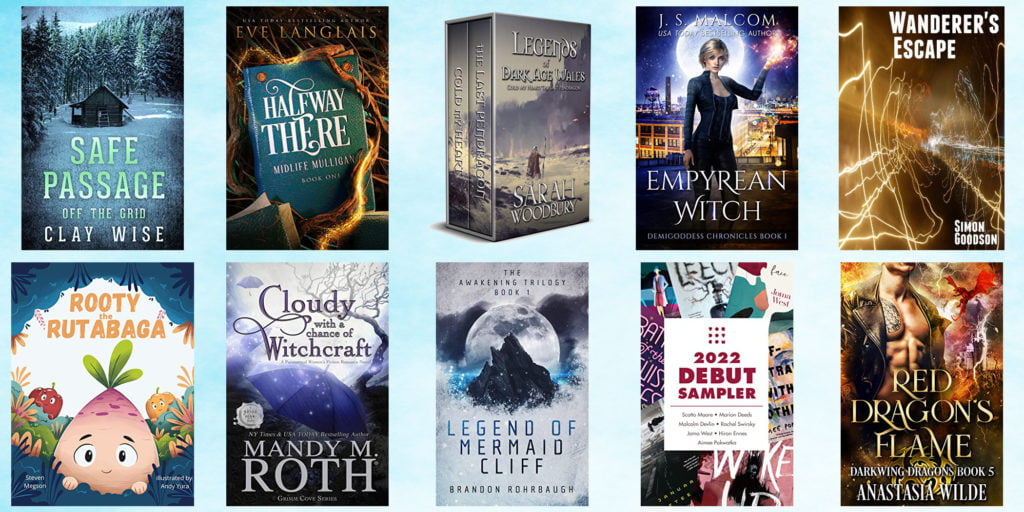 Did you know that Amazon has a list of the top-selling and free sci-fi and fantasy books?
The list changes constantly — authors set their books to free temporarily to promote their work, and, of course, books move up and down in the rankings. But are any of the books actually worth reading? Well, I read the first few chapters of each to find out, so you don't have to.
This week's list is completely different from those of the previous weeks. So if you're a fan of free books, it looks like there are going to be new things to read all the time.
There are a lot of books to go through, so this week I'm being helped out by Amira Loutfi, our reviews editor, and our news editor Alex Korolov.
I've noticed that if you try to open the list on a mobile device, it will take you to the listings that cost money, instead. I've found that by switching to the "desktop site" in the mobile browser, the free list comes up.
Oh, and if there's a book that catches your eye, grab it quickly, since the books are often free for only a short time. And, Amazon allows you to lend your e-books, for free, to your friends. Even free e-books. Here are the instructions.
Most of these books are the first book in the series, and in each case I've checked to see whether the rest of the books are free as well, or whether they're in Kindle Unlimited. Learn more about Kindle Unlimited here.
The list is accurate as of the time of writing, but may have changed since the story was posted.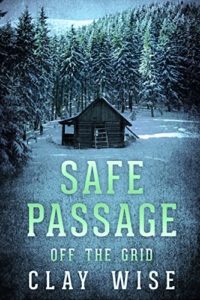 This is the second book in the Safe Passage EMP survival series. The first book is $0.99 and both books are in Kindle Unlimited.
I don't recommend skipping the first book in a series as you'll end up missing a lot of important story details and character development.
Safe Passage is the second book in a series that I haven't read before, and you're thrown into the middle of the adventures of five people who are traveling through a world that lost all electricity due to an EMP some time ago — oh, and there was apparently some pandemic that killed a bunch of people too.
The story is told from a first point perspective by Lori, and she's currently passing through Pittsburgh with her daughter Avah, along with their companions Cayley, Trevor, and Gino.
I didn't know the characters before starting this book, and I couldn't relate to them at all, as I know nothing about their backstory. I'd put this book down and read book one in the series before continuing further.
However, if you're into stories about EMPs, post-apocalyptic pandemic ravaged worlds, and stories of survival, you might like this one, but you should probably read book one, otherwise the characters are just a totally random bunch of people, and you have no idea what their motivations are or where they came from.
Get the ebook free from Amazon here.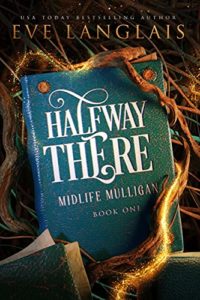 This is the first of three books in the Midlife Mulligan paranormal urban fantasy series. The other books are $4.99 each and are not in Kindle Unlimited.
Naomi's jerk of a husband is leaving her. Her kids are grown and out of the house. She's got no friends. And even though her marriage has been awful, she doesn't know what else to do with her life. She contemplates killing herself. Then a little kitten shows up at the door. When she's out buying supplies, she discovers that her husband has cancelled her credit card.
That was the last straw. Naomi decides to fight for herself. She gets a lawyer. She gets half the house. She starts an exercise program. She gets a full-time job as a cashier. She rebuilds her relationships with her kids.
But then creepy stuff starts to happen, and her house burns down. So she goes to see that cottage, the one she hasn't been to in twenty years. Its exactly the same as the last time she'd been there. And there's a cute guy living next door, and she reconnects with her best friend from childhood.
I've read this story before, multiple times.
But the book feels warm and cozy. I might stick with it.
Get the ebook free from Amazon here.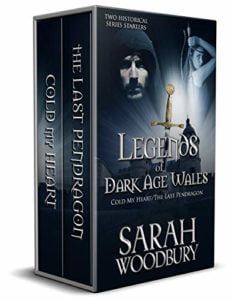 This is a box set of six different books. First, you get the first three of the five books of the Lion of Wales series, including Cold My Heart, The Oaken Door, and Of Men and Dragons. Then, you get the first three of the eight books of The Last Pendragon series, including The Last Pendragon, The Pendragon's Blade and Song of the Pendragon. All the other books in each series are $2.99 each.
Set in Dark Age Wales, Cold My Heart is the retelling of the King Arthur legend from the point of view of two of his companions, Myrddin and Nell. It's the autumn of 537 AD, and the people loyal to King Arthur have retreated to north Wales, where they are surrounded and facing defeat. Myrddin and Nell each have a vision that Mordred's soldiers will ambush and kill King Arthur and they have to work together to save him.
All the familiar characters are here, including Sir Gawain. And the book starts out with a bang — with King Arthur's death. Turns out, it's just a dream — a dream that Nell has been having since she was a girl. And she doesn't just see King Arthur's death, but also that of Myrddin, who dies defending him. Now she's got about a month left to do something about it, and she doesn't know what. Oh, and Nell is living in a convent, sent there by her uncle after her father's death because her uncle wanted her father's estates for himself. Her husband and her two children had been killed ten years previously. so she's seen a bit more of the world than the other nuns.
Mordred's soldiers attack the convent, killing some of the nuns, and Nell leads the others to safety, but Mordred's men catch up to them. She is the only one who escapes the massacre, because she'd gone back to check on the convent itself when the attack comes.
It's a strong start, and Nell is a strong, capable character.
The story switches back and forth between Nell's point of view and that of Myrddin. He saves her from attackers and at first she doesn't recognize him and tries to run away, but he catches up to her and takes her with him. There's a lot at stake in the book, and the characters are compelling. Would I read the whole series? If I liked historical romances, definitely.
Get the Kindle box set free from Amazon here.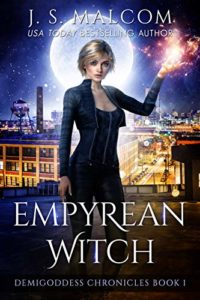 This is the first of three books in the Demigoddess Chronicles myth and legend fantasy series. The other books are $3.99 each and are in Kindle Unlimited.
The book starts out with Cassie waiting for her friend Julia to meet her in front of a house. Julia, who now rides a motorcycle, shared a body with Cassie for fifteen years. Hold on a second… this is starting to ring a bell.
Yup, I was right. Demigoddess Chronicles is a spin-off from another series, the Fae Witch Chronicles. I reviewed the first book of that series, Realms of Ghosts and Magic, back in March.
Since I haven't finished that series yet, I'm going to stop reading before I give myself too many spoilers. And I recommend that you go and read that other series, first. It's in Kindle Unlimited.
Meanwhile, here's what I thought of that book.
Cassie runs a supernatural cleaning service. She's not as good a psychic as her sister, but she's got to eat, and her rent is due. Her first customer, Dean Richardson, is the owner of an old brick townhouse. He bought it six months ago as an investment property and has lost three tenants since, all of whom were willing to break their lease to get out there.
I like Cassie. I like her backstory — she was abducted as a child and had to escape her own body. It took years for her to get back to her actual self. In effect, she was a ghost during much of her adolescence. Now she sees ghosts everywhere.
I'd love to read the full backstory some day.
The writing style reminds me a lot of Kelley Armstrong. I'll definitely be coming back to this one.
But speaking of backstory — it looks like this series is a continuation as well, of The Realm Watchers series. That one is also in Kindle Unlimited. So maybe go and read that one first.
Get the ebook free from Amazon here.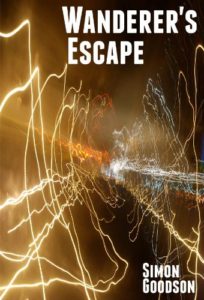 This is the first of eight books in the Wanderer's Odyssey space exploration science fiction series. The other books are $3.99 each and are not in Kindle Unlimited. This is the second time the author's been on this list. We previously reviewed the first book in this series in April of last year.
Jess was born a slave and had never set foot on a planet's surface. His captors use him and other prisoners as cannon fodder. While investigating a mystery space ship for booby traps he and two fellow prisoners are mysteriously freed from their control collars and are able to use the ship to escape.
Jess is a pretty passive character at the start of the book. Things just happen around him, through no particular effort or ability of his own. I prefer my main characters to have a little bit more agency.
It looks like there's a powerful and evil empire. After escaping from their captors, Jess and his companions pick up a distress signal and save a family of smugglers from the empire's enforcers, blowing up one of the empire's ships in the process.
Meanwhile, it turns out that the ship Jess stole has extremely advanced capabilities and is powered by an AI that can do nearly anything and was just sitting around waiting for someone to tell it what to do.
It's a hokey premise. I love it.  I'm going to keep reading.
Update 5/28: I'm now on book five of the series. And, yes, I paid money for them. My thoughts: First of all, the books deserve better covers. Much, much better covers. They should have those modern flashy covers with spaceships on them, because that's what these books are like on the inside. Second, there are a few places where the main character does things out of stupidity. One of those "too dumb to live" situations. Which is fine. The protagonist is young, new to all this, and has spent his whole life as a slave, where he's just done what he was told instead of having to learn any decision-making skills. But he has often has people, or AIs, around him who know better. A quick fix for some of these "too stupid to live" problems is for him to get good advice then, due to his internal issues, refuse to follow it. But this is not a fatal flaw for the books. In fact, many best-selling properties suffer from the "too stupid to live" problem where main characters do dumb things just because it would be good for the plot. It's just one of my biggest pet peeves. So, bottom line: if you like space operas, this is very, very enjoyable — enjoyable enough to keep me reading through the series and paying for the later books.
Get the ebook free from Amazon here.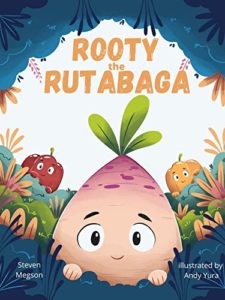 This is the first book of two in the Rooty the Rutabaga children's folk tale and myth series. The other book is $2.99 and both books are in Kindle Unlimited.
I have no idea why this children's picture book is on the sci-fi and fantasy bestseller list. Maybe because of the anthropomorphic vegetables?
I guess, technically, it's a fantasy. It's a short little book about a lonely rutabaga and some other vegetables invite him to play with them. He does.
That's it. There's not much more to the story.
There's a little bit of information at the end about rutabagas and bell peppers, a quiz, and puzzle where kids can look for the differences between two pictures.
I guess its okay. If you've got a pre-schooler and want to entertain them a on a tablet for a few minutes, you can pick up this book.
Get the ebook free from Amazon here.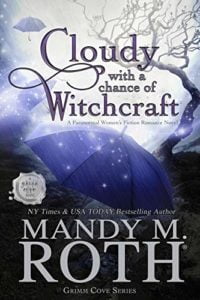 This is the first of six books in the Grimm Cove paranormal romance series. The other books are $5.99 to $6.99 each. The fifth and sixth books of the series are both currently available for pre-order and will be coming out July 4, 2022 and November 3, 2022. The entire series is in Kindle Unlimited.
In the first chapter we learn that Poppy's jerk of a husband is leaving her, her kids are grown and out of the house, and her magical grandmother has died and left her a house in the cozy village of Grimm Cove.
I have to say, I was a little hesitant when I got this far. I mean, I've read this setup before. Numerous times.
The little scorned woman slinks back to her home town to lick her wounds.
But Poppy surprised me. She dumped the creep's dinner into his lap at the fancy restaurant where he broke the news. Called her two ass-kicking friends for help. And went home with a cute young waiter. You go, Poppy!
I'm in!
Meanwhile, back in Grimm Cove… Poppy's childhood crush is now the chief of police, a former special ops soldier, and a werewolf. In fact, the town is full of supernatural beings. And there's been a string of mysterious murders.
I like cozy paranormal mysteries. But more than that, I like tough female protagonists. This book is right up my alley and I'll probably finish it this weekend.
Get the ebook free from Amazon here.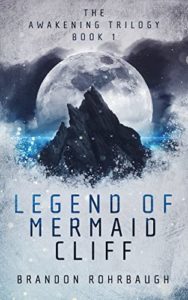 This is the first book in the The Awakening Trilogy of young adult urban fantasy. The other two books are currently available for pre order and will be coming out later this summer.
Mark is a high school student, when his friend, Veronica, dies after falling off Mermaid Cliff. Or being thrown off. Mark is the last one who saw her alive. But his best friend tells him that he saw Veronica with other kids, instead. One being Mark's brother.
Mermaid Cliff has a history. Every 25 years, like clockwork, someone dies there. So the national media show up. And so does the FBI.
But for some reason, Mark decides that he's the one who's going to investigate her death.
I'm not usually a fan of young adult stories. And, with the exception of Veronica Mars, not a fan of teenage detectives.
So far, this book is not grabbing me. It's a little depressing. Which is only to be expected, of course, given the subject matter, but I'm not in a mood for a grim read right now.
Get the ebook free from Amazon here.
9. Tordotcom Publishing 2022 Debut Sampler by Scotto Moore, Marion Deeds, Malcom Devlin, Rachel Swirsky, Joma West, Hiron Ennnes, and Aimee Pokwatka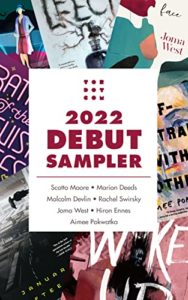 This is a sneak peak of several Tordotcom debut novel and novella authors. It is not available in Kindle unlimited.
I read the first sample, from the book Battle of the Linguist Mages, and I can tell already that the tone is pretty funny, but intelligently written. It is told from the point of view of a very enthusiastic gamer of the "Sparkle Dungeon" franchise. They brag about their stats, weapons, and in-game skills. When this person attends a party, they proudly recite all the lines to the advertisements for the games.
Part one is called "Power Morphemes" but after reading the sample pages I still don't see how this is about morphemes.
The conflict that I can see brewing here, is that this player is so good at the game that they are becoming a nuisance. They brag that they have been the first to defeat the previous three installments of the game and — because this story is told in present tense — have just now become the first to defeat the fourth. Being the first to beat the game means you get a unique prize. Ergo, it's annoying for the same person to keep beating the game first.
Oh, and Sparkle Dungeon is VERY sparkly. I have also skimmed the other samples, and they too seem to be intriguing and quirky, like this one. Well-written. As a quick impression, I highly recommend this sampler.
Get the ebook free from Amazon here.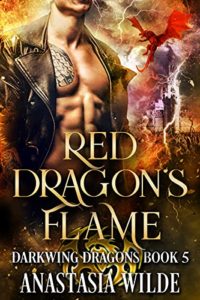 This is the fifth book in the five-book Darkwing Dragons series of paranormal romance. The other books are $0.99 to $2.99 each and are all in Kindle Unlimited. The author is a regular on these top ten lists. In January, we reviewed Brandon's Mate, the first of seven books in the Wild Blood Shifters paranormal romance series. In May, we reviewed a box set of all three books in the Silverlake Shifters series. In August, we reviewed Kane, the first book of the three-book Silverlake Enforcers series. In June, we reviewed Dragon's Rogue, the first book in the three-book Wild Dragons series. Finally, in November, we had Red Dragon's Heart, the fourth book in the five-book Darkwing Dragons series.
This is the fifth book in the series. I don't want to spoil the series for anyone, so I'm going to review the first book in the series, Dark Dragon's Mate.
A wolf shifter woman, Trish, is climbing up a mountain to a gothic castle to talk to Emon, the Draken Prince of al-Madeirri. Her wolf is going crazy internally, and she needs medication to help her control it. As she struggles up the mountain, a powerful storm breaks. She keeps going anyway. This scene takes place in an interdimensional bubble between the human world and the Dragonlands.
She needs to talk to Emon because he might be able to help her, but he's dangerous and crazy. I like that. Emon is a dragon. Rumor has it that Emon is mentally unstable and too wild to go near civilization. He'd rather just huddle in the castle with his servants, treasure, and crazy sister. Trish is hoping that he can help her before he completely loses his mind.
And then she sees a dragon up in the sky. He is beautiful and seems to be deliberately throwing himself into the lightning. He gets hit a few times and keeps flying about.
The next chapter is from his point of view and he is deliberately flying into the lightning. It hurts, but he likes it. And then he sees Trish and almost kills her.
Seems like they will fall in love.
This is awesome. I might buy this book. I like the nuttiness.
Get the Kindle e-book free from Amazon here.
---
See all the Free Friday posts here. Do you have other free books for us to check out? Comment below or email me at [email protected].
Have you read any of these books? Are you planning to? Let us know in the comments!
And watch Maria talk about all these books in the video below: