Reading Time:
10
minutes
Some articles may include Amazon affiliate links. All proceeds go to helping us pay for original stories and to support writers of speculative fiction. Read more here.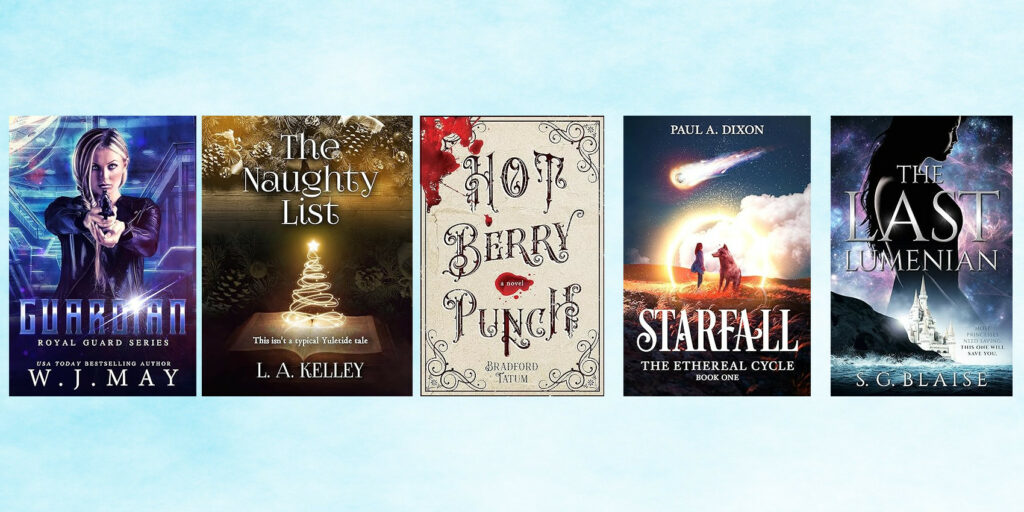 Did you know that Amazon has a list of the top-selling and free sci-fi and fantasy books? The list changes constantly — authors and publishers set their books to free temporarily to promote their work, and, of course, books move up and down in the rankings. Read on to find your fun free read for this weekend! And grab the books quickly because they don't always stay free for long.
This week's list is completely different from those of the previous weeks. So if you're a fan of free books, there are going to be new things to read all the time. If you want to get this list in your inbox every Friday afternoon, subscribe to the MetaStellar weekly newsletter.
There are a lot of books to go through, so this week I'm being helped out by a couple of other members of our MetaStellar community. If you'd like to join me in doing these reviews — and taping our regular Free Friday videos — email me at [email protected].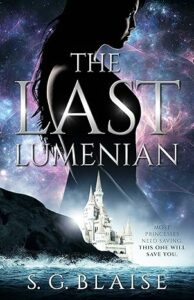 This is the first of four books in The Last Lumenian sci-fi fantasy series. The other books are $2.99 each, and are not in Kindle Unlimited. This is the author's first time on our Free Friday list.
The book starts with Lilla, 19, panicking. She's on a space ship and the pilot has to talk her down from a full-on panic attack. They're on a mission for the rebellion — to get coordinates and meet with a caravan to load supplies. But they missed the window to respond to the message with the coordinates. Maybe because Lilla was having a panic attack. And she failed in her first mission. Then they run into a bunch of asteroids and have to evacuate. But there's no time. And they die.
Wait, what?
Then we jump back in time. Six months earlier, Lilla is visiting her mother's grave. Then she, and her best friend, are marched under armed guard to a wedding. Lilla almost has a panic attack there, as well, because of all the people. Her father is getting married again, to a woman barely older than Lilla. Both Lilla and her father are royalty in this world.
This is when we find out that not only is this a setting where we have regular space travel, but there are also mages. There are mages here at the wedding, seemingly forgiven, at last, for the magical cleansing war 25 years before that killed millions of people.
Then, during the wedding, even as her brother tries to stop her, Lilla loudly objects to the marriage, risking execution for treason. Instead, she just humiliated herself in front of the entire royal court.
Afterwards, we learn that not only is fighting for democracy punishable by execution, but there's also a caste system in place now. And refugees from seven different galaxies are being settled in nasty refugee camps. One of Lilla's friends is arrested and sent to one of these camps for having a counterfeit identity crystal, and Lilla tries to save her.
I guess that's how she winds up a member of the rebellion.
I like the plot and the setting so far, being a little reminiscent of the Star Wars saga in its combination of tech and magic, but the writing style seems to be aimed at a younger audience. It's told in the first person, present tense, and focuses on Lilla's feelings and experiences in a way that strikes me — an old, jaded person — as overly dramatic. Which means that anyone younger–or, at least, younger at heart!–might find the book fun to read and engrossing.
I'm not going to be sticking with it, but I expect that many readers will love it — as evidenced by the book's hundreds of five-star ratings, and the fact that it won the Cygnus award for science fiction last year.
Get the Kindle ebook free from Amazon here.
4. Starfall by Paul Dixon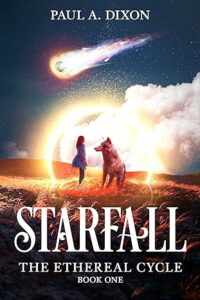 This is the first of two books in The Ethereal Cycle young adult fantasy series. The other book is $5.99 but it is in Kindle Unlimited. This is the author's first time on our Free Friday list.
Starfall is a young adult fantasy novel. Although it might be geared towards a younger audience, I read the first chapter and found it very entertaining. The story has an action-packed beginning, which is something I always appreciate.
Thirteen year-old Samantha Reardon Greaves and her friend Virginia are camping next to a fire tower on top of Sourdough Mountain in Washington. They're out there in late July to watch the Perseids, a meteor shower that's just hitting its peak.
Samantha's friend is asleep in their tent, but Samantha has decided to sleep inside the fire tower. She's alone in the tower when, suddenly, a bright white light appears in the corner of the room. Turns out this is a portal, and an enormous female white wolf appears with a small black cub in her mouth. The wolf turns out to be badly injured and has a massive wound. She talks to Samantha and asks her to take care of the cub.
The mother wolf says she's going to war just as a disgusting slimy creature steps out of the portal. The creature is carrying a gun and proceeds to shoot the white wolf just as she leaps on it. They both fall through the portal and it closes, leaving Samantha alone with the baby cub.
The cub comes up to Samantha, and she sees that it has silver and gold flecks in its eyes. The cub communicates telepathically with Samantha and tells her its name is Starfall.
This first chapter definitely had me hooked, and I plan to keep reading this one.
Get the Kindle ebook free from Amazon here.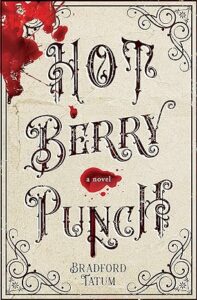 This is a standalone vampire western novel by an award-winning author who's also appeared as an actor on HBO's Westworld and Disney's Powder and who was a staff writer on the Dick Wolf series Deadline. This is the author's first time on our Free Friday list.
Emma was born in the late 1820s, out on the prairie, to parents hoping to discover a new life out west. And the book's writing style matches the time period in which it is set — it begins with a description of her parents and how they decided to make the journey, an 18-month overland trip with an average speed of five miles per hour. And then of the journey itself, and the delivery of the baby along the way. Then in the next chapter we learn about the house her father built, and what they lived on during these early years.
And it goes on like this. It's beautiful writing. Much more detailed than what we'd actually get in a book from that time period, with more discussion of the more messy aspects of human existence. And it's literary. It reminds me a bit of something by William Faulkner. I can see why the author has won awards.
Based on the description, we'll also get vampires at some point. So, if you're looking for a literary approach to horror, this is it.
Will I finish it? I might. I love the writing style and the personality of the main character so far, and I'd love to see where the author goes with it. But it's also a more carefully paced, thoughtful kind of book that requires attention, and I might not have the right amount of mental energy for it this weekend.
This book is something that isn't seen everyday: a supernatural western. This combination goes together like peanut butter and jelly, so it is a wonder that not more of these exist. What also makes this title unique is that the story is lead by a woman. The protagonist Emma May Shinnecock ends up becoming a vampire of sorts, being cursed to appear to men as their long lost loves.
The first few chapters have no trace of the supernatural, instead focusing on her early upbringing. Her mother is a conservative woman, and her father was born into a brothel and raised by four concubines. Their marriage is one more out of pragmatism than love. Emma was born out on the trail some time after her parents decided to move west. She has an untamed spirit from the start, with her mother trying to teach her how to be a proper lady, but instead opting for adventure and wanting to spend time with her free-spirited father. Her mother is also shown to seemingly not have all her mental faculties, which even drives her to swing an ax at Emma's father. This background should be important in understanding Emma's actions and motives later on.
The mishmash of vampires and Westerns actually remind me of a couple video games that have explored similar concepts: Darkwatch, about a vampire cowboy who hunts down dangerous entities, and a more recent title called Weird West. This isn't to say that Hot Berry Punch is a video game like those, but individuals who like the concept might like this story. So will fans of cowboys and paranormal romance.
I am likely not going to continue with this one, but others might get a kick out of it.
Get the Kindle ebook free from Amazon here.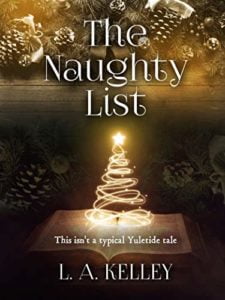 This is the first of three books in the Naughty List holiday fiction series. The other books in the series are $2.99 each, but the entire series is in Kindle Unlimited. We first reviewed this book back in November of 2022, and also reviewed L.A. Kelley's The Rules for Lying back in September of  2021.
David wakes up in a panic after a party. He thinks he's forgotten to lock the vault on the other side of the building. He teleports over, and the door is open. The Book, with a capital "B," is missing. He shudders thinking of the shame this will bring on this family. But wait — he still feels a mystical connection with the Book. It's not too late. He can still follow the thread and find the Book and bring it back — or die trying.
After this promising beginning, we switch to the point of view of Rosalie, who works in a Florida department store that's about to start getting ready for Christmas. She has a crush on a hot new hire there. She's an average-looking brunette, and socially awkward, but the hot guy hasn't hooked up with any of the flashy girls yet, so she thinks she might have a chance. She's also hoping for a promotion, but her hopes get dashed.
Then we switch to yet another point of view. Billy, a hellhound, trying to track down David. Apparently, some gods think that David's the one who stole the Book, and it's Billy's job to find him.
Then we switch back to Rosalie, who's finally home after a long day at work. She's alone, setting up a bedraggled artificial Christmas tree.
Then we switch back to David. He's on his way south, flying with the wind, searching for the Book.
At the beginning of the next chapter, we're back in the department store. The new manager has fired a bunch of people and the there's a lot of tension in the air in the store.
I'm actually getting caught up in this. It feels a bit like a pleasant Hallmark holiday movie. Rosalie is a sympathetic character, and the store and its customers really mean a lot to her. I can see myself finishing the book this weekend.
Get the Kindle ebook free from Amazon here.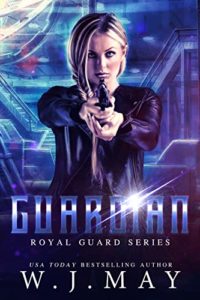 This is the first of three books in the Royal Guard superhero fantasy series. The other books are $3.99 each and are not in Kindle Unlimited. We previously reviewed this book in July of 2022. In fact, W.J. May  is a regular on these lists. This past June, we reviewed the Royal Factions Box Set, the first three of six books in the Royal Factions series of young adult fantasy. And this past April, we reviewed Beginning's End, a box set of the first three of eight books in the Beginning's End Series of young adult romantic fantasy.  In December of 2022, we reviewed The Kerrigan Kids box set which is the first three books in the 12-book The Kerrigan Kids series. In November of 2022, we reviewed Twist and Turns, the first of four books in the Fae Wilds coming of age fantasy series.
There's a woman with a gun on the cover, and W. J. May is billed as a USA Today bestselling author. Both of these are very good signs, in my book.
We start out with Amber, who's studying martials arts, and isn't too good with a saber. Her instructor, though, says she will be able to beat him one day.
Amber just got accepted to Florida State. That means that she'll be leaving her home town of Seattle to go to college, and her instructor, Stass, isn't happy about that.
The reason he cares is that he raised her for the past eight years after he found her alone in the mountains. Amber doesn't know who her parents are or anything about where she came from. It's all a big blank in her memory.
On her way out for Thai food, she comes across an old man getting mugged. There's no time to call for police. She throws herself into the situation to defend the old man. The mugger is bigger than her, and he seems to be winning when one of her kicks sends the bad guy flying ten feet away.
Even though she won the fight, Stass is annoyed with her for taking the risk.
When she comes home from school the next day, Stass' sword is missing from the studio, and their apartment is a mess. There's been a battle, or it was ransacked. Staff himself is bleeding, and Amber calls 911.
As Amber tries to keep pressure on the wound while she waits for paramedics to arrive, Stass tells her that he knew her parents, and that he promised her father that he'd protect her.
Then, at the hospital, someone who claims to be a friend of Stass shows up looking for her. He used to work with Stass back in his private security days. And, when the doctor tells her that Stass is dead, the supposed friend steps in to take care of her, since she's not yet 18, and offers to handle all the arrangements.
Sounds suspicious to me. To Amber, too.
I might come back to this book, though I don't normally like young adult novels.
Get the ebook free from Amazon here.
---
See all the Free Friday posts here. Do you have other free books for us to check out? Comment below or email me at [email protected].
Have you read any of these books? Are you planning to? Let us know in the comments!
Or watch Maria talk about all five books in the video below: