Reading Time:
15
minutes
Some articles may include Amazon affiliate links. All proceeds go to helping us pay for original stories and to support writers of speculative fiction. Read more here.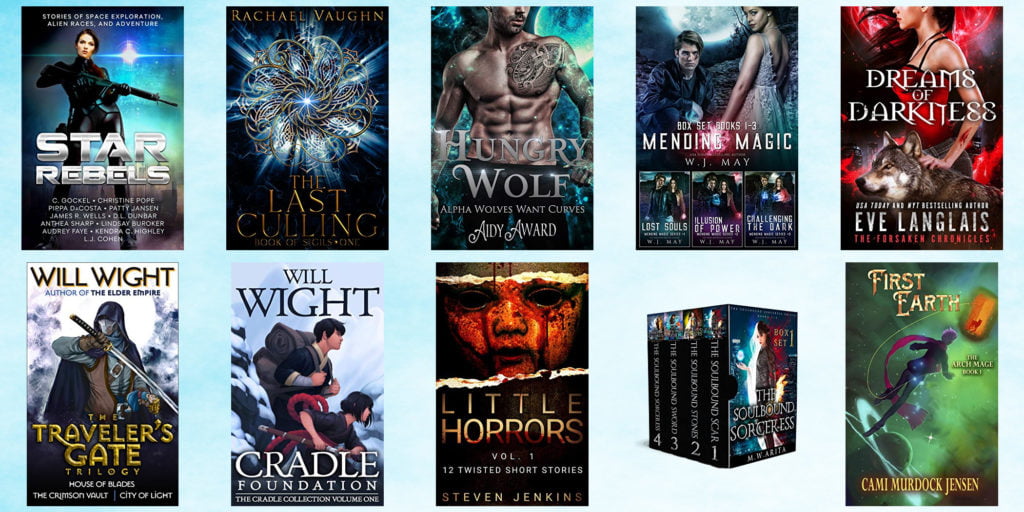 Did you know that Amazon has a list of the top-selling and free sci-fi and fantasy books?
The list changes constantly — authors set their books to free temporarily to promote their work, and, of course, books move up and down in the rankings. But are any of the books actually worth reading? Well, I read the first few chapters of each to find out, so you don't have to.
This week's list is completely different from those of the previous weeks. So if you're a fan of free books, it looks like there are going to be new things to read all the time.
I've noticed that if you try to open the list on a mobile device, it will take you to the listings that cost money, instead. I've found that by switching to the "desktop site" in the mobile browser, the free list comes up.
Oh, and if there's a book that catches your eye, grab it quickly, since the books are often free for only a short time. And, Amazon allows you to lend your e-books, for free, to your friends. Even free e-books. Here are the instructions.
Most of these books are the first book in the series, and in each case, I've checked to see whether the rest of the books are free as well, or whether they're in Kindle Unlimited. Learn more about Kindle Unlimited here.
The list is accurate as of the time of writing but may have changed since the story was posted.
1. Star Rebels by Audrey Faye, C. Gockel, Christine Pope, Anthea Sharp, D.L. Dunbar, L.J. Cohen, Pippa DaCosta, Lindsay Buroker, Patty Jansen, James R. Wells and Kendra C. Highley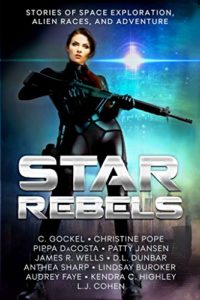 This is a collection of eleven short stories about space exploration.
Wonderful stories from some of today's best writers, all of them introductions to other series by the same writers.
I'm reading this book for two reasons — first, the stories themselves are great. The first one is a beautiful little story about a mother sacrificing herself for her daughter, twice. It makes me want to read Audrey Faye's KarmaCorp series. All of which, by the way, are in Kindle Unlimited. Score!
The collection also includes the short story "Starfall Station" by Lindsay Buroker, which is set in the same universe as her nine-book Fallen Empire series. I reviewed her Dragon Blood series back in May, and loved it.
I read this story as well, and it was a great bit of space opera, with lots of action, as a cyborg and ship captain try to get to a smithy to get the cyborg's armor repaired — and things go wrong in several different ways. I'm going to go and read Fallen Empire now, or, at least, the first book, Star Nomad, which is free today. The rest of the books in the series are $3.99 each and are not in Kindle Unlimited.
Get the Kindle e-book free from Amazon here.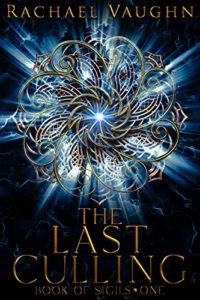 This is the first book in the three-book Book of Sigils romantic fantasy series. The other books are $4.99 each and are not in Kindle Unlimited. The third book isn't out yet. It is scheduled to be released in September of 2022 but is available for pre-order.
Love the cover. Love the very simple little one-page map of the city of Merilaad on the first page. In said city, only the women are allowed to have magic and any boys discovered with magic are executed. It doesn't sound to me that the lads there are particularly merry …
The prologue is a culling ceremony. It's well written, kind of spooky, and was sweeping me away. Elena, our protagonist, is 10 years old. She's gathered in a space with her family, neighbors, a bunch of mages, and burly guards. The space is where the city executes small boys discovered with magic. Her brother, Eli, is stumbling about with the mages, clearly sedated.
How twisted. It's very sad, too. But also well-written. I could see myself spending a day going through the series.
Elena loves her aunt, neighbor, and had shown magical powers early. Merilaad is a beautiful city surrounded by mountains and sea. Via info-dumping, we learn that her society is very controlling of magic — and that when she was eighteen, she had to leave home for an apprenticeship in magic.
It's called the Last Culling — so I'm guessing that the story will be about two lovers running away — Elena and her neighbor — and how they managed to defeat the magical order of Merilaad.
I feel that this book is good for skimming if you like to get sucked into a beautiful, though dystopian, fantasy world. It is the type of book that I would keep thinking about, so I will probably be back.
Get the Kindle e-book free from Amazon here.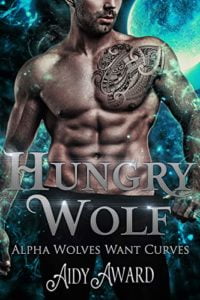 This is the last book in the four-book Alpha Wolves Want Curves series of shapeshifter romance. The other books are $2.99 to $4.99 each and are all in Kindle Unlimited.
I find the title to be a bit insensitive. This is the fourth book in a series about wolf shifters who love curvaceous women. Some curvaceous readers may be hurt by the title. I think it probably would be more sensitive to allow the women in the series to be curvaceous just by chance, not because the wolf-shifters have a specific need for plump women. Hmm … Unless they are actually eating them.
The series is called "Alpha Wolves Love Curves." And the chapters have titles. Readers can look forward to "Naughty Ladies," "Pie vs Sexy Times," and "You Ain't Nothing but a Horndog." Ok, I'm laughing.
Do I really have to read this one? I think you guys already know what this one is about.
Helena is avoiding love because she doesn't want to get burned again. She's been working as a dancer at a gentlemen's club and can barely believe how much money she's making. She's recently been promoted to manager! Her perspective is snarky and kinda funny. The dialogue is lighthearted. She's thinking of how to get out of an invitation to Friendsgiving. She's afraid that her friends are trying to set her up with someone.
And they totally are. Aleksie is the guy. And he's a bit of a mess. He recently let his entire pack down by letting their pack leader die at the hands of their enemies. Aleksie had run away, being very close to his own death. But he is full of shame and thinks it might've been better if he had died there. Oh man. Running away in circumstances like that is a virtue in my opinion.
These first few chapters are the setup. I feel like the author is saying that if we keep reading it'll get really good.
Will I be back? Probably not. I can't always tell, though.
Get the Kindle e-book free from Amazon here.
This is the first three books in the six-book Mending Magic Series of YA paranormal dystopian romance. The other books are $3.99 each and are not in Kindle Unlimited.
We've seen W. J. May on this list before. In April, her The Kerrigan Kids Box Set was at the top of the free sci-fi and fantasy book list. May has also made the USA Today best-seller lists.
Unfortunately, I'm not a fan of young adult books, nor of dystopian books, nor of romance. So I'm not the target reader here.
James is a rich high school kid with a dad who doesn't pay much attention to him. He's a jock who plays multiple sports and is popular with the girls. Oh, and he occasionally does weird things like teleport himself from place to place or set a pencil on fire.
The book is extremely readable and James is a nice guy despite being a rich spoiled jock, but it's not for me.
The blurb makes this book sound super exciting. Jamie Hunt has a happy teenage life, when suddenly he discovers he has a mysterious power. This ruins everything and he finds himself running from his own family and protecting a girl he barely knows.
So I read W J. May a few times, and I never really liked her work. She's obviously very popular, though. This book has only a few reviews, but it's only been recently published. Her other series have hundreds of reviews and high ratings.
James is able to work magic, even without realizing it. The first time he did something magical, he was only five years old, playing with his father in a park, when he suddenly appeared on top of a marble statue. The father is weeping and saying over and over "you climbed up there!" As if he's afraid that someone will find out his son can teleport.
James grows up to be a parochial-minded high school kid who prejudges his classmates into a handful of categories and assumes that readers will perceive him as a "teenage god" because he's athletic and blond. I'm not into this. His father is acting strange one morning. He lets James ride in his fancy car and drops him off at school. He doesn't usually let James even touch any of his cars. He then tells his son a sweet nothing before driving off. Then James realizes his father is acting weird because he feels guilty about a long trip he's about to go on.
In class, his magic lights something on fire. It's highly uninteresting to me, but if you like high school dramas with weak plotlines, you will probably love this!
Get the Kindle e-book box set free from Amazon here.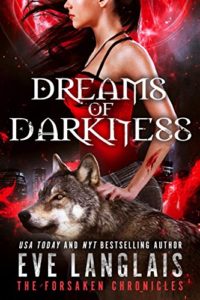 This is the first of three books in the The Forsaken Chronicles urban fantasy series. The other books are $4.99 each and are not in Kindle Unlimited.
In the prologue, a woman wakes up in pain, in the dark, unable to move, with no memory of who she is, being questioned by someone she can't see who is very, very, very creepy.
Then the book officially starts with Logan patrolling his part of town when he smells a dead body walking around. In this world, magic is kept hidden from humans, and necromancy in particular is punishable by death. He tracks down the zombie to a comic book store and kills it just before it kills a young woman.
He feels compelled to save her. Is she human? She smells different, but he can't tell why. He forces himself to leave her behind, but takes the zombie away and burns it.
In the next chapter, we're with the girl. Her name is Adara. She comes to in the middle of the store, wondering if she hallucinated the zombie. She thinks she's going crazy and tries to convince herself that nothing happened as she goes back to work and locks up the store for the night. She works in a bad part of town, and is attacked on her way home, this time by humans. Muggers, or possibly rapists. She tries to scream for help, but can't.
But someone heard her. A wolf, a huge one, as tall as her shoulder. The wolf chases away her attackers and walks her home.
I'm summarizing the start of the story here, but my summary doesn't convey the sense of tension and weirdness of these chapters.
I like it at lot, and if the other books were in Kindle Unlimited I would definitely read the rest of it.
As it is, I might finish this book. It's definitely a compelling read.
Get the Kindle e-book free from Amazon here.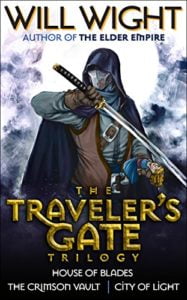 This is a box set of all three books in the The Traveler's Gate Trilogy of epic fantasy. The books are normally $3.99 to $4.99 each and are all in Kindle Unlimited.
Will Wight's other books have been on this list in March and in October, but this is the first time I'm seeing this set of books.
I liked his other series, and this one has a similar tone and pace.
It's an epic fantasy and starts out when Simon is eight, on a trip with his parents. They're merchants, and are traveling from village to village, selling their goods.
They are attacked by two Travelers, magic users who are able to summon toxic mists and horrible creatures. Simon's father is killed, and his mother driven insane, but another stranger shows up and kills the two Travelers, saving Simon's life and his mother's, what's left of her. The stranger, who Simon thinks is the Forest Demon, takes Simon and his mother back to their home village.
Eight years later, Simon's mother is not in her right mind, and Simon takes care of her. Then the village is attacked, by soldiers of Overlord Malachi. The villagers try to evacuate through the back, and he has to carry his mother.
The soldiers are there to collect nine people to be sacrificed, and they'll burn down the whole village if it resists. The soldiers have a Traveler with them, who is also able to open gates between worlds.
Simon and a few of the other villagers were able to run away and hide in a cave, many were killed — including children. Nine villagers were captured and taken. Leah, another Traveler who had been living in the village for the past two years and keeping a low profile, demands to go with the soldiers and they take her.
As they leave, the soldiers pass the cave where Simon and the other refugees are hiding. And one of the refugees also has magic powers, and there's more fighting and magical battles.
It's pretty action-packed. A little confusing, but exciting. I might stick with it.
Get the Kindle e-book box set free from Amazon here.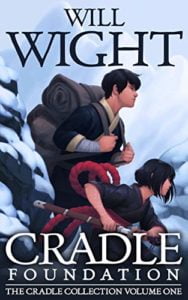 This is the first three books in the ten-book Cradle series of epic fantasy.  The other books are $5.99 to $6.99 each and are all in Kindle Unlimited.
Will Wight is a regular on this list. I first reviewed this box set back in March, when I wasn't all that impressed. The main character is a kid learning to use magic. I'm not a fan of coming-of-age books. I've already come of age and am now old and grumpy and just want the kids to get off my lawn.
But each time his books have popped back up, I've taken another look, and they're growing on me. I reviewed Unsouled, the first book in this series in October, and this time I liked it very much, and finished it.
It reminded me a little bit of Harry Potter, with a boy learning to use his magic and participating in a magic competition, but set in an epic fantasy world instead of modern day, and in a small village instead of a magic school. Also, Lindon, the protagonist, is worse at magic than everyone else around him and has to learn to succeed despite his handicap.
The series falls in the Xianxia sub-genre of fantasy, which is influenced by traditional Chinese mythology and martial arts. If you want to know more about this genre, read Will Wight's post about it here.
It's also a type of fantasy that Wight calls "progression fantasy." That puts it somewhere in the general vicinity of LitRPG. In that genre, the books are set in video game-style worlds, and the main characters accumulate stats and increase their ability levels. Often, the writers provide handy charts and tables chronicling progress. It's a little like watching someone play a video game, but in book form. In progression fantasy, the characters are still leveling up, but it's not quite as in-your-face as in LitRPG.
"It's next door to LitRPG, but isn't really that, and yet it has a distinctly different flavor from a lot of traditional fantasy," Wight said in an interview late last year,
I also learned a bit more about Wight and was very impressed by the author's history. For example, his books are all self-published, and managed to make the New York Times best-seller list in the audible books category.
Get the Kindle e-book box set free from Amazon here.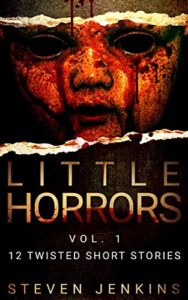 This is the first of two books in the Little Horrors series of horror story collecitons. The other book is $0.99 each and is not in Kindle Unlimited. It is scheduled to be released later this month and is now available for pre-order.
This is a collection of short stories. Cool.
The first story is called "Skinless Scarlet." And Skinless Scarlet is clearly trying to sleep while someone shouts her name.
Scarlet used to have a normal life, but then she got a skin-eating disease and became trapped in a mirror. From this mirror, all she can do is trace her fingers down it whenever anyone calls her name, leaving bloody smears. She can't tell them that she won't hurt them.
So she's just trapped in a mirror and the ending kind of sucks. I wasn't impressed.
The next story is called "Christmas Eve." A mother and her two children are going to visit their grandfather — grandma died recently. The mother is extremely nice and doesn't seem exhausted or overwhelmed at all. I personally think it's weird to include mothers like this in stories now, as if it's realistic at all. The father is gone. They'll see him on "boxing day."
And then the mother and children discuss how "Santa will find them wherever they go." That's a little creepy considering that this story is part of a horror collection. I'm also a little concerned about the grandmother. Maybe the grandpa is a murderer? Maybe boxing day is spooky? There are a lot of ways this story could get scary. I'll let you know if I like how it ends …
It was a good ending, but I won't be back to read the rest.
Get the Kindle e-book free from Amazon here.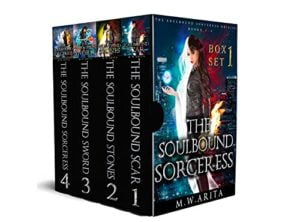 This is a box set of all four books in the The Soulbound Sorceress YA urban fantasy series.
This is the entire series and it's only about a thousand pages. The blurb makes it seem like this author follows the usual storytelling conventions … which is a big plus for me. It's about an evil sorceress chasing after nine powerful stones, so I think we ought to expect some heist-style action threads.
Here's the first line — 'Gods and Monsters. I didn't know they were real until the day I died."
Alice is a teenager in Japan with her parents. They are going up a mountain, and her mother is worried that she might fall. She starts racing with her father, instead. She gets far ahead of her parents and then a giant beast starts chasing her. It is happy to have caught her, calling her "Aeon."
There is too much navel-gazing in this fight scene for me. Instead of getting into it, my heart is begging Alice to just die already.
The parents are then fighting the monster with Alice, dragging it out even longer. And she finally dies. Thank goodness. This fight scene really had a pretty serious tone, with lots of descriptions of pain, how big the monster is, and what everyone says to each other. Ugh. But then Alice sees her parents rushing over to her corpse. She tries to talk to them, but they don't hear her. And instead, she has a new boyfriend — Death! Death is a cute boy. And he is half-vampire.
His attitude is pretty nonchalant and it made me laugh. He sounds like a kid. But they aren't technically in a relationship yet. That's a prediction from yours truly.
So I'm three chapters in and there is a lot of lame dialogue. It sort of reminds me of the way that silly characters bicker in anime shows. I kind of like it, but I won't be back.
Get the Kindle e-book box set free from Amazon here.
10. First Earth by Cami Murdock Jensen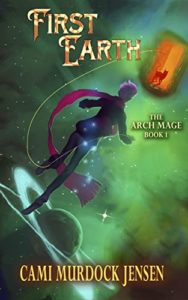 This is the first of four books in the Arch Mage Series of YA fantasy. The other books are $0.99 to $4.99 each and are all in Kindle Unlimited.
I chose this one because it's YA and I know Maria hates that genre. Haha. The blurb for this one is confusing. It seems to me that it's just about a bunch of random stuff happening that suited the author's whims while writing. I personally prefer speculative fiction where all of the elements are complementary to each other. Initially, I thought it was science fiction. But it's actually a blend of science fiction and fantasy.
Agnes is a disfigured 16-year-old who is heading out to meet her mentor, Dr James Buchanan, a history professor. He's already like an uncle to her, as we learn from the dialogue between her and her mother. I find it difficult to believe in the mother character — she pulls me out of the story. She's oddly cheerful when discussing her daughter's scars, fear of the sun, chronic pain, and operations she had to endure as a small child. In response to this, Agnes feels like she's going to miss her mother.
If Agnes manages to impress Dr. Buchanan, then she will get a scholarship to Boston University. She's going to be staying with him and his granddaughter in their penthouse. She's understandably stressed about sharing a room with his granddaughter.
This one also has chapter titles — "Hide and Seek with Demons," "Facing Generals in my Pajamas," and "So, Maybe I am on an Alien Planet." I see a lot of potential here.
The first chapter was full of mildly entertaining dialogue that is probably not related to the plot. The dialogue is also awkward and unrealistic. It sort of reminds me of a Wes Anderson film. So I'm not complaining about that. But it doesn't seem like a deliberate artistic choice.
The thing that's really turning me off from this story is how much pointless information was dumped in the first chapter. I want to know stuff that is related to the plot. PLOT! Plot, I say! If this book was a restaurant I'd be slamming my cutlery onto the table in a purple-faced rage.
Please don't make me read any more of this.
Get the Kindle e-book free from Amazon here.
---
See all the Free Friday posts here.
Do you have other free books for us to check out? Comment below or email me at [email protected].
Watch Maria and Amira discuss the books in the video below: