Reading Time:
15
minutes
Some articles may include Amazon affiliate links. All proceeds go to helping us pay for original stories and to support writers of speculative fiction. Read more here.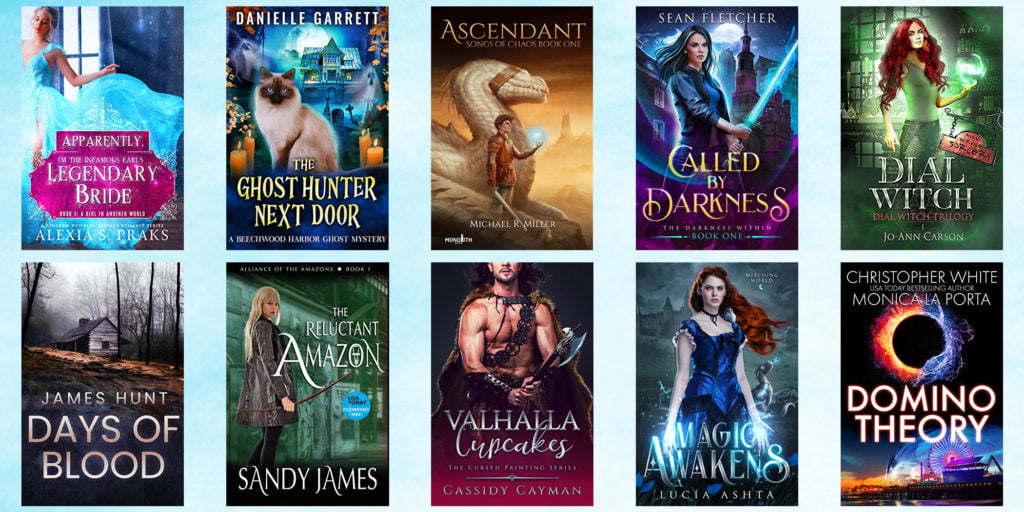 Did you know that Amazon has a list of the top-selling and free sci-fi and fantasy books? The list changes constantly — authors set their books to free temporarily to promote their work, and, of course, books move up and down in the rankings. Read on to find your fun free read for this weekend! And grab the books quick because they don't always stay free for long.
This week's list is completely different from those of the previous weeks. So if you're a fan of free books, there are going to be new things to read all the time. If you want to get this list in your inbox every Friday afternoon, subscribe to the MetaStellar weekly newsletter.
There are a lot of books to go through, so this week I'm being helped out by a couple of other members of our MetaStellar community. If you'd like to join me in doing these reviews — and taping our regular Friday videos — email me at [email protected].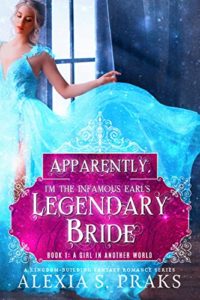 This is the first of two books in the Apparently, I'm the Infamous Earl's Legendary Bride fantasy romance series. The second book is currently available for pre-order, and will be coming out November 1, 2022.
A prologue opens to our heroine, Quinn Chen, gazing down over a battlefield and mulling over the improbable events that led her to this moment, on the cusp of battle with her warrior husband Alric at her side, their armies ready to defend her against the incoming aggressors.
We then jump backwards in the first chapter, and open with Quinn Chen being hit by a truck in modern-day America. She wakes up in a medieval fantasy world as Quinn Fairchild, the bastard daughter of a pretty terrible lord. Through a stream of inner thoughts and dialogue, we learn that Quinn holds both her memories and those of Quinn Fairchild, through which she learns she has magical abilities. Quinn vows to run away and make something of her new abilities and second chance at life, but is equally determined to protect Quinn Fairchild's family from the cruel and domineering local lord.
So, this isn't typically the type of fantasy romance I go for, but the title piqued my curiosity. A few chapters in, I think it's still not for me. Although Quinn's narrative voice is strong, it's disconcertingly perky for the very traumatic events she's experienced, and I wish we could see her interact more with her new surroundings rather than just stream-of-consciousness thoughts. All that said, Alexia Praks has an extensive book list across several romance subgenres and tropes, so I know romance readers will be able to find their perfect book in her list, and I'm sure other readers will love Quinn's perky and fun narrative voice. Although not personally my cup of tea, this could be someone's perfect romance weekend read.
Get the Kindle ebook free from Amazon here.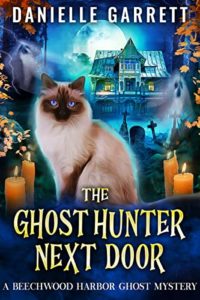 This is the first of seven books in the cozy The Beechwood Harbor Ghost Mysteries series. The other books are $0.99 to $4.99 each, and the entire series is in Kindle Unlimited. Danielle Garrett has been on this list before — we reviewed her book SerpentsSprinkles and Sea  last April, and Witchy Whiskers back in January.
Ooooh, cozy mysteries and talking ghost cats. I'm already hooked.
Thirty-year-old Scarlet is ready to turn a new leaf, settling down in quiet Beechwood Harbor on the Northwest Coast to run a floral shop. Although her new town is chock-full of supernatural beings, she keeps her own abilities as a ghost whisperer quiet (pun intended). Although constantly accompanied by her ghost companions Flapjack (once her live childhood pet) and Hayward, the ghost of an English gentleman, Scarlet otherwise sets weekly business hours for the local spirits to make requests. Just as Scarlet and the town's ghostly population settle in for their weekly ghost support meeting, a strong spirit bursts through the door, shattering windows and demanding to speak to the ghost whisperer.
This is shaping up to be my fun, cozy mystery read for the weekend. Although the first chapter does bog down a little bit with backstory, I love Scarlet's snarky narrative voice and the banter between Flapjack and Hayward. I'm curious to see what our new ghost wants, and ready to see Scarlet in action. This is one I'll definitely finish this weekend.
Get the Kindle ebook free from Amazon here.
8. Ascendant by Michael R. Miller
This is the first of two book in the Songs of Chaos sword and sorcery fantasy series. The sequel is $0.99, and both books are in Kindle Unlimited.
The book begins with Holt Cook, happy on his way to town with a pocket full of coins, more money than he's ever had. His mood is light and optimistic. As the day goes on, the mood changes somewhat but is never fully dampened as he prepares for the evening's feast.
But it is hard to be fully confident when the town is under the Scourge. It hasn't been threatened by the Scourge since he was very young, so there are many things that Holt does not understand about the it. He begins to understand the seriousness of the situation very quickly as he feels the tension in the town and notices the usually busy streets are empty as he completes his errands.
He meets with various people throughout the town while completing a list of tasks for his father, who is the head cook, a job his surname decides. Holt Cook will be the head cook someday. But he doesn't have the passion for cooking and recipes his father does. He dreams of being a dragon rider.
Holt idolizes the dragon riders, who are noblemen that he and his father serve. He believes the dragon riders are the only ones who can save them all.
He meets with one of the ice dragons and its rider when a troop of battle-weary fighters arrives in the street as he approaches the fishmonger's shop. The dragon rider tries to send Holt off on a mission that would take much of his time. This is a day when it's important for him to have time to prepare for the feasts.
The coming feast is important to Holt and he finds a way to divert the dragon rider so that Holt can continue with his duties. Holt wants to have time to see the famous dragon rider Silas Silverstrike who is being honored at the feast.
He dreams of perhaps bringing a special meal to the dragons and gaining favor with the famous dragon riders. There have been a small number of servants who were somehow elevated to dragon riders in the past.
But Holt learns told that the commander of the troops wants to be served early. No one will have any breaks as they rush to prepare a banquet that will be served three hours earlier than planned. The idea of not being able to see Silus, and the thought of being a servant and cook for the rest of his life sparks rebellion in Holt.
The pace of this book is good. It kept me engaged and is an interesting story with rich characters. I enjoyed reading the first three chapters and think I'll finish it.
Readers who enjoyed the Dragonriders of Pern by Anne McCaffrey might enjoy Ascendant.
Get the Kindle ebook free from Amazon here.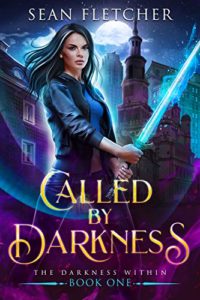 This is the first of four books in The Darkness Within coming of age urban fantasy series. The other books are $0.99 to $2.99 each, and the entire series is in Kindle Unlimited.
Skylar is 17 years old and attends the New York Academy of Magic. The first chapter opens with her feeding chunks of meat to the baby dragons in the Beastology stables. The stables are in Jones Beach Park on Long Island, but there's a magic portal connecting it to the academy itself, which is hidden inside Manhattan's Lincoln Center.
The setting reminds me of Harry Potter, except in New York City instead of England, and muggles are called "norms." The magical people are called "supes." There are a wide variety of them at the academy, including various kinds of shape-shifters, witches, elves, vampires, and an incubus.
It's the day of the entrance ceremony, and, of course, she's late because she was playing with the baby dragons. She gets chewed out — and reminded that she's supposed to be living up to her mother's memory. Apparently, Skylar's mom was the hero of a big magical battle thirty years earlier.
Anyway, there's a cute boy who frustrates her. They used to be friends, but have grown apart. At the ceremony, everyone at her level is assigned a partner, and she, of course, is partnered up with the cute boy.
Then, before the end of the ceremony, there's a tremor, a tunnel opens up in the ground, and a manticore comes charging out.
Lucky for me, since I've forgotten, the author explains what a manticore is: it's got a lion's head, a scorpion's tale, razor claws, and a bad attitude. Skylar tries to help fight it, doesn't do too well, then her mom shows up and saves the day.
Skylar mopes around, thinking of how useless she is, especially compared to her hero mom.
I'm not finding her to be a very sympathetic character, but then again, I have almost no sympathy for teenagers and their angst, so I'm not the target audience for this.
If you like books about magical academies and teenage crushes, this book is extremely readable and I think would be a great weekend read.
Get the Kindle ebook free from Amazon here.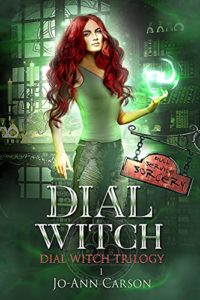 This is the first of three books in the Dial Witch humorous fantasy series. The other two books are $0.79 and $3.99 each and are not in Kindle Unlimited. We reviewed this book before. It was previously on our Free Friday list this past April.
While this book is the first book in the Dial Witch trilogy, it's actually the continuation of another trilogy, Perfect Brew, which is set in the same world. The first book of that trilogy is also free today, so you might want to go and read that first. I picked up a copy just in case I decide I like Jo-Ann Carson's writing style and want to go and start the books from the beginning.
Jane Black is a small-town sorceress who opens a shop to sell spells, potions and tarot readings to people in her small town, but customers aren't exactly beating down the path to her door. Her goal is to make magic useful to regular people, so they won't fear witches as much, and the supernatural people will no longer have to hide their talents. Seems like a lot for a single shop to do. Maybe she should have reached out to other witches first, and other mortals, and so she wouldn't be doing it on her own? Just a thought.
Jane also has a snarky, talking cat.
Eventually, the first customer comes in. She wants to hire Jane to use magic to kill her husband because he's lazy, comes home late, and his socks smell. Jane offers to fix the husband, instead.
I don't think Jane has really thought hard enough about her business plan.
Then we switch to three mages drinking in a nightclub in the third realm. One of them, Talon, is reluctant to be there but his friend Maggot insisted. Turns out, Maggot is out for more than just a good time. He knows a pirate who wants to hire Talon to find someone for him — the youngest daughter of Gredor the Wizard. And the pirate is willing to give Talon his ship if he's able to find her. That daughter's name? Jane Black.
I like Talon. He's kind to animals.
This is a very cute story, light-hearted. I think it might be a good weekend read. The only concern I have is that the other books in the series cost money. I'm not personally opposed to paying for books, but given two similar series, I'll pick the one in Kindle Unlimited. I read a lot of books, and I'd starve to death otherwise.
Get the ebook free from Amazon here.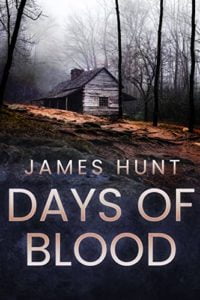 This is the sixth of six books in the EMP Post Apocalyptic survival series. The other books are $3.99 to $4.99 each, and the entire series is in Kindle Unlimited. This isn't the first time James Hunt has been on this list. We reviewed his book The Fallout back in November 2021, and The Last Island in April of this year.
I read the prologue and first chapter, and I can say this one's my least favorite out of all the EMP books I've reviewed.
The prologue starts with Mark Riker bringing his brother Ben into the ER because he's accidentally shot him in a hunting accident.
Within moments of bringing his bleeding brother in, he's talking to the business operations manager about payment plans. Oddly, the nurses and doctors treat him in a very accusatory manner as if he shot his brother on purpose.
As far as I know, hunting accidents happen quite regularly, and the whole hospital scene just seems unrealistic to me.
The surgeon who operated on Mark's brother comes up to him right after the operation and tells him he's got to be more responsible and blames him for the accident without really having any details. And then Mark yells at him, slams him against the wall, and tells him to f*#k off.
This seems highly improbable to me. The surgeon just saved his brother's life, and then comes out and yells at Mark about how irresponsible he is, and then they get in a physical altercation?!?! I don't know about this encounter.
Honestly, this book lost me at the prologue.
After the prologue, the first chapter takes place 25 years in the future and is set in a version of America that's been ravaged by an EMP, and two opposing factions are fighting it out — what's left of the American military vs. the New Order, a group of Nazi-like Americans who set off the EMP in the first place.
But honestly, I thought the prologue was so stupid, that I had already lost interest in reading this book.
Get the Kindle ebook free from Amazon here.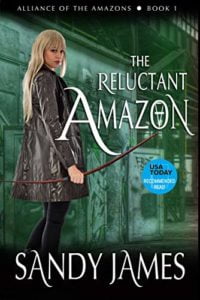 This is the first of four books in the Alliance of the Amazons paranormal romance series. The other books in the series are $2.99 each, and the series is not in Kindle Unlimited.
Rebecca is wearing her wedding dress and veil, has walked down the aisle, is standing in front of the minister. The groom was one step away from her side when he decided that he changed his mind.
Rebecca is humiliated. Also — mad. She's spent a year dieting to fit into her dress. So she punches the guy in the nose.
Then the ground shakes under them and vases of flowers clatter down to the floor. She ignores the earthquake, gathers up her skirts and stomps away — only to run into a tall, muscular, handsome man with a Scottish accent. He's even wearing a kilt. He says he's come for her. She's immediately attracted to him, and, on a whim, decides to go with him.
Then, in the next scene, we switch to the Scottish guy's point of view. Most women usually resist when he shows up and tells them he's come for them. He thought he'd have to step in and stop the wedding. Also — he's very attracted to her. And, judging by the earthquake, thinks she's very powerful. Oh, and she's also an Amazon. But his desire for her is something he's going to have to hide.
This is so incredibly cheesy. There are no words to describe how cheesy it is. But I'll try to find some. This is so cheesy, it's like macaroni and cheese without the mac. It's a pizza with double the cheese, hold everything else. It's a grilled cheese sandwich without the bread.
It's ridiculously cheesy.
Outside the church, Rebecca changes her mind. She doesn't actually want to go off with a stranger in his van. And then the zombies attack.
Of course they do.
If I was sitting on a beach right now, I'd totally keep reading this book. I'm not in the mood for it right now — but I'll save it on my device, in case I want a cheesy snack later on.
Get the Kindle ebook free from Amazon here.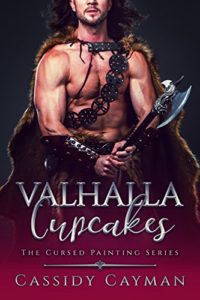 This is the first of three books in The Cursed Painting paranormal romance series. The other books are $2.99 each. The series is not in Kindle Unlimited.
Why am I the one always stuck with the cheesy paranormal romances? If you're reading this, and are a fan of these kinds of books, and would like to help us out — email me! Remember, you don't have to read the whole book to do one of these reviews, just the first couple of chapters.
Anyway, usual disclaimers — I am not normally a fan of books with bare-chested men on the cover. I prefer my fiction lighter on the romance, heavier on the murder and mayhem.
The book starts with Audrey at her bakery in the trendy tourist town of Annabel, California. She's put her entire life savings, most of her mom's savings, and an unexpected inheritance, into opening the shop.
The bakery is Viking-themed, carved wood, antique pewter, plank tables, and chairs with elaborate dragon heads carved into their backs.
She's even got new themed hats for the grand opening — Viking helmets made of pink felt and fake fur for her and her assistant to wear. Her friend, an interior designer, made them. Her friend also brought her another gift — a giant 500-year-old painting of a Viking. A very muscular, scantily-dressed Viking.
Then three burly men in black suits barrel into the bakery. She doesn't recognize them from the neighboring businesses, and the shop isn't officially open yet to customers. They want their money back.
Turns out, the inheritance her uncle Charlie left her, $20,000, all of which she'd invested into the bakery, was just part of the $100,000 that he owed to these men when he died. And they want it all back in a month.
They leave, but Audrey doesn't call the police. She doesn't know how her uncle got the money, and doesn't want to get into any more trouble. Then her assistant quits, scared of the mobsters.
Audrey is frightened and all alone and starts crying. She wishes her painted Viking was real, so he could protect her.
And, of course, he comes to life. Apparently, a witch had cursed him into the painting. She wants him to stay and save her from her mobsters. He wants to leave, find the witch who cursed him, and get his revenge. But, apparently, as part of the curse, he's magically compelled to do whatever Audrey tells him to.
If you're building a collection of cheesy paranormal romances, add this one to your pile. It will be a good addition — it's light, funny, and very sexy in a cute and romantic kind of way.
Get the Kindle ebook free from Amazon here.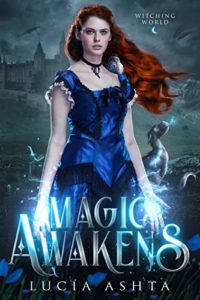 This is the first of six books in the Witching World coming of age fantasy series. The other books are $4.03 to $4.99 each, and the series is not in Kindle Unlimited.
The book is set in nineteenth century Norland, where magic is punishable by death.
Clara is sick. She's feverish and hallucinating. Her parents have brought in a second doctor to see her.
Then we switch to sometime earlier, where Clara's maid is getting her ready. Her parents have invited people to their castle — a count and countess and their son. They're trying to marry Clara off and have been searching for a suitable match for a while. Fortunately, she and the young man hit it off.
Unfortunately, the marriage arrangement falls through and, instead, Clara is going to have to marry the young man's younger brother, who likes hurting people.
The book starts very slowly. I'm five chapters in and we've learned about the impending marriage, and the start of the illness. It looks like Clara might be wishing herself sick on purpose, to avoid getting married.
The book builds too slowly for me, but it's very readable, and someone who likes a slower-paced historical-style fantasy romance might enjoy this book quite a bit.
Get the Kindle ebook free from Amazon here.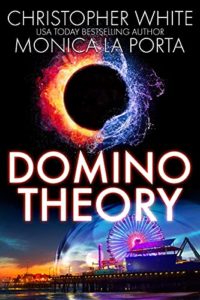 This is the first of three books in the Domino post apocalyptic science fiction series. The other books are $5.99 each, but the entire series is in Kindle Unlimited.
From Lily Jones:
The book is set in a future U.S. west coast ravaged by ecological disaster. The seas have risen and temperatures soar in areas not protected by climate-controlled domes. An event has occurred sometime between our current present and the 2081 setting of the book that seems to have split the human population into new species and the U.S. cities as we know them have become independent districts.
This book gets right into the action. The first chapter opens with one of our main characters, Iris, running from two thugs who want to capture her for unknown crimes to the Central Protectorate, the authority in charge of enforcing law and order in 2081 Los Angeles, now the Greater Los Angeles District. Iris narrowly avoids capture by submerging herself in the polluted water of Venice Beach, risking severe chemical burns. She then takes refuge in an abandoned storage room and calls her best friend Luke to come rescue her, since an ankle injury sustained in the chase has left her with limited mobility.
Meanwhile in Cascadia, our second main character, Xander, is arrested for beating up a man who made hateful remarks towards a mother and her daughter of a different human-adjacent species. He is taken to one of the police stations in New Seattle, where we learn that this is not his first run-in with the law. The magistrate in charge of Xander's case is unsympathetic and tells him he's shaming his high-profile political family. We finish the chapter waiting to hear which of two punishment options Xander chooses from.
As a fan of climate fiction, I was immediately excited by the dystopian setting of Domino Theory. The prose is straightforward and the pacing is pretty quick. I prefer to learn about a world as I go, so the sparse hints at the rules of this new society and quick start to the action are things that I appreciate, but if you're someone who likes to have all of the backstory for a world upfront, you may find the lack of exposition frustrating. Iris and Luke are both likable characters who have a really sweet friendship, and Xander's bad-boy persona seems to be motivated — so far — by good intentions and a desire for justice. I can definitely see myself finishing this book.
Get the Kindle ebook free from Amazon here.
---
See all the Free Friday posts here. Do you have other free books for us to check out? Comment below or email me at [email protected].
Have you read any of these books? Are you planning to? Let us know in the comments!
And watch Maria discuss all ten books in the video below: