Reading Time:
11
minutes
Some articles may include Amazon affiliate links. All proceeds go to helping us pay for original stories and to support writers of speculative fiction. Read more here.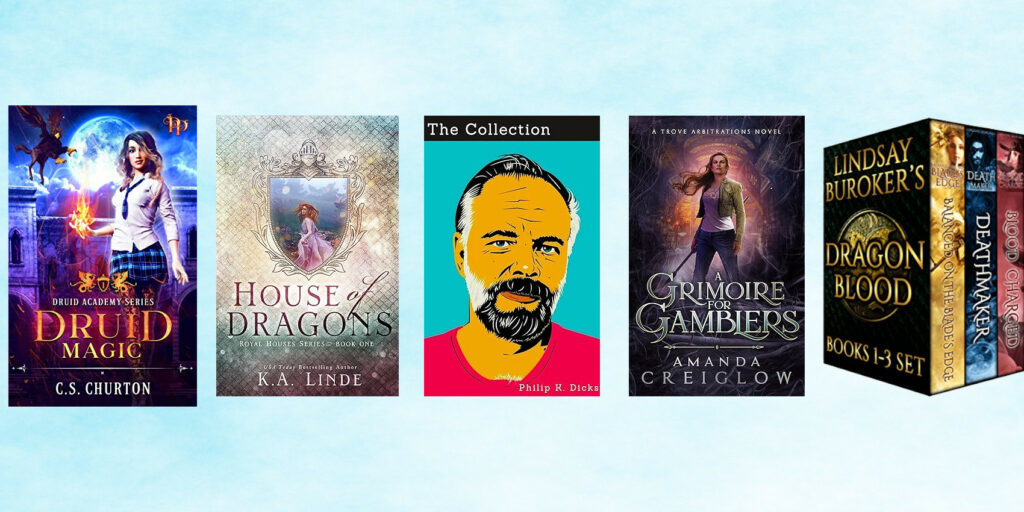 Did you know that Amazon has a list of the top-selling and free sci-fi and fantasy books? The list changes constantly — authors and publishers set their books to free temporarily to promote their work, and, of course, books move up and down in the rankings. Read on to find your fun free read for this weekend! And grab the books quickly because they don't always stay free for long.
This week's list is completely different from those of the previous weeks. So if you're a fan of free books, there are going to be new things to read all the time. If you want to get this list in your inbox every Friday afternoon, subscribe to the MetaStellar weekly newsletter.
There are a lot of books to go through, so this week I'm being helped out by a couple of other members of our MetaStellar community. If you'd like to join me in doing these reviews — and taping our regular Free Friday videos — email me at [email protected].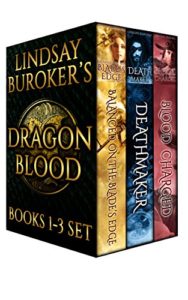 This is the first three books in the eight-book Dragon Blood series. The other books are $2.99 to $4.99 each and are not in Kindle Unlimited. The author has been on this list before. A lot. This past March, we reviewed Kingdoms at War, the first of six books in her Dragon Gate epic fantasy series. In April of 2022, we reviewed Mind over Magic, the first of five books in the A Witch in Wolf Wood paranormal romantic mystery series. And, in May of 2021, we reviewed The Dragon Blood Collection, the first three books in the eight-book Dragon Blood series. Also, in November of 2021, she had a short story in the Star Rebels anthology. Lindsay Buroker is also the host of the Six Figure Authors podcast, a must-listen for anyone who wants to write speculative fiction for a living. This collection was also on our top five list last week.
So, first, Lindsay Buroker is one of my favorite authors — and one of my all-time favorite people — so yeah, I'm definitely the target audience for these books.
But I'm not the only one. This box set has an amazing number of reviews on Amazon — more than 22,000. There are very few books out there with that number of reviews.
The first book in this box set, Balanced on the Blade's Edge, introduces Ridge, a talented military man who is sent to manage a prison of murderers and rapists as punishment for causing an international incident.
According to the description, a mysterious woman shows up who's been asleep for the past 300 years and is the last of a group of sorcerers who used to protect the realm of Iskandia from outsiders. She needs to be reunited with her soul blade, and her only way of doing this is to pretend to be one of the prisoners and build a relationship with Ridge. But she's a sorcerer, and if Ridge ever finds out, he has to kill her.
So, from that description, the book sounds like it would be a sword-and-sorcery kind of book, and, by the cover, there should be dragons.
So let's get started. First of all, it starts out with a military that sounds very modern-day, with modern titles. I like the fact that the military has female officers. I'm always a fan of women who kill — in my leisure reading, that is. But then there are unfamiliar country names, there's a king, and it's the king who sends Ridge off to run the prison for a year, even though he's needed at the front. Ridge is a flier. There are references to dragons, so I'm guessing they're not piloting airplanes, but dragons?
I like Ridge. I'm a fan of military sci-fi. This is more like military fantasy, but close enough. Very enjoyable.
Then in the next chapter, we switch to Sardelle's point of view. She must be the mysterious woman the book description talked about. There was a battle, and an explosion brought a mountain down on her, and a safety device activated, cocooning her inside a magical bubble. The bubble put her in stasis until it was safe — and with the rocks all around her, that stasis lasted for 300 years. According to her telepathic talking sword, at least. Her sword warns her that times have changed, and if people see her using her magic powers, she'll be killed.
Oh, and the reason she woke up? A couple of miners have reached her. Problem is, once they find her, they just want to rape her. They're prisoners, forced to work in the mines. This must be the prison that Ridge is being sent to manage. She gives them both a rash and escapes down the tunnel, where she finds two prison guards. There's an explosion, and the prisoners attack and the guards mow them down with rifles. Sardelle hadn't seen rifles before — 300 years ago, people didn't have them. I like the fact that the book recognizes that things change over time. It's a personal pet peeve of mine that fantasy and science fiction books often have empires that last for a thousand years with no changes in technology.
The guards assume that she's one of the prisoners who's wandered off because she didn't know any better, and she's taken to the prison.
But I'm a little disappointed that this is turning out to be a romance. I was hoping it was going to be a military action book.
But I like both of the main characters, and I like the writing style. So I have high hopes for this book.
Update: I've read the first book, then the next two, then I went and bought the next three… and kept going. I was sad to reach the end of the series and went on to read more of her books. Luckily for me, she's got more than 100 books on her Amazon author page, so I'm set for a while.
Get the Kindle e-book box set free from Amazon here.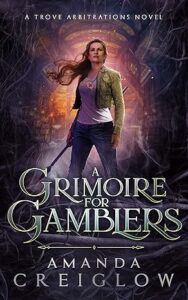 This is the first of three books in The Trove Arbitrations urban fantasy series. The other books are $4.99 each, and the series is not in Kindle Unlimited. This book was also on our top five list last week.
Let's just say that when a man committed to an insane asylum leaves instructions to have his house burned to the ground in his last will and testament, it's better for everyone to respect their wishes.
Obviously, that doesn't happen.
The story begins with our heroine taking ownership of her late father's estate. The estate that should have been torched — the one that previously belonged to a father who spent the last eight years of his life in an insane asylum. Fun times!
But this house contains something special. Everyone knows about voodoo dolls, well this story has a voodoo train set! Knock the model off its tracks, knock the genuine article off its. And that is exactly how our protagonist chooses to introduce herself.
And really, what better way to introduce a hero than by having them be personally responsible for a disaster that could potentially kill hundreds of people?
Not that she's aware of it, of course. Clearly, a train rolling off the tracks a few hours after she knocked over her dad's model is just a strange coincidence. And clearly, the string of suicides ranging from three days before and after her father's death are just even stranger coincidences. That's certainly a mindset to hold onto.
At least until the witch hunters start to show up.
If you like grim, modern fantasy, and if you like trains, then you're probably going to like this story.
I like these things, and I'm looking forward to seeing where this story goes.
Get the Kindle ebook free from Amazon here.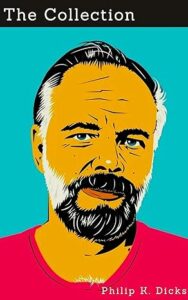 This is a collection of 13 lesser-known stories by one of the best sci-fi authors this country has ever seen. This book was also on our top five list last week.
Do I really have to say anything here? It's Philip K. Dick. Sure, he started publishing short stories in the fifties and wrote continuously until his death in 1982, and it might have been before your time.
But you probably still know him because several of his books and stories have been adapted. Blade Runner was based on one of his works, as were Total Recall, Minority Report, Screamers, Paycheck, A Scanner Darkly, The Adjustment Bureau, and the Amazon Prime series The Man in the High Castle.
He's got a unique writing style that I can't really describe. But you should check it out if you're a sci-fi fan because he's single-handedly responsible for the modern era. At least, that's what I think. Okay, maybe he and Bradbury.
This collection is of some of his less famous stories, so if you're a filmmaker, check it out for ideas!
The first story is "Beyond Lies the Wub."
It opens in a village on Mars, where animals and birds are being driven up a gangplank into a spaceship. Then one of the captain's men appears, leading a strange local animal that he'd bought from one of the natives for fifty cents. It's a giant pig, which the natives call a wub.
Once the ship is in flight, the men discuss how they're going to eat the pig when the pig itself speaks up. Apparently, it's a telepathic, sentient being, and it wants to have a chat with the captain about the whole being-sliced-up-and-eaten thing.
It's particularly interested in philosophy.
Get the Kindle ebook free from Amazon here.

This is the first of five books in the Royal Houses romantic fantasy series. The other books are $7.99 to $9.99 each and they're not in Kindle Unlimited. This is the author's first time on our Free Friday list.
The first thing I noticed about the book is how thought-out the lore is. It starts with a map of the city of Kinkadia, along with pronunciations of the different names, as well as short breakdowns of the various tribes' philosophies when it comes to the use of magic. This book is probably only a fraction of what Linde has imagined in her head.
The story follows Kerrigan, a half-fae who has magical abilities allowing her to manipulate all four elements of earth, fire, water, and air, similar to the protagonists of the Nickelodeon animations Avatar: The Last Airbender and The Legend of Korra. She also has sporadic visions, the most recent of which has many images that do not add up. Her quest in this novel is to get one of the four tribes of the Dragon Society to accept her, after other tribes rejected her when she turned 17.
Kerrigan is a scrappy young girl, who was abandoned as a baby, and brought up by an abusive adoptive father. She likes fighting in the city's underground, where no one cares if she is half-fae or not, as higher society has cast her and other mixed-race people and humans out. She can easily hold her own, to the point where she plays with her enemies and assailants.
She has a friend in the underground named Clover, a human card dealer in a casino who is warm and affectionate to her. A local crime lord, Dozan, saved her life five years ago. He keeps tempting her to make more use of her visions. Even though he comes off as possessive and a little creepy, he does seem to genuinely care for her, dragging her out of the alleyway where he finds her unconscious after a skirmish.
The book is billed as an "enemies to lovers, slow burn romantasy," which isn't normally my cup of tea, but the world-building and characters do have me intrigued. This book is in my ever-expanding to-read list.
The book starts, like all good fantasy epics should, with a map and a pronunciation guide to character names. Does anyone else also skip these things? No? Just me?
Then we meet Kerrigan, with blood dripping into her eye from a gash on her brow, losing a fight against a seven-foot-tall guy with elemental magic. He can magically make large rocks fly into her.
Kerrigan also seems to have some magic. And it looks like she'd been losing on purpose, to make the fight look good. Still, the guy is big — and good. She has to work at it to finally win.
And when she gets out of the ring and goes to the back to collect her earnings, the biggest crime lord in the area is waiting for her instead.
We find out a bit more about her now. She's half-fae, half-human, and, in this world, that's not a good thing to be. In addition, humans and half-fae typically have little magic, and can only use one element. She can use all four, and has been hiding this fact. Also, she might be having prophetic dreams, another thing she's been hiding. But the crime lord knows all about it. In fact, he saved her life five years ago. Now, he thinks he owns her.
Then we get a bit more of her backstory. Her father is high fae, and abandoned her so he wouldn't be stuck raising a half-fae. For the previous twelve years, she's been living in the mountains. She misses the mountains. She also misses flying on dragons.
She's on her way home when she's ambushed. The guy she beat in the ring is here, pissed that a half-fae beat him, and he brought his friends with him.
She has to win, and survive, in order to go the dragon tournament the next day. It only takes place once every five years, and the winner not only gets a place in the ruling class but also a dragon.
Five years ago, a human foreigner entered the tournament, won a dragon, and just left. The country broke out in riots as a result. Was this in a previous book? Not that I can find out. I checked the reviews, and the author's own website for the suggested reading order, and it doesn't look like there's a prequel book or series.
Anyway, there's a good chance that Kerrigan will miss this tournament.
I like Kerrigan. I like the fast pace of the story, and I love all the fighting and magic battles.
I'm not as much of a fan of that crime lord, though. It looks like there might be a slow-burn enemies-to-lovers romance brewing there. I personally prefer it when the woman kills the enemy right at the start, before it gets to the romance stage. So, while the book is extremely readable — K.A. Linde is a USA Today-bestselling author for good reason — I don't think I'll be sticking with it.
Get the Kindle ebook free from Amazon here.
This is the first of three books in the Druid Academy young adult academy fantasy series. The other books are $3.99 each and they're not in Kindle Unlimited. We previously reviewed this book in December of 2022.
Druid Magic is intended for teens, young adults and is a coming of age urban fantasy book.
The book is written in first person point of view. It opens with Lyssa Eldridge, the heroine, receiving a rejection letter from Bristol University, which escalates into a "What are you doing with your life talk?" from her dad.
At the end of the first chapter she receives a mysterious letter Dragondale Academy of Druidic Magic, accepting her into their Academy.
It starts out similar to the Harry Potter or Percy Jackson series and follows the standard hero's journey plot. Having a standardized plot makes the book very immersive and along with fluid and clear writing creates an easy read.
I would give it a seven out of ten and would continue with it once I have some spare time.
Get the Kindle ebook free from Amazon here.
---
See all the Free Friday posts here. Do you have other free books for us to check out? Comment below or email me at [email protected].
Have you read any of these books? Are you planning to? Let us know in the comments!
Or watch Maria and Terrence discuss all five books in the video below: