Reading Time:
15
minutes
Some articles may include Amazon affiliate links. All proceeds go to helping us pay for original stories and to support writers of speculative fiction. Read more here.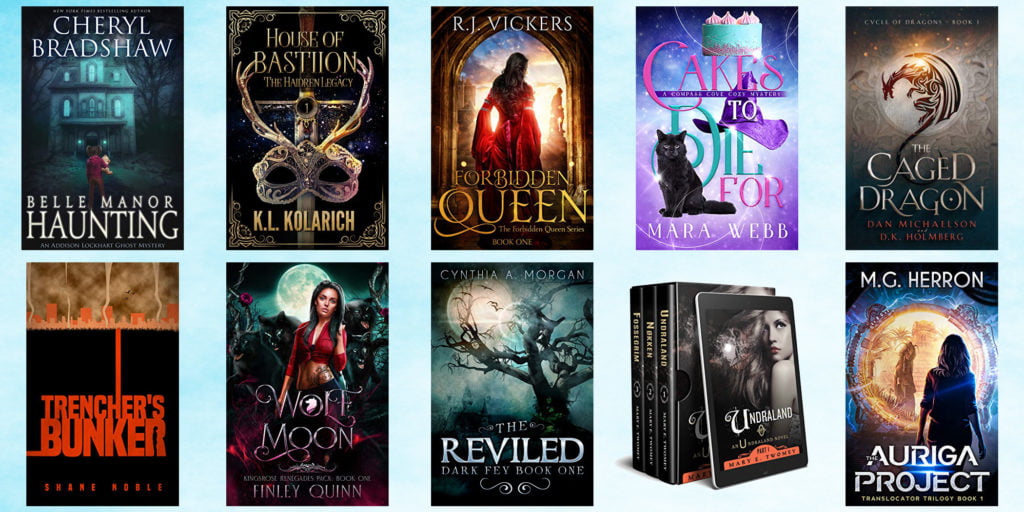 Did you know that Amazon has a list of the top-selling and free sci-fi and fantasy books? The list changes constantly — authors set their books to free temporarily to promote their work, and, of course, books move up and down in the rankings. Read on to find your fun free read for this weekend! And grab the books quick because they don't always stay free for long.
This week's list is completely different from those of the previous weeks. So if you're a fan of free books, there are going to be new things to read all the time. If you want to get this list in your inbox every Friday afternoon, subscribe to the MetaStellar weekly newsletter.
There are a lot of books to go through, so this week I'm being helped out by a couple of other members of our MetaStellar community. If you'd like to join me in doing these reviews — and taping our regular Friday videos — email me at [email protected].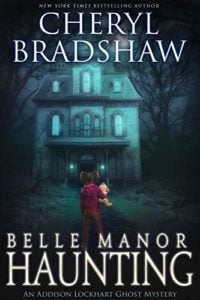 This is the fourth of five books in the Addison Lockhart urban fantasy series. The other books are $4.99 each, and the fifth book is currently available for pre -order and will be coming out later this month. The series is not in Kindle Unlimited.
It's very unusual for the fourth book in a series to be free while the rest aren't. I guess the publisher is trying to create interest in advance of the release of the fifth book.
The timing is good, too, with Halloween coming up.
I don't want to spoil anything for those of you who plan to read the whole series, so instead of reviewing this book, I'm going to look at Grayson Manor Haunting, the first book in the series. It costs $5, which I'm too cheap to spend, so I'll read the "look inside" chapters instead.
The cover is creepy, and I suspect that it's not going to be my kind of book. I dislike horror and suspense. It's too scary and suspenseful for me.
The book starts out with Addison Lockhart watching her cab drive away leaving her in front of an abandoned old house that badly needs work. She'd been left the house in her mother's will. And not just any house — a manor in Rhinebeck, New York that she didn't even know her mother owned. It previously belonged to her grandmother. It takes a couple of weeks to get the house habitable enough for her to stay there overnight, and months of work still ahead.
The book starts very slowly. And, from the cover and title, I'm guessing that it's going to get creepy, so I'm reading with a sense of foreboding. It's readable, and I like Addison, but I'm not going to stick with the book. But if you're looking for a scary read for the spooky season, check it out.
Get the Kindle ebook free from Amazon here.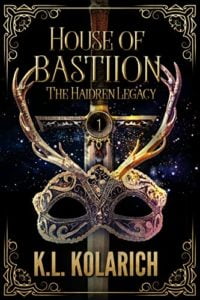 This is the first of three books in The Haidren Legacy epic fantasy series. The second book is $2.99 and the third book is currently available for pre-order and will be coming out next August. The entire series is in Kindle Unlimited.
This book seems to be set in a traditional fantasy world. Alora's sister vanished ten years before and Alora holds herself responsible. As a seer, she should have seen the tragedy coming. Despite this, she's one of the most respected women in the kingdom and has almost finished training her niece as her successor. She feels a disturbance coming. So she sends an assistant to watch her niece, Luscia, as she travels through the kingdom.
Then we switch to Luscia's point of view. She's been on the road for four days, and still has many days left to travel. There's something to do with politics which I skipped over. If it's important, I can catch up later. Since there's danger, she and her guards and her pet wolf are taking the back roads and keep their fires low at night.
The book starts slowly, and you get a lot of history of the land and its politics. There's a lot of names, none of which I'm going to remember.
Then, during the night, while they're camped inside the walls of some ancient ruins, she wakes up. Someone is moving around the side of her tent. She creeps outside, accompanied by the wolf. At first, she doesn't see anything, but then she notices a gash in the side of her tent, exactly where her head had been. They pack up and get back on the road.
Then we switch points of view yet again, to Zaethan, a warrior with a personal militia, and another servant of the crown. He seems to be getting ready for someone's arrival — probably Luscia's. And dead bodies are showing up in the city. This time, a mixed caste girl, just eleven years old.
This book is a slow read, and written in a heavy, epic fantasy style. I think I might enjoy the book and stick with it if I was in the right mood, but, right now, it's a bit too heavy for me to get into. Other than that, it's extremely well-written, and the setting is lush and vivid. It feels real, and the problems of the people living here also feel real and complex. It's a meaty story that would probably be well worth sinking your teeth into.
Get the Kindle ebook free from Amazon here.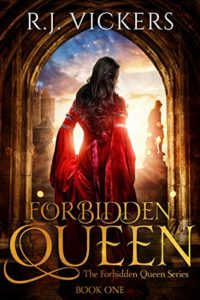 This is the first of six books in The Forbidden Queen young adult fantasy series. The other books are $0.99 each, and the entire series is in Kindle Unlimited.
Kalleah has lived in exile for most of her 18 years, hidden away in a sleepy mountain town by her mother the Queen. Although accustomed to prejudice as a "witch," Kalleah remains kind and determined to be a good leader when her time comes. When she rescues a young boy from drowning, the townspeople immediately turn on her for witchcraft, and threaten to burn the family out if they don't leave within a day.
Kalleah, her mother, and her mother's single lady-in-waiting depart the next day, and we get a peek into Kalleah's magic. Although most types of magic users are viewed with suspicion, Kalleah is an Extractor, one of the Forbidden magic users. As her mother, lady-in-waiting, and even the oxen carrying them away find out, anyone too close to her begins to feel at first sleepy, then lethargic, and then comatose as their organs shut down. Realizing her influence is growing too strong on her traveling companions, Kalleah sprints miles ahead, burning the stolen energy she has taken from them.
Okay, I do first want to say that I am enjoying this book, and will definitely keep reading. That said, I'm putting my grumpy editor hat on to repeat the classic editor advice: Show, Don't Tell. The first two chapters actually do have some really perfect examples of showing, not telling: the town's fear, hatred and prejudice is exemplified in the scene where Kalleah rescues the young boy, and we're shown (in real time) the unintended effects of her magic on her traveling companions as they leave town. But the effect is downplayed by a lot of exposition around these really beautiful scenes.
Grumpiness aside, I'm very intrigued by this magic system, and I can't wait to see how Kalleah responds to the political and social pressures when she attempts to take her throne, despite her forbidden abilities. I'm a firm believer that fiction helps us to view, process, and solve our real-world problems, and in that sense the themes of misunderstanding, hate, and prejudice speak very strongly to me. I think this is an easy pick for any fantasy lover looking for an entertaining and topical read.
Get the Kindle ebook free from Amazon here.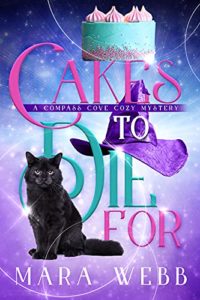 This is the first of seven books in the Compass Cove Cozy Mystery series. The other books are $4.99 each, and the entire series is on Kindle Unlimited. Mara Webb has been on this list before, we reviewed her Hallow Haven Cozy Mysteries series back in March, and her book As Witch Would Have It back in May.
The book starts with the cozy magical mystery cliche: the protagonist is stuck in a dead-end-job, with no friends and no money, about to be evicted from her apartment, and her ex has run up huge debts in her name.
Then a mysterious person shows up and tells her she's destined for great things.
Well, destined to run a bakery, anyway. She spends the last of her money on a rental car, throws all her stuff in the back, and drives across the country to a magical small town where her aunt left her not just a bakery, but also a place to live and some cash to get started with. Oh, and her aunt's ghost is still around, and wants her to solve her murder.
So cliche. So trite. I've read a million books like this. And I'll read a million more! Bwa ha ha!
I read the whole book over lunch. And, since the rest of the books are in Kindle Unlimited, I will probably read this whole series this weekend.
The cozy small town is cozy. The hot local bad boy is so hot. Zora discovers she's got a quirky magical family she never knew about, and they're all very, very quirky and immediately take her into their lives. Oh, and she now has a sassy talking cat for a familiar. What is not to like? This book is the literary equivalent of a cupcake. There are no unexpected ingredients, just the perfect balance of sweetness and nuts.
Get the Kindle ebook free from Amazon here.
6. The Caged Dragon by Dan Michaelson and D.K. Holmberg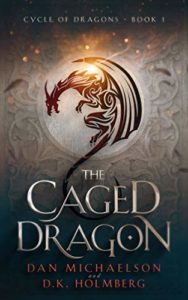 This is the first of six books in the Cycle of Dragons coming of age fantasy series. The other books are $3.99 each, and the entire series is in Kindle Unlimited. This isn't the first time Dan Michaelson has been on this list. We reviewed his book Alchemist Apprentice back in August. D. K. Holmberg is a regular on this list, as well.
Ashan is setting a fence post when he sees a thin trail of smoke drifting up from the horizon.
There are also storm clouds in the sky, and he and his friend can hear thunder. They're trying to get the rest of the fence done before the storm hits, but the smoke worries them. So they get horses and head down the King's Road through the forest.
They find the source of the smoke, a streak of burned land twenty paces across, coated in dark ash. Ashan speculates it was a lightning strike. But his friend thinks it was a dragon. Dragons — and dragonriders — are used by the king to protect the kingdom.
Then they find a piece of odd metal and Ashan thinks he saw something hiding in the woods — and a shape in the clouds above. Maybe there was a dragon circling overhead, and it had attacked something in the forest. But the storm is coming, and they head back.
I like this beginning. I like the setting. There's just enough information to let you know where you are, and what the big enemy is — the Vard — but not so much that it's confusing or gets in the way. And I like the fact that the series is in Kindle Unlimited. I might stick with it.
Get the Kindle ebook free from Amazon here.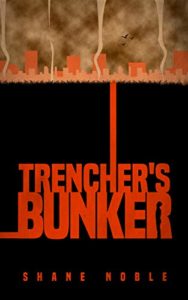 This is a standalone book of post apocalyptic science fiction. Usually its $14.99, but today it's free. It is in Kindle Unlimited.
This book will appeal to fans of post-apocalyptic science fiction stories about humans surviving in a world-ending catastrophe.
I read the first four chapters and I'm hooked.
Marcus Trencher is a billionaire who knows that an asteroid is about to smash into the world, forcing humanity to move underground to survive. Fortunately, he's already built a giant underground bunker for him and a chosen few to live in after the disaster.
Henry is Trencher's friend and employee who is being sent around the world to find and recruit the most likely candidates to actually live, work, and survive in that bunker for an indefinite period of time.
I only got as far as Henry recruiting potential candidates, but I love how the story is building up. You know a huge disaster is about to happen, and the world is going to be a completely different place. I feel like I have to keep reading this book just to see what happens to the planet and what kind of new underground society is formed by what is left of humanity.
The main characters are interesting enough that I want to finish the book to see how they turn out in the end, and the concept seems like something realistic that, though statistically unlikely, could actually happen to our planet.
Get the Kindle ebook free from Amazon here.
4. Wolf Moon by Finley Quinn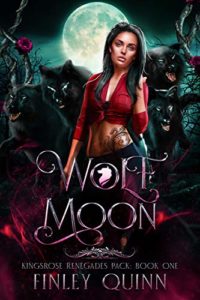 This is the first of three books in the Kingsrose Renegades Pack paranormal romance series. The other books are $0.99 and $4.99 each. The entire series is in Kindle Unlimited.
This is a reverse harem rejected mates shifter romance, and I'm not a fan of any of the words in that description. I know these are all popular tropes but they're not popular with me. I'm a cranky curmudgeon. All this touchy-feely romantic stuff makes me itch.
But I do like the abs on the woman on the cover. Maybe she's a ninja and kills a few monsters between kisses.
The book starts out with a dream. Rosie is running, compelled to head for some unknown destination. She feels the moon calling at the wolf inside her and, despite being in her human skin, she lifts her head up and howls. Then she hears a voice telling her to choose. But she doesn't know what she's supposed to be choosing.
When she wakes up, she doesn't recognize the room. Then remembers that she's left the apartment in New York City and moved back to her home town. She's back in her grandmother's house, which has been redecorated since she lived there are a girl. She gets up and finds a sexy Asian man cooking bacon in the kitchen, gorgeous like a vampire prince.
Her grandmother is there too, making jewelry on the kitchen table. The Asian man, Kai, is there to help grandma out because she's got arthritis. Kai is a member of the local pack, too. Rosie goes with him to see the alpha and get introduced. At the lodge, she meets another handsome man, and feels an immediate connection. Not a fated mate connection, nor one that screamed danger. But still intense. Then she meets Kai's twin brother, more pack members, and the alpha. Everyone, of course, is hot and sexy.
Then the alpha asks her if she feels the pull. He's her fated mate. Except… Rosie doesn't feel any pull.
Then we learn some back story. Rosie's former pack, the one headed by her brother in New York City, had faced some trouble from a wolf hunter. Rosie herself had been kidnapped and held prisoner by hunters — and her brother found his fated mate during the whole ordeal. I'm guessing there's another series there, but I looked for it, and can't find it. If you know, please tell us in the comments!
Anyway, the alpha tells her that she has two weeks to accept the bond, which she doesn't even feel. She doesn't get a choice in the matter.
I don't like this beginning. I do have to admit that the book is compulsively readable. I'm having trouble putting it down.
Get the Kindle ebook free from Amazon here.
3. The Reviled by Cynthia A. Morgan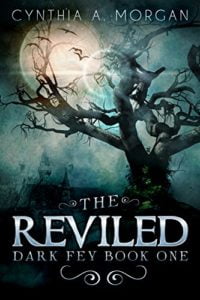 This is the first of three books in the Dark Fey fantasy series. The other books in the series are $2.99 each, and the series is not in Kindle Unlimited.
The introduction of book talks about the story's inspiration — a rebel military group in Uganda that kidnaps young children and then forces them to commit horrifying acts of violence against each other and their own people. The book takes this idea and transplants it to the world of the fey. The Dark Fey kidnap Light Fey children and subject them to intentional neglect and cruelty in order to twist them away from the light.
In the preface, we learn that Ayla has grown up with tales of the Dark Fey, also known as the Reviled. Her healing powers and other extraordinary abilities eventually brought her to the temple where she studied secrets arts and learned how to battle evil.
Then, in chapter one, she's guarding playing children when she senses something in the forest the surrounds their village. She thinks it was a dark elf, though how it was able to be out in the day light is a mystery.
Then, that night at a celebration, her best friend introduces her to a handsome male elf with magnificent white wings, a fellow scholar. They spend the evening together and he walks her home and kisses her goodnight. She's overjoyed.
Then, the next day, she senses the evil watcher again. Or maybe it's just an animal, or something else innocuous. She often lets her abilities get away from her. She doesn't want to tell anyone and cause a panic — or get called back to the temple permanently, as being too unstable for ordinary life.
It's a very, very slow beginning. The prose is lyrical and beautiful, but a little distant from the characters. I'm not really caught up in the story and don't think I'll be sticking with the book.
Get the Kindle ebook free from Amazon here.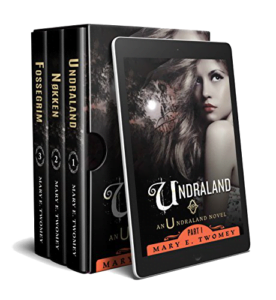 This is a boxed set of first three books of the nine-book Undraland paranormal romance series. The other books are $3.99 to $4.99 each and are not in Kindle Unlimited. The author has been on this list before. We reviewed her book Beauty's Cursed Sleep this past April, The Vampire's City back in February, and the Faite Falling series a year ago in October.
Lucy is a college student in Ohio studying to be a doctor. Her twin brother has recently died of leukemia, and both of her parents had been killed in a car accident.
When the book starts she and her best friend are in a weight lifting class when she gets the feeling that she's being watched, even though there's nobody there. The two of them, together with a third student, are roommates.
The book starts slowly, with gossip about who's got a crush on who, and that sort of thing.
That night, she still has the feeling she's being watched. On the way home from her part-time job as a cashier, the sense that she's being followed is stronger than ever.
This time, she's right — a bear comes out of the trees and chases her down the sidewalk. Then a man shows up and wrestles the bear down. Then the man tells her to run home, which she does.
Then the mysterious man shows up at her apartment door, all scratched up, and asks for antiseptic. He knows her name, and that of her roommate, so she figures he's her roommate's football buddy. He tells her the bear was a werebear and that she needs to pack a bag and come with him.
She refuses, and he tells her the secret family password. The one her parents used when they sent a neighbor or a friend to pick them up at school.
It's a strong beginning, and I'm getting caught up in it. I might stick with it, though the fact that the rest of the series isn't in Kindle Unlimited is a little worrisome.
Get the Kindle ebook free from Amazon here.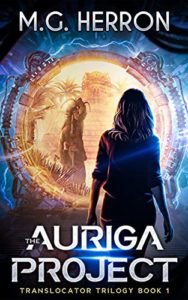 This is the first of three books in the Translocator first contact science fiction series. The other books are $3.99 each, and the series is not in Kindle Unlimited. M.G. Herron has been on this list before, we reviewed Starfighter Down, the first of three books in the Relics of the Ancients space opera series, this past August.
Eliana is an archeologist living in a near-future Austin, Texas. There's been an energy crisis, resupply mission to a lunar base failed, and the primary biodome ruptured in a series of violent explosions which set the lunar terraforming project back by years.
Eliana's husband works for the largest manufacturer of solar technology in the United States and is about to unveil an invention, ten years in the making, that will change the face of space travel forever.
Eliana has left her archelogy career behind to focus on helping her husband. Specifically, planning the big announcement party. Its a huge event, with politicians and industry executives and global media.
The book starts slowly, with last-minute party preparations, then schmoozing with politicians and other big-wigs.
She can't wait for the event to be over and things to settle down, so she can go back to archeology.
Then we finally get a glimpse of the big invention. It's a molecular teleporter that will let them ship materials — and even people — directly to the moon. For the big reveal, they're going to send a rover to the moon in front of a global audience.
Eliana, who is wearing her latest present — a ring from her husband, set with a black diamond harvested from an meteorite — presses the button to start the teleport sequence. When she touches the button, she feels an electric shock.
I'm guessing there's something weird about that ring. The teleporter goes haywire and Eliana is sucked into its vortex.
Fortunately, instead of sending her to the surface of the moon, she lands somewhere else — on an alien planet with a breathable atmosphere.
This reminds me of the show Stargate SG-1. So it's appropriate that she's an archeologist, since that show was heavily inspired by Egyptian history. It's a good read — I might stick with it and finish the book this weekend.
Get the Kindle ebook free from Amazon here.
---
See all the Free Friday posts here. Do you have other free books for us to check out? Comment below or email me at [email protected].
Have you read any of these books? Are you planning to? Let us know in the comments!
And watch Maria discuss all ten books in the video below: