Reading Time:
14
minutes
Some articles may include Amazon affiliate links. All proceeds go to helping us pay for original stories and to support writers of speculative fiction. Read more here.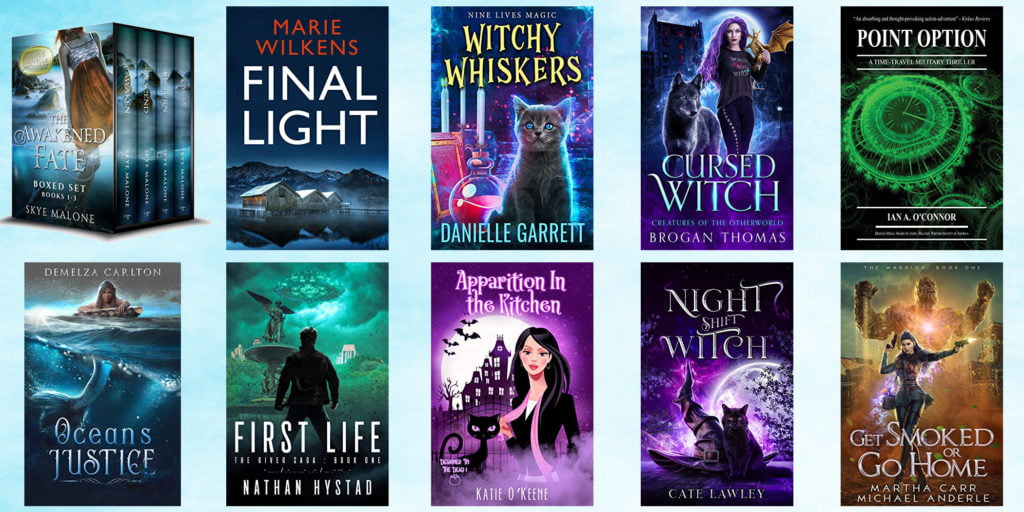 Did you know that Amazon has a list of the top-selling and free sci-fi and fantasy books? The list changes constantly — authors set their books to free temporarily to promote their work, and, of course, books move up and down in the rankings. Read on to find your fun free read for this weekend! And grab the books quickly because they don't always stay free for long.
This week's list is completely different from those of the previous weeks. So if you're a fan of free books, there are going to be new things to read all the time. If you want to get this list in your inbox every Friday afternoon, subscribe to the MetaStellar weekly newsletter.
There are a lot of books to go through, so this week I'm being helped out by a couple of other members of our MetaStellar community. If you'd like to join me in doing these reviews — and taping our regular Friday videos — email me at [email protected].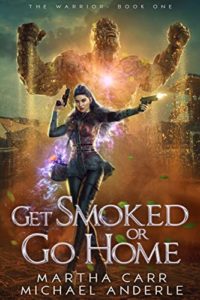 This is the first of twelve books in The Warrior superhero fantasy series. The other books are $4.99 each, and the entire series is in Kindle Unlimited. Martha Carr and Michael Anderle have been on this list before. This past July, we reviewed their book Magic Inc., the first of eight books in The Evermores Chronicles cozy mystery series. And, this past May, we reviewed their book The Return of Raven, the first of eight books in the WarMage Redux high fantasy series.
I'm a big fan of the authors, so happily picked up this book as my first read of the day. I started reading it over lunch and kept right on reading — I finished it in one sitting. This despite the fact that the protagonist is a young adult — I hate young adults — and that nothing happens in the book. There are hints of a plot building up — and I've already downloaded the next book in the series — but in this first installment the plot doesn't fully get going. Instead, we follow the protagonist as she has a falling out with her family, tries to figure out how to go to art school, hatches a plan, then has to deal with the consequences of that plan.
The plot doesn't quite make sense. The main character, Idina Moorfield, only has to wait a few months before she's 18 and can do whatever she wants. So there's no reason for her to do what she winds up doing. But I was caught up in the story, and all of her actions made sense in the moment. And, like I said, I couldn't put the book down and can't wait to have a few free minutes to start reading the next one.
I liked Idina very much. She's no-nonsense, doesn't get caught up in teenage drama, is results-oriented, considerate of others, hard-working, and very clever. Other than one big failing in her common sense at the start of the book, I love this character.
Update: I read the second book in the series, Charlie Foxtrot 101, over dinner. We're starting to see vague beginnings of a plot forming. In the first book, Idina went through basic training. In the second book, she completes jump school, learning how to parachute out of airplanes. Both books are very detailed and realistic about the military experience, as if the authors had been through it themselves, or had done extensive interviews with people who had. I'm enjoying them a lot, and look forward to reading the rest.
Get the Kindle ebook free from Amazon here.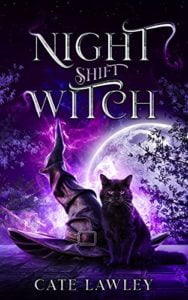 This is the first of four books in Night Shift Witch Mysteries, a cozy paranormal mystery series. The other books are $0.99 to $2.99 each and are not in Kindle Unlimited. This is the second time this book has been on our list — we previously reviewed it a year ago last August.
This one is a paranormal cozy mystery. It takes place in 1999 out in the boonies of Texas.
Stephanie is a powerful witch-in-training, and she's experienced in reading people via skin-to-skin contact. Recently, she's been practicing the skill of seeing into a person's "truth" through their eyes.
This new way of reading people has been hard to turn off, so it made her job interview at the funeral home a bit awkward. She didn't want to make eye contact with her interviewer because she didn't want to see too much of him. She was also clearly checking him out. They're both young. Her witchy powers tell her he seems nice.
He hired her for the night shift.
The narration sounds a lot like a stream of consciousness. For the first three chapters, Stephanie's attention is absorbed in the guy who interviewed her, and whether or not he really was nice.
When she meets with her mentor, she realizes that she made a mistake by accepting the job. There are a few possible explanations for her bizarre experience with him — only one of which is safe. First, her boss might genuinely be a nice guy — this would be great, but would kill the story. Second, he might have latent magical abilities himself, and it's dangerous for a witch to come into close contact with a magical person who isn't trained. Third, he might be a full witch himself, and if he is, then why is he not registered? Why is he going rogue? That might mean that he is dangerous.
If I'm going to make a guess at the rest of the plot, it would be that Stephanie continues to work there, even though she still can't figure him out. She stays because she's sort of in love with him. Then, more characters are introduced and then a big crime occurs. Whodunnit? Maybe? I'm not super experienced with the cozy mystery genre.
It's clear why people like this book so much.
Get the Kindle e-book free from Amazon here.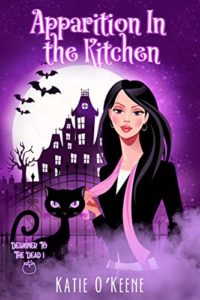 This is the first of three books in the Designer to The Dead cozy mystery series. The other books are $1.99 and $2.99 each, and the entire series is in Kindle Unlimited.
Lindsey is an interior designer and medium whose best friend, Cameron, is a real estate agent. Cameron has a job for her, a new listing where potential clients are being scared off. Not, unfortunately, by the decor. Lindsey would enjoy a nice decorating job. No, the house is haunted. And it looks like the ghost is the previous owner. Fortunately, Lindsey knows exactly what to do to bring the ghost out of hiding — she criticizes the previous owner's design choices.
This is a very fun, light-hearted beginning. And, for a cherry on the cake, Lindsey has a cat who helps her when she's on the job.
I love the beginning, and look forward to reading the rest of the books in the series. This is the exactly the right kind of fun fluff I need right now in my life.
Get the Kindle ebook free from Amazon here.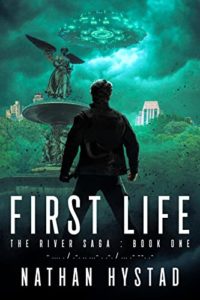 This is the first of four books in The River Saga alien invasion science fiction series. The other books are $0.99 to $5.99 each, but the entire series is in Kindle Unlimited. Nathan Hystad has been on this list before, we reviewed his book Lost Contact back in August.
The book starts with Colton Beck's doctor telling him that he's only got six months to live. Colton has been expecting this news for almost twenty years.
When the aliens arrived, they helped solve a lot of humanity's problems. But a small percentage of people came down with Xeno, a deadly disease.
The disease doesn't keep Colton from working, however. He's got a job on a classified alien project, a barge of some kind, and there's a problem that he needs to fix. It looks like someone has tried to sabotage it. Finding out what happened can help Colton keep his mind off the bad news he just received.
He finds the saboteur — a colleague who thinks that the aliens are up to no good — and is nearly shot. But Colton isn't too worried about being killed. He's going to die soon, anyway. At least that way, it would be quick and easy.
It's a bit of a grim, depressing beginning.
It is very readable, and I'm intrigued by this secret construction project the aliens are working on, and about this disease that Colton has. I could easily keep reading, but I'll probably read some of the other books on this list first.
Get the Kindle ebook free from Amazon here.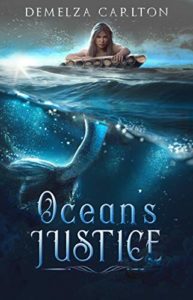 This is the first book in the six-book Siren of War fantasy series. The other books are $2.99 to $4.99 each and are not in Kindle Unlimited. This is the second time this book has been on our list. We previously reviewed it a year ago last December.
This is a retelling of the Little Mermaid. Demelza Carlton's books tend to be oddly structured and fast-paced. This one is giving me reverse harem vibes, to be honest.
Judging from the dialogue in the first chapter, which is only one page long, I am guessing that a few people were angry with Maria and decided to throw her into the ocean on a raft. A hundred words later, she is rescued by a few kind strangers in a boat.
In the next scene, there is a boy, Charlie Seaborn, who is basically telling us what happened. He helps her get dressed and is so embarrassed, but she's cool with it.
The Captain confronts Maria — saying that the crew believes her to be a monster who sank the last ship she was on. Because I read the blurb, I know that Maria is a monster of sorts, but I'm still unclear on what kind.
If you like to read fast, oddly structured stories with reverse harem vibes, then I say buy!
But I won't be back. Although I am kind of curious about what type of monster Maria is!
Get the Kindle e-book free from Amazon here.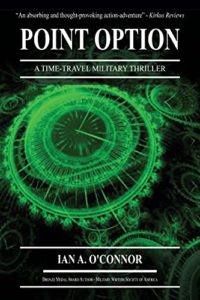 This is a standalone book of time travel science fiction. Usually its $3.99, but today it's free. It is in Kindle Unlimited. The author is a retired Air Force colonel and also has other military thrillers up on Amazon.
I do like time travel, and I like military thrillers.
The book starts out on a Russian nuclear submarine off the coast of Spain. Something is moving towards them under the water, even though it's registering as having no mass on their instruments. Then there's a crash, followed by an explosion just outside their hull, and a ball of lightning that tears through the submarine. Four sailors are severely injured, the nuclear reactor is intact and working normally even though it was shut down for a few seconds. Nearly all the electronics are now inoperable, but the hull was undamaged.
They're able to make it to the surface, but can't connect with any secure Russian satellite, or any other ships, or even any radio stations. And they can't see any lights on shore. They wonder if there's been a widespread electrical outage in southern Europe. Then the submarine's systems start to break down.
Then in the next chapter we switch to the point of view of David Fleming, a major in the US Air Force. He's looking forward to getting to fly jets off of the military's newest, biggest aircraft carrier. But his wife has been having a recurring nightmare about his plane being hijacked by some unexplained force and him being lost forever at sea but that doesn't stop him from heading off on his new assignment, which starts at a naval base in Italy.
Soon after he arrives, something strange starts happening with the weather. An unusual fog settles over the base and the radar and other instruments on the base become unreliable so incoming air traffic is diverted to other destinations. By the time he leaves for the air carrier, the fog has lifted.
It's a slow beginning, filled with a great deal of minutia of military life. But I'm enjoying it. We learn a lot about the carrier and the facilities that are on board. I'm guessing this will all be important later on.
The weather weirdness and communication problems continue. One airplane is damaged while on a flight, electronics burned out, paint stripped, and the pilots are forced to crash land after being guided back to the aircraft carrier, both pilots near death.
I'm five chapters in and the story still hasn't really started. But I'm enjoying reading about the military life and the slow build-up of tension. I might stick with the book.
Get the Kindle ebook free from Amazon here.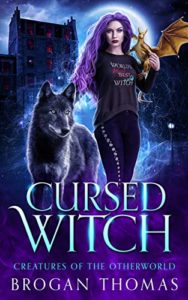 This is the fourth of four books in the Creatures of the Otherworld urban fantasy series. The other books in the series are $4.99 each, and the entire series is in Kindle Unlimited. Brogan Thomas has been on this list before, we reviewed her book Cursed Wolf back in July of 2021.
The four books in Creatures of the Otherworld series are all connected but feature different protagonists, so can be read on their own.
Tuesday Larson is a failure. In a world populated by witches, shapeshifters, vampires, demons, and more, magic and power determine everything. But Tuesday is unable to learn even the simplest spells and witchcraft and is constantly outshone by her talented witchy sisters. While sitting through an excruciating meeting with her mother and her school's headmistress after exploding a simple potion, Tuesday explodes, dropping an f-bomb and storms out of the room. Furious and embarrassed, her mother forces her to drink a non-swearing potion later that night, which is supposed to last only two weeks.
The next chapter jumps forward to Tuesday as a 24-year-old. Her mother's anti-swearing potion has yet to wear off eight years on, and causes some embarrassing and uncontrollable speech patterns whenever she attempts to swear. She has distanced herself from her family and coven, attempting to live a normal life, although she is still protected by various wards and potions provided to her by her sisters. When intruders violently attack the wards on her apartment, Tuesday scoops up her rescued pet dragon, Daisy, and attempts an escape.
Brogan Thomas is a new-to-me author and just got put on my check-out-more! list. Tuesday's voice is absolutely hilarious, and I'm always a sucker for a cute magical pet, and Daisy does not disappoint. I meant to only read a couple chapters, ended up reading four, and am headed back to it as soon as I finish up this review. For anyone like me looking for funny, cozy fantasy with a strong female lead, I think this is your weekend read.
Get the Kindle ebook free from Amazon here.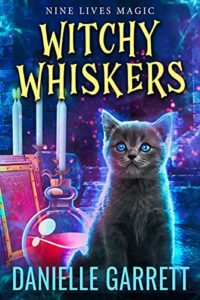 This is the first of six books in the Nine Lives Magic cozy paranormal romantic mystery series. The other books are $4.99 each and are all in Kindle Unlimited. The fifth book is scheduled to be released later this month and the sixth book is scheduled to be released this coming January. Both are available for pre-order. This is the second time this book has been on our list — we previously reviewed it this past January.
Cora Hearth is a witch who owns a store that sells objects with magical properties. An intriguing and handsome man, who turns out to be Cora's love interest, enters her store wanting to buy gifts for his mother. Cora chooses a candle that creates the illusion of being in Hawaii, with a gushing waterfall in the background and soft fairy lights twinkling above.
The writing is quite beautiful, lush and imaginative, with lots of visual imagery and sensory imagery in general. I especially liked her description of the scene when a magic candle is lit.
In this world, being a witch and having a cat as a familiar is accepted. People come to her store knowing she is a good witch, and intend to buy objects that have magical properties. Cora is a witch who not just wants to be a witch, but has actual powers. And her cat familiar can even talk and has a strong personality, being grumpy and sarcastic.
Complications quickly ensue. Cora's ex-husband is back. They parted ways amicably, but he complicates matters when he shows up when she is interested in another man. And of course, since there's a mystery, there's a murder.
I personally prefer science fiction, and won't buy the other books in the series, however, I give this novel a solid seven out of ten for magical fantasy romance. I definitely recommend it for fans of that genre.
Get the ebook free from Amazon here.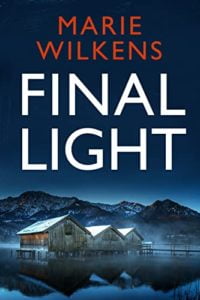 This is a standalone book of EMP survival. Usually it's $0.99, but today it's free. It is in Kindle Unlimited.
If you like EMP books — that's where an electromagnetic pulse shuts down all electronic devices and leaves people struggling to survive without cars or electronics — then this book might be for you.
I read the first few chapters, and I didn't think there was anything special about this book that makes it better than any other EMP book, so I wouldn't keep reading. I feel like I've read this story more than once when reviewing these types of books.
Roxy is a young ranch hand who works for some rich people, and she drives to the nearby town to go to a bank. That's when the EMP shuts down her car and everyone else's. People don't go crazy right away, but everyone knows something has gone really wrong. Roxy walks back to the ranch to a scene of confusion where all the other employees are milling about, wondering what's gone wrong.
If you read EMP books for fun just because you like the concept, this one would be fine, but it's nothing special.
Get the Kindle ebook free from Amazon here.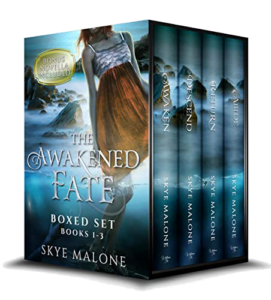 This is a collection of the first three of nine books in The Awakened Fate urban fantasy series. The other books in the series are $3.99 each, but the entire series is in Kindle Unlimited.
Chloe has grown up in Kansas, but has always been drawn to the ocean. Her parents, for some reason, have been determined to keep her as far away from it as possible. She didn't even get to swim in swimming pools. And there's no bathtub in the house —  just a tiny shower stall. She's planning to go to college somewhere near the ocean, but that's still a year away. So she sneaks out of the house to meet up with her best friend Baylie and her friend's dog, and they go on a vacation.
They drive to California, and Chloe is absolutely ecstatic when she finally sees the water. The two girls are staying with Baylie's relatives, who have a house right by the beach. Those relatives include Baylie's cute and mysterious step-brother Noah. Chloe is flustered whenever she's around him.
Then the point of view switches to some guy named Zeke. No, not a guy — he's a merman. He's swimming around looking for his twin sister, Ina, who enjoys switching to human form and partying with humans. She keeps spare clothes stashed all over the place.
While out looking, he sees a girl sitting by the shore, and feels like lighting shot through him. He swims closer and overhears the tail end of Chloe's conversation with Noah from the previous chapter. It seems that when she put her her feet in the water she electrocuted the ocean. Also, when her feet had been in the water, Zeke saw them start to change.
Sounds like Chloe is a mermaid and doesn't even know it.
The next day, we're back to Chloe's point of view. She's out on a boat with Noah and Baylie. Then the boat is hit by something and Chloe is tossed into the water. She doesn't even know how to swim. Someone catches her and at first she thinks that Noah's dived in after her, but it turns out to be someone she doesn't know.
Then Noah does grab her and pulls her to the surface. The boat's been capsized. Everyone else is holding on to it but are fine, and a Coast Guard ship is coming to rescue them.
Then we switch back to Zeke's point of view. He thinks that there's something about Chloe that makes the ocean go crazy. He follows the Coast Guard boat, planning to go on shore, change to human form, and find out what's going on.
The book is readable and definitely pulls you in. But it's not exactly my taste — I'm not a fan of teenage drama. So I don't think I'll be sticking with it.
Get the Kindle ebook free from Amazon here.
---
See all the Free Friday posts here. Do you have other free books for us to check out? Comment below or email me at [email protected].
Have you read any of these books? Are you planning to? Let us know in the comments!
Or watch Maria talk about all ten books in the video below: