Reading Time:
14
minutes
Some articles may include Amazon affiliate links. All proceeds go to helping us pay for original stories and to support writers of speculative fiction. Read more here.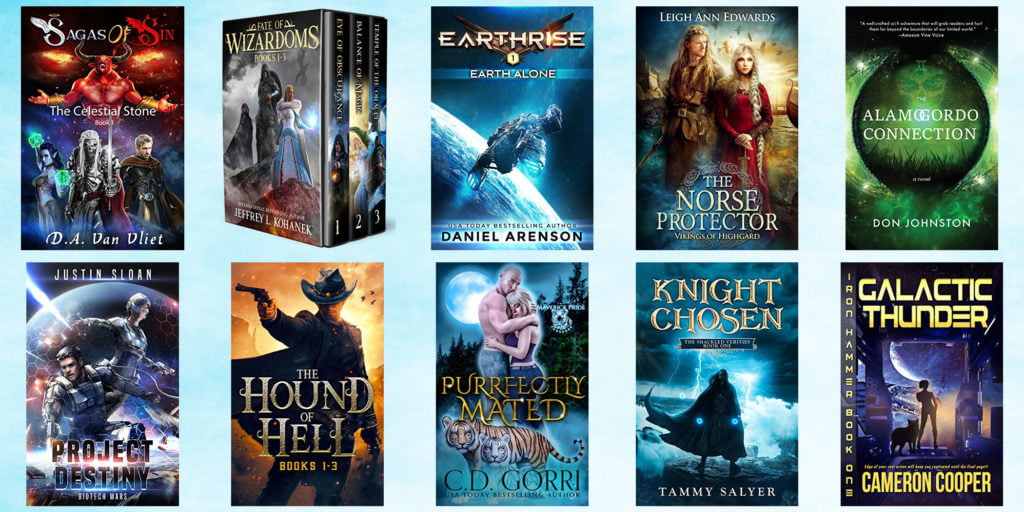 Did you know that Amazon has a list of the top-selling and free sci-fi and fantasy books? The list changes constantly — authors set their books to free temporarily to promote their work, and, of course, books move up and down in the rankings. Read on to find your fun free read for this weekend! And grab the books quick because they don't always stay free for long.
This week's list is completely different from those of the previous weeks. So if you're a fan of free books, there are going to be new things to read all the time. If you want to get this list in your inbox every Friday afternoon, subscribe to the MetaStellar weekly newsletter.
There are a lot of books to go through, so this week I'm being helped out by a couple of other members of our MetaStellar community. If you'd like to join me in doing these reviews — and taping our regular Friday videos — email me at [email protected].
10. Sagas of Sin by Derrick Van Vliet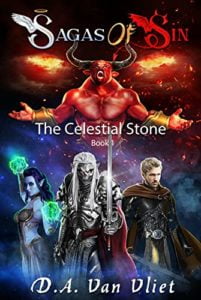 This is the only book the author has up on Amazon, but the subtitle seems to indicate that it is the first in a series. If you want to know more about the author, you'll have to go to his website, DerrickVanVliet.com.
This is the author's first novel and it reads like it can use another pass from a style editor. But maybe that's just me, and my undying hatred of adverbs.
The first chapter, adverbs aside, is highly cinematic. A high elf finds the dead bodies of his parents and strikes a deal with an evil being in order to avenge them. Then there's some backstory about the history of this land, which I mostly skipped, and then another chapter of backstory, which I also skimmed through — I hate reading info-dumps.
The book really begins in the third chapter, with Sin, an elf warrior. He's just finishing his sword training and getting ready to enter adulthood, which involves a visit to the council, so that he can begin his work of defending the forest, as his father has done before him. He's only a half-elf, though, so that might cause a hitch in his plans. Normally, half-elves are killed while they're still babies. Sin's the first one who's been allowed to live.
Now that he's an adult, and the elves have satisfied their obligations to Sin's father, they decide to kick him out to go live with the humans.
It's a strong beginning and if I didn't have other books to read this weekend, I could easily see myself sticking with it and finishing it. But all those adverbs are getting in the way of me being fully immersed in the story, so it's not at the top of my list.
Get the Kindle ebook free from Amazon here.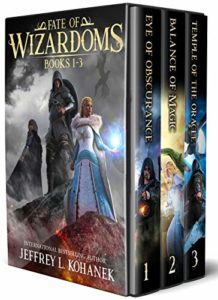 This is a box set of the first three books in the six-book Fate of the Wizardoms epic fantasy series. It's the second time this set has been on this Free Friday list — we previously reviewed it in July of 2021.
Lord Malvorian suspects that his high wizard, Gurgan, has been skimming from the mines, using the surplus to hire his own secret army. His seer has predicted it. There's a battle that Malvorian wins, having been warned about it, and by so doing he sets a prophecy in motion. The prophecy means that he will have much more power. The next step for him, in order for the prophecy to come true, is that he must find the Eye of Obscurance — and do it without the Enchanters Guild finding out.
Meanwhile, Rhoa, is on her way to a party. She claims to be Her Grace, 16-year-old Wizardess Misa Wrenthal of Shear. But she's actually 19. Just short. She's in heels, a gown, hair piled up on her head, and wears a stolen tiara to complete her look. She doesn't actually have any magic, and if she's discovered, things will go badly for her.
The party is at the estate of Palkan Forca, head of the wizard guild. His son Godwin, 15, asks Rhoa to dance, then offers her a tour of the manor. He takes her to his father's study, a circular room at the top of the tower. Godwin makes a move on her, so she knocks him out, changes into her cat burglar clothes, and makes her way to the next tower over, which belongs to the Enchanters Guild. There's a storeroom of magical artifacts at the top of the tower.
Meanwhile, Jace, disguised as a female servant, is on his way to rob that same exact storeroom. Great minds think alike. But Rhoa's already found the amulet she's after, and the two fight over it, setting off alarms.
I loved this beginning. Full of action, adventure and derring-do. I can definitely see this a movie — or mini series. Both Rhoa and Jace are fun, competent characters who are competing for the same prize. I'm looking forward to seeing Jace try to track down Rhoa to steal the amulet from her, while both of them try to evade the Enchanters.
Get the Kindle box set free from Amazon here.
This is the first of 15 books in the Earthrise space opera series. The other books are $0.99 to $4.99 each, but the entire series is in Kindle Unlimited. There are also other series by the same author set in the same universe. Oh, and the author has been on the USA Today bestseller list.
The aliens have arrived and destroyed much of the planet before the humans were able to stage a successful counterattack. It's now decades later, and humanity is still fighting a war of slow, painful attrition against the invaders.
Marco, who lost his mother in the war, has just turned 18, old enough for the draft. He's terrified. He'd rather stay home, in the library his father runs, working on his novel.
The book starts slowly. We watch Marco's mother die, then see his last day at home — and his last night with his girlfriend. We see him getting ready to go, saying goodbye to his father, then the trip to the recruitment terminal with his adopted hockey-playing sister, then the suborbital shuttle trip to the training center in Chile.
The book reminds me a bit of Robert Heinlein's Starship Troopers, except the aliens are giant centipedes instead of insects. It's definitely my kind of book. Since the series is in Kindle Unlimited, I will probably finish it and, if I like it, go on to read the entire series.
Get the Kindle ebook free from Amazon here.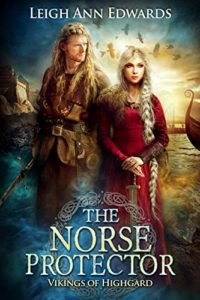 This is the first of four books in the Vikings of Highgard romantic fantasy series. The other books are $4.68 to $4.99 each, and the series is not in Kindle Unlimited.
We open to a sweeping prologue that describes how Solveig, sister to the Norse god Odin, breaks away from her brother to form the hidden, peaceful kingdom of Highgard, which she keeps hidden behind a veil. Eventually Solveig's people tire of immortality, and, using their powers, turn themselves mortal. Generations later, a vicious plague descends upon Highgard, affecting first the men and then the women. Desperate for a cure, Highgard sends three young men into Midgaard, although due to Solveig's veil, the Highgardians have no idea if they successfully made the crossing.
We then jump forward into the first chapter, where the Red Death has wiped out almost the entire population, except for four sisters directly descended from Solveig. The sisters mourn and bicker as their youngest sister dies in front of them. As monsters encircle the fortress, the oldest, Torunn, prepares to defend her sister's body from the corpse-eaters so that she can "transcend."
The blurb for The Norse Protector sets up this story as a historical fantasy romance, so although I personally felt the prologue and first chapter were a bit of a slow start, I'm interested to see where it's going. Torunn is obviously headed off to the human realm to seek a cure for herself and her sisters, which I'm guessing will also catch the attention of Odin and cause plenty of heartache and conflict. As an editor, I know prologues can be tricky to pull off, and although this one does have an inciting action—the Red Death—it still feels like we're starting outside the main conflict, Torunn's journey into the human Viking realms. Although I'm not sold yet, I'm going to commit to a few more chapters.
Get the Kindle ebook free from Amazon here.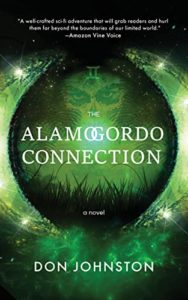 This is a standalone book of hard science fiction set in the near future, mixed with dose of political satire.
The book starts in 2045, with a meteorite crashing down in New Mexico's Trinity Site Monument, exactly 100 years after the first atomic bomb test at that very location.
Darien is in his early twenties and works as a security guard, but his real passion is astronomy. He's also a conspiracy theorist convinced that the deep state is at work manipulating recent political events — such as California's secession from the United States.
Carly, who's the same age, is moving from Texas to New Mexico for graduate school, to study parapsychology. She's convinced that astronauts develop psychic abilities when they're in space.
Then we come back to Darien. It turns out that his security guard job is at the site of the region's space port. And he's also taking a full class schedule at the university, finishing up his degree in astronomy.
On the way home from work, he comes across a car accident — Carly's tire blew out. As he changes her tire for her, she tells him about where she's from and how she came to be in New Mexico. So we get her back story all over again.
The book starts slowly, with a lot of backstory about Darien's family and national politics. I'm five chapters in and nothing much has happened yet, other than the meteor landing. I'm interested in the book's subject matter, but it's taking too long to get started for my taste. But if you like a slower, more thoughtful read, you might enjoy this book.
Get the Kindle ebook free from Amazon here.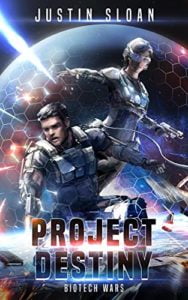 This is the first of three books in the Biotech Wars military sci-fi series. The other books are $0.99 to $4.99 each, but the entire series is in Kindle Unlimited. The author has been on this list before. Last month, we reviewed Shadow Corps, the first of five books in the Shadow Corps military sci-fi series. And, in May of 2021, we reviewed Star Forged, the first of five books in the Ascension Gate series.
Military sci-fi and it's in Kindle Unlimited? Excellent! And it starts right in the middle of the action, too, just the way I like it.
Stealth is an experienced marine, now working for a private outfit, about to breach a subsection of a space station, a location that's a known hangout for lowlifes. It's also where a group of criminal hackers is rumored to be hiding out. He's got a bad feeling about the mission, but heads in along side his partner, Red.
His gut was right. The mission goes sour right from the start.
Then we switch to the point of view of one of hackers, Alice. They're celebrating their success and planning the next attack against the evil corporation that runs the station, but Alice, too, is getting the feeling that something is wrong.
I love the setting here. It feels very lived-in and realistic. There's a little bit of backstory about politics and corporate greed, and how Mars is going to be terraformed, but not too much. I'm enjoying this book so far and will probably stick with it.
Get the Kindle ebook free from Amazon here.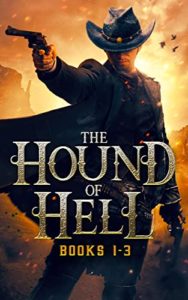 This is a box set of the first three books in the six-book The Hound of Hell paranormal western series. The other books are $2.99 to $4.99 each but the series is in Kindle Unlimited. The last two books aren't out yet but are both scheduled for release next month and are available for preorder.
Renault is being held prisoner. He's got some information his captors want, but he's not giving it to them. Also, Renault can read people's minds — and he keeps a lockpick hidden inside his long braid. A very bloody, gory fight soon ensues.
In the next chapter, we switch to the point of view of man named Dalliance, who's burning his old clothes and changing into new, nondescript ones. He can now pass for a ranch hand or someone's henchman. He heads to a saloon, where he meets up with Renault. Dalliance is a killer of some kind, and he's there to collect his pay from Renault.
In the third chapter, we switch point of view yet again, this time to Merlin. He's also in disguise, also in a saloon, also meeting up with Renault. They're plotting. But Merlin has gotten a premonition that's going to send Renault off on another track — to rescue someone.
I'm enjoying the setting and the violence, which is over-the-top cartoony, like something out of Kill Bill. And I'm interested in learning more about Renault's dark past, what's going on with local politics, and where exactly all of this is happening and what Merlin has to do with anything. I'm probably going to stick with it.
Get the Kindle ebook free from Amazon here.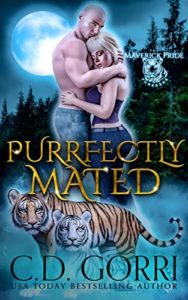 This is the first of six books in The Maverick Pride Tales paranormal romance series. The other books are $3.99 each and are not in Kindle Unlimited. The last three books aren't out yet but are scheduled to be released this coming November, December, and January, respectively.
Uzzi Stregovich is an elderly witch whose magic is passed down from the goddess of love herself, Aphrodite. Although he mourns the loss of his beloved wife Betty, he continues to run Uncle Uzzi's Magical Matchmaking Service with the gift of his powers. When his magic begins to tingle, he packs up and heads for New Jersey to help Hunter Maverick, a shifter and leader of the local supernatural shape-shifting tiger pack, find his fated mate.
In the first chapter, we meet chef Elissa Phoenix, who is on an epically bad blind date in a run-down casino in Atlantic City. Stuck with a handsy, sexist date, Elissa is repulsed by the man, the food, the atmosphere, and her entire situation. They head out to his car as Elissa furiously tries to think of a way out.
So, I firmly believe that every book has its perfect reader. And this book obviously does, because it has some truly shining reviews and C. D. Gorri is a highly successful and established paranormal romance author. I am not that reader. Having essentially two prologues put me off somewhat, and the first chapter created a talking heads situation for me—although we're privy to Elissa's thoughts, I didn't feel grounded in the setting.
My romance reading tastes trend more towards high fantasy and historical romance, and fated mates isn't the typical romance trope I go for. Because I'm not the target reader, I struggled with the opening segments and first chapter of this book. That said, Elissa seems like a pretty kick-ass character and has a strong, unique voice that I did very much enjoy. For those who are established paranormal romance fans, this seems like a strong book and author to check out.
Get the Kindle ebook free from Amazon here.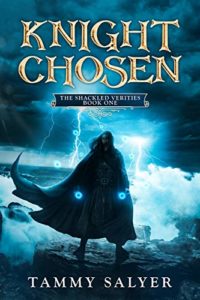 This is the first of four books in The Shackled Verities epic fantasy series. The other books are $0.99 to $3.99 each and are not in Kindle Unlimited.
The first chapter introduces Ulfric Aldinhuus, an ancient immortal who commands the Knights Corporealis. Ulfric is visited by his willful daughter, who he adores and calls Crumb because of her small size.
Crumb is only sixteen turns old and wants to be a knight like her mother and father. Ulfric enjoys being with his daughter but seems conflicted when thinking of the future.
The knights are the immortals who guard the Verity. Veritys exist physically in their human vessel and celestially. Vaka Astar is Vinnr's alabaster Verity who has not moved or spoken for hundreds of years.
Vinnr is one of the five realms and the existence of Vinnr and its people depends on the survival of Vaka Astar.
In chapter two we meet another main character, Mylla Evernal, the youngest of the knights and a novice with only a little over three hundred years of service. Mylla is thinking about her paramour, Havelock, who is a Dragor Wing Marine and a commoner. The Marines are commoners who only have one life cycle. Havelock is loyal and accepting of his fate and duty, which is a bit irritating to Mylla.
Mylla is preparing security for the upcoming summit which a stranger from another kingdom will attend. There is a sense of foreboding and suspicion about the summit among the knights. They wonder if another Verity, known as His Holiness, will threaten Vaka Astar's safety.
The story is very descriptive and well-written. I liked the characters almost immediately and am invested in what happens next. I will probably continue reading this story.
Get the Kindle ebook free from Amazon here.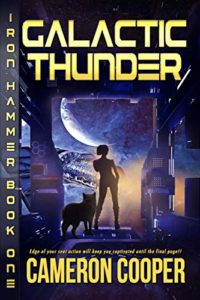 This is the first of eight books in the Iron Hammer military sci-fi series. The other books are $2.99 to $4.99 each and are not in Kindle Unlimited. This series is a sequel to the author's five-book Imperial Hammer military sci-fi series, set in the same universe.
Okay, so I know you shouldn't judge a book by it's cover, but based on the title and cover of this book I really did not expect to like it. It seemed like it would be a super action packed, lacking emotional depth, young heroic-male type book, which is just not my thing. Wow, was I wrong. It sucked me right in!
We open the scene with the main character, who we later find out is named Danny, waiting in a park with her parawolf, Vara, somewhere that is not Earth. I'm still not sure what a parawolf is but it seems important, so I'm excited to find out. She is waiting for Dalton, an owner of a bio dome company that makes it possible for humans to settle on otherwise inhospitable planets in the galaxy. We find out he hasn't been around in a long time, and Danny seems to have a confusing history with him. Dalton seems to have something important to tell Danny, but we are not given enough context to really do more than guess it has something to do with a romantic relationship.
Dalton takes several hours to arrive and when he does he seems troubled. He has brought his ex-casual fling with him, who is also the mother of his child. It makes Danny's heart sink, so, yup, they definitely have a history. We find out that his 25-year-old son's ship has disappeared and he needs Danny to help him find it.
This book really does just jump right into it. It doesn't give a lot of explanation about what things are or mean, and it seems like it's all just kind of explained along the way. We didn't even know what the main character's name was until chapter two when somebody said it. It is from first person point of view, and does kind of have that young adult adventure novel feel to it, but it doesn't seem like a young adult book. I'm really enjoying it.
Danny is very likeable and I can't wait to learn more about her and the other characters. It seems like something important went down several years earlier, as she seems to be very well respected by everyone. Every chapter that I have read so far seems to end on a cliff hanger, which really makes it a page turner for me. I will definitely keep reading.
After reading Sydney's review, I downloaded the book and checked it out myself — and read it in a single sitting. The main character is fun to spend time with and there's plenty of action. It reminds me a bit of the Honor Harrington series by David Weber or the Kris Longknife series by Mike Shepherd. There are even wise-cracking AIs and semi-sentient, psychically connected bonded pet companions. And a ship that can rearrange itself on a whim using nanobots. All my favorite things! Plus, a promise of a galactic war with an alien species.
I'm definitely going to read the next book in the series. Yes, even though it costs money.
But first, I'm going to go back and read the Imperial Hammer series. I've already downloaded the complete set.
I read and enjoyed Galactic Thunder without having read the first set of books, but there are a lot of references in the novel to events that happened earlier. They all sound like fun events.
Get the Kindle ebook free from Amazon here.
---
See all the Free Friday posts here. Do you have other free books for us to check out? Comment below or email me at [email protected].
Have you read any of these books? Are you planning to? Let us know in the comments!
And watch Carla and Maria discuss all ten books in the video below: