Reading Time:
10
minutes
Some articles may include Amazon affiliate links. All proceeds go to helping us pay for original stories and to support writers of speculative fiction. Read more here.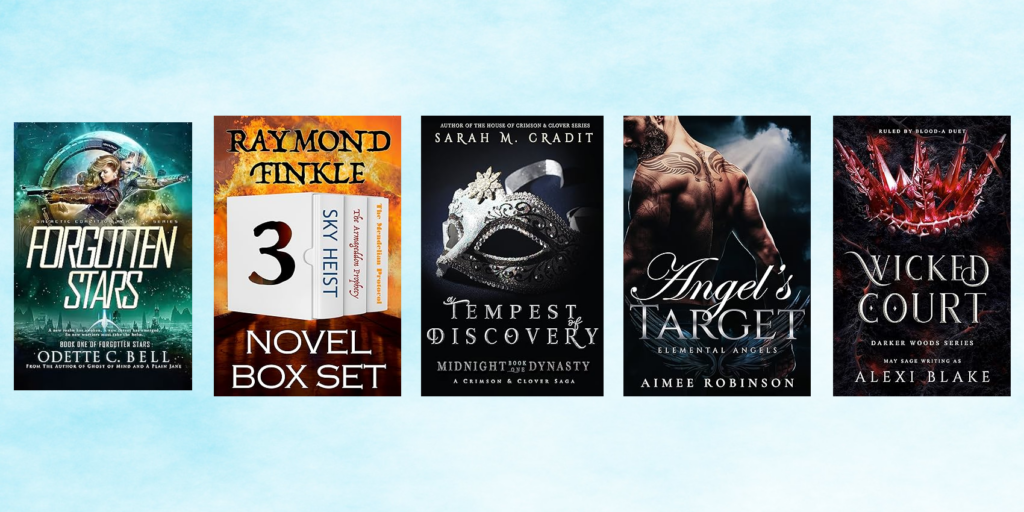 Did you know that Amazon has a list of the top-selling and free sci-fi and fantasy books? The list changes constantly — authors and publishers set their books to free temporarily to promote their work, and, of course, books move up and down in the rankings. Read on to find your fun free read for this weekend! And grab the books quickly because they don't always stay free for long.
This week's list is completely different from those of the previous weeks. So if you're a fan of free books, there are going to be new things to read all the time. If you want to get this list in your inbox every Friday afternoon, subscribe to the MetaStellar weekly newsletter.
There are a lot of books to go through, so this week I'm being helped out by a couple of other members of our MetaStellar community. If you'd like to join me in doing these reviews — and taping our regular Free Friday videos — email me at [email protected].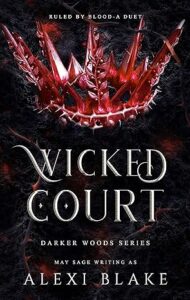 This is the first of four books in The Darker Woods fantasy romance series. The other books are $3.99 to $4.99 each and are not in Kindle Unlimited. The fourth book will be released in August of 2024, and is available for pre-order. This is the second week in a row that this book has been on our Free Friday list.
Last Friday, I wrote that this book is set in a kingdom ruled by a capricious fae queen. The protagonist is her granddaughter, who has secret powers, and who lives at the queen's command. There's also a mysterious handsome man whom she despises — but dreams about.
This seems like a book that I would not be interested in. I don't like books full of court drama and old crushes.
But I could not put this book down. Literally. I was halfway through it before I realized that the day was almost over, and I still had this Free Friday article to put together.
The protagonist, Vlari, is competent, clever, and action-oriented. She makes a life for herself despite all the constraints she's under, and she doesn't go around feeling sorry for herself. I like her a lot.
The writing is also very fast-paced and engaging, and I got caught up in her relationships, in what was happening at the court, and even in her best friend's love life. Even though she didn't kill anyone during this whole first half. She had two chances, too — and she decided to spare their lives.
As you might know, if you're a regular reader of this column, I prefer my books to have a lot of murder and mayhem.
Still, I'm going to be sticking with this book this weekend and recommend it highly to both romantic fantasy and epic fantasy fans.
Well, it's now a week later, and I'm here to tell you that as soon as I got done putting together the Free Friday column last Friday, I finished this book in one big gulp. And it was awesome.
Get the Kindle ebook free from Amazon here.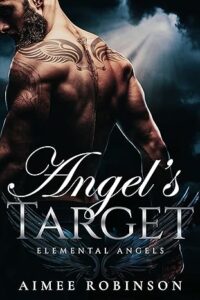 This is the first of five books in the Elemental Angels paranormal romance series. The other books are $4.99 each, and the series is not in Kindle Unlimited. This is the author's first time on our Free Friday list.
First, my usual disclaimer — I'm not the target audience for any book with a half-naked man on the cover. I prefer my books bloody and violent — or cozily mysterious — rather than mushy and romantic. If a protagonist comes across an annoying man who's half supernatural being and whom she hates on sight, I'd rather she kill him right away and save herself a lot of trouble.
But hey, you never know. Sometimes you can't judge a book by its cover. Or its subtitle. Or its title.
So, let's get into it. We start out with Titan, who's just killed an enemy with an arrow and got gross stuff on his pants when cleaning it off. That annoys him. Not the fact that he killed someone, but the fact that he's going to have to throw out his pants. I can sympathize with that. A good-fitting pair of pants can be hard to find, and enemies are a dime a dozen.
Then we learn that Titan and his brothers are public safety enforcers, annihilating demon threats. Though the rest use bullets instead of arrows. This particular battle took place at a New Hampshire strip mall, in the loading dock of a home supply center. They got two of the demons, but a third escaped while Titan was loading a new arrow. Maybe he should switch to bullets.
Turns out, the demons are looking for something a guiding light, and might have found it here in the mortal realm. And there are more of these demon types out there.
My guess is that this "guiding light" is going to turn out to be a pretty woman, who just happens to be single, and is attracted to supernatural guys with bows and arrows and who thinks of herself as a normal human… yup, it's a woman.
Titan then grows solid titanium wings and flies off to rescue the woman.
And in the next chapter, we meet the woman. Her name is Rose. She manages a small HVAC company. And her sister went missing six months before.
Okay, so this is definitely not for me. But it is very, very readable. If I was trapped in a cabin with this book, I'd read it and enjoy it. But there are also technothrillers on today's list and a space opera, and either of those is more my speed.
Get the Kindle ebook free from Amazon here.
This is the first of four books in the Midnight Dynasty paranormal romance series. The other books are $4.99 each, and the series is not in Kindle Unlimited. This is the author's first time on our Free Friday list.
According to the preface, this particular series is related to another series by the same author, the 12-book The House of Crimson and Clover, the first book of which is also free today. But the author says that you don't have to read those first because these books stand on their own.
The book starts with a list of characters and several family tree diagrams, which worries me because I'm not a fan of family epics. Those tend to be full of drama, and I don't like drama.
It starts in New Orleans, in the present day — of 2007. So, a lifetime ago.
Nicolas is an heir to the Deschanel dynasty, a family of witches and wizards. He used to be a depraved rogue but wants to change and no longer be a man afraid of commitment or family. And he wants to show his family that he's changed. The only one who believes him is his aunt Colleen. She's the closest thing he's got to a parent. His aunt wants him to investigate another powerful witch family.
Oh, and he's paired up with a woman he's in love with, Lauren, but she just knows him as the idiot he used to be.
There's also a bunch of backstory about what's happened with the family so far.
Then, in the next chapter, we switch to the point of view of Charlotte, who's just resigned a legal internship for the Louisiana ACLU and asked for a leave from her law studies. Then she went to the firing range to practice her shooting. Aunt Colleen is Charlotte's father's cousin. And Colleen has an assignment for Charlotte as well, which includes a trip to Paris with someone named Julian, whom she loves, but who's too young, sweet, and innocent to go on an assignment like this. They're supposed to investigate an illusionist and her brother, who are able to change their appearances, and Colleen wants to know if they're going to be allies — or enemies. And the illusionist's brother's picture captures Charlotte's eye, and she's immediately drawn to him.
And there's more back story.
Then we switch to the point of view of Lauren. She and Nicolas are getting ready for their assignment, and they're discussing family issues. Lauren has a sister that she doesn't get along with but still sees regularly. Nicolas' sister is pregnant, and he's going to be an uncle to a kid whom he might someday make his heir. Then they go and investigate that other witch family.
It's a slow beginning — too slow for me. There are too many potential romantic couples. There's too much family backstory.
If you like family sagas with a magical twist, you should pick this up — and pick up the first book in that other related series as well and read that first.
Get the Kindle ebook free from Amazon here.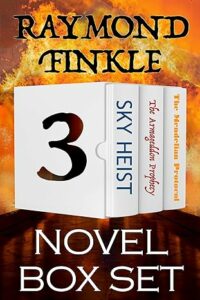 This is a box set of three stand-alone technothrillers, including Sky Heist, The Armageddon Prophecy, and The Mendelian Protocol. This is the author's first time on our Free Friday list.
The first book in this set is Sky Heist, and its cover image is straight out of Mission Impossible — a guy is hanging off a plane's wing with the engine on fire. But it looks like the guy might have a parachute strapped to his back, so maybe he'll survive.
Or maybe he won't. Either way, it's promising.
Tubs has just come back home after his brother's funeral. The brother died of a sudden heart attack.  And he gets a call — his boss wants him back on the job. A large commercial airline has crashed near Seattle, off-course, and there's a possibility that it was hijacked. Tubs would be the lead investigator for the National Transportation Safety Board.
Then we flash back a little in time to a guy named String, who's getting on a plane. He's got a laptop with him, and he's got a plan to use it to steal a whole lot of money and give it to worthy causes.
Then we switch to the co-pilot, Portia, who's just texted String that everything is ready to go. Except she just knows him as the Hacker. She's also texted someone she calls the Russian. She plans to retire rich to a private villa in Italy and work on her tan.
Then we're back to the present, with Tubs, on a cross-country flight from D.C. to Seattle, gathering information and delegating tasks.
I don't get the sense that there are any speculative elements in this book, but I do like a procedural, and this one seems to be shaping up to be a good one. I'll probably stick with it.
Get the Kindle ebook free from Amazon here.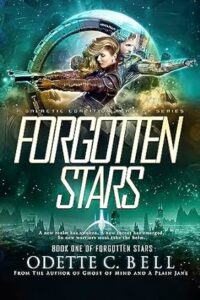 This is the first of four books in the Forgotten Stars space opera series. The other books are $3.99 each, and the series is not in Kindle Unlimited. The author is a regular on our Free Friday lists.
In the prologue, we learn that the protagonist is Commander Kim Starsmith, a man with some fancy "augmented armor." There's an explosion, and at first, I thought something had gone wrong with the space station's mechanics, but no – a verbal alarm announces that the station has been infiltrated by enemies. This book has a very fast start, getting right into action with a life-and-death threat to our hero and his colleagues.
Apparently, Kim doesn't ever take his armor off, not even in the shower, and we're told about this habit twice in two pages. While Kim's an officer, he prefers drinking with the hoi polloi – just one of the guys, right?
We begin to learn about some of the other station inhabitants, which includes aliens. The bartender has floppy ears and a scorpion-like tail. I like aliens, so I'm looking forward to seeing how the author handles alien cultures and thought processes. Or will these aliens be basically humans with a twist?
When all the lights fizzle, some of the officers scream. You mean these tough military types can't handle the lights going out?
Kim's friend tells him that only he, Kim, can save the ship. So we have an "only one" trope, which is not my favorite. This trope was the subject of a panel discussion a few weeks ago at the Albacon science fiction convention held in Clifton Park, NY. It wasn't a crowd favorite there, either.
But Kim doesn't want to be here. Although he's strong and was best in his class, I felt he's got an inflated opinion of his own worth. He resents his posting at this new-but-decrepit space station where his duties, training recruits who will protect the Coalition, he feels are beneath him. However, he seems to understand the nature of this attack from the Edge. We also learn that he respects the station's top leader, a beautiful woman named Admiral Zen. Are we getting a whiff of romance? But then we learn about Ensign Amber Hart, who has better armament than even Kim. Does Zen have a rival for Kim's affections? Maybe, but Amber is, to all appearances, not the over-achiever Kim or Zen are. Does she have hidden talents? Will this be a story of unrequited love or prince-and-female-pauper? Or maybe a three-way relationship. Amber did not make a good first — or second — impression on Kim, but we know that impression will change, because… trope.
Then a nightmarish creature erupts from a fountain, Kim attacks it with his handy-dandy telekinetic sword-that-isn't-a-sword-but is like a Swiss army knife. But a score more of the creatures appear….
So far the book reads like a 1930s pulp space opera, complete with an invincible superhero. Not my thing, but I'll read a bit more…
On an away mission led by Kim to a "pop-up" world, Amber, while separated from her team, falls into a suddenly-appearing hole. She falls for a long time but stops just above the surface of some rocky chamber.
Although the plot is getting more interesting to me now, I'm going to stop reading here, with mixed feelings. For me, there are too many contractions and contradictions in the text to be glossed over, and an editor should have corrected the way numerals under 100 are left as digits. There was a misspelled word in the prologue and the narrative in general, felt unprofessional. But this book might be of interest to swords-and-sorcery fans, space opera fans, and people who love superheroes and lots of action.
Get the Kindle ebook free from Amazon here.
---
See all the Free Friday posts here. Do you have other free books for us to check out? Comment below or email me at [email protected].
Have you read any of these books? Are you planning to? Let us know in the comments!
And watch Maria talk about all five books in the video below: