Reading Time:
12
minutes
Some articles may include Amazon affiliate links. All proceeds go to helping us pay for original stories and to support writers of speculative fiction. Read more here.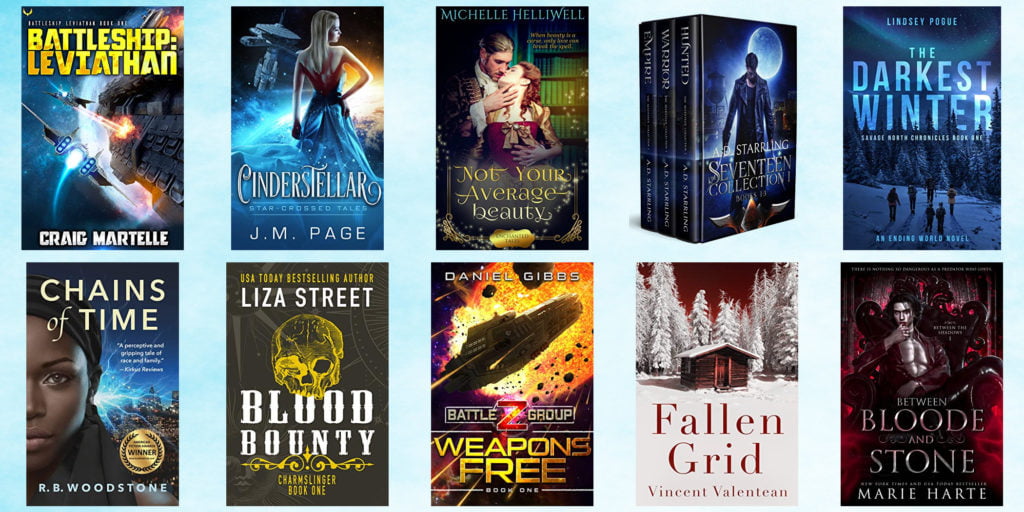 Did you know that Amazon has a list of the top-selling and free sci-fi and fantasy books? The list changes constantly — authors set their books to free temporarily to promote their work, and, of course, books move up and down in the rankings. Read on to find your fun free read for this weekend! And grab the books quick because they don't always stay free for long.
This week's list is completely different from those of the previous weeks. So if you're a fan of free books, there are going to be new things to read all the time. If you want to get this list in your inbox every Friday afternoon, subscribe to the MetaStellar weekly newsletter.
There are a lot of books to go through, so this week I'm being helped out by a couple of other members of our MetaStellar community. If you'd like to join me in doing these reviews — and taping our regular Friday videos — email me at [email protected].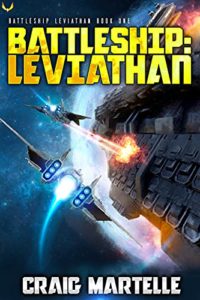 This is the first of six books in the Battleship: Leviathan space opera series. The other books are $0.99 to $6.99 each and are not in Kindle Unlimited. The last book isn't out yet but will be released at the end of October and is currently available for preorder.
Major Declan Payne and his crew are assigned a new mission to explore and possibly restore the first fully intact derelict. The derelicts belong to the Progenitors, an advanced species that abandoned ships throughout the galaxy 1000 years ago.
Unlike the other abandoned Prog vessels which are all more salvages than ships, this ship was invisible until recently, after being cloaked for 1000 years.
Payne's team normally specializes in behind-the-lines search-and-destroy missions, not recovery missions. This time is different because the Blaze Collective is en route to the mystery ship which is located in Earth's solar system, orbiting one of Jupiter's moons.
The Blaze Collective is at war with Humanity, so it is urgent that Payne's team arrives and commandeers the ship first. The battle-worn team is up to the challenge. Even the new, green, member who is nicknamed Fetus. Fetus is always the newest member of the team until a newer member joins the crew to take the name and a new nickname is given to the old Fetus.
The team boards Cleophas for their journey to the new derelict. While en route, studying the video of the derelict, the team realizes that the ship they are about to explore may not be derelict at all but is possibly a highly advanced battleship. It may be just what they need to give them the advantage over the Blaze.
This is a story for readers who enjoy space battles and military jargon. The Amazon introduction suggests "It's perfect for fans of Rick Partlow, Jay Allan, and Joshua Dalzelle." I liked what I read but probably won't read further just because it's not my favorite genre.
Get the Kindle ebook free from Amazon here.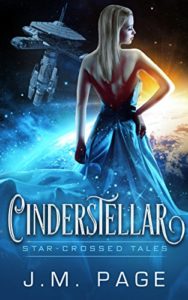 This is the first of seven books in the Star-Crossed Fairytales series of sci-fi romantic fantasy. The other books are $0.99 to $5.99 each and are all in Kindle Unlimited.
First, a disclaimer — retold fairy tales is not my favorite genre, though I've been known to get sucked into a book or two. However, I do like space travel.
The book starts out with Stella, a janitor at Starforge Academy, bitter about how arrogant the students are. It's an elite school — what does she expect? Her mother was a famous pilot, but her dad, now remarried, is keeping her from taking any classes. Of course, there's a cute boy she likes, and her stepsister is one of the students — and dating the cute boy — and she bullies Stella.
To my jaded, middle-aged brain, Stella comes off as whiny and indulging in self-pity. She can just go to another school but doesn't want to because Starforge has the best reputation. I know that by the end of the book, she'll probably end up with all her dreams coming true but, from what I've seen of her so far, I don't think she deserves it.
Plus, her social anxiety and inability to stand up for herself doesn't bode well if she wants to pursue a career going on missions around the galaxy, meeting new alien species, and saving Earth from certain destruction.
I think I'll pass. But if you want to see Stella's life get turned around and her stepsisters get their comeuppance, then I do have to admit that the book is an easy read and you might enjoy it quite a bit.
Get the Kindle ebook free from Amazon here.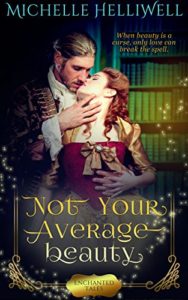 This is the first of four books in the Enchanted Tales romantic fantasy series. The other books are $2.99 to $4.99 each and are not in Kindle Unlimited.
Set in 1790s Yorkshire, we open to Stephen, Marquess of Pembroke — and the Beast of Barronsfield — waking up with no memory of the night before and blood covering his hands. His servants reluctantly come into his destroyed room, and he roughly pieces together what happened the night before—as the Beast, he attacked the vicar's chickens and beloved dog. Aghast at the destruction, he still feels relief that, unlike five years ago, no people were killed. He dresses, pulls himself together, and heads out to set things aright.
Meanwhile, Rosalind is returning to the same town with her uncle after her father's death, debating the pros and cons of an arranged married versus waiting two years until she is 30 and can inherit a comfortable estate. Her uncle stops at a commotion in front of the vicar's house, and Rosalind overhears heated villagers accusing her uncle of enabling the Beast. Rosalind begins to get out of the carriage at the exact moment her uncle and Stephen open the door, causing her to tumble out in a unladylike heap into Stephen. She, of course, finds him handsome and mysteriously sad. They make some awkward small talk before everyone takes their leave.
We then cut back to Stephen, who spends quite a bit of time thinking about how plain he finds Rosalind. He decides that she is safe choice for marriage and he vows to lock down a marriage agreement by the next day.  Apparently, beauty is tied into the curse somehow, but as readers we don't quite know how or why yet.
As I've mentioned before, I adore fairy tales and historical romance, so I am the exact target audience for this book. And I have to say it's working—I like this version of the Beast's curse as one of shapeshifting rather than full transformation. Rosalind and Stephen are interesting characters, and I feel grounded in the Yorkshire setting. I'm curious to see how the author plays with the concept of beauty as it ties into the curse, and the ups and downs of a marriage of convenience romance. I'm definitely hooked, and will absolutely keep reading.
Get the Kindle ebook free from Amazon here.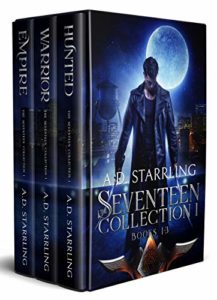 This is the first three of six books in the Seventeen Series of urban fantasy billed as a cross between "Highlander" and "James Bond." The other books are $4.99 each. They are all in Kindle Unlimited. This collection has been on this list before. We previously reviewed it in October of 2021.
Here are the opening lines of the prologue —
"My name is Lucas Scott. Today I died again. This is my fifteenth death in the last 450 years."
As a reader, I am completely sold on this. Dying fifteen times in the past couple hundred years makes perfect sense to me. I want to know more. I love it when authors can give you a ton of information on character, world-building, and tone right off the bat. Lucas is also pretty concise, and I love conciseness.
Holy smokes. Those three lines I copied above WERE the prologue. It jumps then right into chapter one.
Reid and Lucas own the Hasely and Soul Agency, a private investigator firm. Reid is a former marine and cop. It's about four in the morning when Reid gets a call from Lucas. Within fifteen minutes Reid is there. Reid asks Lucas what happened and the dialogue between them made me laugh.
Lucas explains that their client is another immortal and he had stabbed Lucas in the heart and pushed him off the top of a twelve-story building. His bruises will heal completely by the next day.
Awesome. I'm so digging this.
Lucas only has two more deaths left before he's dead for good. We also get some backstory at the end of this chapter and, to be honest, I am genuinely relieved when Lucas just gets to go home and rest.
I will be back for this one.
Get the Kindle e-book box set free from Amazon here.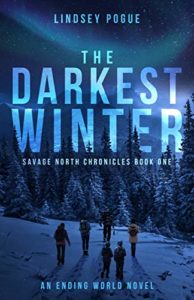 This is the first of seven books in the Savage North Chronicles postapocalyptic series. The other books are $2.99 to $5.99 each and are not in Kindle Unlimited.
I'm not a fan of post-apocalyptic novels. As far as I'm concerned, reality is apocalyptic enough. But in the foreword, the authors talks about the research they did on environmental issues and life in Alaska, and I'm intrigued.
The book starts out with Elle in a car, upside down, and in pain. There's been an accident.
Then we jump back four months prior. Elle is talking her to a psychiatrist about her sleep paralysis. She has nightmares about her stepfather standing over her bed, watching her. Now her stepfather is dead, and she inherited his estate in Alaska. At the end of the session, she decides to go and visit the old house.
The next chapter is from the point of view of Jackson, whose wife is pregnant with their first baby. They've had three miscarriages so far, and are worried about the pregnancy. Jackson is Yup'ik, and a police officer.
Then we come back to Elle. She's driving to Eagle River, near Anchorage, back to the house where she grew up. She plans to sell it as quickly as she can.
The book starts slowly, but the writing is excellent and atmospheric, and Elle is a compelling character. Despite the slow pace, I'm getting sucked in. This isn't my genre, but I might stick with this book.
Get the Kindle ebook free from Amazon here.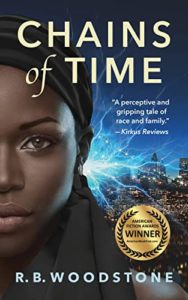 This is a standalone literary novel about race, family and time travel that won a bunch of awards, including the 2021 American Fiction Award for Historical Fantasy. This is the author's only novel on Amazon. Half of the proceeds from this novel will be donated to Equal Justice Initiative. The author is currently working on a sequel.
The first chapter is told from the point of view of an unnamed woman on her wedding day. Her father is a king of a tribe and she will be married to the son of another tribe in order to bring the people together. But instead, the slavers are about to come. She can see what is about to happen, and even knows the name of the ship's captain.
Then, in the next chapter, we switch to the present day, in Harlem. Terry, 15, is trying to protect his little sister from their abusive father. It's the first day of school, and his father is angry that his daughter is spending too much time with her grandmother. Terry's already made lunch for both of them. Their older brother is already at school, at football practice.
For the previous two years, Terry's been having a dream about a slave ship closing in on Africa, a girl watching it from the shore. And, also for the past two years, his little sister has been silent, not saying a word. However, he can hear her thoughts.
Then we're back to the girl getting ready for her wedding, and we hear about all the details of the ceremony.
This is a little too slow-paced for me. The style of the book feels more like a magical realism novel than hard sci-fi. If you like a thoughtful, literary book to read this weekend, you might enjoy this one.
Get the Kindle ebook free from Amazon here.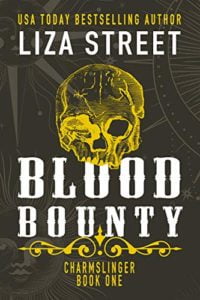 This is the first of seven books in the Charmslinger paranormal western series. The other books are $4.99 each and are not in Kindle Unlimited. Books six and seven aren't out yet, but are scheduled to be released in October and February, respectively, and are available for preorder.
Now this is more my speed. Gracie slams a bag holding a bloody vampire head down on a bar. She's a bounty hunter in the old west, and she's looking for the marshal so she can collect the bounty. The marshal isn't at the jail, where he's supposed to be. He's not at home with his wife.
Gracie is human, but she uses witch magic to bring down supernatural creatures. The bounties she collects keeps her horse fed and lets her buy new boots once in a while. The marshal eventually turns up at a brothel. He's surprised to see her so soon, but reasonably happy about it. The vampire she took down killed the preacher's daughter. In fact, the town wants to throw her a banquet to thank her.
Gracie just wants her money and directions to the nearest witch so she can replenish her stock of charms.
I like her very much, and I love this setting. I'll be sticking with this book this weekend.
Get the Kindle ebook free from Amazon here.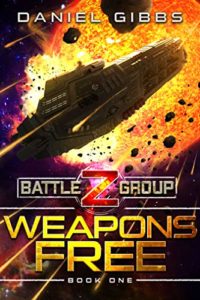 This is the first of five books in Battlegroup Z military sci-fi series. The other books are $0.99 to $2.99 each. They are all in Kindle Unlimited. The last book will be released this December. This book has been on this list before. We previously reviewed it in September of 2021. The author has also had other books on this list. This past August, we reviewed Breach of Peace, the first of seven books in the Breach of Faith space opera series. And, in January, we reviewed Victory's Wake, the first of five books in the Deception Fleet military sci-fi series.
Based on the cover, I'm betting this is going to be my favorite book on today's list. I love space battles.
The book is set a little over four hundred years in the future. First Lieutenant Justin Spenser is a pilot for the Terran Coalition on a training mission in an abandoned system at the end of his two-week reserve tour when they're attacked.
Humanity's been at peace for 35 years. The bandits, whoever they are, have military-grade technology. Spenser's unit shoots them down, and calls for search and rescue support, but then more arrive.
Colonel Banu Tehrani, Spenser's commanding officer, has only seen combat a handful of times, and never as a commanding officer. Now, not only are her pilots being attacked, but multiple inbound wormholes are opening up. Her unit isn't prepared for a full-scale battle. And they still don't know who they're up against. Unusually well-armed bandits? Former foes who decided to resume hostilities? A new alien species? Some other group?
I love this. I love the action, and I'm enjoying the professionalism — and the believability — of the characters.
I'm planning to return to this book, and probably the whole series.
Get the Kindle e-book free from Amazon here.
2. Fallen Grid by Vincent Valentean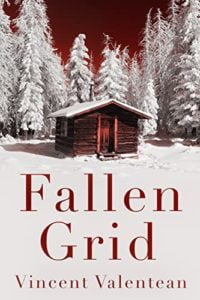 This is a standalone novel of EMP survival. We've seen this author on the list before with similar EMP survival novels. in July, Into the Darkness was at the top of this list, and, this past March, Fading Light made it to the top spot as well.
As far as EMP books go, I'd say this one is pretty entertaining.
In case you don't know, an EMP is an electromagnetic pulse that disrupts or destroys electronics but leaves living things unharmed, and in the case of EMP fiction, usually leads immediately to a post-apocalyptic scenario where the world goes crazy and everyone starts turning on each other.
John is an ex-marine turned vigilante who killed almost 200 scumbags and ended up in prison. He's killed twenty more thugs in the past six months and often ended up in solitary confinement because of it.
Now the power's suddenly gone out, his prison enemies are free from their cells, and they're ready to take him out. But John's not planning to go down without a fight.
John has an ex-wife that he apparently still cares about out in the world, and he wants to make sure she survives the chaos unleashed by the EMP.
That's as far as I got, but I think I'll finish this story. It's kind of like a bag of movie popcorn that I started eating and can't put down. It's not that great, but something about it makes you want to keep eating.
Get the Kindle ebook free from Amazon here.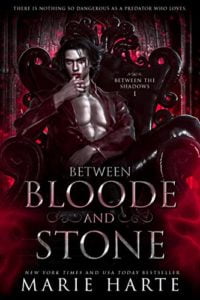 This is the first of four books in the Between the Shadows paranormal romance series. The other books are $2.99 to $3.99 each and are all in Kindle Unlimited.
The author is a New York Times and USA Today bestseller, which bodes well for the book.
But, on the other hand, there's a half-naked vampire on the cover. I'm not a fan of vampire romance.
In this world, all the vampires are male, can pass as human, but can't survive sunlight.
Varu is more than 300 years old, on a mission for the goddess Hecate. He and the group of vampires have come to Seattle to find a woman. They're attacked by shapeshifters and a mysterious woman who's able to best Varu in a fight — and has some kind of magic that she can hold over him. They kill most of the attackers, but the woman escapes, leaving just a magical dagger behind.
I like the fact that this book starts right in with the action, and am enjoying the banter between the vampires. This isn't my usual kind of book, but it's fun, and I might stick with it this weekend.
Get the Kindle ebook free from Amazon here.
---
See all the Free Friday posts here. Do you have other free books for us to check out? Comment below or email me at [email protected].
Have you read any of these books? Are you planning to? Let us know in the comments!
Or watch Maria discuss all ten books in the video below: