Reading Time:
15
minutes
Some articles may include Amazon affiliate links. All proceeds go to helping us pay for original stories and to support writers of speculative fiction. Read more here.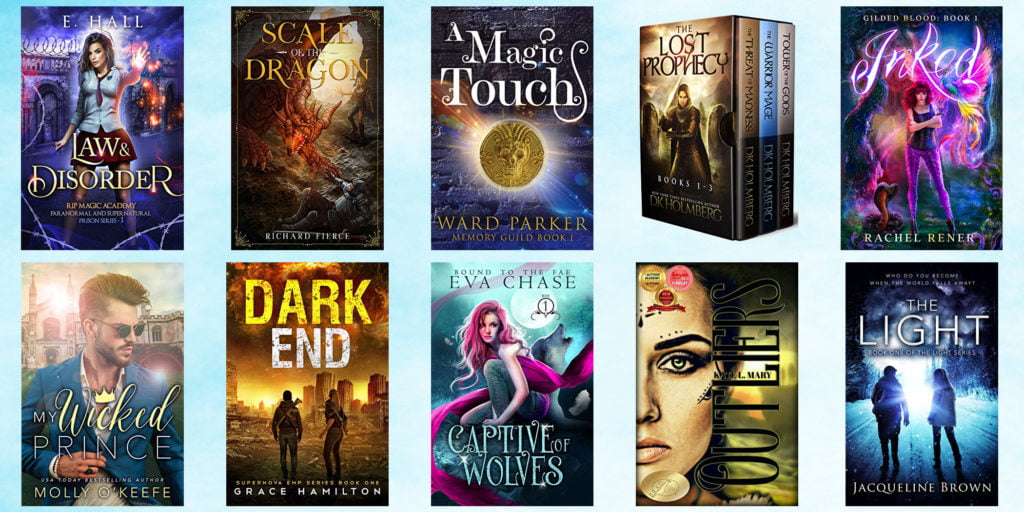 Did you know that Amazon has a list of the top-selling and free sci-fi and fantasy books? The list changes constantly — authors set their books to free temporarily to promote their work, and, of course, books move up and down in the rankings. Read on to find your fun free read for this weekend! And grab the books quick because they don't always stay free for long.
This week's list is completely different from those of the previous weeks. So if you're a fan of free books, there are going to be new things to read all the time. If you want to get this list in your inbox every Friday afternoon, subscribe to the MetaStellar weekly newsletter.
There are a lot of books to go through, so this week I'm being helped out by a couple of other members of our MetaStellar community. If you'd like to join me in doing these reviews — and taping our regular Friday videos — email me at [email protected].
10. Law and Disorder by E. Hall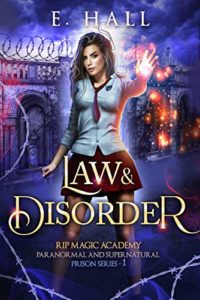 This is the first of three books in the RIP Magic Academy urban fantasy series. The other books are $2.99 each and are not in Kindle Unlimited.
There is a lot of teenage banter in this book. Even the exposition sounds like chatting with a teenage girl.
Maija is pretty normal, except that her parents are both Olympic athletes. She seems a bit obsessed with falling in love. She goes to the beach and chats about hot guys and Halloween parties with a couple of friends. For me, the teenage banter is a huge turnoff. They have s'mores at a campfire. Then, she looks up into the sky and sees the stars rearrange themselves to spell her name. She can't believe it!
Then a young boy who looks like a cross between Dr. Darcy and Edward from Twilight appears. The author literally describes him like that. He can't stop staring at Maija and then he approaches her. But then he doesn't wanna dance. Ugh. Typical!
The next morning, Maija receives an ominous message from a cat on her balcony. It tells her to run and not to use up her wishes. What? That's weird. When she goes into the living room with her parents, she finds two ladies there who claim they are from the Office of Magical Management. Apparently, the parents had been informed of Maija's magical abilities when she was first born. So they aren't surprised. Her mother is actually proud.
The way that the ladies just show up in their house reminds me a LOT of Harry Potter. I'm starting to suspect that this is Harry Potter fanfiction…
I am not interested in this book. But I can understand why others like it. It's cute and immersive. Reading it made me feel like I was there with those kids on the beach. It's fun.
Get the Kindle ebook free from Amazon here.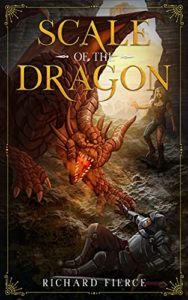 This is the first of four books in the Marked by the Dragon teen and young adult fantasy series. The other books are $2.99 each and are not in Kindle Unlimited.
Mina hates dragons. After a childhood accident where a dragon scale became embedded in her thigh, Mina's life is changed forever: her family sells her to Lord Klodian, where she acts as a tracker for him to hunt and slay dragons. The book opens with Mina leading Klodian to a dragon's lair. Although Mina mourns her present circumstances and past life, we see that she has a lot of fight still in her.
Klodian goes into a cave and kills a dragon off-scene, while Mina deflects his fawning squire Vahn, and reflects on the fact that magic is banished within the Dominions, with — of course! — the exception of the ruling class, the Dominion lords.
Then we meet another character. Caden Davtyan has a plan, one that will supposedly win him power, glory, and riches equal to that of a Dominion lord. We meet him during step one of this grand plan: an enlistment event to become one of Klodian's Runesmen, soldiers tattooed with runes to give them a particular supernatural power that Klodian can draw on at will. Caden is chosen to be marked with strength, along with Thais, the only woman joining the Runesmen.
My personal reading taste is more character-driven, and for me these first two chapters were heavy on description rather than development. Additionally, a scene where Thais is forced to remove her shirt to be one of the boys felt rather performative to me. That said, traditional high fantasy lovers will really enjoy this book.
We have a downtrodden hero and a reluctant love interest — I'm assuming that Caden and Mina are going to hate each other at first, then become attracted to one another.
Forbidden magic is always fun, and I'm interested to see what role the dragons play in all of this. Overall, this looks to be a fun, comfy read that hits all of the markers for high fantasy.
Get the Kindle ebook free from Amazon here.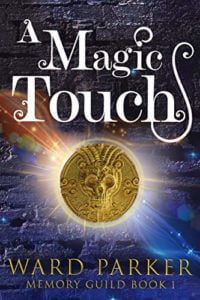 This is the first of eight books in the Memory Guild urban fantasy series. The other books are $1.99 to $4.99 each, and the entire series is in Kindle Unlimited. The eighth book is currently available for pre-order and will be coming out Oct. 31, 2022. This isn't the first time the author has been on this list. This past January we reviewed the start of a related series — Freaky Florida, the first three of seven books in the Freaky Florida urban fantasy series.
I love urban fantasy. It's right up there with military sci-fi as my favorite genre of speculative fiction. So I'm totally the target audience for this book. Plus, the protagonist is an adult, not some annoying teenager. No offense to teenagers… no, wait. They're perpetually offended. Nothing I say will make any difference.
So, anyway, Darla is middle-aged, and is returning to her home town, San Marcos, Florida. Darla talks too much and too fast. I sympathize with that. She's moving back home after her divorce to be closer to her mother and her 24-year-old daughter. And the way the author describes this town — well, I want to move there.
She's just bought a 285-year-old inn, and plans to turn it into a bed-and-breakfast. Oh, and she's a telepath. So's her mom and grandma. Her daughter? Nobody knows yet.
I love the atmosphere here and the banter between Darla and her mom.
The day after she arrives in town, she goes to visit her best friend, who runs a rare coin shop. And finds her body — which has a gold coin in its mouth. She can't help herself. She touches it, then reaches out for her friend's desk to steady herself — and touches a bronze figurine. It was the murder weapon, and she gets a vision of the murder.
I love the premise. I'm a big fan of cozy magical mysteries, and this book is just swimming in cozy. Plus, the lead detective is handsome and single. But her prints are on the murder weapon, and her only alibi is her mother. The detective is already familiar with her mother's eccentric reputation.
But Darla does something really clever to ensure that she's not the prime suspect. She tells the detective that, like her mother, she's a bit of a psychic herself, and saw a vision of the murder, and wants to help the police catch the killer. She even shares the info she got from her vision, like where the murderer was staying, and what brand boots he was wearing. She knows how this makes her sound — like a crazy person — and she leans into it.
I like that about her.
In fact, I like everything about this book. I'm sticking with it this weekend.
Update: I finished the book. Then I read the second book in the series. Then the third. Now I'm on the fourth. Also, half-way through the first book, I realized that the premise was familiar — I'd previously read Freaky Florida, which is set in the same universe and has some overlap. However, you don't need to have read the other series in order to enjoy this one and it features an entirely new set of characters, though the protagonist from the first series shows up once in a while to help out.
Get the Kindle ebook free from Amazon here.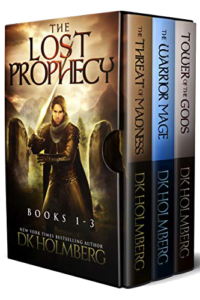 This is a box set of the first three books in the eight-book The Lost Prophecy epic fantasy series. Individually the books are $2.99 to $4.99 each, and the entire series is in Kindle Unlimited. D.K. Homberg has been on this list before. We reviewed his book Path of the Flame and The Cloud Warrior Saga back in July, and Unbonded back in May.
First of all, you get three books for free out of what looks like eight books that are in the series, and if you're a fantasy fan who's looking for a new series to read, I'd call that a great deal!
I read the first few chapters of the first book, The Threat of Madness, and I'd confidently say I'd like to keep reading.
This story starts in a tavern. A seasoned warrior named Brohmin and a mage named Salindra team up and embark on a quest that has them fighting some creepy monsters right off the bat, so this book isn't short on action and monster fighting if that's the kind of fantasy book you like to read.
This book — and I'd guess the other two — should appeal to you if you like magic, battles with monsters, and epic characters going on journeys.
And since you get three books right off the bat, there'll be plenty for you to read.
Get the Kindle ebook free from Amazon here.
6. Inked by Rachel Rener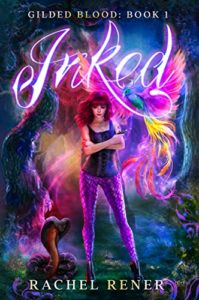 This is the first of three books in the Gilded Blood urban fantasy series. The second book is $1.99 and the third book is currently available for pre-order and will be coming out Feb. 13, 2023.
Talia, our protagonist, is a tattoo artist. She's in the middle of applying her skills to a biker client when she runs out of ink.
I have no tats and my feelings about them are mixed — I've seen some superlative ones and I've seen some ones that looked like they were applied by a drunk amateur who failed kindergarten crayon-drawing class.
Talia works for Zayn, whom she finds attractive in the extreme. Looking at the cover image and making a small extrapolation — a supernatural romance? Really not my thing, but we labor on…
Zayn is nowhere to be found that day, and doesn't answer his phone. So Talia decides to use the extra-special super-duper ink Zayn keeps locked up in his office because the customer is waiting. She breaks in to said office and steals ink in the light brown color that she needs, then steals some more so that the tattooed snake she's creating has some spectacular, glowing red eyes.
This is an interesting beginning and it reads smoothly so far, so I shall read more…
The customer goes to the restroom and from behind that closed door, Talia hears him scream. When she jimmies open the door a crack, his body is blocking its further movement. Then she sees a serpent rising up from the floor…
This is intriguing. Did her stolen ink make the snake animate? Cool.
I also like that Talia is Jewish, which is shown, not told. We almost never see a Jewish protagonist in a fantasy book, so that detail adds an interesting wrinkle. It remains to be seen if it's just for color or if it's actually a plot element.
Ok, I've changed my mind, maybe I do like supernatural romances – or, at least, this one. I'm going to finish this book tonight.
I recommend this book for people who think there is mystery in tattoos, those who like supernatural stories, and folks looking for Jewish female protagonists.
Get the Kindle ebook free from Amazon here.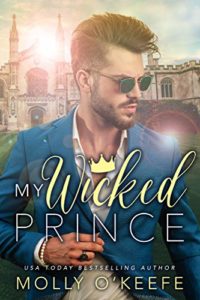 This is a standalone fairytale romance. If you like this book, the author has several others available on Amazon. Usually this book is $3.99, but today it's free. None of O'Keefe's books are in Kindle Unlimited.
Brenna has to deliver important news to her troublesome stepbrother, Gunner, who lives a reckless lavish lifestyle as the "Prince of New York." She is scared of meeting him because they had a crazy relationship that ended really badly. It only lasted a few months, but still haunts Brenna. There's no blood relation between them, by the way.
They belong to the royal family of a fictional land called Vasgar. Other than that, there don't seem to be any other fantasy elements.
I think the dialogue and character-building are good. Gunner is believable as a character. He seems narcissistic. His father, the kink of Vasgar, has died recently. It's Brenna's job to bring Gunner back home to take the throne.
If you like stories where an average-looking, college-educated woman is in a complicated relationship with an extremely handsome narcissist, then yes, I totally recommend getting this one while it's free. If I continued reading, I'd probably enjoy it too. I won't be back for more, though.
Get the Kindle ebook free from Amazon here.
4. Dark End by Grace Hamilton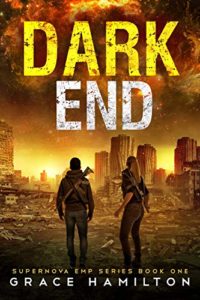 This is the first book of four in the Supernova EMP series. The other books are $4.99 each, and the series is not in Kindle Unlimited.
In Dark End, Grace Hamilton takes us to a world where civilization is ending literally overnight. From violent outbursts triggered by the biological effects of a supernova to the collapse of infrastructure, the future of Dark End is not a nice place to be.
The story centers around Josh and Maxine, a couple who had plenty of interpersonal troubles before the end of the world started. Their son, who has invasive cancer, and a loss of love between them is a heart-wrenching backdrop for this tense family drama.
For those looking for a story about people dealing with constant adversity, this book is a great option. It's a fast read and while it's light on the science, the world is internally logically consistent and it's a great example of the post-apocalyptic genre.
The pacing is a little fits-and-starts to begin with, with plenty of backstory building flashbacks between dialogue, but it picks up nicely as the action starts. As a low-threat yarn, readers of the genre would be hard pressed to find a reason not to sink a few hours into the future of Dark End.
I won't be reading on because the explanation for the bouts of violence wasn't based in science, though it was presented as such, and the pacing gave me whiplash by pausing an action scene for a long bout of exposition or a flashback.
But if you like to know every detail of character situations and you don't mind waiting for the action to build, then you might enjoy this book!
Get the Kindle ebook free from Amazon here.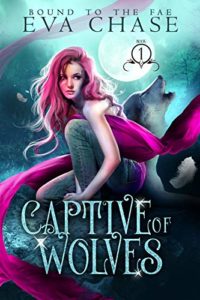 This is the first of nine books in the Bound to the Fae paranormal romance series. The other books are $4.99 each, and the entire series is in Kindle Unlimited. Eva Chase has been on this list before. Back in March we reviewed her book Shadow Thief, and in April we reviewed her book Claimed by Gods.
For eight years, Talia has been trapped in a cage, held prisoner by a trio who torture her. They're keeping her alive because her blood is valuable. They make a tonic from it.
The cage is held closed by a magical lock, and Talia has been trying to get it to open, repeating the magic word that she's overhead one of captors use. It's never worked — until now. She's on the verge of escape when new people show up, looking for the tonic's secret ingredient, and find her. They release her from the cage, only to take her prisoner themselves.
Then we switch to the point of view of one of these new people, Sylas, the leader of the new group. Apparently, Sylas' people — including Talia's original captors — change into wolves every full moon. And it's not a fun, pleasant change. They become real beasts. Just a taste of Talia's blood will keep the transformation at bay.
Unlike her original captors, Sylas tries to be nice to her. Gives her a bed to sleep in, clothes to wear. Asks her her name.
We find out that she's been kidnapped from the regular human world and brought to the land of fae. The fae have the ability to shift to wolf form. And the fae are extremely prejudiced against humans. Sylas may be an exception — but the other men around him keep referring to Talia as dung.
She asks about going home — and learns that it's not up for discussion. So. From one set of captors to another. Then we switch to the point of view of one of the other fae, and I start to wonder whether this is a reverse-harem romance. Yup. It is.
So there are a lot of tropes here that I'm not comfortable with. The one about falling in love with your captors seems creepy. The reverse harem — where the woman doesn't have to choose between the guys but gets all of them — seems to be a setup for disaster. The logistics of juggling multiple boyfriends and all their drama do not appeal to me.
But considering how many equally ridiculous tropes I do love and enjoy, who am I to judge?
In any case, the book is compulsively readable, and if you like the setup, you might enjoy it very much.
Get the Kindle ebook free from Amazon here.
2. Outliers by Kate L. Mary
This is the first of three books in The Outliers post apocalyptic science fiction series. The other books are $2.99 and $3.99 each. The entire series is in Kindle Unlimited.
The Outliers in this award-winning book are an oppressed group of people that serve the Sovereign. The Sovereign are well-off tyrants served by the Outliers. Outliers work for the Sovereign for generations. Each younger generation takes over when the older servant can no longer work.
The book opens with Indra who is near starving, like the rest of her people, serving a feast at the House of Saffron. The House of Saffron is a home belonging to "Saffron" who is Indra's uncaring and sometimes cruel Mistress. Indra supports her brother and mother and sometimes sneaks extra rations to them from the House of Saffron kitchen.
Saffron offers Indra a chance for her young brother, Anja, to come work at the House of Saffron for Saffron's son Lysander. Indra jumps at the chance for her brother to become a member of the staff because it could vastly improve her family's circumstances. But Indra is also wary of the offer.
Lysander is a predator who corners young women on the kitchen staff in the pantry and "has his way with them". He cornered Indra once during her three years of service when she first arrived but has not been able to trap her again. She still has to endure the cries of other women who fall prey to him.
One of the youngest kitchen staff, Isa, is replacing her sister who is pregnant after being abused by Lysander. Isa is even more malnourished than most Outliers because she is sneaking most of her rations home to her pregnant sister. Indra knows that if Isa is caught she could be accused of stealing and could even lose a hand as punishment.
Indra warns Isa and is seen speaking during Saffron's feast. Servants are not to speak unless spoken to in front of Sovereigns, especially if there are guests. Saffron punishes Indra by whipping her hands and making Indra count the five lashes. It is obvious to Indra that Saffron enjoys the punishment she inflicts on her staff and she sees a gleam in Saffron's eyes as her hands are lashed with the whip.
This is a very descriptive story that was the winner of the 2018 Kindle Books Awards for Sci-Fi/Fantasy Fiction and received several other awards. The first couple of chapters tell readers about Indra's and the Outliers' circumstances. The description of the book explains that Indra seeks to unite the Outlier tribes against their oppressors but that must happen later in the book. The second chapter ends with Indra and her friend Mira finishing the dishes.
I usually enjoy fast-paced books that have a lot of action and give readers an idea of where the book is going early on. This book seems to start a little slow but I am invested enough in the characters to want to find out what happens next. I may be reading the rest of this story over the weekend.
The dedication of this book thanks Rebekah, "who suggested I watch The 100, which helped inspire this world." Outliers' post-apocalyptic, dystopian theme may well appeal to those who watched The 100 television show or enjoyed the book series.
Get the Kindle ebook free from Amazon here.
1. The Light by Jacqueline Brown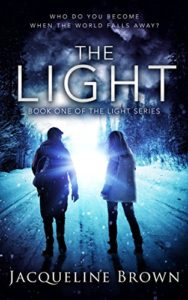 This is the first of five books in The Light science fiction series. The other books in the series are $3.99 to $4.99 each and the entire series is in Kindle Unlimited.
Bria is driving. She and her three best friends are on their way to Palm Beach for Thanksgiving. It's night, they're in the middle of nowhere in North Carolina, and suddenly the whole sky lights up. Immediately after the car's brakes and steering stop working, as do all their phones. Oh, no, it's an EMP survival book.
An EMP — electromagnetic pulse — is when a bomb, or a solar flare, generates a strong electromagnetic wave and kills all electronic devices, while leaving people and animals unharmed. It's an extremely popular genre right now.
Bria and her friends join two other people whose car died and start walking to the nearest town. It's a slow walk and while everyone's walking we get their back stories. There's a lot of back story, relationship drama, personal traumas, that kind of thing. I wonder if any of it is going to be relevant during the apocalypse that's apparently coming.
By a very weird coincidence, the town is the same town where Bria was born. She and her dad moved away a long time ago, after her mother died. And, in another weird coincidence, the people they meet on the road, who invite them to stay with them, knew Bria's mom. In fact, one of the people in their house is her actual godmother.
I'm five chapters into this story and we still don't know what happened, how bad the disaster is, who was responsible, or what the story is going to be about. This is much too slow-paced for me. But if you like a slow, thoughtful story with a deep focus on personal relationship and the human cost of a massive disaster like this, you might enjoy this book.
Get the Kindle ebook free from Amazon here.
---
See all the Free Friday posts here. Do you have other free books for us to check out? Comment below or email me at [email protected].
Have you read any of these books? Are you planning to? Let us know in the comments!
And watch Maria and Amira discuss all ten books in the video below: