Reading Time:
3
minutes
Mary looked down on her body draped like a wrung-out towel across the bed. So, this was it. She'd been right. The inevitable ending was followed by a new beginning. Birth, death, and now the next step in the eternal circle, heaven.  Not that she had ever doubted… still.
A knock on the door almost startled Mary back into her body. The sound radiating through both the physical and ethereal plain. Some Pavlovian urge drew her towards the doorknob. She extended her hand. It passed through the knob. The door vanished leaving instead of her familiar hallway, only a cool grey mist that might be concealing a wall, or a hole, or the entryway to paradise. Because there was no doubt that that was where Mary was headed.
Seventy years ago, Mary had founded The Order of the Compassionate Sisters of Continual Exertion. She'd started non-profit orphanages in all corners and some fringes of the world. She had stopped two wars and won three Nobel Peace Prizes. The cloudy corners of her ghostly mouth curled upwards in a smoky smile at the memory of a life well-lived.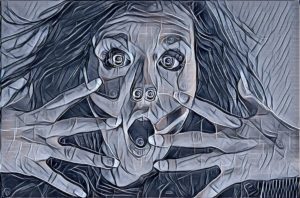 An elegant stranger emerged from the mist, or maybe the mist congealed into an elegant stranger, it was difficult to say. He was tall, thin, and dressed in a well-tailored black satin suit. His nose was fine, his eyes were darkly fringed, deep smoky, swirling tunnels into eternity. His teeth were perfect, white, and slightly pointy.
"Welcome." The stranger extended a perfectly manicured, pale hand to Mary. She took it, though this man was not what she'd expected God or any of his angels to resemble.
As soon as the lucent tips of her fingers touched his, fire shot through her. Her body may have been dead, but her pain centers appeared to be just fine. She screamed and dropped his hand, or tried to, but her ghostly fingertips had melted into his. Flames opened up around them.
"But- but – but" protested Mary. "I have lived a good life. I have selflessly given to others asking no reward…"
Good," said the stranger. "Because you aren't going to be given any."
"But if there's a hell," Mary began.
"There's a heaven," finished the stranger.
"And if there's a heaven surely I…"  Mary thought back to the time she'd joined with a group of girls in seventh grade to mock Sara Shelley. They had circled Sara, hitting their hands together and chanting, "Smelly Shelley, Smelly Shelly," until she'd cried. Mary felt terrible but afraid. She'd wanted to be accepted. The girls might turn on her if she defied them. Then there was the time she'd slapped her baby brother because he wouldn't stop crying. Mary had been two. Surely The Lord wouldn't judge so harshly? Surely He wouldn't sentence her to eternal damnation for some childhood peccadillos?
"Your life has, as you say, been exemplary," said the stranger. "If that was all there was to consider, you would most certainly qualify."
So there was more to consider. Maybe there was the truth of the heart? Maybe every time she'd inwardly rolled her eyes, or considered someone inferior, she had earned a demerit in the book of judgment. When she'd basked in praise or forgotten to recognize an assistant's assistance. When she'd thought herself superior …? But if God was so harsh, who would be allowed in?
"Do you remember this?" The stranger reached down for the cellphone lying on Mary's bedside table.
"What?" gasped Mary, whose hand was still burning.
"When you updated your phone, you agreed to abide by our bargain." The stranger scrolled through pages of minute print.
"Is this your checkmark?"
"Yes, but…"
"Look," the stranger expanded a paragraph buried in the middle of page six.
By installing update Hades2 on my phone I agree to sell my soul to the devil.
"But," cried Mary. "That's not fair. No one reads those!"
"And no one," said the stranger as the floor dropped down into a circle of all-consuming flame, "is going to heaven."
This story previously appeared in Sci Phi Journal, 2021.