Reading Time:
4
minutes
Some articles may include Amazon affiliate links. All proceeds go to helping us pay for original stories and to support writers of speculative fiction. Read more here.
4 Ghostly Novels to Spark Your Halloween Mood
It's October, and that means one thing — Halloween. Ghosts and pumpkins are beginning to appear in people's yards, and I can't help but shiver as I walk past the skeletons staring at me wherever I go. What better way to get in a trick-or-treating mood than by reading a good ghost story? Here are four ghost stories that will thrill and chill you as Halloween approaches.
Susie was only 14 when she was murdered. Back in 1973, when she disappeared, kids still felt safe playing outside by themselves, and no one thought twice about a teenager walking around town unsupervised.
From her vantage point in Heaven, Susie narrates the horrible circumstances of her death and her adjustment to the afterlife. Heaven has excellent playgrounds, by the way!
Susie witnesses her family trying to cope with her murder. She watches as life continues for her friends and family without her.
Ultimately, The Lovely Bones is a story of healing. Out of unspeakable tragedy, amazingly, hope emerges. The Lovely Bones is a ghost story that will make you shiver but also manages to find light in the darkness.
Ropa is a ghostalker, carrying messages from the dead to the living in post-apocalyptic Edenburgh. And boy, do those ghosts talk! One ghost won't leave Ropa alone, and she won't move on until Ropa helps find her missing son.
Ropa decides to investigate the boy's disappearance and finds more than she bargained for. Underneath Edenburgh lie secrets that would make even someone who talks to the dead shiver. Someone (or something) is stalking children and turning them into lifeless shells devoid of life or joy.
Ropa must rely on the Zimbabwean magic her grandmother taught her and the scientific pragmatism she learns from books in an underground library to hunt down clues, gaining friends and allies along the way.
This book is an excellent read if you like bright, sassy heroines and chilling supernatural mysteries.
When Jess starts hearing her deceased grandmother Ah Ma's voice in her head, she thinks it's stress. After all, moving back to Malaysia with her family, not having a job, and trying to keep her family from finding out that she is a lesbian has been challenging to say the least.
But her grandmother's ghost isn't going anywhere. Jess soon learns that her grandmother's spirit has scores to settle, and she wants Jess to help her settle them, whether Jess wants to or not.
It turns out that in life, Jess's grandma Ah Ma was a medium, a conduit of a mysterious deity called the Black Water Sister. A business magnate wants to build a condo on Black Water Sister's shrine, and the goddess is not pleased.
Helping Ah Ma leads Jess deep into a world of gangsters, hungry ghosts, and vengeful gods. Jess realizes that making a deal with a god is a dangerous thing, but learning the truth about her family's past can be just as treacherous.
Black Water Sister is a must-read for anyone who wants not only a chilling ghost story but a gripping family drama.
I came across this book free on Amazon, and I'm glad I went ahead and read it. Darby is a homicide detective with the Haunted Peaks police department — yes, Haunted Peaks. She can also see ghosts, which comes in handy in her line of work.
Darby has three rules — 1. Don't talk to the dead in front of the living. 2. Stay off the Arcane Bureau of Investigation's radar, and 3. Don't forget Rules 1 and 2.
Now Darby and her partner are faced with a disturbing murder, and the bureau is snooping around. Things are going to get interesting.
Dead to me has a strong female protagonist and is sprinkled with humor. It will draw you in, but before you start reading, beware. It has a cliff-hanger ending that will make you want to see what happens in the second installment.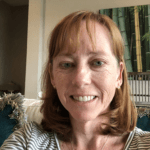 Ashley Herbert is a fantasy writer, avid reader, and mother of two. She writes freelance articles and is working on her first fantasy novel, The Crystal Finder. Visit her Facebook page to read some of her short stories, as well as excerpts from her new novel, and updates.