Reading Time:
6
minutes
Some articles may include Amazon affiliate links. All proceeds go to helping us pay for original stories and to support writers of speculative fiction. Read more here.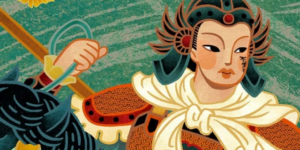 What is it about Netflix's Love Between Fairy and Devil that captivates audiences to binge watch the entire series? The appeal stems beyond cinematography, elaborate sets, stunning costumes, and Dylan Wang — though for some, a little Dylan Wang doesn't hurt. Sometimes it's the lush worldbuilding, opulent palaces, or rustic tea houses that sweeps viewers' imagination while our beloved heroes battle evil forces and inner turmoil. Maybe it's the slow-burn romance, the angst and pining, and the tangling of water sleeves as our fated couple leans in for chaste kisses… or not-so-chaste kisses. Perhaps it's the threat of the demon gods overturning the world whilst testing our heroes' moral compass. Or maybe it's the magical universe where mortals fly over rooftops, swirling their swords and thrusting energy that fuels every battle scene with heartstopping momentum. It's a genre I can't get enough of on screen and in books.
Below are my most anticipated fantasy books inspired by wuxia, xianxia, east asian mythologies, and everything in between. While you wait for these to release, dive into Sue Lynn Tan's Celestial Kingdom duology, Judy I. Lin's The Book of Tea duology, Elizabeth Lim's Six Crimson Cranes duology, Joan He's Strike the Zither, or Mia Tsai's Bitter Medicine.
Releases May 30, 2023
This book is the mash up I've been looking for. A legendary Chinese pirate queen. Portuguese sailors. Chinese Emperor. And cutthroat retributions. Need I say more?
From the publisher:
When Shek Yeung sees a Portuguese sailor slay her husband, a feared pirate, she knows she must act swiftly or die. Instead of mourning, Shek Yeung launches a new plan: immediately marrying her husband's second-in-command, and agreeing to bear him a son and heir, in order to retain power over her half of the fleet.

But as Shek Yeung vies for control over the army she knows she was born to lead, larger threats loom. The Chinese Emperor has charged a brutal, crafty nobleman with ridding the South China Seas of pirates, and the Europeans-tired of losing ships, men, and money to Shek Yeung's alliance-have new plans for the area. Even worse, Shek Yeung's cutthroat retributions create problems all their own. As Shek Yeung navigates new motherhood and the crises of leadership, she must decide how long she is willing to fight, and at what price, or risk losing her fleet, her new family, and even her life.
Releases June 1, 2023 in all formats; October 31, 2023 in hardcover North America
When I think of xianxia, my mind immediately imagines a historical setting. But A.Y. Chao deliciously defies my expectations by setting her gutsy novel in jazz age Shanghai.
From the publisher:
Pawned by her mother to the King of Hell as a child, Lady Jing is half-vampire, half-hulijing fox-spirit and all sasshole. As the King's ward, she has spent the past ninety years running errands, dodging the taunts of the spiteful hulijing courtiers, and trying to control her explosive temper – with varying levels of success.

So when Jing overhears the courtiers plotting to steal a priceless dragon pearl from the King, she seizes her chance to expose them, once and for all.

With the help of a gentle mortal tasked with setting up the Central Bank of Hell, Jing embarks on a wild chase for intel, first through Hell and then mortal Shanghai. But when her hijinks put the mortal in danger, she must decide which is more important: avenging her loss of face, or letting go of her half-empty approach to life for a chance to experience tenderness – and maybe even love.
Releases August 22, 2023
Sometimes I crave a high octane, tragically epic fantasy of cinematic proportions. I heard this book was inspired by The Water Margin, and even if it wasn't, I'm still doubling down and reading this one.
From the publisher:
In the jianghu, you break the law to make it your own.

Lin Chong is an expert arms instructor, training the Emperor's soldiers in sword and truncheon, battle axe and spear, lance and crossbow. Unlike bolder friends who flirt with challenging the unequal hierarchies and values of Imperial society, she believes in keeping her head down and doing her job.

Until a powerful man with a vendetta rips that carefully-built life away.

Disgraced, tattooed as a criminal, and on the run from an Imperial Marshall who will stop at nothing to see her dead, Lin Chong is recruited by the Bandits of Liangshan. Mountain outlaws on the margins of society, the Liangshan Bandits proclaim a belief in justice―for women, for the downtrodden, for progressive thinkers a corrupt Empire would imprison or destroy. They're also murderers, thieves, smugglers, and cutthroats.

Apart, they love like demons and fight like tigers. Together, they could bring down an empire.
Releases August 22, 2023
If you read She Who Became the Sun like me, then you've been impatiently waiting for this sequel. Give me all the wars in an alternative China. I am here for it. Tears may be shed.
From the publisher:
Zhu Yuanzhang, the Radiant King, is riding high after her victory that tore southern China from its Mongol masters. Now she burns with a new desire: to seize the throne and crown herself emperor.

But Zhu isn't the only one with imperial ambitions. Her neighbor in the south, the courtesan Madam Zhang, wants the throne for her husband―and she's strong enough to wipe Zhu off the map. To stay in the game, Zhu will have to gamble everything on a risky alliance with an old enemy: the talented but unstable eunuch general Ouyang, who has already sacrificed everything for a chance at revenge on his father's killer, the Great Khan.

Unbeknownst to the southerners, a new contender is even closer to the throne. The scorned scholar Wang Baoxiang has maneuvered his way into the capital, and his lethal court games threaten to bring the empire to its knees. For Baoxiang also desires revenge: to become the most degenerate Great Khan in history―and in so doing, make a mockery of every value his Mongol warrior family loved more than him.

All the contenders are determined to do whatever it takes to win. But when desire is the size of the world, the price could be too much for even the most ruthless heart to bear…
Ebony Gate by Julia Vee and Ken Bebelle
Releases July 11, 2023
San Francisco's Chinatown is an iconic setting for dragon magic. Add in some John Wick—a female John Wick—and I'm a pre-order. I am a sucker for kick-ass female leads.
From the publisher:
Emiko Soong belongs to one of the eight premier magical families of the world. But Emiko never needed any magic. Because she is the Blade of the Soong Clan. Or was. Until she's drenched in blood in the middle of a market in China, surrounded by bodies and the scent of blood and human waste as a lethal perfume.

The Butcher of Beijing now lives a quiet life in San Francisco, importing antiques. But when a shinigami, a god of death itself, calls in a family blood debt, Emiko must recover the Ebony Gate that holds back the hungry ghosts of the Yomi underworld. Or forfeit her soul as the anchor.

What's a retired assassin to do but save the City by the Bay from an army of the dead?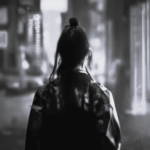 Melissa Ren is a Chinese-Canadian writer whose narratives tend to explore the intersection between belonging and becoming. She is a prize recipient of Room Magazine's Fiction Contest, and an editor at Tales & Feathers. Find her publications at Melissa Ren or follow @melisfluous on Twitter & Instagram.