Reading Time:
14
minutes
Some articles may include Amazon affiliate links. All proceeds go to helping us pay for original stories and to support writers of speculative fiction. Read more here.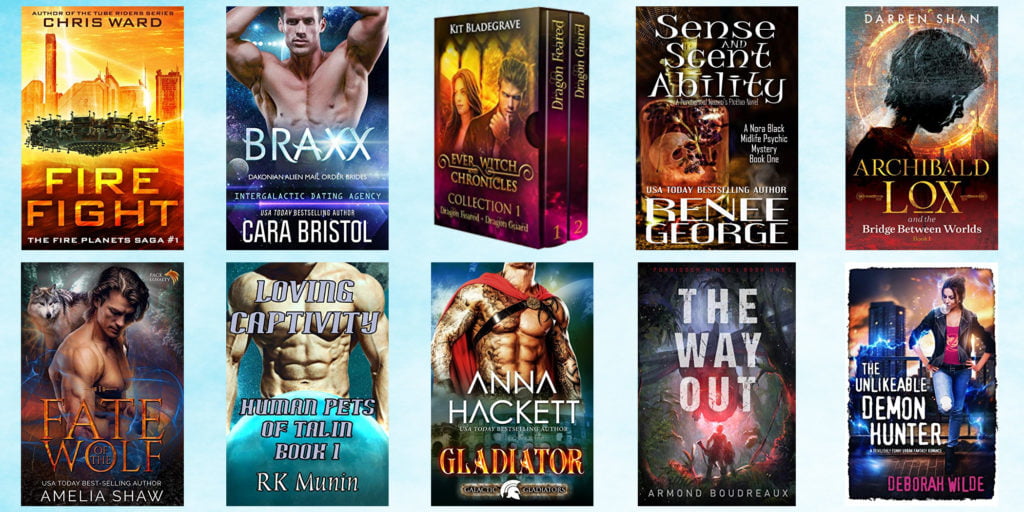 Did you know that Amazon has a list of the top-selling and free sci-fi and fantasy books?
The list changes constantly — authors set their books to free temporarily to promote their work, and, of course, books move up and down in the rankings. But are any of the books actually worth reading? Well, I read the first few chapters of each to find out, so you don't have to.
This week's list is completely different from those of the previous weeks. So if you're a fan of free books, it looks like there are going to be new things to read all the time.
I've noticed that if you try to open the list on a mobile device, it will take you to the listings that cost money, instead. I've found that by switching to the 'desktop site' in the mobile browser, the free list comes up.
Oh, and if there's a book that catches your eye, grab it quickly, since the books are often free for only a short time. And, Amazon allows you to lend your e-books, for free, to your friends. Even free e-books. Here are the instructions.
Most of these books are the first book in the series, and in each case, I've checked to see whether the rest of the books are free as well, or whether they're in Kindle Unlimited. Learn more about Kindle Unlimited here.
The list is accurate as of the time of writing but may have changed since the story was posted.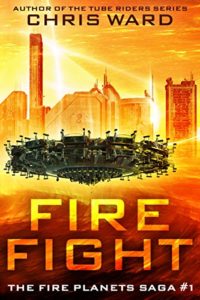 This is the first of five books in The Fire Planets Saga space opera series. The rest of the books are $3.99 each and are not in Kindle Unlimited.
I love the way the book starts, with a snarky droid rescuing a passed-out drunk spaceship captain in the middle of a mercenary attack. The droid is funny and competent and the captain — once she regains consciousness — is excellent in a fire fight.
The action is over-the-top and cinematic, just the way I like it.
Turns out, Lia, the captain, lost her son eleven years ago. She'd never caught the creature responsible for his death, but even if she did, she still would be haunted by the loss. The reason she had been on the freighter that's been attacked was to steal a chip wanted by one of the sides in a planetary war. Turning the chip over would mean countless deaths — and a sizeable payday for her. Normally, she just smuggles black market goods.
She delivers the chip to the intermediary who hired her, drugs him, gets the location of the guy's client, then replaces the real chip with a fake before she leaves.
Now I like her even more. She isn't going to let innocent children get killed.
The action continues non-stop. Before Lia can get back to her ship, the city she's in is attacked, and she has to fight her way back out again. I love this book. Do I love it enough to pay money for the rest of the series? I might.
The main characters are fun and memorable with tragic backstories. I don't have any complaints about this book — it's everything I want in a weekend read. I've got some time off planned this weekend and next week, and will definitely be reading this book.
Get the ebook free from Amazon here.
2. Braxx by Cara Bristol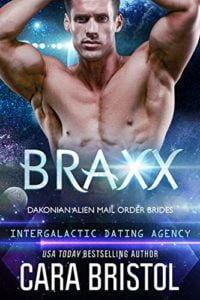 This is the sixth of seven books in the Dakonian Alien Mail Order Brides romantic sci-fi series. The rest of the books are $2.99 each and are not in Kindle Unlimited. They are set in the same Intergalactic Dating Agency universe as the Alien Castaways series, for which we reviewed the first book when it made this best-seller list in June.
Braxx is a simple alien who is seeking a mate through an intergalactic dating agency. It sent him to earth because the female population on his planet is dwindling. He immediately realizes that Holly, a simple woman who works at a restaurant, is his mate. His efforts to chase her down are thwarted by Holly's internal conflict with past disappointments.
This is friggin adorable. I got through the first two chapters. In the first, which is from Holly's POV, she says that Braxx is like a baby duck whose mind was imprinted with her as his mate. She tries to tell him to stop coming to the restaurant she works at, but he responds in such a gentle simple-guy kind of way. And the next chapter is from Braxx's POV. He is on a field trip with a kindergarten class, working as a teacher's assistant. One of the kids teaches him about foster care and adoption. We also learn a little about Braxx's planet.
I would be surprised if I come back to this one! But I might. I think the world-building is good and characters are likeable. But Braxx is especially likable since he's nice and gentle with Holly and the kids he works with. And simple. Oh boy, is he simple!
Get the ebook free from Amazon here.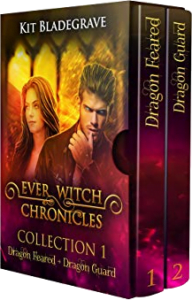 This is the first two of five books in the Ever Witch young adult paranormal romance series. The rest of the books are $2.99 each and are not in Kindle Unlimited.
Everest is seventeen and has been working at a museum and taking care of her brother while her mother disappears for months at a time. She dropped out of high school and is working on her GED. She is constantly finding her mother's alcohol in their little apartment and dumping it. She's a fantastic big sister, though. I like her and I'm kind of worried about her. Her coworker at the museum offers to let her and her little brother stay with him.
This is moving slowly. It's pretty good at describing the struggle this poor girl is going through, though, if you like to read about teenagers in poverty.
One night, as Everest is walking home, she gets hit by a car. It turns around and tries to hit her again. Finally, some action. A stranger named Slade saves her, but the car kills someone else. When Slade leaves, she cries out for help and the police are all over the incident. Slade and his friend Tank have a mysterious conversation about it which makes it sound like there is a conspiracy out to kill both Everest and Tank. Slade and Tank sound like they are guarding Everest.
I have a feeling the structure of this book is going to continue like this — by which I mean, that it doesn't have a strong structure. It's hard to tell what parts of the world matter and which side characters matter. So it makes me feel disoriented, but other than that, it's very good.
The blurb said that there would also be dragons and a magic school. Page 68 is where we really start learning about dragons in this world. On page 74, we start to learn about the boarding schools that Everest and her brother are going to. They must go to separate schools — I'm guessing that's because you have to have special magical abilities to get into each one.
I will definitely not be back. I value structure too much.
Get the ebook box set free from Amazon here.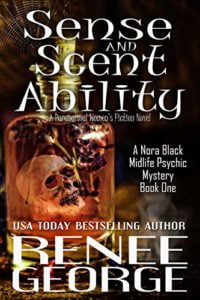 This is the the first book of five books in the Nora Black Midlife Psychic Mystery series. The other books are $4.99 each, and are not in Kindle Unlimited, with the fifth book scheduled to be released at the end of this month and available for pre-order now.
The book has been on the best-seller list before. The following is my review of the book from June of this year.
From the font on the cover, to the phrase "psychic mystery" in the series title, everything screams paranormal cozy to me. That's one of my favorite genres.
Nora just had a hysterectomy and is still recovering, and she's now seeing things. Maybe it's because she died during surgery, she thinks, or maybe it's because she's got a brain tumor.
Judging by the cover font, I'm going to guess it's psychic visions, not tumor.
Nora's thinking "brain tumor" because her own mother died of brain cancer the previous year. In fact, Nora had moved back from the city to the small town of Garden Cove to take care of her. She took a leave of absence from her job as a regional sales manager for a health and beauty company, and decided to retire when the company offered her a generous severance package.
So she moved back to her town, reconnected with her childhood best friend Gilly, and opened an aromatherapy shop. Oh, and her old ex is in town and is now the chief of police.
Yeah, yeah, it's a totally clichéd and ridiculous premise. I love it.
Get the ebook free from Amazon here.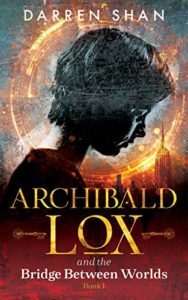 This is the first of six books in the Archibald Lox series for middle-school readers. The rest of the books are $0.99 to $1.99 each and are not in Kindle Unlimited.
I started reading Darren Shan back when my kids were in middle school. I bought the books for them, but since they were around the house anyway… And I liked them.
Shan regularly makes the bestseller lists and if you haven't read any of his books, but like Philip Pullman and Harry Potter, grab a copy of this one.
Archibald lives in London. One day, walking through the city, he sees something he shouldn't — two creepy-looking men are chasing a girl, then she creates a portal and escapes through it. None of the other pedestrians notice anything strange about this. He figures out how to reopen the portal and goes through it into another world, then catches up with the girl.
She feeds him a mushroom.
Lots of echoes of Alice in Wonderland here!
Shan's writing is still as compelling as I remember it, but I'm not in the same place place anymore as I was back then, and am less interested in child protagonists, so I'm going to skip the rest of the book and series. But if this is your genre, definitely pick this book up while it's still free.
Get the ebook free from Amazon here.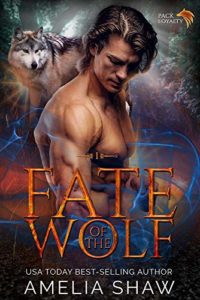 This is the first of five books in the Pack Loyalty paranormal romance series. The rest of the books are $2.99 each and are not in Kindle Unlimited.
A while ago, Reid broke Allara's heart, so she decided to leave her life, pack, and father, to rebuild her life in the city. He was her childhood sweetheart after all. Somehow, their relationship is connected to saving their pack from being dominated by her father's evil successor. Why would her father choose an evil successor? And why is it Reid who has to bring her back home?
Allara is working at a bar and it's football finals night, so there is a rowdy crowd of football fans. I imagine some readers might really enjoy that. At the end of the night, there are only two more patrons left — the creep and another guy. The creep gets into a brawl with the waitresses and the other guy suddenly gets up and knocks him out. So it turns out the other guy is Reid.
Reid had been looking for Allara for a while, hanging out in a motel and going to all these different places, keeping his eyes and ears peeled for a sign of her. He finally overhears a few guys talking about a hot shifter woman with dark hair who works at a bar. Bingo.
So this book is so far pretty grungy.
There is a lot of tension in the first interaction between Reid and Allara. We get Reid's perspective. He's trying to get Allara to talk to him again. She left him five years ago and he's been dying to talk to her again ever since. The reason he's approaching her now is that the entire pack is in jeopardy. So it's not about their old relationship. He's still crazy about her, but they are now forbidden for each other because she decided to leave him. Nice twist on the whole mates myth!
I would totally recommend this to you if you enjoy shifter romance, grungy settings, and dramatic relationships. Get it while it's free, dude.
Get the ebook free from Amazon here.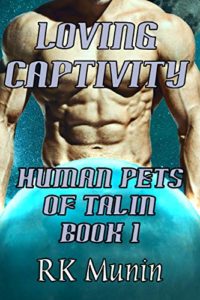 This is the first of four books in the Human Pets of Talin romantic sci-fi series. The rest of the books are $3.99 each and are all in Kindle Unlimited.
Right off the bat, I'm predisposed to hate the book. I hate the 90's-style font outlines on the cover and that naked male chest is a turn-off. And from the subtitle, it looks like this is going to be a book about people kept as sexual slaves by aliens. I know that this is a thing for some people — many people, judging that I've seen these books more than once on the best-seller lists! — but it's not my thing.
Searin is the alien, and he buys Sora, a human, at a slave auction. She's spent the previous ten years with an abusive master, after being sold into slavery at age 16.
It starts out with Sora at the auction house. She doesn't have any particular skills, and still has bruises on her body from her former master. Nobody wants to buy her, and a brothel owner is eyeing her and waiting for the price to drop so he can snap her up cheap and work her to death.
Then we switch to Searin's point of view. He likes cuddling with his friend's human pet. He doesn't have a human of his own. His mother does, but she kept him away from them. His friend comes back from work early and suggests that Searin get his own pet human.
The story is very readable, but I'm a little creeped out by the whole premise.
Get the ebook free from Amazon here.
8. Gladiator by Anna Hackett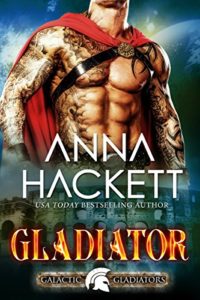 This is the first of twelve books in the Galactic Gladiators romantic sci-fi series. The rest of the books are $0.99 to $3.99 each and are all in Kindle Unlimited.
I have been wondering where the book cover designers get all these images of bare-chested men. Do they also design the tattoos or do the models come with them? It's probably a big business to collect and sell images of muscle men for these books, actually. Maybe the cover designers hire the models themselves?
Harper is an engineer working on a space station near Jupiter. She can see the orange rings of the planet and its stormy red spot. Part of the space station is shaped like a donut and rotates to create artificial gravity. I am loving this so much. Many of the engineers are looking for alien life.
Suddenly, one of the doors blows off and flies wildly into space. The engineers grab onto whatever they can and some put emergency oxygen hats on. Or whatever. Harper is getting ready to repair the damage, when she sees a body, writhing and kicking, go flying out into space. It's her best friend! How did that happen? Oh gosh, Regan. So Harper jumps out to save her in the nick of time. Yikes.
As Harper is getting reprimanded for what happened, a set of alien ships bump into them. The aliens climb into their space station. They are almost seven feet tall, with tough skin, and glowing orange veins. Harper says they look like demons from hell. One of them grabs a woman, so Harper starts to shoot at it to defend her.
I'm assuming that Harper will soon be forced into the gladiator lifestyle — and fall in love with her gladiator boss? I'm pretty sure he'll be having a passionate romance with someone at some point. Harper then becomes determined to rescue her best friend from the evil Thraxian aliens.
I like this so much. Outerspace plays a strong role in the tone and world of this book so far. And I like Harper. She seems like a nice person. I like a strong, mature protagonist who takes her responsibilities seriously. And I'm not sure what's gonna happen with the rest of this book, but the author has already earned my trust. I expect that spending another hour or so in her world will be rewarding.
I will definitely be back. It is well-written and I have already been delightfully surprised several times.
Get the ebook free from Amazon here.
9. The Way Out by Armond Boudreaux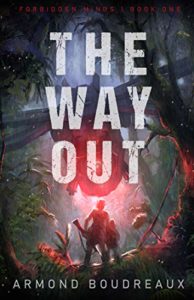 This is the first of two books in the Forbidden Minds sci-fi thriller series. The other book is $6.99 each and is not in Kindle Unlimited.
Val had a contraceptive implant removed, and it may have caused her to have a lot of miscarriages before she was finally able to have her first kid, Braden, which is illegal. I'm guessing it's the government that enforces these implants on people. Another woman, Dr. Janna Kold SVPSASVD, has been receiving death threats about her work on cloning. I'm assuming those are the initials for a prestigious science degree. The differences between these two women are immediately apparent.
Dr. Janna is an extremely wealthy lesbian who has an extremely expensive clone daughter. Val is a former soldier who struggles with PTSD, harvests potatoes, and has an illegal son. So whatever this world is like, Dr. Janna is privileged and envied, and Val represents the oppressed class.
Val and her son Braden are harvesting potatoes when a little clone girl with rose skin and blue hair runs into their yard chasing a dachshund. Val hates the clone girl. She seems jealous — thinking that her neighbor must be extremely wealthy to afford a clone daughter.
The clone girl says that her mother thinks it's strange that Val and her family don't work. But Val says that she is working on potatoes. The clone girl just stares and examines them and their home. It's their first time meeting up close. And then her son Braden insists that working on potatoes is still work! The clone girl says her mother says their lifestyle is odd.
I like how concise and straight-into-the-tension this writing style is. It is kind of stressful to me, though. I don't think I'll be back for that reason. But I can totally understand how others get sucked into it.
Get the ebook free from Amazon here.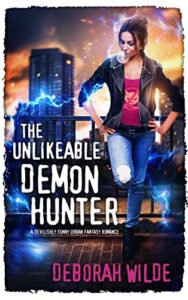 This is the first of seven books in the Nava Katz urban fantasy series. The rest of the books are $3.99 to $6.99 each and are all in Kindle Unlimited.
Nava, 20, is a party girl who still lives at home with her parents in Vancouver. Coming back home hungover after a random hookup, she grabs a decanter of wine and chugs it back before realizing that it's been set up for a ceremony — her twin brother's induction ceremony into the a brotherhood of demon hunters, to be exact. As her parents, brother, and the rabbi look at her in horror, she spits the wine back out, then throws up on the rabbi's shoes.
Oh, and she's lost her bra and ripped the top button of her sequin blouse during her night of debauchery and winds up flashing the rabbi on top of everything else.
Her brother isn't mad. He's actually kind of cool, even though he's smart, and the chosen one, and about to get cool magic powers once he's fully inducted.
He's been preparing and training for this moment all his life.
But as the ring is about to be put on his finger, Nava goes into a bit of a trance, says a command, and the ring floats up into the air, across the room, and puts itself on her finger.
I love her reaction. She swears and tries to shake the ring off. And I love her brother's reaction — he says, "It appears you had the wrong twin. L'chaim!" And toasts her.
So, the ring won't come off no matter what they do. Her brother says, "Finders keepers."
I love this beginning. I definitely plan to keep reading!
Get the ebook free from Amazon here.
---
See all the Free Friday posts here. Do you have other free books for us to check out? Comment below or email me at [email protected].
Have you read any of these books? Are you planning to? Let us know in the comments!
Watch Amira and Maria talk about these books in the video below: