Reading Time:
11
minutes
Some articles may include Amazon affiliate links. All proceeds go to helping us pay for original stories and to support writers of speculative fiction. Read more here.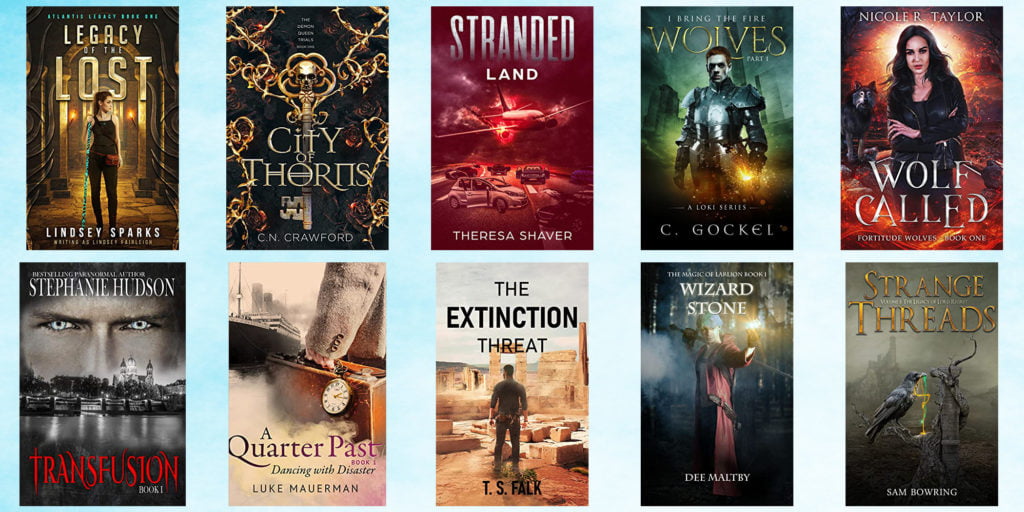 Did you know that Amazon has a list of the top-selling and free sci-fi and fantasy books? The list changes constantly — authors set their books to free temporarily to promote their work, and, of course, books move up and down in the rankings. But are any of the books actually worth reading? Well, I read the first few chapters of each to find out, so you don't have to.
This week's list is completely different from those of the previous weeks. So if you're a fan of free books, it looks like there are going to be new things to read all the time.
There are a lot of books to go through, so this week I'm being helped out by Amira Loutfi, our reviews editor, and our news editor Alex Korolov.
I've noticed that if you try to open the list on a mobile device, it will take you to the listings that cost money, instead. I've found that by switching to the "desktop site" in the mobile browser, the free list comes up.
Oh, and if there's a book that catches your eye, grab it quickly, since the books are often free for only a short time. And, Amazon allows you to lend your e-books, for free, to your friends. Even free e-books. Here are the instructions.
Most of these books are the first book in the series, and in each case I've checked to see whether the rest of the books are free as well, or whether they're in Kindle Unlimited. Learn more about Kindle Unlimited here.
The list is accurate as of the time of writing, but may have changed since the story was posted.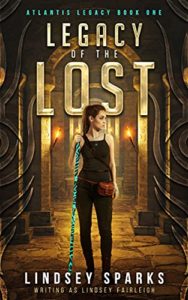 This is the first of five book in the Atlantis Legacy urban fantasy series. The next three books are $4.99 each. The fifth book in the series is currently available for pre-order and will be coming out Aug. 16, 2022. The series is not in Kindle Unlimited.
The book starts out with plenty of action… but it turns out to be virtual reality. In real life, Cora is sick and can't go anywhere or do much of anything. She has seizures whenever anyone touches her.
But she's getting a new virtual reality toy to play with, a full-body virtual reality suit. not just a helmet.
Then she gets a package from her mother, with a mysterious artifact in it, and an even more mysterious note. Did something her mother do cause Cora to have the seizures? Is there some kind of magical aspect to them? How is virtual reality going to play into it?
I'm kind of curious, but the book has a slightly more serious tone than what I'm in the mood for right now. The virtual reality, though — that's definitely going to bring me back this weekend.
Get the ebook free from Amazon here.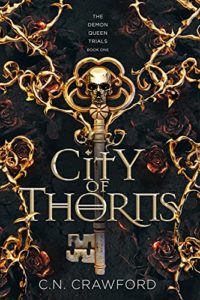 This is the first book in The Demon Queen Trials paranormal romance series. The second book in the series is $0.99. The third book is currently available for pre-order and will be coming out Jun. 13, 2022. The entire series is in Kindle Unlimited.
Rowan is a college student, in Massachusetts, who's being harassed by a frat guy. She's studying psychology and she's trying to give a presentation when the guy shows up in class. He's been stalking her through high school and now he's going to be in class with her. Nobody believes her when she says that he's stalking her. Instead, it looks like she's the crazy one.
This premise makes me anxious. As does the fact that Rowan doesn't know how to deal with the situation. Instead, everything she does just makes things worse.
If she can't get her life in order, she's not going to be able to get into grad school in the City of Thorns, where she can study magic, and solve an unsolved crime.
I don't like young adult stories, and Rowan's issues stress me out. So I don't think I'll be sticking with this book.
Get the ebook free from Amazon here.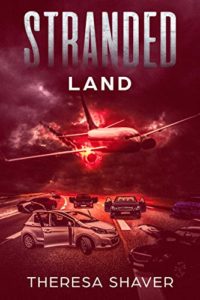 This is the first of six books in the Stranded EMP survival series. The other books are $4.99 each, and the entire series is in Kindle Unlimited.
If you like doomsday scenarios, this book is for you, and it's also centered around a group of high schoolers, so it might appeal to high school-age readers. I liked the fast pace of the couple of chapters I read, and I didn't mind that the main characters were teenagers, so I'd keep reading.
Alex and her Canadian classmates are on a school trip to Disneyland in California when an EMP hits. You get a little background about her and her friends in chapter 1, or what I might call high school drama, like who's dating and who has a crush on someone. There isn't too much of this, so it didn't bother me and helped me relate more to the characters.
The action gets going fast. By the end of chapter 1, even before anyone gets on a ride, the EMP has struck. One of the teacher chaperones, who has a pacemaker, keels over dead, and everyone watches a large plane lose power and crash into the ground. After this, Mrs. Moore, a teacher who turns out to be a prepper, rounds up the students, and they start to make a plan to get home to Canada.
Get the Ebook free from Amazon here.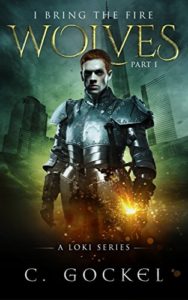 This is the first of six books in the I Bring the Fire Nordic myth and legend fantasy series. The other books are $3.99 to $4.99 each and are not in Kindle Unlimited.
This book is an interesting read. If you like characters from Norse mythology interacting with modern-day humans, this could be your cup of tea.
It begins with Amy, a young vet student returning home for college break, getting into a car accident, and almost being kidnapped by a serial killer after she crawls out of her wrecked vehicle. It then segues to Norse god Loki, who's in a prison cell in Asgard, escaping from prison and trying to save his two sons, Valli and Nari, from being executed.
In trying to save his sons, Loki is sucked through some portal to earth, where he hears Amy's plea to be rescued, and he saves her from the serial killer holding her at gunpoint at the side of a road in America somewhere near Chicago.
I'm not sure if I like this book or not. It's definitely quirky, but I'm not convinced that I'd read the whole book after reading the first couple of chapters.
Get the ebook free from Amazon here.
5. Wolf Called by Nicole R. Taylor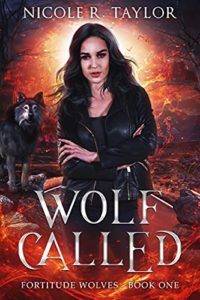 This is the first of three books in the Fortitude Wolves paranormal fantasy series. The other books are $3.99 each and are not in Kindle Unlimited.
I'm not a fan of Twilight or other books with vampire or werewolf romances. This book has both vampires and werewolves in it.
Sloane is a bartender in Australia, in Perth, and is also studying computers at the local university. She's studying online because she doesn't have the time or money to go in person. Plus, its easier to enroll with a fake ID if you do it online.
Then a hot guy shows up her in bar and tells her that her father sent him. Sloane grew up in foster care after her mother died. Her father a criminal, and she wanted nothing to do with him. The hot guy says that he's there to protect her, and Sloane kicks him out of the bar. She doesn't need him, and she doesn't need her dad.
The hot guy is named Chase. I don't like that name. He also smirks a lot. I hate that. Since he's hot, Sloane will probably end up with him. I don't like that, either.
I have a feeling that this isn't the book for me.
Get the ebook free from Amazon here.
6. Transfusion by Stephanie Hudson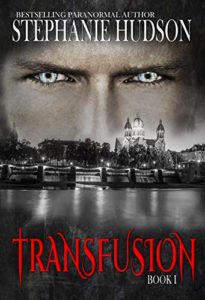 This is the first of twelve books in the Transfusion paranormal romance series. The other books are $1.99 to $4.99 each and the entire series is in Kindle Unlimited.
The story is set in the modern day. Amelia is a restorer and curator of ancient Egyptian artifacts in a museum. Then her father shows up. Her supernatural father. Unlike Amelia, who's human. Also, her parents are insanely rich.
Amelia wants to make her own way in the world, so she moved to London, went to school, got a job, lives in a cheap apartment and take a bus into the city every day.
The book moves a little slowly, and the family drama is a bit too much for me.
Get the ebook free from Amazon here.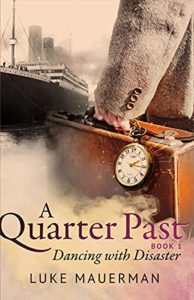 This is the first book of what will be the A Quarter Past time travel romance series. This book is in Kindle Unlimited and it's usually $4.99 but today it's free.
It's 2019 and Mark's friend David, a brilliant inventor. asks him where he would go if he could go back in time. Mark is a freelance writer specializing in articles about economics but his career has hit a dead end. Oh, and he's a fan of disaster stories.
The two of them are middle-aged, bearded gay men living in San Francisco. And they dated once.
Now, David says he's figured out how to travel in time, and he's got proof he went back into the past, then came into the future again. He's brought artifacts with him to prove it, though Mark is understandably skeptical.
It's a slow-paced beginning, with a little too much exposition for my taste. The writing style also feels a little old-fashioned to me.
The story is told in first-person point of view, and in the present tense. That's not a style I'm comfortable reading, though I can get into it in time. But I'm not caught up enough in the story and the main character to stick with it.
Get the ebook free from Amazon here.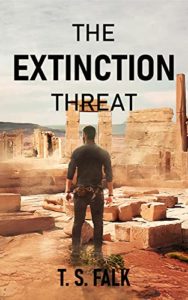 This is the second book of two in The Ancient Secrets technothriller. The first book is $2.99 and both books are in Kindle Unlimited.
Since this is the second book in the series, and the first book, The Ancient Code, is in Kindle Unlimited, I'm reading that one instead.
The Ancient Code starts out with Elliot Brand, a techno-archeologist in his forties, studying ancient ruins in Afghanistan. He's running out of time to finish his work, using laser scanning to create a precise three-dimensional map of a tomb. The US forces would leave the area in a few days, and it wouldn't be safe to stay any further.
He's almost done when he gets word that the Taliban has taken Kunduz and their forces are heading towards the village where he's doing the excavation.
He's forced to grab his laptop and leave the drones and the rest of his equipment behind in order to get to the airport in time. There's a very well-written and action-packed chase to the plane in time.
Then he's back at the University College of London, teaching a class in how to use cutting-edge tech in archeology. And I loved this part as much as I did the chase through the desert.
This is exactly my kind of book. And, from what I've seen of it so far, I'm going to love it. I like the main character, I like the author's writing style, and I like the pacing. It does take a couple of chapters to get to the main story. A mysterious benefactor hires Elliot to find another missing archeologist, Elliot's old mentor. The only clue is a mysterious object that's more than million years old that could not have been produced even with today's technology.
Elliot's old mentor has gone over the crazy conspiracy theory side and haven't been in touch for years, but the money is good, and the mysterious object is intriguing, so Elliot takes the job. The problem, though, is that the rich guy's investigators have already turned over every possible rock looking for the missing archeologist. Elliot doesn't have much to go on.
I like this book very much, and will probably finish it this weekend. It has a very strong Indiana Jones vibe, and I'm picturing Harrison Ford while I'm reading it.
Get the ebook free from Amazon here.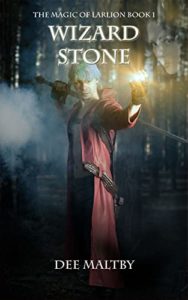 This is the first of four books in The Magic of Larlion epic fantasy series. The next two books are $4.99 each and the fourth book is currently available for pre-order and will be coming out Aug. 1, 2022. The entire series is in Kindle Unlimited.
Beneban is a young wizard with a magic sword named Heldenhaft living in a land with magical animals and lots of other fantasy beings. The wizard is fighting his way through the mountains, and is attacked by the wind, lightning, and a giant bird. He falls off a cliff.
Down below, in the forest, Laraynia senses that he needs her help, and knows that she needs to save him. Many futures depend on it. She uses her magic to send him help in the form of an animal that seems to be a giant mountain cat of some kind.
I do like epic fantasy. And this story is very cinematic. I can easily see it being made into a television mini-series. I also like the fact that it's in Kindle Unlimited.
But I'm not quite getting enough sense of the characters to pull me in. I do get the feeling that if I keep reading, they will grow on me, but I have lot of other books on my reading list right now, so I probably won't be coming back to it.
Get the ebook free from Amazon here.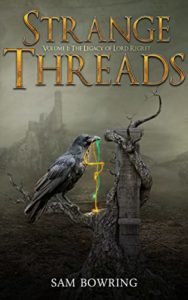 This is the first of two books in the Strange Threads epic fantasy series. The sequel is $2.99 and both books are in Kindle Unlimited.
Everything in the world of this series is made up of mysterious threads that come from something the author calls the "Great Spell."
In the first scene, a mage finds an extremely valuable herb and shares it with his traveling companion. The two are clearly in love and it's pretty romantic, if a little odd. Then, the mage sees the world suddenly go black — it's a sign that evil magic might be back. Previously, he had noticed that there seemed to be more monsters than usual bothering people — this is another sign of the evil magic getting stronger. I am a little frustrated by how the author seems to deliberately withhold important information. But I do like how he avoids doing an infodump. The sudden blackness distracts the mage from his little tryst and he starts looking into the "Great Spell" which is basically all the threads that make up everything in existence, including his girlfriend. I'm assuming this is a unique ability of his.
I like how the fact that the world is made up of threads is a central feature of the magic system. In the second chapter, the bard is telling a tale from long ago of how good and evil fought over the threads. Nice. I'm liking this.
The writing style is also pretty odd, but it gives off the vibe of an old fantasy novel. The author doesn't usually write epic fantasy, so maybe that explains it?
This first chapter was extremely good. I think this is my kind of book. So far this author has proven to create good tension, a cute relationship, a strong-themed world, and a satisfying ending to the first chapter. I'll be back for more.
Get the Kindle e-book free from Amazon here.
---
See all the Free Friday posts here. Do you have other free books for us to check out? Comment below or email me at [email protected].
Have you read any of these books? Are you planning to? Let us know in the comments!
Or watch Maria and Amira discuss all these books in the video below: