Reading Time:
5
minutes
Some articles may include Amazon affiliate links. All proceeds go to helping us pay for original stories and to support writers of speculative fiction. Read more here.
Both Kindle Unlimited and Prime Reading are a way for Amazon shoppers to get e-books for free. For Prime Reading, you just need to have an Amazon Prime subscription but there are only about a thousand books to choose from. For Kindle Unlimited, you need a separate Kindle Unlimited subscription that costs $10 a month. But Kindle Unlimited has millions of books in it.
Read on for more details on each.
Kindle Unlimited
If you're a big reader, then Amazon's $10-per-month unlimited reading plan, Kindle Unlimited is for you. Seriously, if you read more than a book or two a month, go here and sign up.
According to Amazon, Kindle Unlimited currently offers more than 2 million e-books as well as thousands of audiobooks and even magazine subscriptions.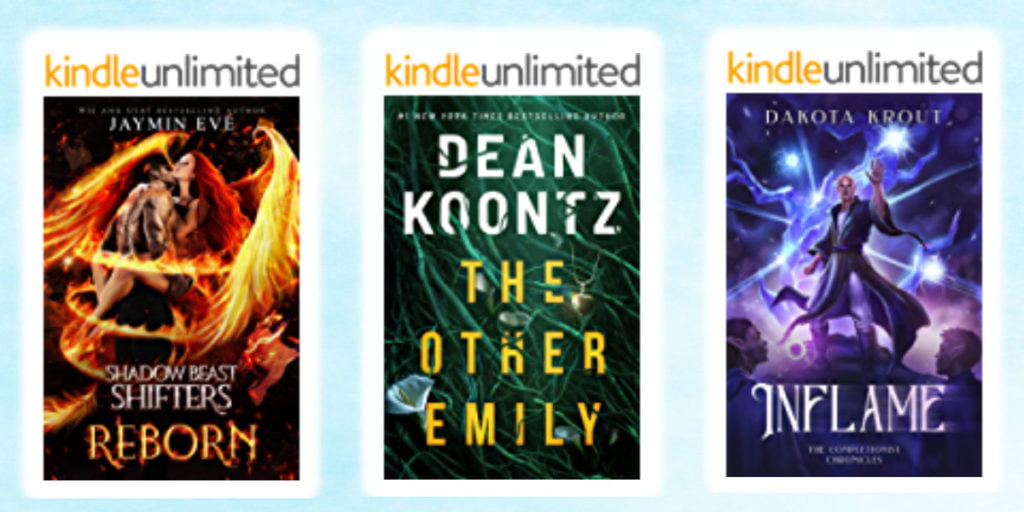 It's like Netflix, but for e-books, and authors get paid for every page you read.
If you read a lot, it's a great deal. Not all books are in Kindle Unlimited. Some of the big best-sellers by traditional publishers aren't in the program. Personally, I think that's a mistake — the publishers are just leaving money on the table. Plus, some of those readers are going to love particular books so much that they'll buy hard copies to keep or give as gifts.
The big downside for authors and publishers is that Amazon demands exclusivity. Just like Netflix is going to want shows that are exclusive to Netflix, Amazon wants its Kindle Unlimited books to be exclusive to Amazon. Authors and publishers can still sell print versions of the book elsewhere, but the e-book versions are only be available through Amazon. According to Fall 2020 estimates from BookSliced, Amazon accounts for 81 percent of US e-book sales, so this isn't exactly a hardship.
You can see all the Kindle Unlimited sci-fi and fantasy books here.
You can sort them so those featured are shown at the top, or you can sort them by release date or by average customer review. And if you look at the left-hand navigation bar, you'll see a "Department" section where you can narrow down the books further. For example, here are Kindle Unlimited's featured hard sci-fi books.
If you want to see just the best sellers, go to Amazon's Best Sellers in Science Fiction & Fantasy page. It shows all the books, not just those in Kindle Unlimited — but the Kindle Unlimited books have prominent labels so that you can easily spot them.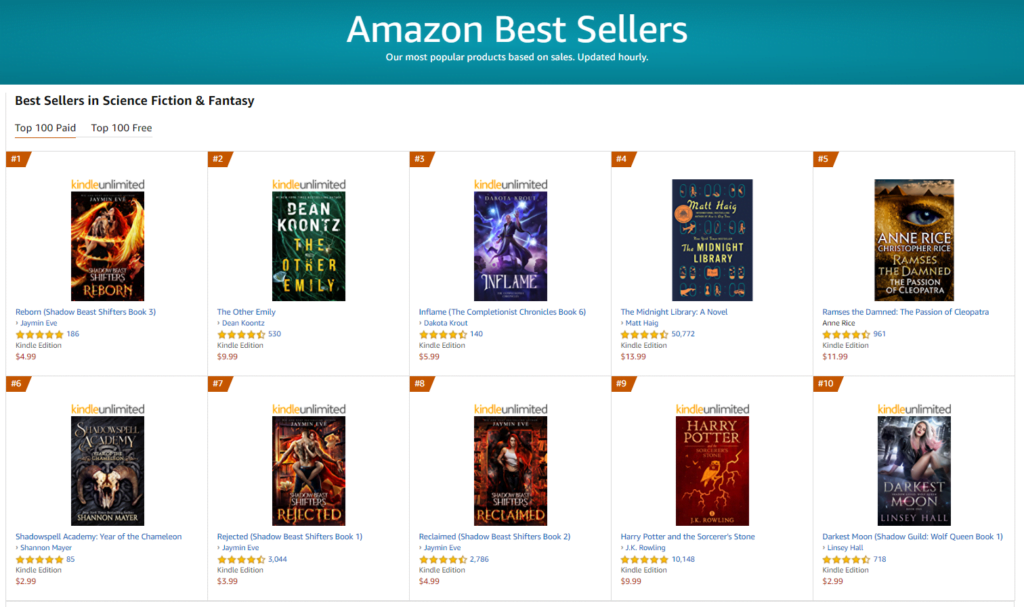 The image above is the list as of April 2, 2021. As you can see, eight of the top ten books are included in Kindle Unlimited, including the Harry Potter book and the Dean Koontz book.
For authors, not only do their readers get to read the books for free if they subscribe to Kindle Unlimited, but for five days every three months Amazon allows authors to do a free promotion, where the book is free for everyone. That can help new readers discover the author at no cost and, if they like the book, they might go on to buy the author's other work.
Amazon's Prime Reading
Amazon Prime also has an unlimited reading service, Prime Reading. It doesn't cost any extra if you're already an Amazon Prime member, but it only has about a 1,000 books. The list of all the Amazon Prime bestsellers is here.
And the list of Amazon Prime sci-fi and fantasy best sellers is here.
They change up the selection of books in the program all the time, though, so keep checking back.
What if you want completely free books?
There are ways to get free e-books, as well.
First of all, Amazon itself has some e-books that are free to everybody. Here is the list of the top 100 free e-books on Amazon, and here is Amazon's list of the top-selling and free sci-fi and fantasy books. Google also has free e-books in its Google Play store but the selection is small and the site is hard to navigate.
Then there's OverDrive and its free app, Libby. To get free OverDrive books all you need is your library card, and you can get the books straight straight to your Kindle device or app or another e-book reader.
If you're looking for old, public domain e-books, check out Project Gutenberg, FadedPages, and the Internet Archive's Open Library. For educational or business books, check out BookBoon. ManyBooks also has free ebooks, as does Free eBooks, LibriVox, Feedbooks, PDF Books World, and the International Digital Children's Library, these last few focusing mostly on public domain books.
What about other subscription services?
If you're looking for another paid service, but one that's not Amazon, check out Scribd. The company says it has hundreds of thousands of books and audiobooks. The service costs $10 a month, just like Kindle Unlimited, but with fewer books — but there's a 30-day free trial. Check out Scribd's sci-fi and fantasy selection here. The e-books can be delivered in multiple formats and to all the popular e-book readers and apps.
24Symbols is $9 a month and claims to have more than a million books that you can read online or in a mobile app. Plus, you get one free audiobook a month.  You can also sign up for a free subscription which gives access to a smaller selection of free e-books. It has a couple of contemporary books for free, plus a bunch of old public domain ones, but I couldn't figure out how to search the free ebook selection, so it's pretty much useless.
Bookmate, at $8 per month, claims to have "thousands" of books. It also has lots of free books, but those are mostly public domain books. The books are nicely formatted, though, and easy to find and read with the company's mobile apps. In theory, at least. I clicked through to the first book on the lists, the Adventures of Sherlock Holmes, and after I got a couple of pages in, it told me I needed to buy a subscription. But when I opened it in the mobile app, I was able to read the whole book.
If you want to get print books by mail — the way Netflix used to send DVDs — check out BookLender. For $9 a month, you can have up to two books out at a time and they give you a postage-paid envelope to ship the books back in. You can keep them as long as you want — there are no late fees. Just drop the books back in your mailbox when you're done and lift the little flag so the mail carrier knows you've got some outgoing mail in there. (At least, that's the way it works where I live.) Or, for $11 a month, you can upgrade to four books out at a time. Or, if you read really fast and can't wait for the next delivery to come, $16.50 gives you six books at a time. They have about a quarter million books in their library. You can see a list of latest best-sellers here.