Reading Time:
3
minutes
Some articles may include Amazon affiliate links. All proceeds go to helping us pay for original stories and to support writers of speculative fiction. Read more here.
It's so rare these days to find a fantasy novel written without a hint of irony. Too often I find an author winking at me through the text, seeming to say 'you see that trope I used? Yeah, we both know what I'm doing with that.' Frankly, it's annoying and tiring. Where The Lightning Goes by Jackary Salem doesn't do that. From the start, it takes its own premise seriously and, wonderfully, builds something truly unique out of many familiar fantasy building blocks. There are dragons, demons, dwarfs, and all manner of magic. But each has a twist, something genuinely unexpected that makes even these tried and true tools seem fresh. A dragon with scales that change color so it can camouflage? That's cool.
Sorry, I'm getting ahead of myself. Let's talk premise: main character Elle has lived in a house with the wicked Miss Cynthia and several other children for ten years, and has no memory of anything before her arrival there. She escapes and lands in a world full of mystery and danger. Determined to recover her memories, she enlists the help of the heartless sorcerer Adair — and his weepy heart, Leslie. He teaches her how to use magic and not to get grifted at Impossible Markets as they travel to the sky-castle where the key to her past lies. The dwarf Honeycutt, demon Cypress, and lightning god Perun round out the cast. Clarrissa, a woman who died before the start of the novel, plays a sometimes-confusing role on the road to Elle's re-self-discovery.
Elle is the central character, but most of the other characters have point-of-view chapters, which lend depth and context to a world she has no way of understanding. Even better, mysteries Elle doesn't understand are also mysteries readers don't understand. How many times has the amnesiac teenager been the long-lost heir to the throne, or a chosen one, or the child of someone otherwise important? That's one trope Salem neatly and wisely avoids: there is no hole in the world for Elle to fit into. There's no way for readers to forecast where she's going to end up, and I appreciated that because it really put me on the same journey as Elle. Having access to everyone's points of view may have let me piece it together faster than she did, but the pacing of the reveal was purposeful and deftly done.
The thematic underpinnings of Salem's novel are simple, deep, and authentic. Grief for Clarrissa's death is a strong element, and the nature of the self and how loss can change a person becomes more and more central as the novel progresses. It delivers a satisfying message that matches its subject.
I had only a few reservations: I thought the world could have been explored a lot more thoroughly than it was, and Salem has a habit of attributing actions to emotion as a means of describing how someone feels. But the story didn't need more of the world explained, and the emotion-actions weren't overwhelming or badly done, they just weren't to my taste. Where the Lightning Goes knows what it is and doesn't seek to overreach itself. Elle is a compelling character, the world she inhabits is original and engaging, and there is a solid plot with some good twists. If you're looking for fantasy that takes itself seriously and doesn't bludgeon you with the fourth wall, this book is for you.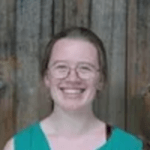 Sophie is an MFA student at Emerson College. She spends her free time reading and writing science fiction and fantasy.