Reading Time:
6
minutes
Some articles may include Amazon affiliate links. All proceeds go to helping us pay for original stories and to support writers of speculative fiction. Read more here.
If you're hoping or fearing that technology can now put you in a virtual environment similar to the one in The Matrix or Ready Player One — don't. It's not happening in 2021, judging by the lack of breakthroughs at this year's Consumer Electronics Show.
The CES, which was all digital this year, ended last week with only a few new AR and VR products showcased, and none of them were the kind of big improvements that could have solved the sector's problems with usability, price, and functionality.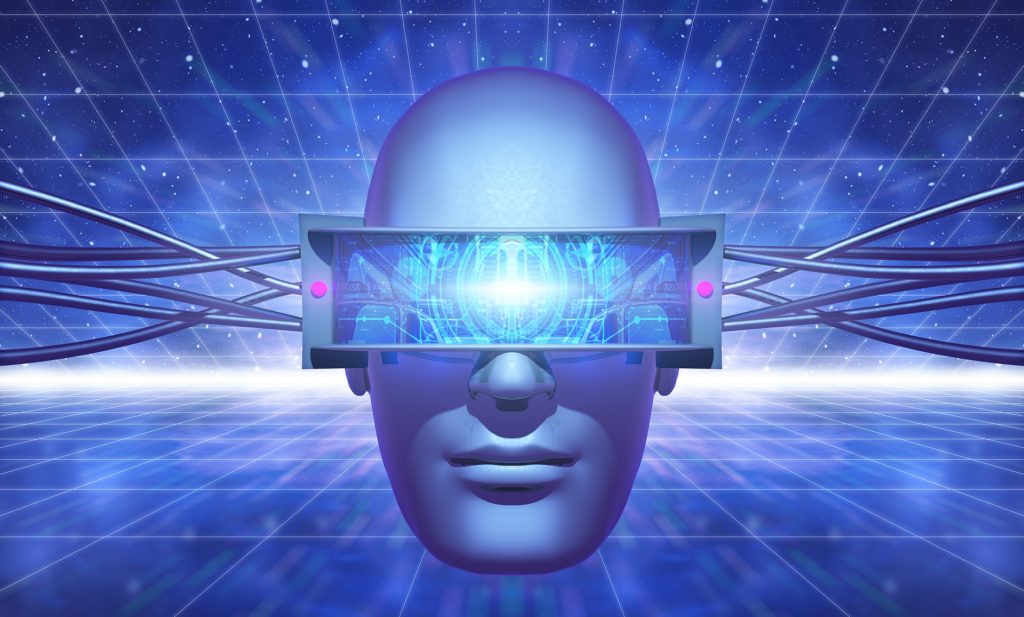 Currently, no company is competing with the Oculus Quest 2, which is still bulky and a somewhat expensive investment at $300, and absolutely requires a Facebook account to use.
There were some VR and AR-related announcements, but they were mostly incremental improvements.
"I think we're more than a few minutes from the future of VR," said Sony CEO Jim Ryan, in an interview.
"VR will represent a meaningful component of interactive entertainment," he said. "Will it be this year? No. Will it be next year? No."
Highlights this year included new headsets, new smart glasses, improvements in displays, and some nifty gloves.
Lenovo ThinkReality A3
Lenovo's ThinkReality A3 smartglasses look like sunglasses and are meant to offer privacy and an expanded virtual workspace in enterprise settings, allowing up to 5 virtual displays.
They're lightweight at under four and a half ounces, have binocular 1080p resolution, six degrees of freedom tracking, and integrated speakers and microphones.
They do need to be tethered to a PC or Motorola smartphone via USB-C to work, as no battery is built-in.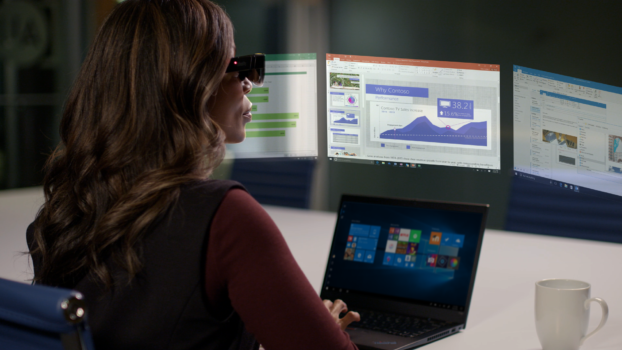 "If you want to have multiple monitors up and you want some privacy, you can put on these glasses and be able to see several virtual monitors in front of you that only you can see and that gives you an expanded workspace," Nathan Pettyjohn, commercial AR/VR lead at Lenovo, told Hypergrid Business.
No price has been set yet and they're expected to ship later in 2021.
Panasonic compact VR glasses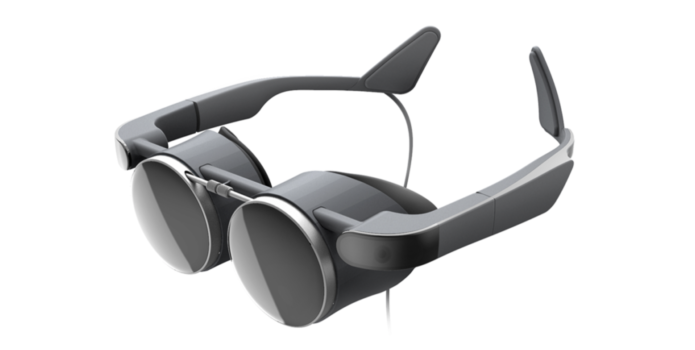 These VR goggles look steampunk, which some people will love, and others maybe not so much.
Panasonic revealed a VR glasses prototype at last year's CES that lacked room-scale tracking and was pretty much just good for watching immersive video while tethered to a PC.
This year, they showed off a new version. It now has six degrees of freedom tracking and dual 2,560 by 2,560 micro OLEDs with a pixel density of 2,245 pixels per inch.
The display is said to support 120 Hz and is supposed to work with SteamVR, which means it could be used for gameplay and social media platforms.
There's no onboard computing, so the device would have to connect to an Android smartphone or to a PC via USB-C.
These futuristic yet retro-looking VR glasses are supposed to be more comfortable than last year's model, but no clear price or release date has been set.
Ganzin Technology Aurora eye tracker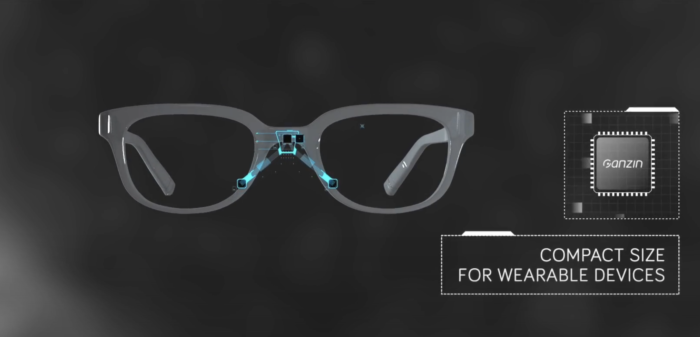 Taiwanese company Ganzin Technology revealed a new user interface that will allow you to control an AR or VR device using micro-movements of your eyes.
The Aurora eye tracker module is a low-power and easily installed device with a slim profile that can be affixed to the frame of any set of smart glasses or VR and AR headsets.
It's supposed to be really light, work indoors or outdoors, and last all day on a single charge so you won't need any extra cables.
Ganzin also developed an eye-tracking software package that works on Qualcomm XR platforms and is supposed to lower the cost of integrating eye-tracking for device makers on these platforms.
"The user interface for computers is a mouse, and for smartphones, it's a touchscreen. We believe the best user interface for AR/VR products is our eyes," said Shao-Yi Chien, founder of Ganzin Technology, in a statement.
SenseGlove Nova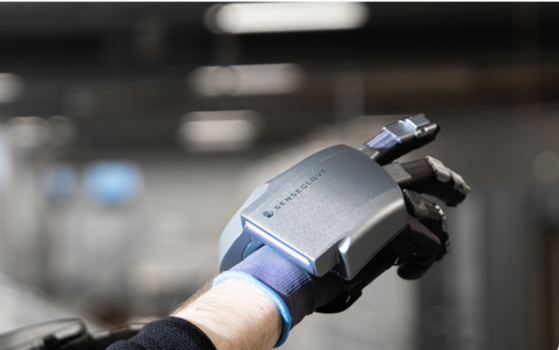 Here's a glove that lets you feel the virtual.
The SenseGlove Nova is designed to be used by companies for a variety of training purposes, such as handling hazardous material and using complex tools and machinery.
The glove allows users to interact with digital objects in a VR setting as if they were real and can be put on in 5 seconds.
A person wearing it would be able to feel a virtual tool in their hands as if it were the real thing, and the feedback can be offered to specific parts of the hand — for example, if two fingers are used to pick up a virtual ball.
There will be force feedback, vibrational feedback, full finger tracking, and complete six degrees of freedom tracking for the entire glove.
"We created SenseGlove Nova—a new glove using stretchable, easy-to-put-on material—specifically for VR training, based on direct customer feedback," said Gijs den Butter, CEO of Senseglove, in a release.
The SenseGlove Nova is going to cost $5,000 and is meant for enterprise use, with orders beginning shipping in March of 2021.
CREAL light-field display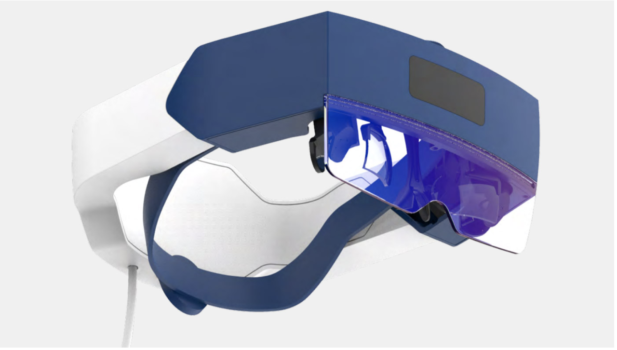 Swiss company CREAL revealed its first prototype AR and VR headsets with light-field displays. These displays generate an image that accurately represents how we see light in the real world.
The advantage of such displays is more realistic and comfortable visuals for extended reality headsets, which could be good news for people that feel sick in VR settings.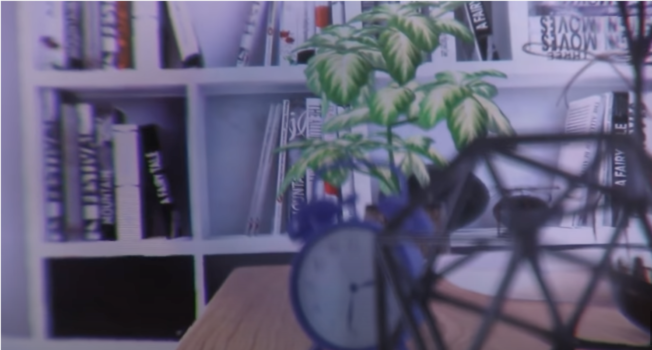 You'll be able to see things as if they're lit realistically and also focus on different planes of the same image, as in real life.  In the above image, the plant is the focal point, but it can be shifted to the clock or bookshelf if you choose to shift your focus. This mirrors vision in real life and is supposed to cause less eyestrain.
The prototypes are still fairly large, but the company hopes to fit its tech into smaller form factors by 2022.
CREAL says these prototypes are evaluation units, and it actually hopes to supply light-field display technology to other headset makers in the future rather than building its own.
NOLO 6DoF VR Headset
Nolo VR revealed several new VR headset options, including a new cloud VR standalone headset, currently called the 6DoF Inside-Out All-in-One VR headset.
The headset uses ultrasonic positioning technology and a dual-camera system to deliver 6 degrees of freedom tracking, so no external sensors are needed.
Instead of relying on downloads, it's meant for users to stream cloud VR content over a 5G or WLAN connection.
Users interact using two motion controllers which are nearly identical to the Oculus Quest 2 controllers.
Not much else has been revealed about the headset, but there aren't too many companies offering a competitor to the Oculus Quest 2, so we'll see how this one does.