Reading Time:
4
minutes
Some articles may include Amazon affiliate links. All proceeds go to helping us pay for original stories and to support writers of speculative fiction. Read more here.
I just finished "Renna's Crossing" by Geordie Morse and was surprised, and humbled, by the author's approach to gender issues.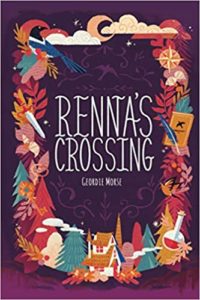 First, a disclaimer. Morse is one of the members of the MetaStellar editorial board and, as such, I've worked closely with him on last fall's flash fiction submissions cycle and other projects.
Even though I'm a big fan of urban fantasy, I probably wouldn't have read the book if I didn't know the author personally. It's young adult fiction, and so probably wouldn't have come up as one of my Amazon recommendations.
But I was anxious to read it, because Morse volunteered to be a guinea pig for the first video on our MetaStellar YouTube channel.
Since it's our first video, we figured it might take a few takes to get it right, and we wanted our first author interview to be very forgiving.
The story of Renna's Crossing
On the surface, "Renna's Crossing" is the classic trope of a young magical person going away to school to learn how to use their magical abilities.
That probably sounds familiar. And, like a certain other story with the same setup, the book starts with Renna living with another family that took her in, not her own parents.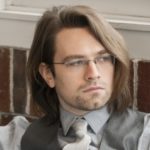 But Morse turns this familiar story on its head. First, because the story is about Renna's journey to get to where she needs to be.
And, second, because of it's post-gender approach to one of its main characters.
J.K. Rowling has become notorious recently for her anti-progressive stance on transgender issues.
In "Renna's Crossing," one of the main characters is non-binary, and the book treats it as a non-issue. That's just the way this character is.
Too often, in stories that involve LGBTQ characters, their plots revolve around these characters struggling with their identities and coming out to those around them. The fact that they're LGBTQ is the most important thing about them, and everything else pales in comparison.
That's not the case in "Renna's Crossing."
I've seen this done in television shows recently, where gay or lesbian characters are treated like everyone else — their sexuality is taken for granted and isn't a big deal. It might come up once in a while — just like, say, someone being allergic to shellfish might be an issue — but it isn't the sum total of their personality and there are a lot of other things going on in their life.
For example, the Fox show "9-1-1 Lone Star" has both gay and trans characters. However, while the gay characters have very routine romantic arcs, similar to those of the straight characters on the show, the trans character doesn't get the same kind of treatment, and the one romantic subplot I've seen so far involved them having to come out as trans to their love interest — and it doesn't work out all that great.
So I was surprised to see how matter-of-factly the non-binary character was treated in "Renna's Crossing." I was also surprised to see polyamory come up right at the start of the book in an equally matter-of-fact way — in Renna's adopted family, there are three dads.
But maybe I shouldn't have been surprised.
As Morse told me in our interview, young adult books have been leading the way here for a while now.
I hadn't noticed, partly because it's I'm not in the target demographic.
However, plenty of adult readers read young adult novels as well. According to a 2012 study, 55 percent of YA books were bought by adults, and 78 percent of those purchases were for the buyer's own reading.
Young adults help define trends in music and in fashion. It's no surprise that they are leading trends in literature as well.
It's a lot more comfortable and familiar for an author to adopt the styles of previous generations, emulating the books that they themselves grew up with. Some authors will even turn this into a virtue. Now, there's nothing wrong with writing fiction in the style of classic authors of the 50s and 60s, no more than there is in becoming a classical musician. But if you want to help build the future you need to start moving forward.
And authors like Morse are helping show the way.
But there's more to the book than just a modern approach to dealing with identity and relationships.
Here's what some Amazon reviewers had to say:
"There are many things to love about this book—library cats, magical tattoos, old houses with names, beautiful gardens, memorable characters, and so much more," wrote Lunarstar.
"Morse is an excellent writer and that really shows in this novel. His detailed and imaginative settings transported me, and his characters felt like real people including the villains," wrote Sam.
"This story will sweep you into a fantastical world you can explore while enjoying some laughs, some courageous feats, and a lot of truth seeking," wrote Valerie.