Reading Time:
8
minutes
Some articles may include Amazon affiliate links. All proceeds go to helping us pay for original stories and to support writers of speculative fiction. Read more here.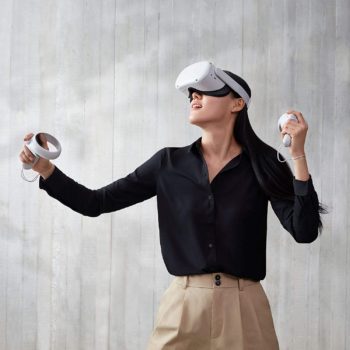 2020 has been a challenging year and nobody could be blamed if they were looking for a little reprieve from reality. One outlet that's gained in popularity during the COVID-19 pandemic is virtual reality or VR.
You can quickly enter another immersive world just by putting on a VR headset. VR isn't just for gaming either. You can watch movies, interact with other people on virtual social forums, watch concerts, go to virtual art galleries, and more.  The cost of entry isn't prohibitive either.
Some newly released devices have improved in performance and display quality while actually dropping in price over previous less powerful models. Other VR headsets have been going strong for a couple of years and are still well-liked and affordable.
Whether you're looking for a holiday gift for a loved one, want a fun new escape from the real world, or already own a VR headset and want something different, there are all sorts of options.
Amazon's a good place to get your VR experience going.  There are many available options, and you get the benefit of other people's reviews before you decide what to buy.
You'll find affordable VR headsets that you can use just with your phone. There also find powerful stand-alone devices that work wirelessly and let you move around the room. For the serious VR enthusiast, there are VR headsets that plug into your computer and offer the highest possible resolution and performance if that's what you're looking for.
Here's a list of the ten most popular options currently available on Amazon. This list is based on two factors, the number and the quality of reviews. The more reviews something has and the more stars (or more favorable rating), the higher up it will be on the list.
A wide variety of price points and types of devices are covered here, so there should be something for everybody.
The Oculus Rift S is the number one seller in computer-powered VR headsets on Amazon. It's tethered, which means it will have to be connected to a PC that's powerful enough to run it, so this might not be the first choice for a VR newbie. If high-end VR gaming is your bag and you don't mind being tied to your PC, then this might be the one for you. Also, be aware that you need a Facebook account to use this device.
Reviewers speak favorably about the enhanced comfort and better screen resolution compared to the original Rift. Another major improvement over the original Rift is the insight tracking, which means all the sensors are built into the device, and you don't have to mount external cameras as you did with the original Rift. With an average score of 4.4 out of 5 across 9,843 ratings, this VR headset released in March 2019 is still going strong.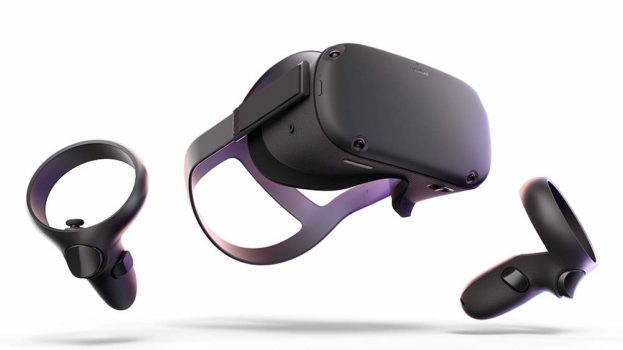 Originally released in September 2018, the Oculus Quest is a favorite amongst the standalone VR headset options — it doesn't need a computer, gaming console or smartphone to power it. Reviewers said it's comfortable to wear.
VR buyers should know that an updated Quest 2 has been recently released and would be a better option if you're looking for the most cutting edge VR technology, and as with all Oculus products, you do need a Facebook account to use the device.
With an average score of 4.7 out of 5 across 7,669 ratings, this is a popular option.
But it new for $604.99 or used for $366 on Amazon.
Just released this fall, the Oculus Quest 2 is an improvement over the original.  It's cheaper — it starts at just $299 on the official Oculus site.
It also features a display with 50 percent more pixels than the first Quest and reviewers definitely enjoyed the higher screen clarity.
It is still a standalone headset — no computer required — but you can also connect it to your computer if you want to play PC-based VR games like Half-Life: Alyx.
Quest 2 can play all the original Quest games and has an improved refresh rate of 90 Hz over the original's 72 Hz, which can help reduce motion sickness in people who've suffered from it in the past while using VR.
One downside reviwers mentioned was the battery life, which often clocked in around two or two and a half hours, and charging the unit could take over an hour over its USB-C connection.
With a score of 4.7 out of 5 across 5,225 ratings, Amazon currently has the Quest 2 listed as available on December 20, 2020. Some reviewers said this device could be the one to help make VR mainstream so if you haven't tried it before or weren't happy with the performance of older models, this could be the one to get.
Get the Oculus Quest 2 Family Christmas Holiday Bundle on Amazon for $799.
Looking for a VR headset that works with your iPhone or Android phone? Are you curious about VR but don't want to spend much money to try it out? Want a cheap Christmas gift for your kids? This phone powered VR headset by BNEXT ticks all the boxes. It'll work with most phones that are 4-6.3 inches in size and is easy to set up and get going.
Reviewers say that despite its cheap price, this VR headset is comfortable, sturdy, and has plenty of free game options. Originally released August 2018, and with a 3.7 out of 5 across 5,153 ratings, this might just be the cheapy but goody VR option for you.
Are you a gamer who already owns the Nintendo Switch, and you'd like to try it out in a VR set up? This is the cheapest option for that, and reviewers speak favorably about its build quality and comfort while wearing it.
Some reviewers complain that only a handful of Switch games are supported for the VR setup, but for the low cost it's a fun way to get an entry-level VR experience, though it won't rival the quality of the higher-end Oculus devices, nor is it meant to.
With a rating of 3.5 out of 5 on Amazon with 2,553 ratings, this is a popular option for Nintendo Switch owners.
Got some spare change in a jar? Looking for the cheapest option to give this whole VR thing a whirl? With a price in the single digits, this piece of cardboard with lenses and a strap is all you need to get the VR experience. Just attach your 3.5 to 6-inch smartphone and you're ready to roll.
With a score of 3.6 out of 5 across 1,391 ratings, this simple gizmo's been around since 2016, and you won't find a cheaper way to get into VR.
Buy this cheap on Amazon for $5.99.

Here's another favorite among the PC powered VR headsets. Reviewers speak favorably about the image quality, ease of setup, and good tracking. Reviews are mixed however as some glasses-wearers have a hard time getting comfortable in this VR headset, and there are some complaints about the controllers, which several reviewers state aren't as good as those that come with the Oculus systems.
Despite some drawbacks, with a score of 4.3 out of 5 out of 1,167 ratings, this system looks like a solid choice amongst the computer powered VR options.
This is another affordable headset that works with any phone from 4.7 to 6 inches.  One reviewer remarked on the good quality of the built-in headphones, but be warned that it's a standard headphone jack that most newer phones don't have anymore.
The general consensus is that it's comfortable and good for the price. It seems like a reasonable choice with a 3.7 out of 5 across 1,034 ratings though there are cheaper options higher up on this list if you're looking for a VR headset that works well with a phone.
Get this affordable headset on Amazon for $82.99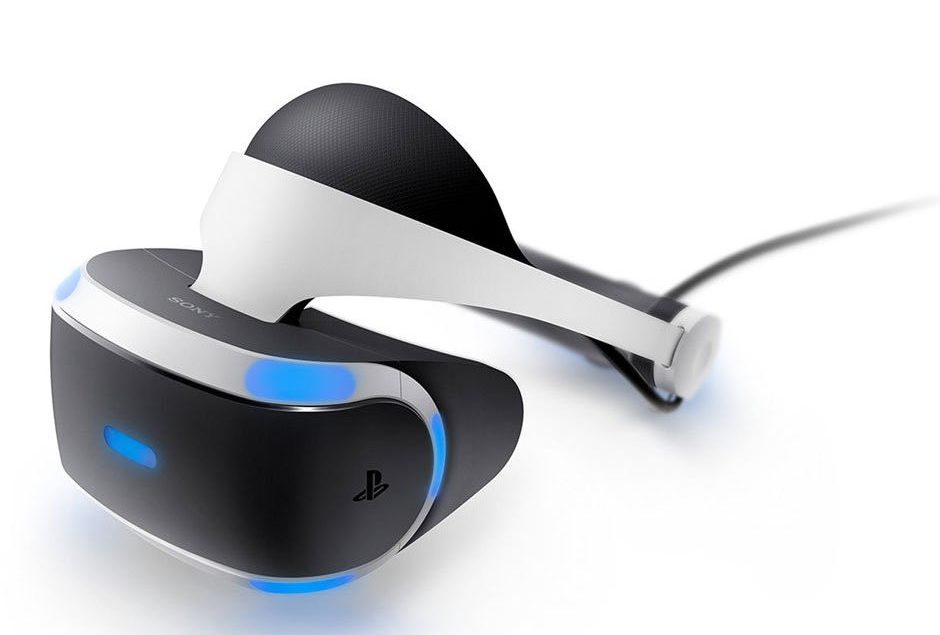 This VR headset is designed to be used with the PlayStation 4, so it's geared towards gamers who already own that system. Reviewers enjoyed many aspects of this system, including comfort level even while wearing glasses, the ability to play any game from the system, being able to watch movies on a big virtual theater screen, and freeing up the tv for other household members to use.
There were some complaints, such as since it was released in 2016 it doesn't have anywhere near the best resolution that's available on a VR set nowadays, and it's required to be plugged in which some people found limiting for gaming.
Overall the PlayStation VR received a 4.5 of 5 across 1,229 ratings and could be the right VR headset if you already own the PlayStation 4.
Get this used or new on Amazon at a variety of prices from $155 to $319.
This is a newly updated for 2020 phone powered VR headset that has some nice perks such as blue light protection lenses and the ability to hold a phone up to 6.8 inches in size.  Reviews on comfort and ease of use are generally favorable and it works well with glasses as well. It's already very reasonably priced and at the time of publishing, there's a 30 percent off coupon available on Amazon for this device.
Out of all the phone powered headsets, this might be one of the best deals, and at 3.8 out of 5 across 1,001 ratings, it's well-liked.
Buy on Amazon for only $30.95 and bring down the price even more with the 20% off coupon.
Edited by Maria Korolov