Reading Time:
3
minutes
Some articles may include Amazon affiliate links. All proceeds go to helping us pay for original stories and to support writers of speculative fiction. Read more here.
You can now get four months of Kindle Unlimited for $4 a month — it's normally $10 a month.
Kindle Unlimited is like Netflix for ebook readers. You can read as many books as you want a month, and and have ten books out any one time. To read more, just return one of the books you have out.
The Kindle Unlimited program currently has more than two million ebooks and thousands of audiobooks. You also get three magazine subscriptions.
Authors make money based on how many page reads their books get.
Based on the latest survey of more than 1,000 indie authors by Written Word Media, about two thirds of authors have their books in Kindle Unlimited, which is also known as KDP Select. And, in last year's survey, authors making more than $1,000 a month from their writing who were in Kindle Unlimited said that more than half of their income came from that platform.
So, by subscribing, you will be supporting independent authors.
But it's not just indie books that are in Kindle Unlimited.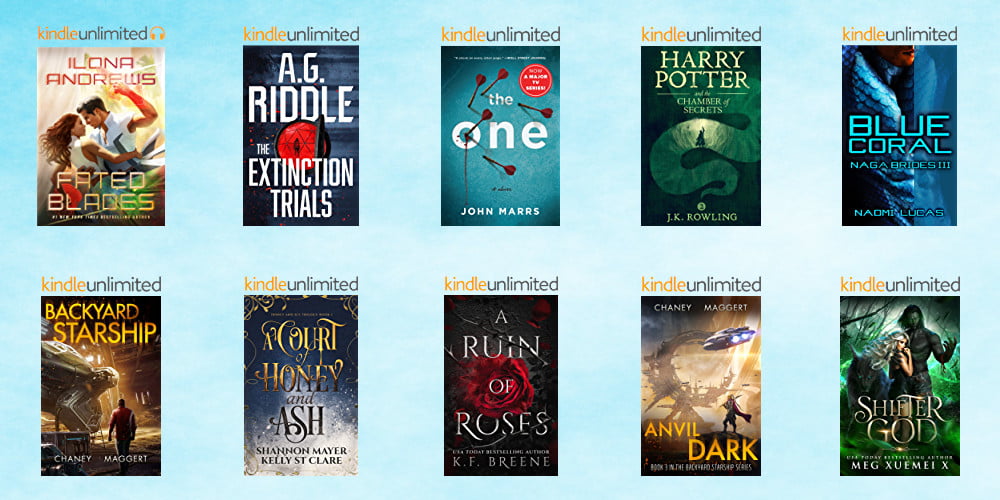 If you look at the current list of Amazon best sellers in science fiction and fantasy, there are many books by big publishers on the list as well, including all the Harry Potter books. You can see the "Kindle Unlimited" logo above the covers of the books that are part of the program.
You don't need a Kindle to be in Kindle Unlimited
I don't own a Kindle. I have a smart phone with the Kindle app in it. You can get the Kindle app for the iOS and for Android, and for the PC and Mac. You can also read Kindle ebooks online, just by clicking the "read for free" button to borrow the book, then the green "read now" button to read it online after you've borrowed it.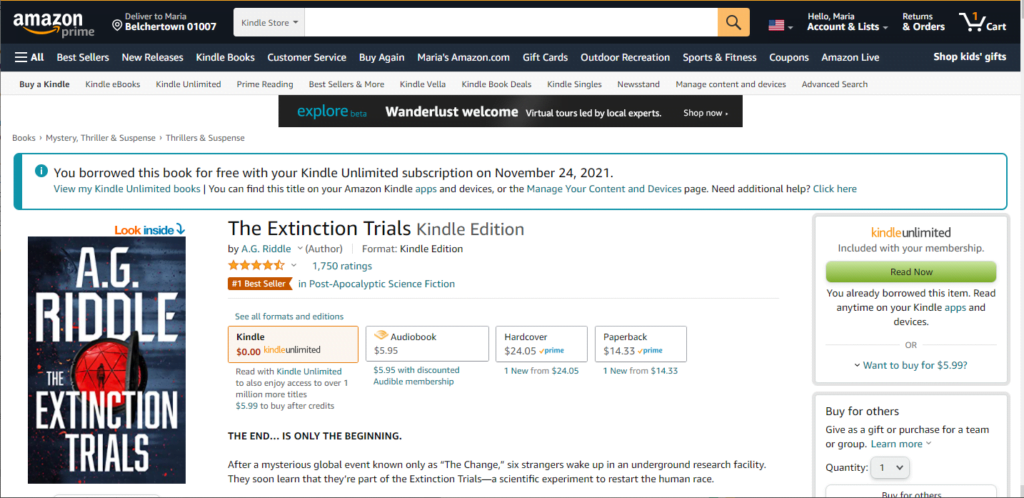 You can also have Alexa read the ebook to you out loud. Just download the free Alexa app for iOS or for Android. Alexa picks up where you left off reading in your Kindle app or device. Then when you go back to the Kindle, you can pick up where Alexa left off.
I use this option a lot when driving — I just have Alexa read from whatever book I'm currently in the middle of. The Alexa reading voice isn't perfect, but lately I've been finding that it pretty much gets everything right, including most of the inflections. And it's only going to keep getting better as the AI improves.
I have the Kindle App on my phone, on my tablet, and on my computer, and it automatically syncs my reading position across all the devices.
If you do want to buy a physical Kindle device — because it's thinner and lighter than a tablet, bigger than a smartphone, puts less strain on the eyes, and the batteries last for weeks, not hours — then Amazon has a few deals on those, too, this holiday season.
The ad-supported Kindle with a front light and a 6 inch display is just $50 — down from its $90 regular price. It comes in black and white, 8GB of memory, and three free months of Kindle Unlimited. It's the second most-popular Kindle on Amazon, with more than 40,000 reviews and an average 4.6 out of 5 stars rating.
The 2018 Kindle Paperwhite with a 6 inch display is now $85 — down from its $160 regular price. It comes in five colors, 32GB of memory, and three free months of Kindle Unlimited. It's the most popular Kindle on Amazon, with more than 121,000 reviews and an average 4.6 rating.
For a slightly larger screen size, you can get the 2021 Kindle Paperwhite Signature Edition, with a 6.8-inch display, 32 GB of memory and no ads and four free months of Kindle Unlimited for $190.
Or you can go all the way up to the Kindle Oasis, with a 7-inch screen, 32 GB of memory, an adjustable warm light, no ads and three months of Kindle Unlimited for $280.