Reading Time:
2
minutes
Some articles may include Amazon affiliate links. All proceeds go to helping us pay for original stories and to support writers of speculative fiction. Read more here.
The fall submission cycle for original speculative fiction begins on October 1 and closes at midnight on October 31.
We're looking for your best enthralling, imaginative, or bone-chilling original fiction stories, as long as they're 1,000 words or fewer.
Please visit our flash fiction submission page for full details and the online submission form.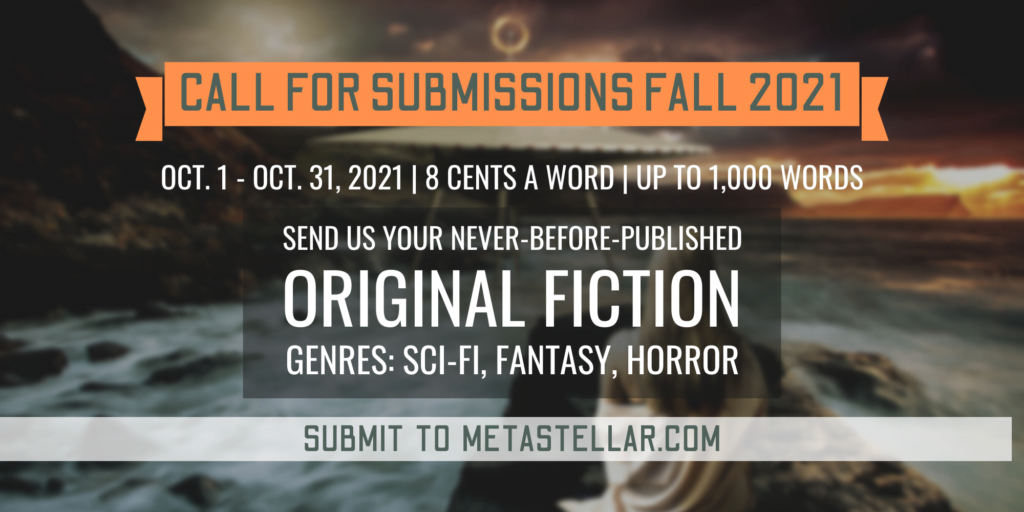 Accepted authors will be paid 8 cents per word for their original work. Simultaneous submissions of as-yet-unpublished stories under consideration by other magazines are allowed, but we do not accept multiple submissions from the same author during a single submission cycle. Accepted authors will be notified and be offered first-rights contracts by November 15.
MetaStellar has just celebrated its one year anniversary to great success. A project that started in the heads of a few like-minded writers has evolved into an outlet with over 150 contributors and more than 300 published stories, reprints, essays, excerpts, columns, and reviews. We've been honored with over a thousand submissions thus far from our fellow writers, and as of this writing our site has enjoyed more than 43,000 visits.
We're proud to provide fresh and engaging voices to the arena of online speculative fiction publishing, and have big plans for the coming years!
Our ability to publish our fantastic original fiction is only possible due to the generous funding of our Patreon supporters and direct donors. The more support we receive, the more stories we can pay for, and the more great work you get to read!
Thanks to the generosity of our current supporters, we're planning to publish around ten works of original fiction during this submission cycle.
We also have non-paying opportunities for other kinds of work. These include essays, reviews, reprints and excerpts of longer stories.
To submit a reprint, your short story must have previously been published somewhere else, and you hold the rights to republish it. For example, you can submit your story as a reprint if your story was previously published with a publication that only asked for first-time publication rights, or was self-published, or which was posted on your blog, social media page, or other publicly-accessible online outlet.
All writers will get a bio box that includes their photograph and links to their Amazon author pages, personal blogs, and social media feeds.
Become a part of the MetaStellar community by following us on Twitter and on Facebook, or subscribe to our newsletter. You can also subscribe to our reader newsletter, which features all the latest stories, essays, and reviews!
We eagerly look forward to reading your submissions!