Reading Time:
< 1
minutes
Some articles may include Amazon affiliate links. All proceeds go to helping us pay for original stories and to support writers of speculative fiction. Read more here.
Fantasy & Science Fiction magazine is now in Kindle Unlimited, which means that if you're a member, you can read this magazine — as well as millions of books — at no additional cost.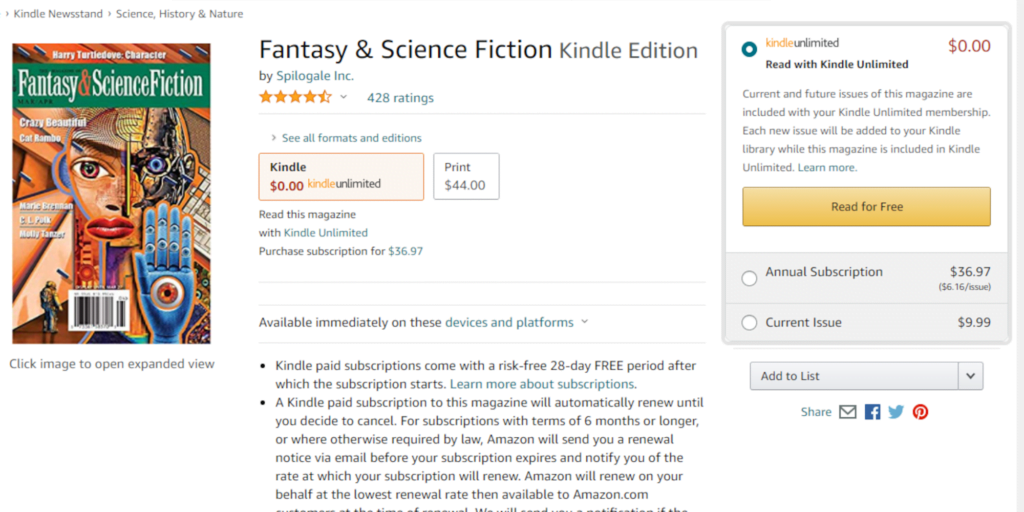 If you don't know what Kindle Unlimited is, it's basically like a Netflix for books. You pay $10 a month, and you can read all the books you want. Learn more about the program here and the other places you can read all you want in our article here.
Normally, a Kindle subscription for this magazine costs $37 a year on Amazon, or $10 for a single issue, and a print subscription costs $44. The magazine publishes six issues a year.
You can also subscribe directly from the magazine's website, for $40 per hear.
The current March/April issue includes short stories by C.L. Polk, Madeleine E. Robins, Molly Tanzer, Robin Furth, Cat Rambo, Rebecca Campbell, Nick Wolven, B. Morris Allen, Marie Brennan, Harry Turtledove, and Meg Elison, and poetry by Akua Lezli Hope.
There's also a regular book review column by Charles de Lint.
You can see the full table of contents here.
None of the stories are available online, though some of the columns are.