Reading Time:
2
minutes
Some articles may include Amazon affiliate links. All proceeds go to helping us pay for original stories and to support writers of speculative fiction. Read more here.
A new virtual reality camera was successfully delivered to the International Space Station today. It's not the first VR camera on the ISS, but this new one will allow the astronauts to film spacewalks in virtual reality.
According to NASA, The International Space Station Experience is creating an immersive virtual reality series documenting life and research aboard the space station.
Partnering with the ISS National Lab and TIME, a team from Felix & Paul Studios first launched a customized 360-degree camera to the space station in December 2018 that crew members have used to record a few hours inside the station every week.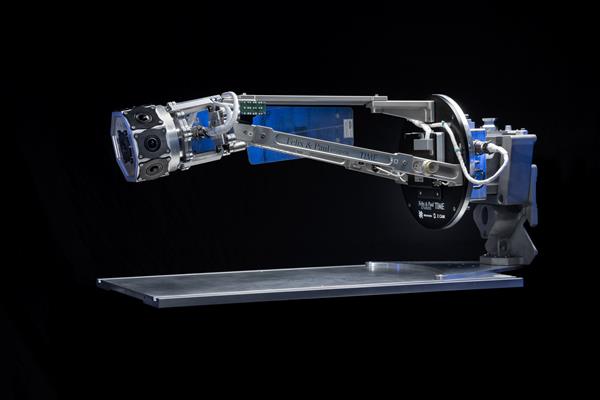 Now, Felix & Paul and partner NanoRacks further modified an additional camera to withstand the extreme conditions of space and so that it can be used for filming a spacewalk.
The new camera will be mounted to the Canadarm2 to capture a spacewalk from start to finish as well as footage of Earth and the exterior of the space station, NASA said.
The camera is a Z-Cam V1 Pro camera consisting of nine 4K sensors allowing for a 3D, 360-degree image at 8K resolution and has been specially hardened to withstand vacuum, solar ultraviolet radiation, ionizing radiation, plasma, surface charging and arcing, temperature extremes, thermal cycling, impacts from micrometeoroids and orbital debris, Felix & Paul Studios said in a press release.
The camera can store approximately 15 hours of 3D, 360-degree footage with custom lenses made to withstand extreme light and heat to minimize flare when directly exposed to the Sun.
"Getting this camera to space was the culmination of five years of exceedingly hard work," said Jonathan Woods, Executive Producer for The ISS Experience at TIME Studios and EMMY-winning producer of A Year in Space, in a statement.
To capture the spacewalk featured in Episode 4 of The ISS Experience, the Space Camera will be mounted and powered via the Nanoracks' Kaber MicroSatellite Deployer and maneuvered around the outside of the International Space Station by Canadarm2, the Canadian robotic arm on the ISS. Canadarm2 will essentially function like a crane on a movie set, enabling the space camera to capture the spacewalk in fully-immersive virtual reality, bringing viewers alongside the astronauts as if they were part of the crew.