Reading Time:
9
minutes
Some articles may include Amazon affiliate links. All proceeds go to helping us pay for original stories and to support writers of speculative fiction. Read more here.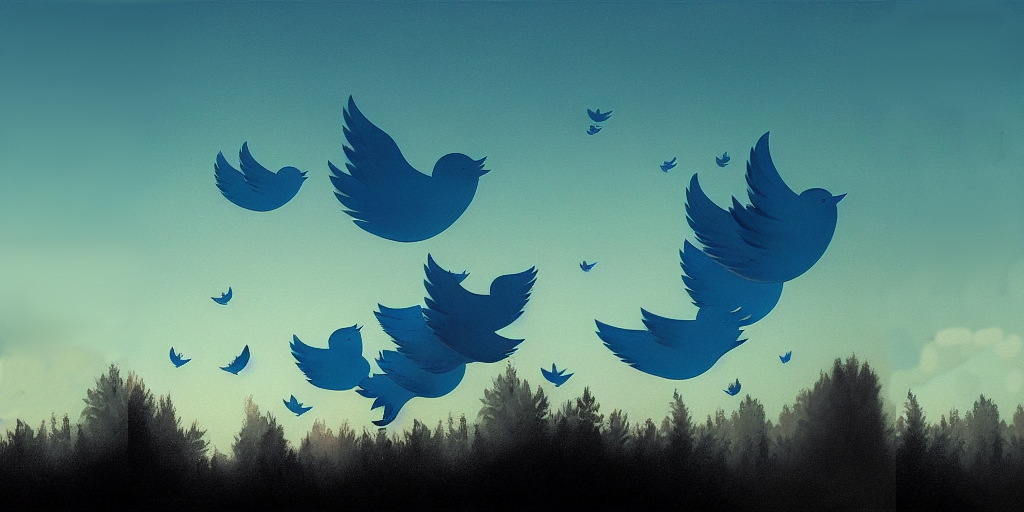 Twitter has long been a friend to speculative fiction, with many sci-fi and fantasy authors and publications connecting with their audience on the platform.
However, the turmoil sparked by Elon Musk's acquisition has caused some to have some serious concerns.
"The death of Twitter would decimate the science fiction and fantasy short story ecosystem," wrote Uncanny Magazine editor Michael Damian Thomas in a Tweet two weeks ago. "Twitter is by far the most important tool all of us have to reach the readers of our online magazines. This is where folks discover the online stories. This is also where folks discover the ways to financially support the magazines."
None of the proposed alternatives to Twitter have anywhere near the same reach, he added.
"If there is a mass exodus of the SF/F community, I guarantee multiple mags will close," he said.
Other editors agreed.
"For BCS, Twitter has been crucial in fundraising, spreading word, interacting w writers, & reaching new readers who don't know us enough yet to Follow us," said Scott Andrews, editor of Beneath Ceaseless Skies, in a Tweet responding to Thomas' post. "We will stay and try to make our corner of it as safe and useful as we can."
Speculative fiction writer and Arsenika magazine editor S. Qiouyi Lu has no plans to leave Twitter, either, where they post as @sqiouyilu.
"Mostly I have found the panic around Twitter to be extraordinarily irritating and largely ignorant of the experiences of multiply marginalized people who rely on Twitter," they told MetaStellar.
Instead, Lu has built a toolkit for creating a Twitter clone that can still communicate with the API regardless of website or app performance — as long as the API is up — and serves as a local backup in case anything goes down. That tool is available for free on GitHub. An API, or application programming interface, allows a direct code-based connection to the Twitter back end, useful for people with technical skills.
And, just in case, Lu has a dedicated page on their website with all their social media feeds — and that includes two Mastodon accounts.
But the Mastodon accounts are listed under the "rarely or never use" subheading.
"The ability to migrate to Mastodon often has unexamined privilege involved, and I do not find the federated structure of Mastodon to be safe for creators," Lu said. Lu's full thread about Mastodon and its drawbacks is here.
Beyond Twitter, Mastodon is favorite option for authors
Many of those who are still on Twitter are hedging their bets, pointing their followers at all their other social media platforms.
Many writers are going on Twitter to remind their Twitter followers that they also have blogs, Instagram accounts, Patreon, Substack, Tumbler, Quora, and Facebook pages, and other places where they connect with readers, or are asking readers to sign up for their newsletters. Some are also experimenting with new platforms, like Vero.
Neil Gaiman, for example, who has 3 million followers on Twitter, has let his followers know where else they can find him. For example, he's Neil-Gaiman on Tumblr, @neilhimself on Instagram, and his personal blog is at NeilGaiman.com.
Plus, like many Twitter users, he's also looking at a popular open source alternative, Mastodon. He's using the Mastodon Social server, where you can find him at @[email protected], where he has over 73,000 followers.
John Scalzi, who has over 200,000 followers on Twitter, tweets frequently on politics, life, and writing and publishing. He's stepped up his use of Mastodon recently, though, where he's been @[email protected] since 2017. He says he's been losing followers on Twitter — and gaining them on Mastodon at about the same rate. As of this writing, he has over 7,000 followers on Mastodon.
"For the folks who are asking if I'm coming here full-time: Probably not, or at least not immediately, but I will try to update more often than I have," he posted earlier this month. "I try not to replicate posts on differing social media too often, so that's a bit of a limiter, timewise. But we're in weird times, so: Who knows?" Then he shared a picture of a steampunk cat.
The fact that the Mastodon community is fragmented across many different servers makes it harder for readers to find their favorite writers and magazines — and, for speculative fiction writers and magazines, to build an audience. Some writers are more comfortable with that situation than others.
"I wonder if mastodon feels so comfortable for me because of my early internet experience being based on bulletin boards and MUSHes," wrote sci-fi and fantasy author Elizabeth Bear on her Mastodon feed two days ago. "It's pretty much the same: overlapping communities in various instances with means for wider communication." Her primary Mastodon account is @[email protected] but she's also on @[email protected].
Like many writers, Bear has put her Mastodon address in her Twitter bio to make it easier for people to find her, as well as at the top of her website.
Cory Doctorow has his Mastodon address — @[email protected] — right in his Twitter name. He currently has over 20,000 followers on Mastodon.
Arkady Martine also put her Mastodon address — @[email protected] — in her Twitter bio.
Charlie Stross also has his Mastodon address — @[email protected] — in his Twitter bio.
Mastodon is open source and decentralized, meaning that anyone can set up a server and run an instance of the platform, similar to the way that anyone can download WordPress and set up their own website.  Mastodon Social is the most popular server, with more than 800,000 users. It's run by Mastodon's founder and lead developer, Eugen Rochko, and accounts for 6.4% of Mastodon's 13 million total users. Of those, 1.8 million users were active in the previous month. By comparison, Twitter has more than 200 million active daily users, according to its most recent earnings release.
Other science fiction and fantasy authors on Mastodon include Paul Levinson, O Westin and, Max Gladstone,
Some authors are just tired of all the drama.
"I think I'm tapping out," said sci-fi author Paolo Bacigalupi in a Tweet earlier this month. "Google for me if you want to find me elsewhere on the internets. I'll probably still post ads for my books if the site stays up, but I think I need to be done with this place." Bacigalupi has won the Hugo, Nebula, Locus, World Fantasy and other awards and has around 16 thousand followers on Twitter.
Sci-fi and fantasy magazines on Mastodon
Speculative fiction magazines are also setting up accounts on Mastodon.
Clarkesworld Magazine can be found at @[email protected].
"We've seen minimal losses on Twitter and won't be leaving while some readers are still reachable there," Clarkesworld editor Neil Clarke told MetaStellar, though he did admit that he's dialed back his usage of Twitter over the last two years. "Across all platforms our overall reach has increased, particularly as Mastodon picks up steam. We don't consider it a replacement for Twitter, just another tool or resource to stay connected with readers."
Putting all the distribution eggs in one basket is looking for trouble, he said.
In addition to the continued presence on Twitter, and the new account on Mastodon, Clarkesworld is also on Facebook, Instagram, and Patreon, has a mailing list and subscriber-only Discord server, and a podcast — and Clarke says he's investigating other platforms, as well.
Beneath Ceaseless Skies can be found at @[email protected].
Metaphorosis is at @[email protected].
Etherea Magazine is at @[email protected].
Cossmass Infinities Science-Fiction and Fantasy is at @[email protected].
Kaleidotrope is at @[email protected].
"I've made a move over to Mastodon, since that seems to be where a lot of people are headed, and it also seems like the platform that's most similar to Twitter," Kaleidotrope editor Fred Coppersmith told MetaStellar. "I know there are other places that people are headed, and I might explore some of those in the future, but I also don't know that I want to be active on a dozen different social media platforms. For better or worse, Twitter had real reach, and that's going to be difficult to replicate or rebuild."
Coppersmith said that he hasn't yet seen a mass exodus from Twitter yet or significant changes in his audience engagement.
"But it's a hard thing to judge," he said. "People are definitely worried about it, myself included, but I think most of us are still taking a wait-and-see approach, even as we make a thousand different contingency plans."
For example, in addition to the Mastodon account, he's also started a weekly newsletter to keep in touch with readers who don't follow the magazine to Mastodon.
The Fabulist is at @[email protected], editor Josh Wilson told MetaStellar, though the magazine plans to stay on Twitter until it sputters out.
"We doubled our Twitter audience in the last year or so, seeing really strong growth around publishing and some notable retweets from folks such as Neil Gaiman," he said. "That seems to have come to a screeching halt. Growth has flatlined and in fact dropped slightly. I was hoping we'd crack a thousand by the end of the year. Now, it doesn't look likely. The important thing is that Twitter audiences are very high-quality. The traffic we get to our website from Twitter always has high time on page, multiple pages viewed per visit, and a lower bounce rate. Visitors via Twitter have historically been exceeded in quality only by referrals from our email newsletter. "
But the magazine is looking at other platforms, as well, Wilson added, in addition to keeping an eye out for a Mastodon server.
"Jack Dorsey is launching Bluesky, and we signed up for a beta account there," he said. "There's also Discord, which seems to attract very lively participants. But managing all that stuff is a hassle. If I never went on social media again, I wouldn't mind. It's just that it undeniably benefits The Fabulist. So most important for us will be ease of use. If we ever have the budget for it, it would be great to have an enthusiastic social media editor who can develop The Fab's offerings for the various social platforms."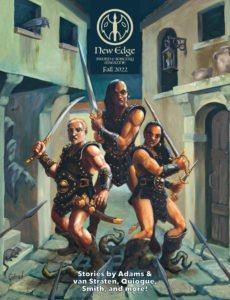 New Edge Sword & Sorcery Magazine has, as of this writing, 326 Twitter followers and that number hasn't fallen recently, editor Oliver Brackenbury told MetaStellar.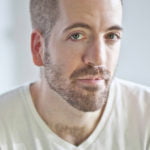 "But the growth of our follower count has slowed," he added. "We've hedged our bets by making a Mastodon account, however nothing about Mastodon seems geared toward it replacing Twitter, in my opinion. It's much closer to Discord, which already exists, and its usability isn't intuitive enough for me to see it building the kind of overall userbase which can make a platform a serious promotional concern."
Brackenbury said that he's hoping that Twitter is able to pull through.
"The recent news that Musk is seeking someone else to take over as CEO has us feeling hopeful this will just be a rough patch, not the death of the platform," he said.
New Edge Sword & Sorcery Magazine is a brand-new publication, launching this past September with a free issue available to download here. The magazine also has a Facebook page and an Instagram account. Its Mastodon page is at @[email protected].
Other organizations also have Discord servers, which are online discussion groups similar to Slack. For example, Mythcreants, a popular speculative fiction advice site and podcast, has a Discord server for its Patreon supporters. Mythcreants has recently cancelled its Twitter account in response to the turmoil.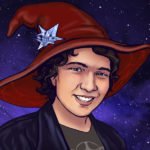 "A lot of writers rely on Twitter both for community and for marketing," Mythcreants editor Oren Ashkenazi told MetaStellar. "They're understandably worried that everything they've come to depend on will go up in smoke. The political aspect is more complicated, but for anyone who's even a little progressive, it's difficult to justify staying on a platform where the sole owner goes around claiming that Paul Pelosi was attacked by an angry ex-lover."
Even a casual observer can see that Twitter is spiraling as its revenue plummets, trolls run rampant, and half its workforce is laid off, he said.
"There's a grim humor in it, but for the writers who depend on Twitter, this isn't funny," he added. "They will increasingly suffer as Twitter gets less usable, and possibly vanishes altogether. Many of them have poured years into building a presence on Twitter, and that isn't easily replaced somewhere else. "
Mythcreants itself only had around 2,000 followers on Twitter, so leaving was an easy decision, said Ashkenazi.
"Our account was mainly used for posting links to our articles and the occasional storytelling joke," he said. "We'll miss the people we interacted with there, but it's not much of a loss for us, as Twitter represented a tiny fraction of our traffic."
They considered Mastodon, but the lack of a post-scheduling feature was a deal breaker, he said. Plus, the platform is technically challenging.
Mythcreants' primary focus is its website, he said. But, in addition to the Discord server for its Patreon supporters, Mythcreants also shares content on Tumblr, Pinterest and Facebook, and has a podcast that's available on Spotify, Google and Apple Podcasts.
Where to get a Mastodon account
As of this writing, Mastodon Social, the most popular server, is closed to new signups because of all the traffic they've been getting in the wake of Twitter's meltdown.
But there are other servers you can try. Newsie Social, for example, is targeted at journalists. You can find me at @[email protected].
And you can find other servers you can join here.
Once you join Mastodon on any federated server, you can follow people on other servers. Just paste their URL into your search box at the top-right of your Mastodon feed page.
For example, even though my Mastodon account is on Newsie Social, I was able to follow all the Mastodon authors and magazines listed in this article.
Do you know of other sci-fi and fantasy authors or magazines that are moving to Mastodon — or other platforms? Share their info in the comments below!