Reading Time:
8
minutes
Some articles may include Amazon affiliate links. All proceeds go to helping us pay for original stories and to support writers of speculative fiction. Read more here.
Last month, Adobe sent out of the first round of payments to artists whose work was used to train their AI model, Firefly. The company also says it only uses fully licensed images to train Firefly — and if there are any lawsuits that pop up, Adobe promised to indemnify its business customers against any legal liability. So Adobe is very motivated to do things right, copyright-wise.
As a result, I've been recommending that people use Adobe Firefly and Adobe Express to create book covers and other commercial content. In fact, last night, I posted a video showing how I created a brand-new book cover in Adobe Express in just six minutes. (I timed it.) The basic plans are free, and if you want more images or features than the free plans provide, a subscription to Adobe Firefly is $5 a month and Adobe Express is $10 a month. Adobe Express is Adobe's answer to Canva, offering text, graphics, and layout in addition to generative AI images.
Adobe was the first major company to do all this.
The downside to Adobe Firefly is that the images suck compared to Midjourney or Dall-E 3.  And the free plans are super limited. Adobe nickel-and-dimes you for everything — fonts, graphic elements, features. And I hate the interface, to boot.
But what can you do? They train on fully licensed images, and they pay artists.
Getty Images joins the fully licensed movement
Then, on Sept. 25, Getty Images came out with its response to Adobe. It's AI model — Generative AI by Getty Images — is also trained on fully licensed images, and the company will also be paying artists, and will indemnify business users against any potential legal costs.
"We've listened to customers about the swift growth of generative AI – and have heard both excitement and hesitation – and tried to be intentional around how we developed our own tool," said Grant Farhall, Chief Product Officer at Getty Images, said in a statement.
You can't generate AI images with it just yet — the tool will be out at some unspecified time later this year.
Of course, Adobe and Getty have a huge advantage when it comes to training copyright-safe AI models — they have access to gigantic libraries of high-quality images and business relationships with the artists who produced them. It's easy for them to pay artists for their work because they're already paying artists for their work. They're just going to pay them a little bit more when the work goes into the AI.
Companies that don't already have those libraries — and those relationships — are going to be at a disadvantage.
Like Midjourney. Or OpenAI, which has the Dall-E family of AI image generation models. Or Stability AI, which offers the open-source Stable Diffusion model that underpins most of the free and low-cost image generation tools out there.
OpenAI and Stability AI have already announced that they will let artists opt out of their images being used for training data. This is nowhere near good enough. Artists shouldn't have to research all the possible AIs that could be using their images and then file an opt-out request for every single image. This is a ridiculously onerous requirement.
I believe, eventually, OpenAI is going to team up with a stock image site and use their images. OpenAI has already signed a deal with Associated Press to use their text archives. With all the lawsuits that are being filed against OpenAI — and all the investment money that's pouring into the company — striking deals for fully-licensed training data is a no-brainer.
Midjourney has been completely mum on the issue. I guess they're hoping that the courts will rule that AI image generation is transformative enough that it doesn't violate copyright. It's a risky move. But they're a tiny team — according to their website, they only have eleven employees and no investors. If they have to go out of business because of the lawsuits, they can probably all find new jobs the next day. And if they win the lawsuits, they're golden. Tech companies have typically won similar lawsuits in the past. Or there could be some kind of half-way result — they'll have to run their images through a plagiarism checker and throw out anything that's too close to a copyrighted image.
Now Canva is stepping up
Now that we're all caught up with what's going on, here's the latest news — Canva announced its new Canva Shield yesterday, which it claims is "safe, fair and secure AI" — as well as a $200 million artist compensation fund.
It will also indemnify business customers against legal costs.
However, while artists can opt out of their images being used for training data, Canva will not guarantee that all images used are fully licensed. And, as I said above, forcing artists to go and opt out everywhere is a huge pain.
Should you use it?
It depends on your appetite for risk — and your level of concern for artists.
If you're a company, then the promise of legal indemnification may be good enough. If you're an individual user, you probably won't personally get sued, so you should be safe, but who knows?
On the ethics side, is it enough that artists can opt out of their work being used for training? Personally, I don't think so.
You might have a different point of view here, though. If you want try it out, the basic plan is free, and it includes the new Magic Write, Magic Design, and Magic Edit features. The $120-a-year pro plan has higher usage limits, brand kits, background removal, and social media content scheduling.
Plus, it has an awesome interface and doesn't nickel-and-dime you quite as much as Adobe Express does. I use it to design all my social media posts, YouTube thumbnail, and book covers.
If you're worried about protecting artist copyright, and also want to save money, I suggest that you use Adobe Firefly's $5 plan to generate the images, then use the free Canva plan to design your covers.
If you want to save even more money — and are satisfied with OpenAI's current opt-out policy — you can get free Dall-E 3 images from Bing Create.
Canva uses OpenAI behind the scenes, but it doesn't seem to have the new Dall-E 3 model yet.
Here's my prompt:
urban fantasy book cover titled "magic potions" by author "Indie Jones"
Here's Canva's take on it, using a canvas size of 1,600 pixels in width and 2,400 in height: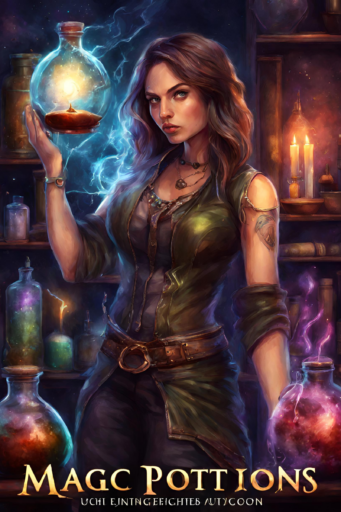 My guess is that it's still using Dall-E 2 for the images.
Here's Bing Create's version: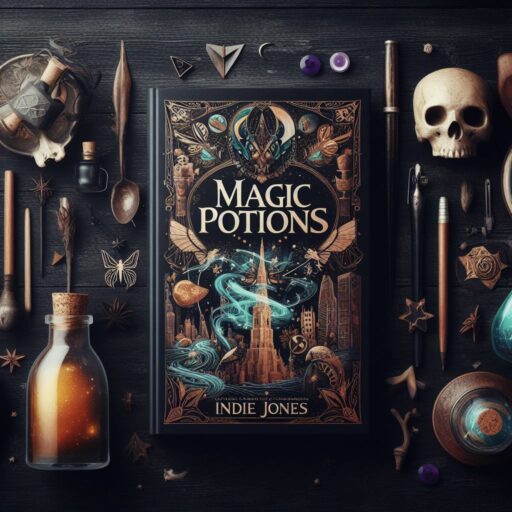 Dall-E 3 gets the title and author's name spelled right. Plus, I love all the mood-setting stuff around the book! The downside is that it only comes in square formats.
Despite the aspect ration limitation, Dall-E 3 in general seems to approaching Midjourney quality right now, while also offering artists the chance to opt out of being in the training data set.
But wait — there's a "customize" button! The customize button takes you to a new site called Microsoft Designer, which lets you change the aspect ratio. It also suggested an improved prompt — "Create an urban fantasy book cover titled "Magic Potions" by Indie Author Jones. Use a mysterious and magical theme with purple, green, and black colors." Ah, never mind. The images Microsoft Designer creates look like they came from Dall-E 2, which is awful. But it does do an… okay-ish… job of taking Bing Create's Dall-E 3 images and turning them into social media posts of various sizes.
But back to Canva. I can definitely see using this once it upgrades to Dall-E 3 for the image generation — and especially if OpenAI switches to an opt-in model and starts using only fully licensed images for its training data.
Let's see what else Dall-E 3 can do.
Here's my prompt: "beautiful woman fighter in leather pants and boots, hair flowing in the wind, holding a sword, wearing a gun in a holster, dystopian city at night in the background, urban fantasy book cover illustration, dramatic lighting, leather boots, wide-angle view."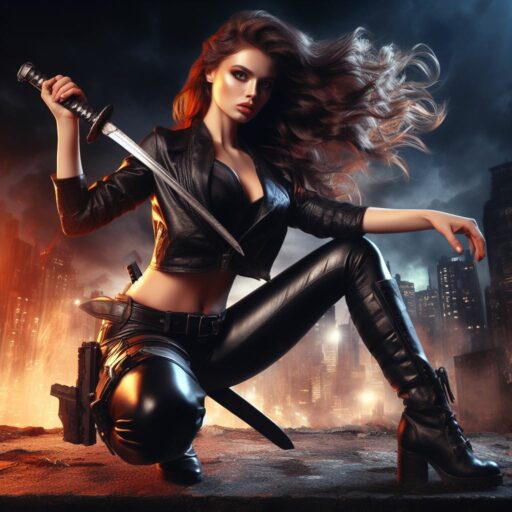 It doesn't look like Bing Create has any limits on how many images you can generate, though it will slow you down.
The official Dall-E site from OpenAI seems to just have the older version of the model, but it does offer the ability to expand images. I expanded the above image in OpenAI, then brought it into Canva to make it into a book cover.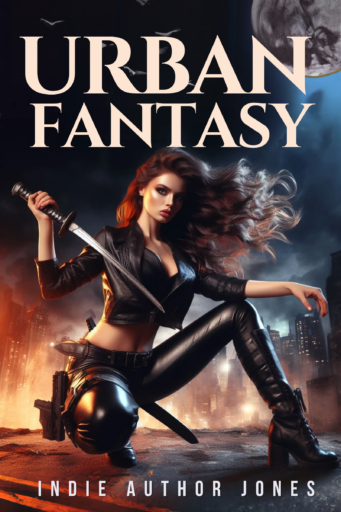 Here's Bing Create's take on "Gorgeous male model in unbuttoned shirt next to a dire wolf. Night landscape. Full moon. Fantasy book cover illustration style."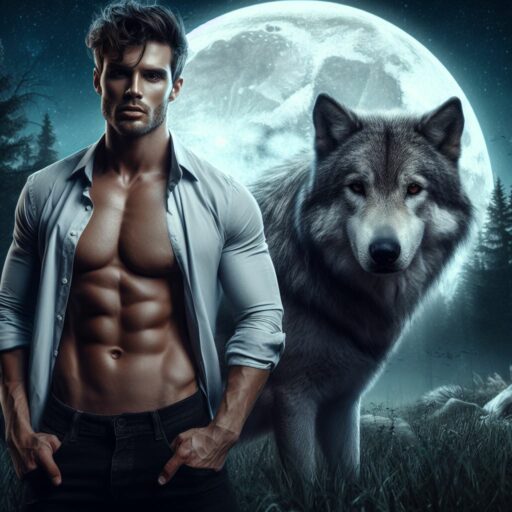 Here are a couple more book cover mockups, from Bing Create, with the prompt "bestseller sci-fi book titled "Space Opera" by author "Indie Jones."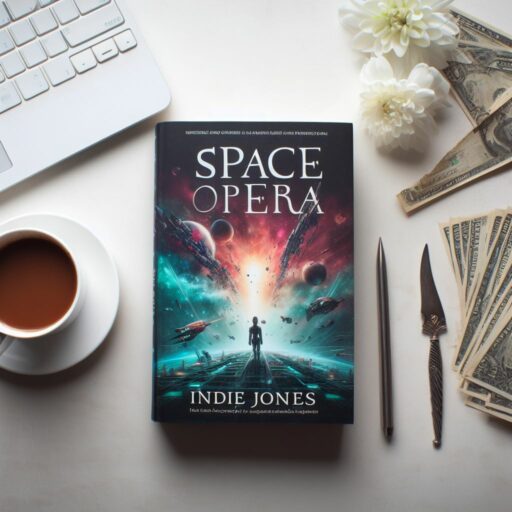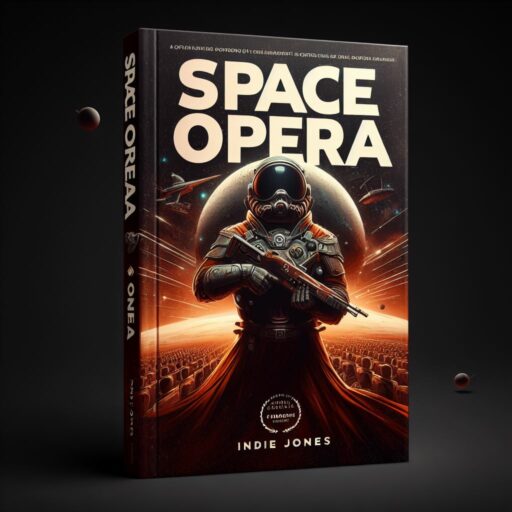 I think right now Bing Create is useful just for inspiration images, not for actual book cover illustrations. The fonts don't quite look right and I picked just the generations where it spelled the words right — 80 percent of the time, it got the spelling wrong.
Bottom line?
If you are the most concerned about copyright and artist compensation, use Adobe Firefly to create images.
If you are somewhat concerned about copyright but think that opt-out works for you, use Dall-E 3 via Bing Create or — soon, I hope — Canva.
If you are the least concerned about copyright and want the highest-quality images, use Midjourney.
Here's Midjourney's take on the prompt "beautiful woman fighter in leather pants and boots, hair flowing in the wind, holding a sword, wearing a gun in a holster, dystopian city at night in the background, urban fantasy book cover illustration, dramatic lighting, leather boots, wide-angle view." (Click for full-sized image.)
Here it is again, after being zoomed out with Midjourney's zoom-out function, and turned into a book cover with Canva: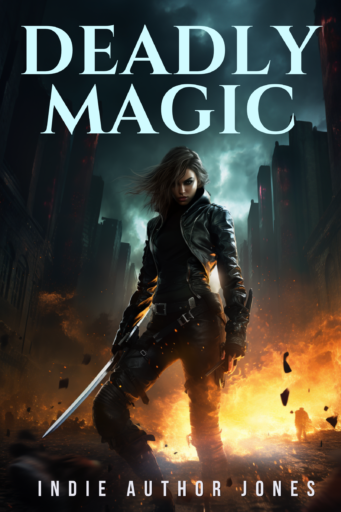 At some point in the near future, we're going to see Midjourney's image quality, combined with Dall-E 3's text-generation abilities and Adobe's clean training data set — and book cover creation will change forever.