Reading Time:
6
minutes
Some articles may include Amazon affiliate links. All proceeds go to helping us pay for original stories and to support writers of speculative fiction. Read more here.
I've written before about OpenAI's Dall-E 2, the most photo-realistic AI image generator out there.
For example, here are four images generated for the prompt "medieval castle with mountains in background":

As you can see in the images above, those castles look like you might actually find them somewhere.
If you're looking for a way to create highly realistic-looking images for book covers or blog post illustrations, OpenAI's Dall-E 2 is the gold standard.
It does illustrations and lots of other art styles, too. Here are the first four images it came up with for the prompt "cute boy wizard with magic book illustration":

Until now, Dall-E 2's only been available via a wait list several million people long. I signed up back in July and still haven't received my invite, though I got a chance to try it out with a friend's account.
But today, Dall-E 2 became publicly available without a waitlist.
According to the company, the system already has more than 1.5 million users, who are creating more than 2 million images a day.
In addition to creating images that are more photo-realistic than those of Midjourney, Craiyon, or other popular text-to-image AI systems, Dall-E 2 has a couple of other features that are extremely useful for book cover creators
Outpainting
With outpainting, you can zoom out of an image to see more of the background. So, say, if the image you've created with the system is perfect, but you want to see more of the background, or the top of the person's head is cut off, you can zoom out and get a wider view.
The feature was introduced in late August and you can see it at work in the video below:
Outpainting is great for creating covers because Dall-E 2, by default, creates square images — and book covers are vertical rectangles.
Take, for example, this image created for the prompt "handsome male model unbuttoned shirt in forest with wolf":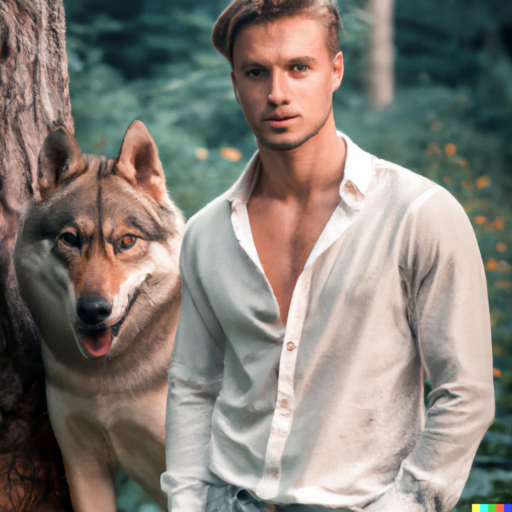 There isn't much space here to put the book title or author name. So I zoomed out a little bit with the outpainting functionality: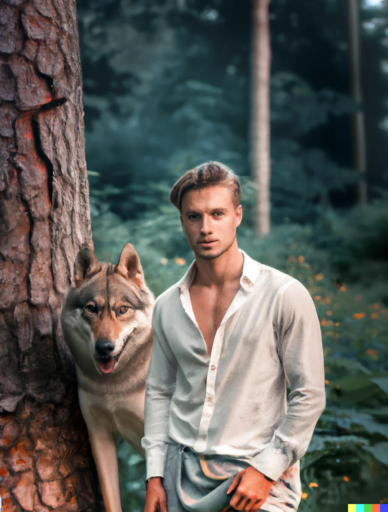 Now there's plenty of room for titles and other text.
Inpainting
Dall-E 2 also has something called "inpainting." This is where you use the eraser tool to erase part of the the image, hit the generate button, and Dall-E 2 fills in the missing piece with new content. This is great if you like everything about an image except for one little piece.
Say, for example, instead of a wolf, I want a tiger. I'd delete the wolf and have Dall-E 2 generate a tiger to go in its place. It gave me four tiger choices at each generation, but it still took me a few tries before I got a tiger I liked. Fortunately, you don't get charged when you cancel a generation, otherwise I'd be up to my eyeballs in Dall-E 2 debt. I also decided to remove the tree while I was at it.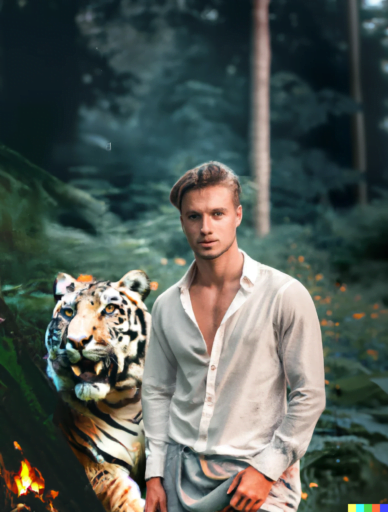 It took me about six tries before I got this one. Other versions had the tiger melting into the tree or weirdly proportioned. If this was for a real book cover, instead of spending a few minutes to generate this image, I'd spend an hour or two on this, and probably go through a hundred images or so to get the perfect one. So no, I don't think this is going to make book cover designers obsolete. Stock photo photographers will probably lose business, however.
Uploading and editing existing images
Maybe you already have an image and you want to add a background — or the image is the background and you want to add something new in the center.
Upload the image, then use outpainting or inpainting to create new stuff around it.
In fact, one of my favorite uses of Dall-E 2 is to upload images from Midjourney and modify them to get them to exactly where I want them to be.
Here is my image from Midjourney, for the prompt "cute boy wizard writing a spell magical epic illustration trending detailed –ar 2:3."
As you can see, Midjourney does a great job of creating illustration-style covers. Plus, unlike Dall-E 2, you can set the aspect ratio of the image.
But I wanted to have more space around the boy so that there would be room for the title and author name. There's no way to "zoom out" in the Midjourney app.
So I uploaded the image to Dall-E 2 and used "outpainting" to zoom out a little bit. Dall-E 2 added some stars, fireflies, and a book I didn't ask for, out of its own imagination.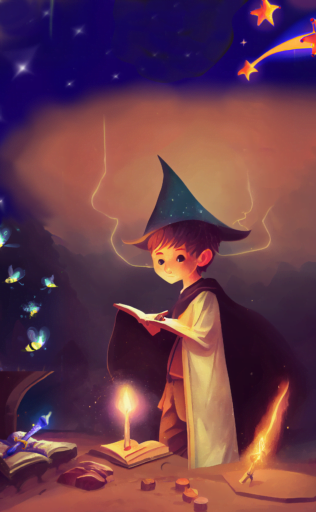 Here is how it all looked in the book cover, after I added text with Canva: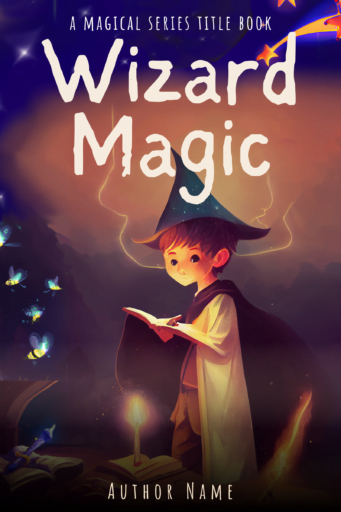 Pricing
Every Dall·E 2 user gets 50 free credits their first month of use and 15 free credits every month after that. Each credit can be used for one Dall-E prompt. A standard prompt returns four images, and a variation prompt returns three images.
Once you run out of free images, you can pay $15 for 115 additional credits, or about 460 more images.
That works out to about 13 cents per image. Which sounds pretty cheap, but you have to consider that you need to create a lot of images to find one that looks good and works for what you need. I personally prefer Midjourney, which has a $30-per-month unlimited plan. Its images aren't as photorealistic, but I actually find them to be more attractive as illustrations. You can see examples of covers I made with Midjourney here.
Final verdict
Dall-E 2 is still missing some functionality that I would like to see added, like Midjourney's aspect ratio settings.
It also sometimes loses images — some of the variations it generated for me were saved in the library, but others weren't. So be careful to download copies of your work as you go along, since it might get lost otherwise.
It is, however, much easier than Midjourney, since you don't have to wrestle with the Discord bot that Midjourney forces you to use.
It does take quite a bit of practice and lots of trial and error before you end up with something you like the looks of.
If I had to pick only one app, I'd pick Midjourney because I like the art style better, I like having the aspect ratio setting, and I like the unlimited pricing.
But I'm going to keep using Dall-E 2 for when I need photorealistic images or want to take advantage of the outpainting or inpainting functionality.