Reading Time:
11
minutes
Some articles may include Amazon affiliate links. All proceeds go to helping us pay for original stories and to support writers of speculative fiction. Read more here.
Athletes and business leaders know full well that when you want to improve something, you first have to measure it. If you want to improve your racing speed, you need to measure how fast you're running. If you want to improve your profitability, you need to track your sales numbers and expenses.
If you're a writer, and want to improve your productivity, you need to track how much you write and how much you edit.
I'm in the process of figuring out my own system. I'm looking for a way to keep track of hours that is enjoyable, that fits in with my current workflow, that's easy to learn, that is quick to do — something that I will be able to stick with for the long term.
So here are the top options I'm considering.
1. Pen and paper
The old stand-by. I have a bullet journal with dot paper that I'm using for my planning.
For example, below, I jotted down an idea that I had for a sci-fi story based on something I read in the news that day. And on the right-hand side is my plan for the day.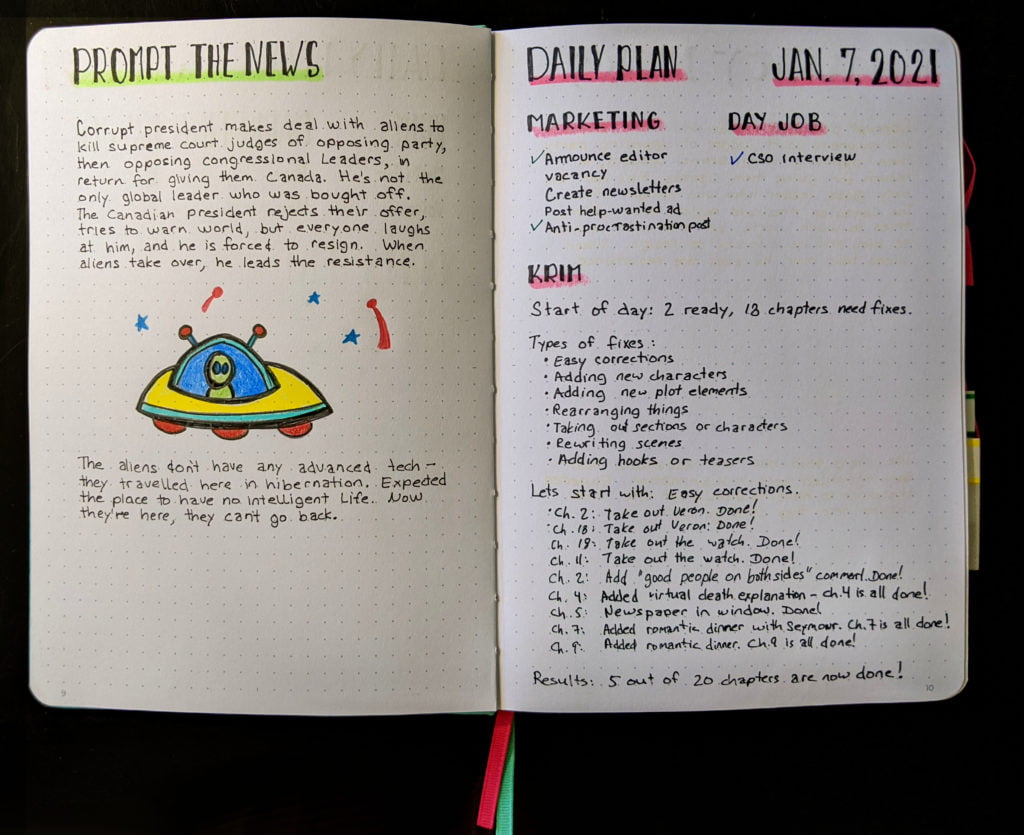 At the beginning of each month, I do a plan for the whole month.
I can easily add a word count tracking column to that.
I also create a weekly log every Sunday. I currently use that to track the hours I spend at various tasks, but I can add word counts, or stop tracking time and start tracking word counts instead.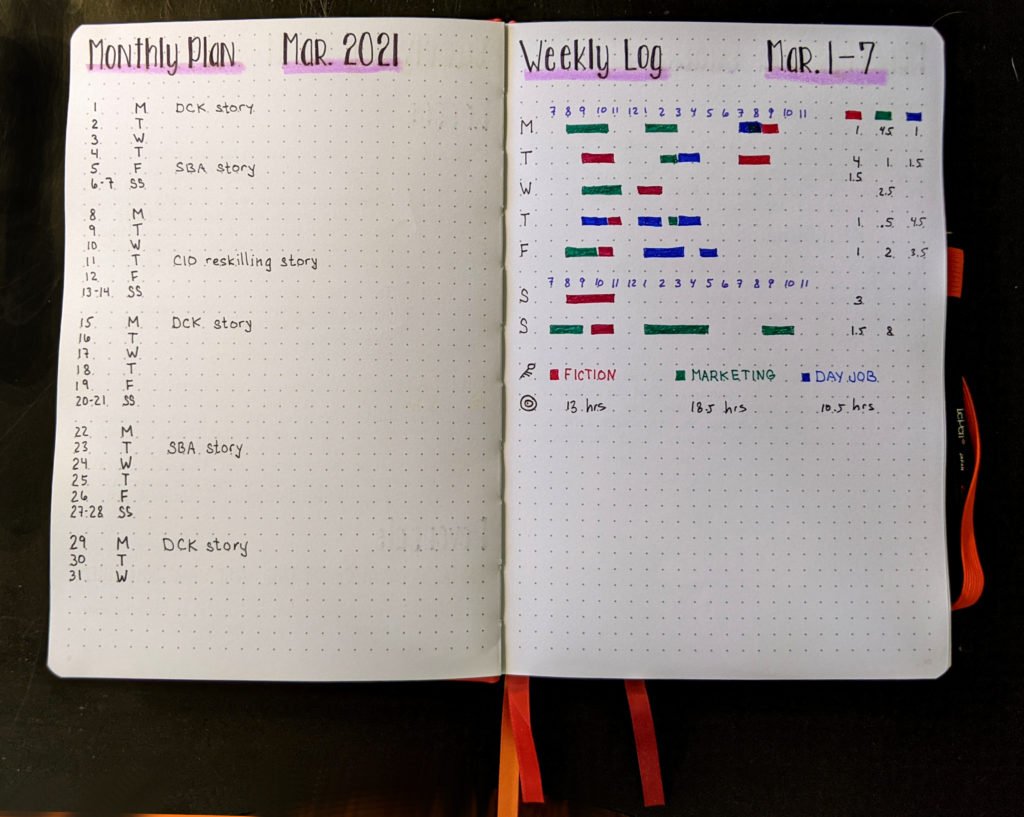 The upside to doing it this way is that there's no learning curve. Plus, it's very satisfying to write something down with pen on paper. Plus, I love color-coding.
The downside is that I stopped tracking time in my bullet journal a couple of months ago because it got too annoying. Right now, I'm pretty much using my bullet journal for brainstorming and decision-making.
For example, if I didn't decide to make an article out of choosing a word count tracking system, I'd be making a pros-and-cons list in my bullet journal.
To use this approach, I would have to remember, every morning, to note how many words I've got so far. Then, at the end of the day, I'd need to look at my current word total and calculate how many new words I've written that day, then write it down. That might require finding my journal. If I have to hunt around for it, I might forget to track the word count that day, and would need to do it the following day.
If you don't have a journal, you could also use your planner, a chalkboard, the side of your refrigerator, or scratch marks on a wall, prison-style.
2. Spreadsheets
I'm a big fan of Google Sheets, the free spreadsheet app that comes with Google Drive.
It's trivially easy to set up a spreadsheet where you can add each day's word count.
And if you like to play around with formulas and charts, you can use filters and formulas to create summary reports.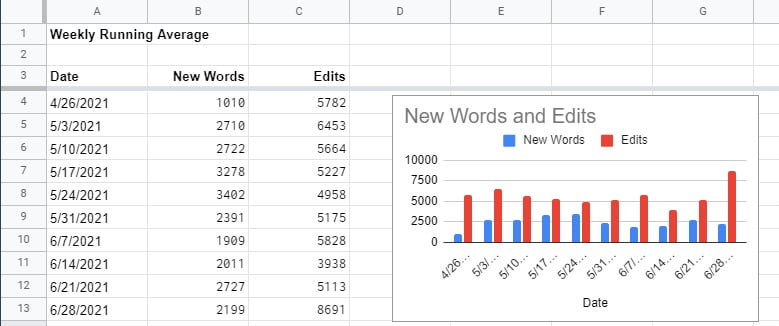 Those are random numbers in the charts above — I haven't started tracking my word counts yet!
To use this system, I would probably have to add a couple of extra columns — word total at start of day, word total at end of day. And then use a function to do the calculation of how many new words I've written.
I would also have to remember to open the spreadsheet document, which would mean bookmarking it on my — already crowded — bookmarks bar.
You can also use a word processor to keep a list of word counts, or a Notepad, or a note-taking app like Evernote or OneNote, or your calendar app. These won't have the ability to create charts, though.
3. Scrivener
Scrivenever is the tool of choice for today's novelist — and it has a built-in word count function and will tell you how close you are to your goal.
Unfortunately, it won't track your historical progress.
You can read about how to use it in their instructional blog post here, or watch the tutorial video below.
You still have to write down the totals somewhere, like in your journal, a spreadsheet, or a word count tracking app.
That seems like a big lack in the software.
I've long been considering switching to Scrivener — the $50 price tag is pretty reasonable — but the fact that it's desktop-based rather than cloud-based is a minus. I use a laptop, a desktop, and a smartphone to do my writing, and would prefer whatever platform I pick next to be cloud-based. But if Scrivener had a built-in tracking system I might give it another look.
4. Novelist
Novelist, available for both Android and iOS, is like the mobile equivalent of Scrivener.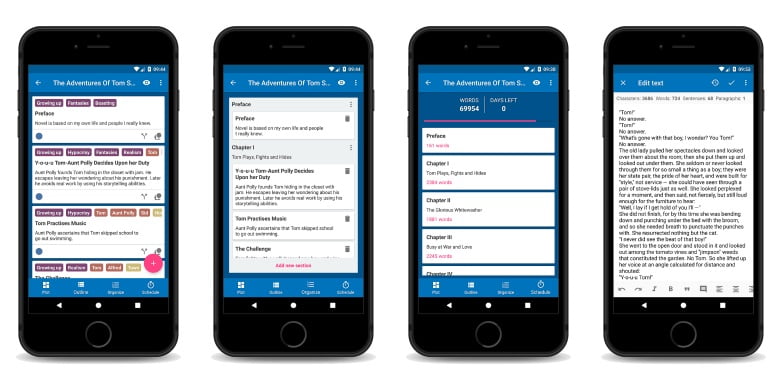 You can keep track of your story outline, characters, themes, events, locations, props, and more, and actually write your book right in the app.
Well, I guess you'd probably dictate, since I can't imagine anyone actually typing a whole novel on a phone's keyboard.
The app has been downloaded more than half a million times and, according to the developers, currently has 75,000 active users.
It also has nearly 4,000 reviews in Google play, with an average score of 4.2 stars. But it seems to be new to iOS, with just three ratings.
It's not cloud-based, but you can export your book by compiling it into a ePub, ODT, or HTML file and keep a copy of it in the cloud. So, say, if you wanted your writing group to take a look at a particular chapter you could export it as ODT, import it into a Google Doc, and share it there. There's also an option to write on the web, if you want to use a computer for the bulk of your writing. You use it by going to web.novelist.app and pointing your phone at a QR code on the screen. That's a little clunky. Most apps just have you log in to the website instead, and save your progress in the cloud across all your devices. The developers also warn that the site could go down at any moment, and writers should backup often.
Novelist does let you set goals and track your progress. I installed it on my phone, but couldn't figure out how to do a daily word count with it and track historical stats. I think it might be like Scrivener in this respect — it can give you the total, but if you want to see daily progress, you'll need to track it elsewhere.
So I wouldn't be using it for several reasons — the lack of full web support, the lack of good daily word count tracking, and the fact that I already have a system in place to organize and write my novels.
But, on the plus side, if you're looking for a way to organize your novel, and you primarily work on your phone, Novelist is completely free.
You can watch a quickstart tutorial for the app below.
5. Writer's Companion
This is a free app, available for Android only, that helps you build your world, plan your story, and organize characters, settings, and more. Plus, it lets you create your goals and track your progress in words, or hours, chapters, scene edited — any way you want.
One downside is that it doesn't have a website. It would be nice to see everyone online as well as on my phone, especially since it's a bit easier to type on my computer.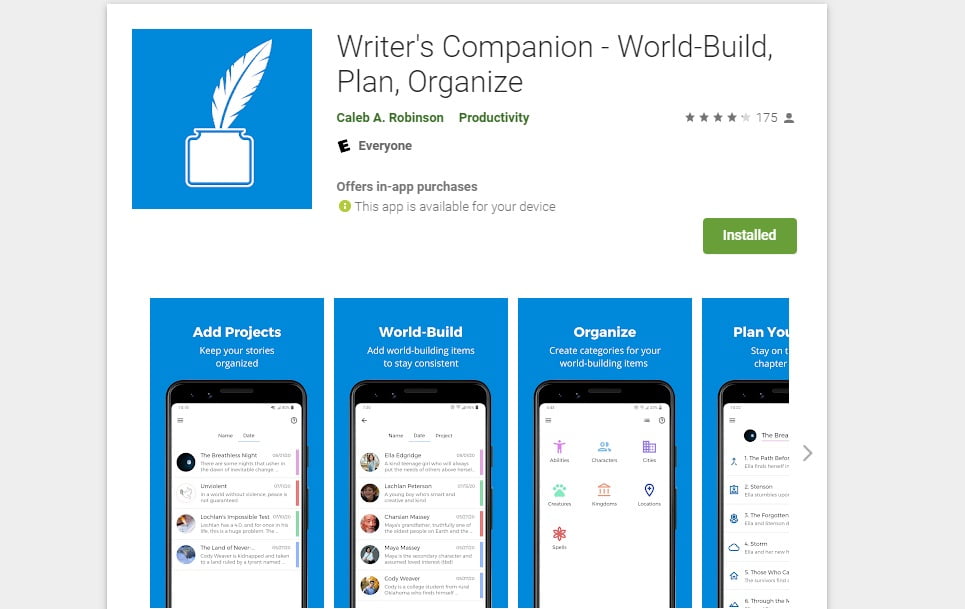 This is a nice system.
If you have an Android phone, and don't currently have any kind of story planning system in place, you should try this out. And yes, typing on a phone is annoying — but you can dictate! And you know you always have your phone with you, so whenever you have an idea for something you can add it in.
Could I use it? In theory, yes.
But in practice, I already have a story planning system set up, so I'd only be using it for the word tracking, and there are better apps for that one piece of it.
Plus, the lack of a website is a problem for me. But it might not be a deal breaker for other people, especially considering that it means that you have full privacy for your data — hackers can't break into the system, read your work in progress, make fun of it, and ruin your motivation forever.
A similar, though prettier, app called StoryPlanner is available for the iPhone for $4.99 and the Mac for $9.99. I'd try it out, except that I have neither device.
6. Writer tools
Writer Tools is a novel planner and progress tracker. It's supposed to have an online website to go with it, but the site doesn't load for me. Plus, you have to keep hitting the save button inside the app — it doesn't save your changes automatically. And it only keeps a single backup.
You can add images to your notes, but you have to watch an ad each time you do it.
The pro version costs $4.99 a month and includes exports, a night mode, a complete backup history, and removes ads.
It lets you create timelines for your stories, organize notes about locations and characters, save ideas, and create custom lists.
And you can write your book right in this app. Once you've written it, you can export the whole thing or specific chapters in PDF or TXT format. You can also export your character profiles.
Plus, most importantly for the purposes of this post, it tracks your writing progress, both in terms of the time you spend writing and how many words you do, and lets you set writing goals. Nice! It takes a little effort to figure out how to use it, but I do like the daily writing log very much and the progress stats.
It's only available for Android. Since the web functionality is a little wonky, I'm not going to use it, but if you don't need the web piece, give it a shot if you're the kind of person who wants to write their novel on their phone.
7. Mobile habit tracking apps
Using a mobile habit tracking app is like using a journal, except that I wouldn't have to hunt around for my phone. It's never out of arm's reach!
This could work for me. I already use LoseIt on my phone to track calories and carbs and blood pressure. I previously used FitnessPal and, before that. the Atkins app. All three are free, and I've been using one of these apps daily for more than three years — and lost more than 100 pounds. So yeah, these kinds of apps work super well for me. And I recently upgraded to the premium version of LoseIt in order to add sodium tracking, and I'm fine with paying a little bit for extra functionality.
So one of these apps could be a good fit for me.
Plus, they have pretty graphics.
Here are some apps, ranked in descending order of popularity:
Productive – Habit Tracker More than a million downloads, over 78,000 ratings and 4.6 stars. In top 100 of productivity apps. Free for iOS, with in-app purchases. Also available for Android. There's a seven-day free trial, and after that it's $30 per year. It lets you check off whether you completed a goal today. So, for example, you can have a daily goal of 1,000 words, and you can check it off each day if you hit your goal. But you can't track the actual number of words. If having a simple check-off is enough, and you're willing to shell out $30, this isn't a bad app. Plus, you can use it to build other habits, too.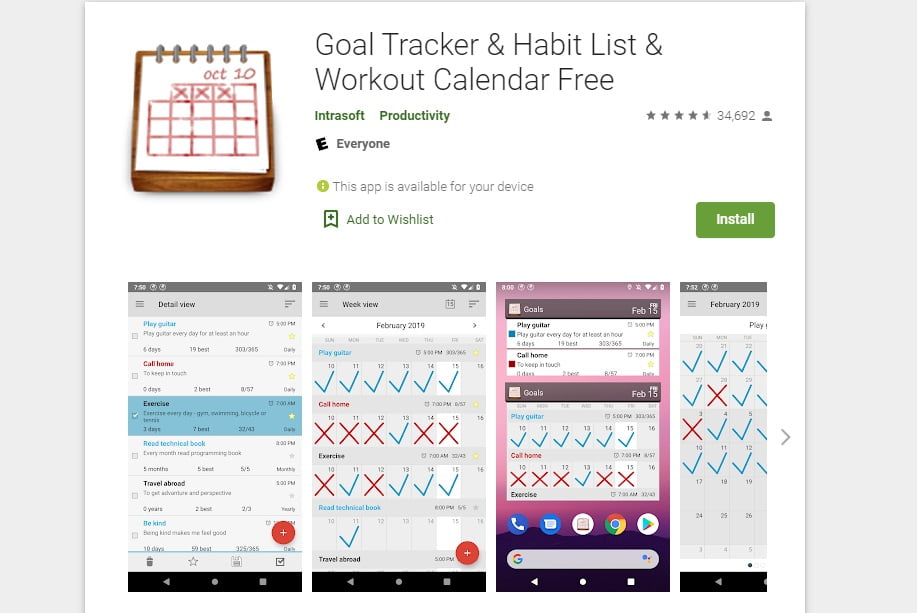 Goal Tracker & Habit List & Workout Calendar Over a million downloads, more than 34,000 ratings, average 4.6 stars. Free for Android. Like Productive, Goal Tracker lets you check off whether you completed a goal today but not track the actual number of words. I like this one because you don't have to pay money. But you still can't track actual word count numbers.
Strides: Goal & Habit Tracker More than 11,000 ratings, average 4.8 stars. Free for iOS, with in-app purchases. I couldn't test this one out, since I don't have an iPhone.
Done: A Simple Habit Tracker More than 9,000 ratings, 4.7 stars, in top 150 of productivity apps. Free for iOS, with in-app purchases. I haven't tested this one out, either.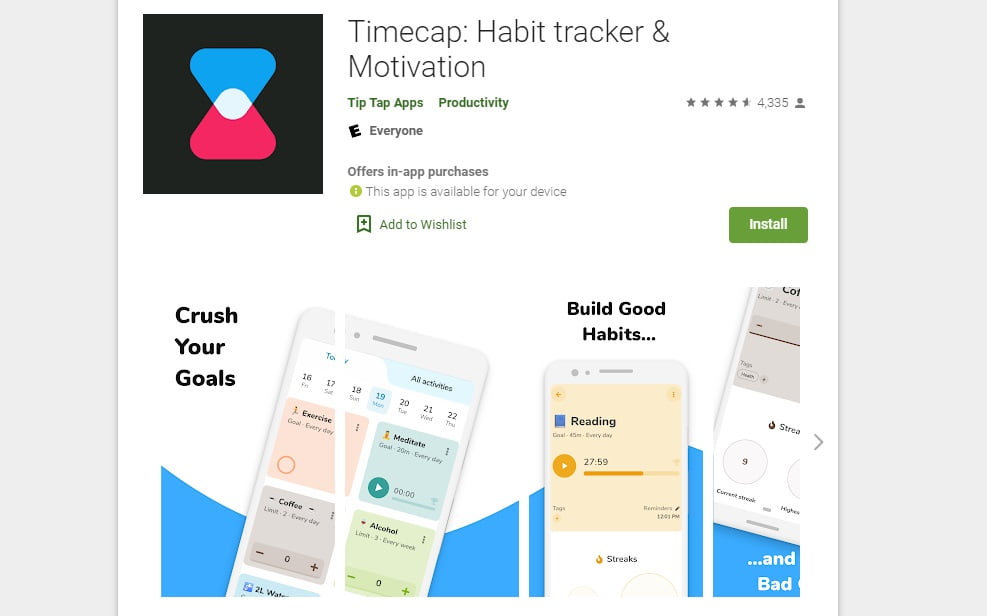 Timecap: Habit tracker & Motivation More than 100,000 downloads, over 4,000 ratings, 4.1 stars. Free for Android with in-app purchases. Lets you check off whether you completed a goal today but not track the actual number of words. On the plus side, it's free. On the downside, it won't let you track individual words. On the plus side, it also has a timer so you can track the actual number of minutes you spend writing in a session, if you want. The premium version is a $20 one-time payment and it lets you export your stats.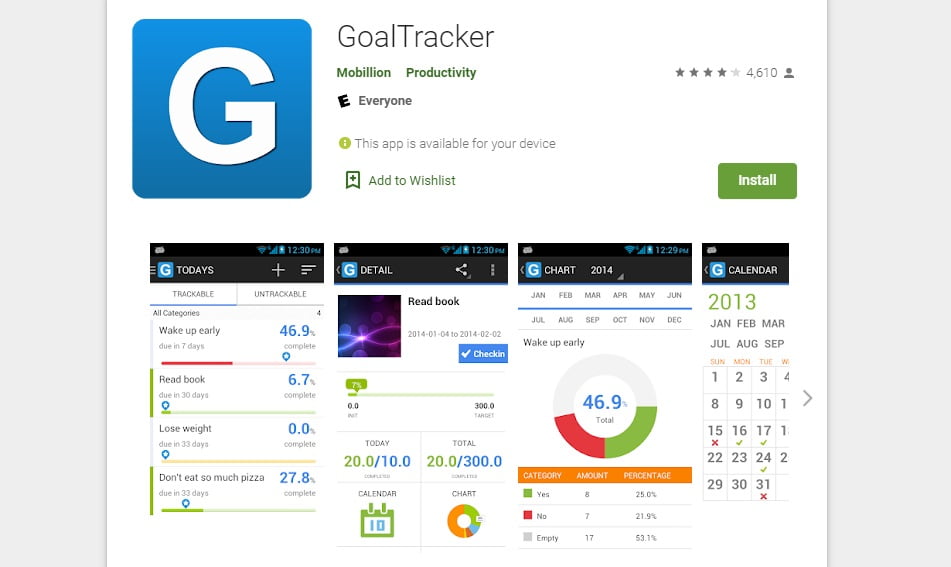 GoalTracker More than 100,000 downloads, over 4,000 ratings, 4.1 stars. Free for Android. Okay, this one seems to be a bit more than a simple checkoff, and it lets you set word count goals. I like this one the best out of all the ones I've tried so far, but it's a little tricky to figure out. However, it's free.
Habit — Daily Tracker Over 900,000 downloads, more than 2,000 ratings, and 4.0 stars. Free for iOS, with in-app purchases. I haven't tried this one because I don't have an iPhone.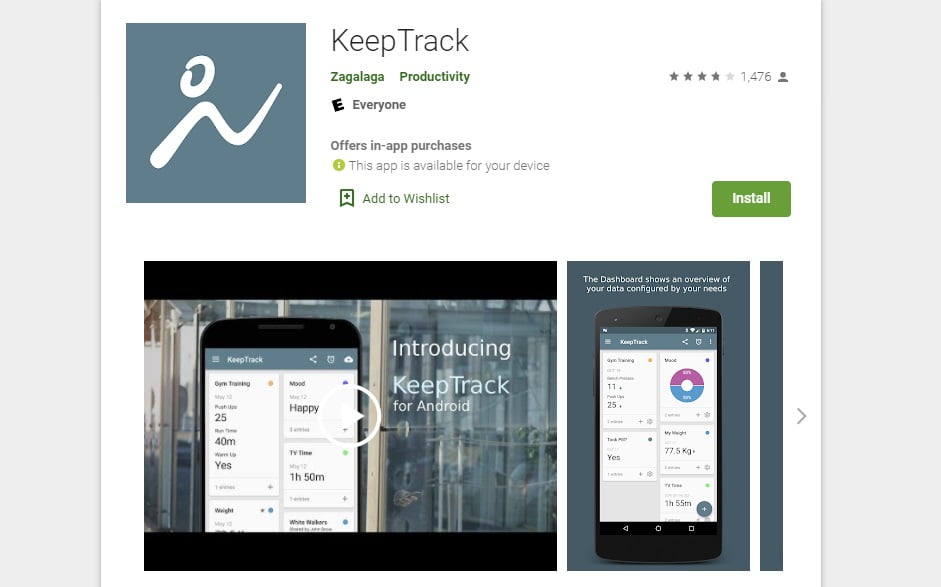 KeepTrack Over 100,000 downloads, more than 1,000 ratings, and 3.8 stars. Free for Android, with in-app purchases. It lets you create check-offs or numerical entries — like word counts. The basic version is free, and lets you keep track of 10 things — you daily word count, for example, number of scenes you edited, and, say, the number of steps that you walked. If you want unlimited parameters, or goals that you track progress towards, you'll need to pay $4.99 per year.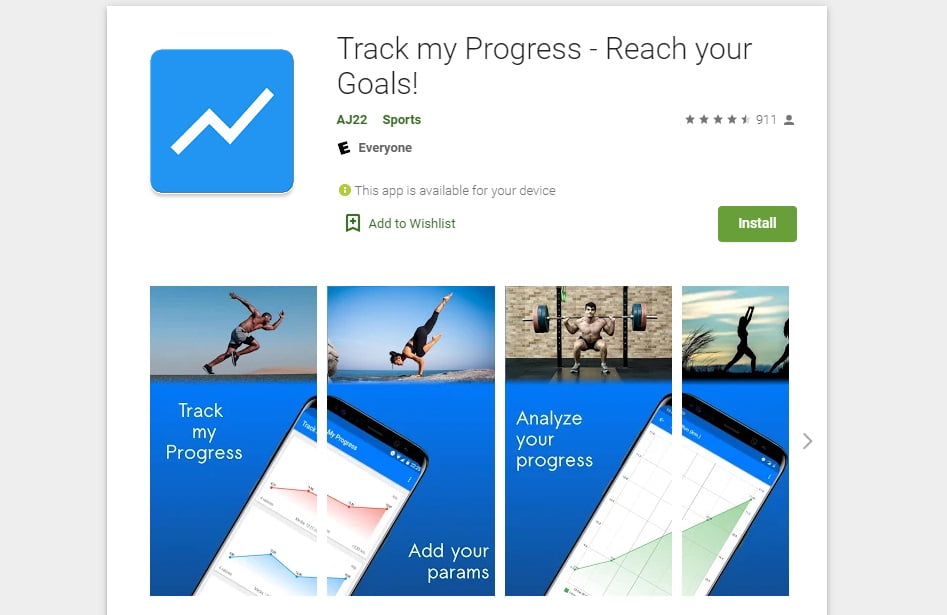 Track My Progress More than 10,000 downloads, over 900 ratings, 4.5 stars. Free for Android. This app is free, and only lets you track numbers, not stats. You add parameters — like miles run, or words written, or number of pushups done, and check in daily and type them in. Then it shows you a graph. The graphs are very basic. The field where you add a date is off by one — so when I pick June 28, it puts it down as June 27. Weird. People have been complaining about the date issue in the comments for two years. Not a good sign.
Word Keeper – Writing Tracker More than 300 ratings, with an average of 4.6 stars. Free for iOS, with in-app purchases. The first week is free — after that, it's $30 a year. I haven't tried this one, but it seems to be designed specifically for writers.
Habit List Fewer than 300 ratings, average 4.2 stars. Free for iOS, with in-app purchases. I haven't tried this one either, but it seems to be a check-off kind of app, rather than a tracking-your-stats kind of app.
Habit Tracker – Your Goals Fewer than 100 ratings, 4.4 stars. Free for iOS, with in-app purchases. I haven't tried this one either but it also seems to be a check-off app.
Wordly Fewer than 100 ratings, 2.7 stars. Free for iOS, with in-app purchases. I haven't tried this one either. The screenshots look nice — it seems to track both time spent writing and word counts — but the reviews are awful and the company itself seems to be defunct.
Conclusion
Well, I certainly learned a lot today about what I want in a word count tracking app. I learned that I want it to be integrated into my writing process and I learned that I like nice charts.
So what I'm going to do is add this functionality to the database I'm currently using to write my novels. It's basically a home-grown version of Scrivener.
At some point, something better will come along and I will migrate to a commercial platform, but, right now, nothing out there has everything that I need, so I'll stick with what I've got, even though I'm missing some key functionality.
Scrivener and Novelist — I would use you if you had better web support. And if you could add a time and word count tracker while you're at it, that would be great.