Reading Time:
10
minutes
Some articles may include Amazon affiliate links. All proceeds go to helping us pay for original stories and to support writers of speculative fiction. Read more here.
If you want the most bang for your buck, marketing-wise, the top advice is to have your own newsletter. And I know, because each week, I collect writing and publishing advice from over 160 different sources.
Having an email list is recommended as the top marketing priority for all authors, regardless of the stage of their marketing journey — ahead of advertising, social media, contributed posts, or events.
The reason is that you own your email list. A social media platform can come and go, a pandemic can disrupt your appearances calendar, advertising rates can change, and other publications can decide not to run your guest columns. But your email list is yours forever.
You can think of it as a plant. If you nurture it and tend it, it will grow. If you leave it in a dark corner and forget to water it then, slowly, it will wither away as people's email addresses change. So maybe think of it as a hardy cactus, because it takes a lot to kill it.
And you can even re-pot it. If you don't like your mailing list provider, you can move the whole thing over to another company and your readers will never notice the difference. You definitely can't say the same for social media.
In fact, the reason I'm writing this article right now is that we had to switch mailing list providers because our previous one, MailChimp, raised their prices. We want all our donations to go towards paying for original content, not to pay for technology that we can get at a lower cost — or free — from someone else. (If you want to help us publish even more speculative fiction, support us on Patreon here. and help us break the $200 a month mark!)
If you, too, want to spend as little on technology as you can for the best service you can get, read on.
Why do you need a mailing list provider?
You might think that, just because you have an email account, you can just use that to communicate with your fans.
Don't do that.
Have you noticed that the amount of spam you've been getting has dropped down to nearly none? That's because email companies have gotten really, really good at filtering it out.
Plus, there are regulations about bulk email. If someone doesn't comply with them, their emails get deleted before they go very far at one of the many spam checkpoints around the Internet.
If you want to send out email newsletters, the two most important things to know about getting around spam filters is to have a real opt-in confirmation for new subscribers and a working unsubscribe button. If you don't have those, and you send out a lot of emails, then your emails will be eaten by the filters.
How do you prove that your subscribers have confirmed that they want to get your emails and that your unsubscribe button works? The easiest way is by using a legitimate email provider. Plus, most of the basic plans are free. So, when you're starting out, it doesn't cost you anything to use a real service and they take care of all the legal compliance issues for you.
As an added bonus, email providers will also have nice templates for you to design your newsletters with, and offer automations to make it even easier to keep in touch with your readers.
What do you put in a newsletter?
The first thing you put in a newsletter is a reader magnet. This is the prize that people get in return for subscribing. It could be a free short story, the first chapter of your next book, or another bonus that they can only get if they sign up for your newsletter.
After that, you can send your readers updates on how your next book is going, announce release dates, share your appearance schedule, answer reader questions, or just talk about your life.
With the MetaStellar weekly reader newsletter, subscribers get an email of all the stories published the previous week, plus our weekly Free Friday article about the top ten free sci-fi and fantasy books on Amazon, right after the article is posted on Friday afternoon. So that way, they get our reviews of the ten best new free ebooks to read over the weekend.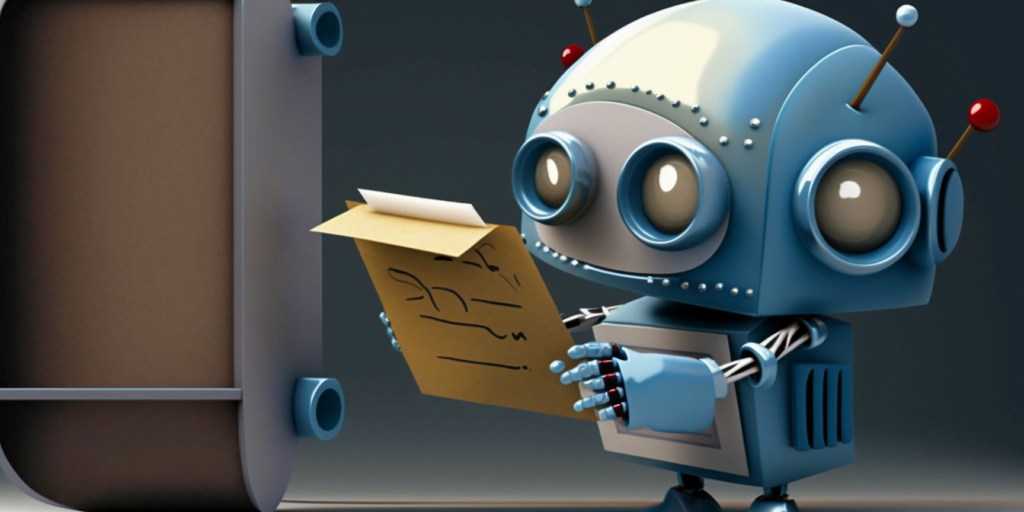 Do you want automation? You probably do.
There are two kinds of newsletter automation. I strongly recommend that you pick a newsletter platform that does both, since it will really amp up your marketing efforts.
First, there are the welcome emails, or series of emails.
Once someone subscribes, you want to automatically send them an email with whatever it is that you promised them in return for subscribing, like a free short story.
Then, maybe, a week later, you can send them an excerpt from one of your books, or a deleted scene, or some character sketches. Some new content to remind them of who you are.
Or maybe you have a five-week series of emails on how to get started as a speculative fiction author, or how you came to write your first book. These kinds of automations are particularly useful for people who use their newsletters for direct sales, for promoting courses, or for promoting their consulting, coaching, or editing services.
But, at the very least, you want your email provider to have a single automated welcome email, even if they don't have series automation on the free or basic budget plan.
The other kind of automation that's most important for authors is the RSS newsletter.
The way it works is that every week — or once a month, or however often you want to set it up — the newsletter automatically scoops up everything you've published on your website, makes it look pretty, and sends it out to your subscribers.
This is what we do at MetaStellar. We don't manually create the newsletter every week. We set it up once, and then it just goes by itself.
It is very painful to set it up the first time. You want to keep careful notes about how you did it, and save them in a place where you'll actually find them when you need them in case something breaks or you have to change providers. Companies do change their prices, change their features, and do other things to make life hard for you.
Because MailChimp recently changed their prices, and MailerLite, our second choice, changed their features, I recently had to go back to the drawing board and test out all the mailing providers out there to see which ones worked for us, and which ones didn't.
Here's what we were looking for:
Is there a free plan, and what are its limits?
How much does the paid plan cost and how many subscribers do you get?
Do they have RSS automation?
If you are an author and don't want to pay money for a mailing list provider, then you'll want to avoid the following companies, despite the fact that they're well recommended and have good marketing, because they don't have any free plans at all: ActiveCampaign, Campaign Monitor, Campaigner, Constant Contact, Drip, Keap, Moosend, and Ortto.
Next, I recommend avoiding newsletter platforms that have fewer than 1,000 subscribers on their free plans, or that don't let you email everyone at once. That rules out AWeber, ConvertKit,  EngageBay, Klaviyo, MailChimp, Mailjet, Omnisend, SendGrid, SendInBlue, and SendPulse.
I picked 1,000 subscribers because of the 1,000 True Fans idea — if you have 1,000 people who love you and are willing to spend $100 a year on you, that's a pretty decent full-time income right there.
Now we're down from 24 to six providers.
Next, lets rule out those that don't have automations on the free plan, which are Benchmark, Cakemail, MailerLite, Sender, and Zoho Campaigns.
That leaves one service: MailPoet.
All about MailPoet
I hadn't heard of these guys before some other magazine editors recommended them, but I've since tried them out, and they're very good. In fact, they're better than any other mailing list service I've tried. (And no, they're not sponsoring this post. We don't have any sponsors yet, though we're talking to a couple who are a good fit for our editorial mission.)
First, MailPoet's free plan goes up to 1,000 subscribers, and you can send out 5,000 emails a month. That means that you can send an email newsletter out once a week, if you wanted to, even if the month had five weeks in it.
It has welcome emails, though you do have to upgrade to a paid plan if you want a whole series of pre-made emails to go out to new subscribers in a particular order, not just one email. And it has RSS newsletters — using its WordPress plugin, it's very easy to set up a recurring weekly or monthly newsletter with all your recent posts.
Once you get over 1,000 subscribers, it will cost you $20 a month for up to 1,500 subscribers, then $55 a month for up to 5,000. It's not the absolute cheapest option, but it's within shouting distance.
However, the MailPoet website doesn't have the ability to send emails or newsletters. You have to use a WordPress plugin. If you don't use WordPress, you're out of luck. Here's a full list of MailPoet's minimum recommended requirements.
But MailPoet does have all the basics, including over 70 decent-looking newsletter templates, a drag-and-drop newsletter editor, automated welcome emails, regular and pop-up subscription forms, and, of course, the ability to automatically send a newsletter with all your newly-published blog posts.
You can see all its features here.
I set it up on my personal website, MariaKorolov.com, and here's what the automations settings page looks like: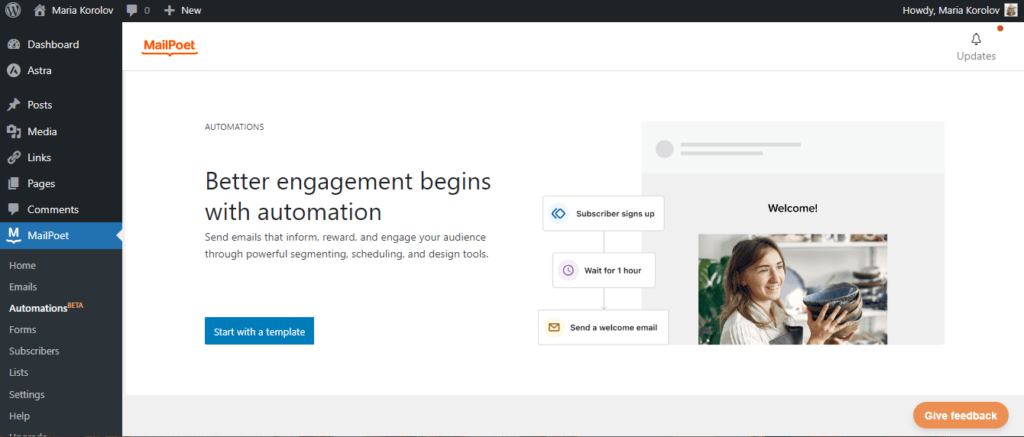 It's a very nice and clean interface.
Once I thought about it, I realized the fact that it's a WordPress plugin is actually a bonus, if you already use WordPress, because you don't have to go to a separate site to manage your newsletter and subscription forms.
The first thing you'll want to do after going through the initial setup is to create forms so that subscribers can sign up for your newsletter.
You'll want to put the newsletter subscription link in your standard email signature, in your social media bios, in your author bio box here on MetaStellar, and, of course, on your website itself.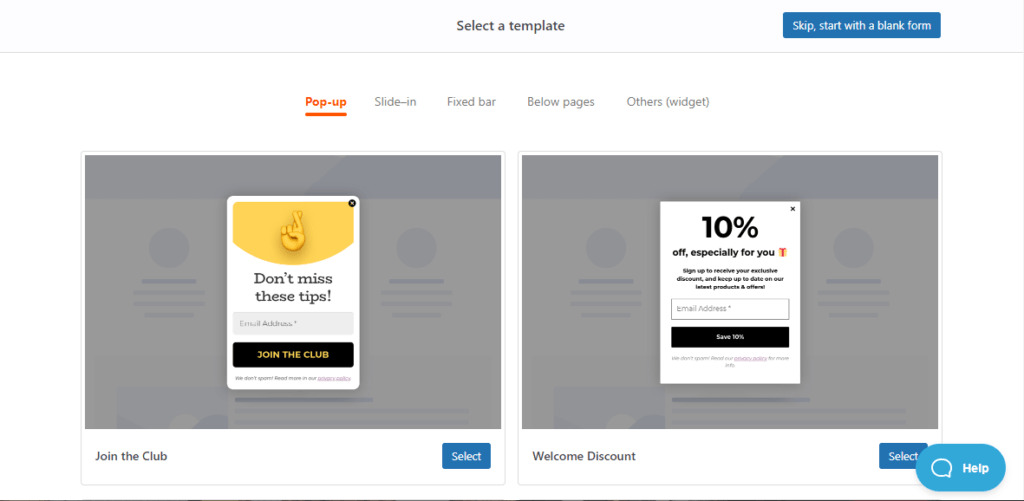 MailPoet has 12 very nice-looking templates for pop-up forms, 12 templates for forms that slide in from the side of your website, 12 templates for forms that you can put in your header or footer bars, 12 templates for forms you can put below website pages, and 12 templates for WordPress widgets. Or you can start with a blank form and design your own. It's really a killer set of options.
Once you've got the forms, follow these instructions to create a welcome email for new subscribers.
And, once you've decided on how often to send out a newsletter, go to MailPoet > Emails, and click on the "+ New email" button at the top next to the orange MailPoet logo.

Then click on the "Set up" button under the "Latest Post Notifications" option for recurring newsletters. That's what other mailing list providers refer to as "RSS Newsletters" because they typically use RSS feeds to create them. MailPoet doesn't need to use your RSS feed because it's already sitting inside your WordPress account.

Or if you just want to send a one-off newsletter then click on the "Create" button under the "Newsletter" option.
For the recurring latest post notification email, you can have it go out immediately, once a day, once a week on a particular day of the week, or once a month on a particular day of the month or week. So, for example,  you can have it go out on the first day of each month, or on the first Monday of each month. Plus, you can set the time of day on which the newsletter will go out, to fit your posting schedule.
There are nine templates for these regular newsletters, which you can then edit with a drag-and-drop editor to customize it. You can change the logo, the colors, add graphics, headers, social links — all the usual stuff.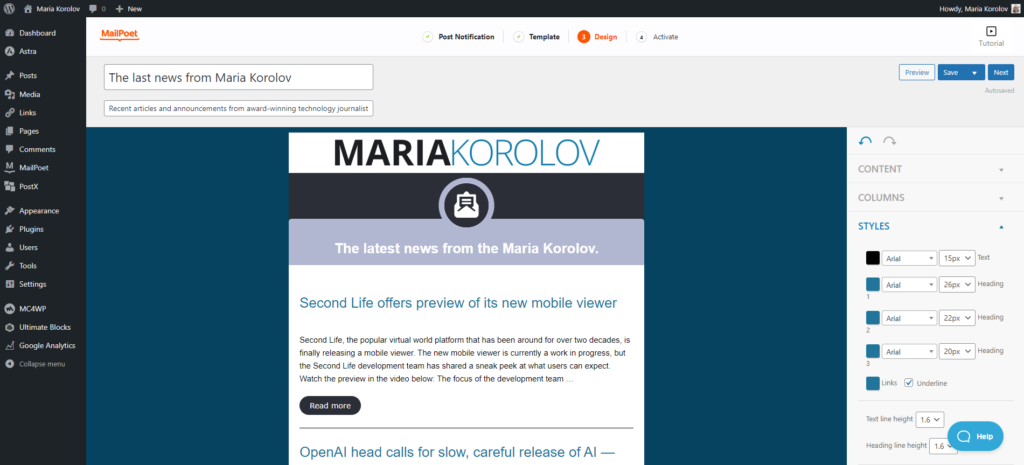 You first want to go to the "Styles" section in the right-hand sidebar and choose your preferred colors, then replace their logo with your own. Then you can click on "Content" and add sections — headings, images, and, of course, the automatic latest content.
You can have one single section that's all your posts, or you can different sections for different types of posts. For example, you can have one section for appearance announcements, another for new books, another for personal updates. Just use your WordPress categories or tags to tell it what you want to put where.
I've used newsletter builders from both MailChimp and MailerLite, and I do have to say that the MailPoet one is the nicest and easiest to use. Even if it didn't have the best free plan, I would still recommend this option because of its ease of use and functionality.
If you can't use MailPoet because you're not on WordPress, my second-best suggestion is MailerLite if you don't want RSS newsletters on the free plan, and MailChimp if you do.
MailerLite is free for up to 1,000 subscribers — or $9 a month with RSS newsletters — then $15 a month for up to 2,500 subscribers and $29 for 5,000 subscribers. So, if you have a lot of readers, it costs less than MailPoet, which is $55 a month for 5,000 subscribers.
MailChimp is free for up to 500 subscribers and 1,000 emails sent a month and that includes a free RSS newsletter. After that, it's $27 a month for up to 1,500 subscribers, $40 for up to 2,500, and $69 for 5,000.
But if you're not using WordPress, then I'd say that MailPoet is an excellent reason to switch, Plus, WordPress is the most popular, most flexible, and most functional website platform out there.
Here's a table with all the services I looked at, prices current as of March, 2023:
| | | | | |
| --- | --- | --- | --- | --- |
| Mail service | Free Plan Monthly Limits | Automation | Cost 1,500 Subscribers | Cost 5,000 Subscribers |
| ActiveCampaign | No free plan | Included | $29 | $29 |
| AWeber | 500 subscribers | Included | $25 | $45 |
| Benchmark | 3,500 emails | Included | $29 | $49 |
| Cakemail | 2,000 subscribers | Included | $15 | $35 |
| Campaign Monitor | No free plan | Included | $29 | $49 |
| Campaigner | No free plan | Included | $59 | $59 |
| Constant Contact | No free plan | Only on top paid plan | $35 | $80 |
| ConvertKit | 300 subscribers | Only on paid plans | $49 | $79 |
| Drip | No free plan | Included | $39 | $89 |
| EngageBay | 250 subscribers | Only on $50 and up plans | $50 | $50 |
| Keap | No free plan | Included | $149 | $249 |
| Klaviyo | 250 subscribers | Included | $60 | $115 |
| MailChimp | 500 subscribers | Included | $27 | $69 |
| MailerLite | 1,000 subscribers | Included | $15 | $29 |
| Mailjet | 200 daily emails | Only on top paid plan | $15 | $25 |
| MailPoet | 1,000 subscribers | Included | $20 | $55 |
| Moosend | No free plan | Included | $24 | $48 |
| Omnisend | 250 subscribers | No RSS newsletters | $25 | $65 |
| Ortto | No free plan | Included | $99 | $99 |
| Sender | 2,500 subscribers | No RSS newsletters | $8 | $18 |
| SendGrid | 100 daily emails | On $60 plan | $15 | $15 |
| SendInBlue | 300 daily emails | Included | $25 | $25 |
| SendPulse | 500 subscribers | Included | $13 | $28 |
| Zoho Campaigns | 2,000 subscribers | Only on top paid plan | $13 | $23 |